Axios Login
July 20, 2020
Yesterday was National Ice Cream Day, but I fully support continuing the celebration all week. The least 2020 owes us is seven days of ice cream.
Today's Login is 1,576 words, a 6-minute read.
1 big thing: Zuckerberg scoffs at rumors of a secret deal with Trump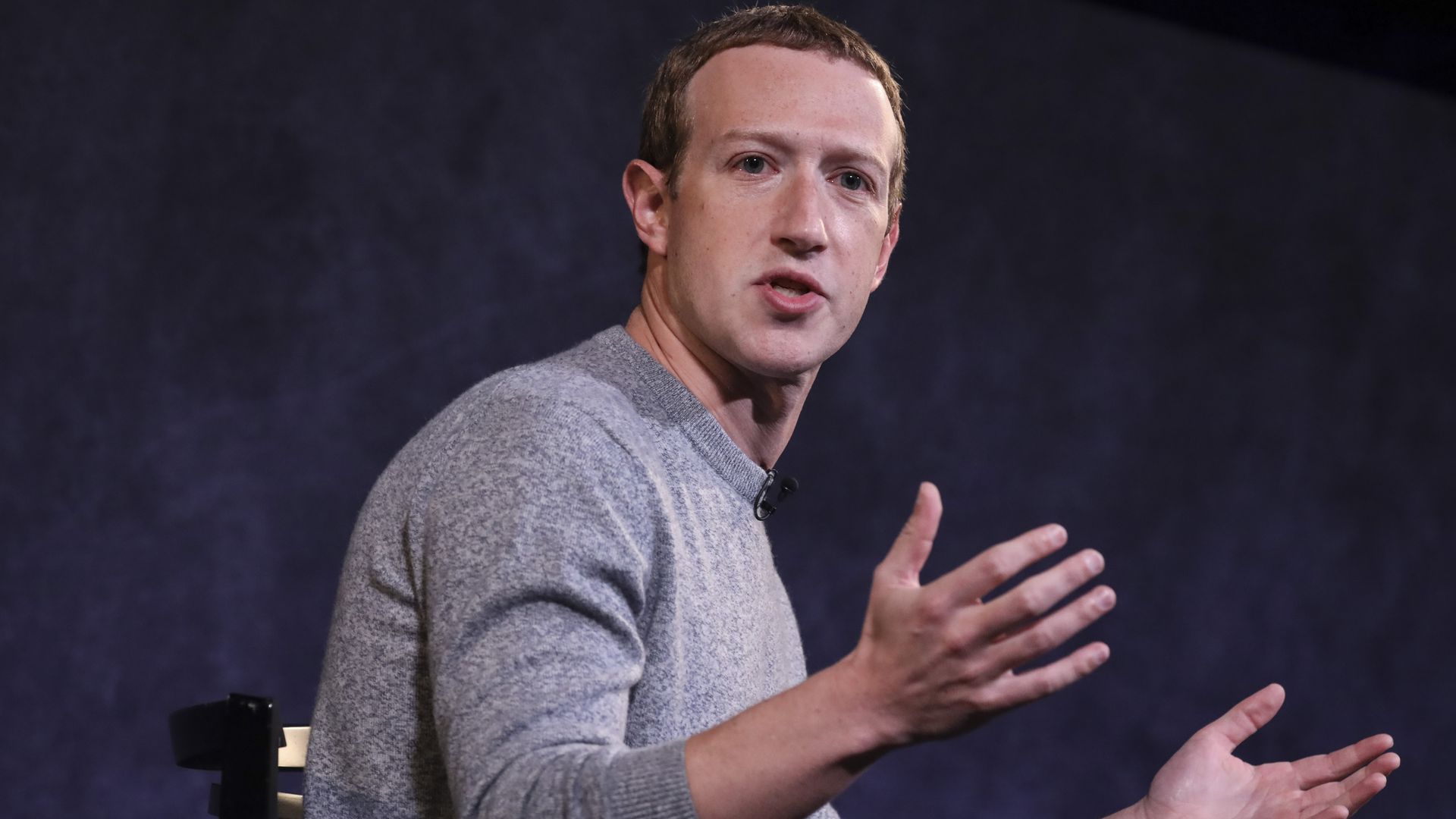 Facebook CEO Mark Zuckerberg, under fire for allowing President Trump to post inflammatory statements on his platform, tells Axios' Mike Allen there's no truth to whispers that the two have a secret understanding.
Why it matters: Zuckerberg, facing a growing ad boycott from brands that say Facebook hasn't done enough to curtail hate speech, has become increasingly public in criticizing Trump. "I've heard this speculation, too, so let me be clear: There's no deal of any kind," Zuckerberg told Axios. "Actually, the whole idea of a deal is pretty ridiculous."
"I do speak with the president from time to time, just like I spoke with our last president and political leaders around the world," he added.
The context: Facebook has removed Trump ads and posts at least five times going back to 2018, for reasons that include "targeting personal attributes" and copyright violation.
Zuckerberg pointed out that "under this administration, we've faced record fines of $5 billion, are under antitrust investigation by multiple agencies, and have been targeted by an executive order to strip protections in Section 230," which shields tech companies from liability for content on their platforms.
The CEO panned the administration's coronavirus response during a live interview with Dr. Anthony Fauci last week.
Mike asked Zuckerberg about Trump after the CEO told a companywide Q&A on Thursday, in remarks obtained by Axios:
"One specific critique that I've seen is that there are a lot of people who've said that maybe we're too sympathetic or too close in some way to the Trump administration."
"I just want to push back on that a bit," Zuckerberg told employees. "[W]e need to separate out the fact of giving people some space for discourse, from the positions that we have individually, where I feel like the company and I personally have been."
Zuckerberg went on to cite many disagreements with Trump, "whether it's the immigration policies, which I think have not only been unfair, but I think put the country at a huge disadvantage going forward, compared to the opportunities that we should be going after ... climate change, where I think moves like pulling out of Paris agreement were a huge step back for the world ... things like his divisive and inflammatory rhetoric."
Axios and others have reported on private conversations between Trump and Zuckerberg, and even a White House dinner.
"I accepted the invite for dinner because I was in town and he is the president of the United States," Zuckerberg said. "For what it's worth, I also had multiple meals and meetings with President Obama ... both at the White House and outside, including hosting an event for him at Facebook HQ."
"The fact that I met with a head of state should not be surprising, and does not suggest we have some kind of deal."
Zuckerberg said he believes deeply "in giving people a voice, even when I disagree with them. I believe in a broad definition of free expression, especially around political speech — but those are my principles and I don't think that's a surprise to anyone."
A White House official told Mike that Trump "has always respected Zuckerberg's strong pro-First Amendment position."
"He's entitled to his position, as are the tens of millions of Trump supporters on Facebook."
My thought bubble: Facebook's CEO isn't the only Big Tech boss to break bread with the president. But there doesn't have to be a literal deal between Trump and Zuckerberg for Facebook to be helping Trump and his policies.
2. Inside the FTC's Facebook probe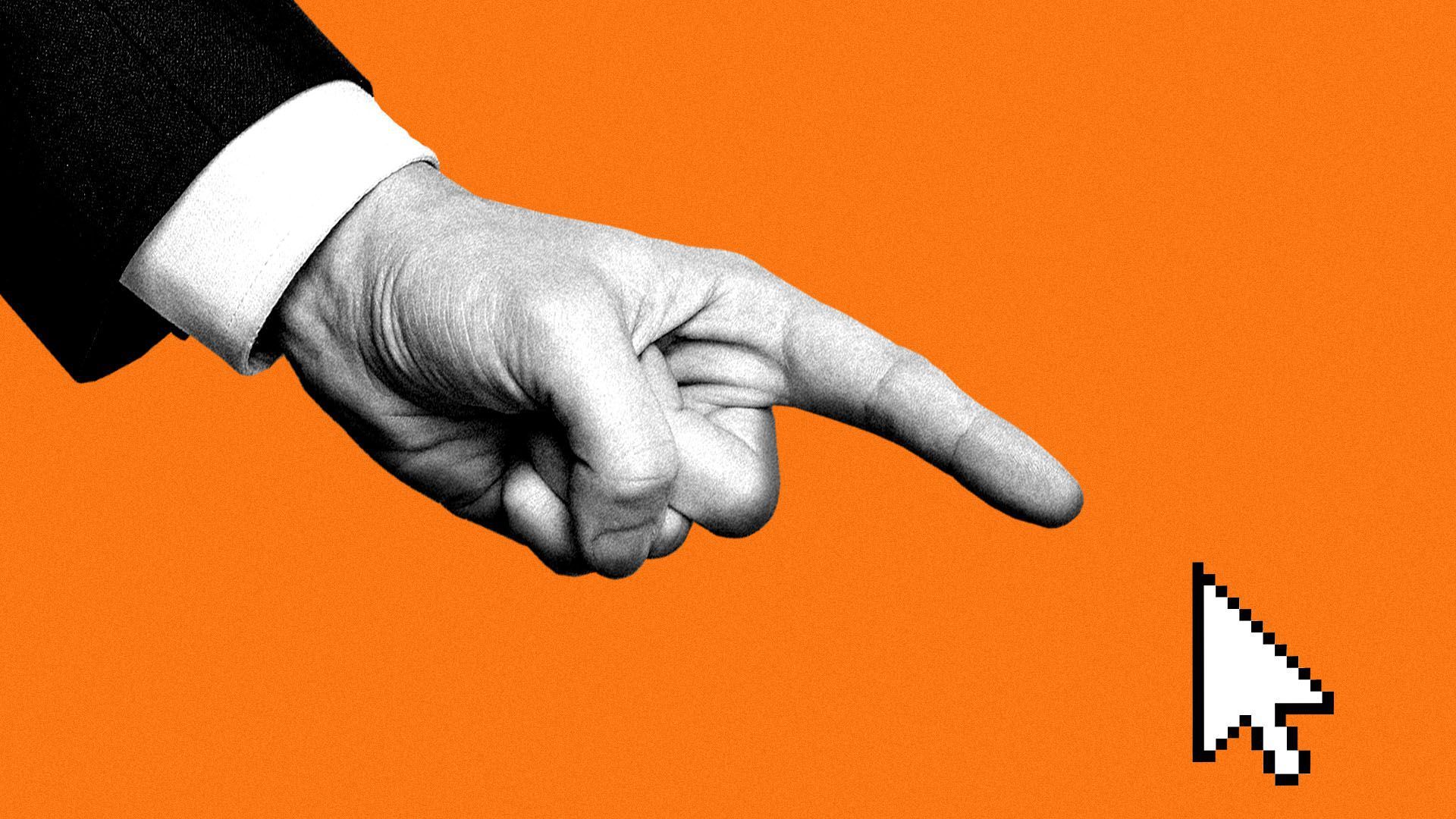 A low-key conflict inside the Federal Trade Commission has increased the likelihood the agency will toughen its stance with Facebook, Axios' Margaret Harding McGill and Ashley Gold report.
The big picture: As the FTC struggles to adapt its antitrust rules for the era of Big Tech, two units of the agency have squared off over how to apply older, price-based competition standards to a market full of free products.
Why it matters: The FTC is pursuing an antitrust probe into Facebook and other investigations, including a review of 10 years of tech firms' acquisitions. If the agency wants to unwind deals or take other strong action, it will need a strong legal theory demonstrating harm to consumers and markets.
Driving the news:
FTC officials are considering taking sworn testimony from Zuckerberg and COO Sheryl Sandberg as part of their inquiry, the Wall Street Journal reported Friday. Zuckerberg is set to testify July 27 before a House antitrust subcommittee along with the CEOs of Apple, Amazon and Google.
The FTC's Facebook investigation, which agency leaders had once predicted would conclude by the November election, looks likely to extend into the new year and possibly a new administration, according to a New York Times report.
What's happening: The internal conflict at the FTC emerged between the agency's Bureau of Competition, which is leading the Facebook inquiry, and the agency's Office of Policy Planning, which was originally tasked with developing guidelines for FTC antitrust reviews of tech firms last fall.
That effort has been complicated by tensions between the two units on the best approach, a person familiar with the process told Axios.
What we're hearing: The Bureau of Competition has now taken the lead on crafting the guidelines, a second person said, looking to clarify the framework for what constitutes anti-competitive harms to address tech companies' business models, many of which are built around making their services free for consumers to use.
Between the lines: The more clearly those guidelines provide a basis to take antitrust action against such free services, the easier it will be for the FTC to go after Facebook, if it chooses to.
The Office of Policy Planning appeared to view antitrust through a more conventional lens, in which the chief gauge for whether a company's market power has led to harm is whether prices have risen for consumers.
Of note: "The policy people live in a world where there is a one-size-fits-all formula," a person familiar with the back-and-forth said. "They want it to be less messy, but the enforcers recognize that antitrust is inherently messy because it's fact-based."
Details: An early draft of the guidelines obtained by Axios reveals the tension.
Edits to the document by the competition arm pare back language trumpeting the economic benefits platforms can create, as well as language that could limit the commission's ability to bring cases on a variety of conduct, according to a person familiar with the process.
The draft also includes several examples of platform conduct that could lead to FTC analysis, including a leading online shopping platform banning manufacturers from selling their products at lower prices elsewhere. (Amazon faced criticism over this.)
Margaret and Ashley have more here.
Go deeper: Tech's long hot summer of antitrust
3. Samsung promises five new mobile devices
Samsung said Monday it plans to debut five new devices at its Unpacked event next month. The Korean electronics giant is expected to introduce several flavors of the Galaxy Note 20, along with a new foldable smartphone and new bean-shaped in-ear wireless earbuds, according to various reports and leaked photos.
Why it matters: Samsung remains the main rival to Apple in the high end of the mobile market. But the pandemic may leave fewer people with either the budget or the appetite for a fancy new mobile device.
In a blog post, Samsung mobile unit president T.M. Roh confirmed plans to launch five devices and pledged that the company is investing more in research and development despite COVID-19.
Between the lines: Roh acknowledges the market has changed, but plays up the value of mobile devices during the pandemic, pointing to technology's role in distance learning, entertainment and fitness at home.
Our thought bubble: Technology is playing a critical part in keeping society moving during the pandemic. But in many developed markets, users' focus right now is on tablets and PCs more than smartphones — a big shift from the last 15 years, when mobile technology has had the most transformative effects.
Yes, but: For billions of people around the world — and a not insignificant number of Americans — the smartphone remains the only computing device they own. Most of them won't be able to afford the high-end devices Samsung is expected to talk about next month.
4. Snapchat's new meditation feature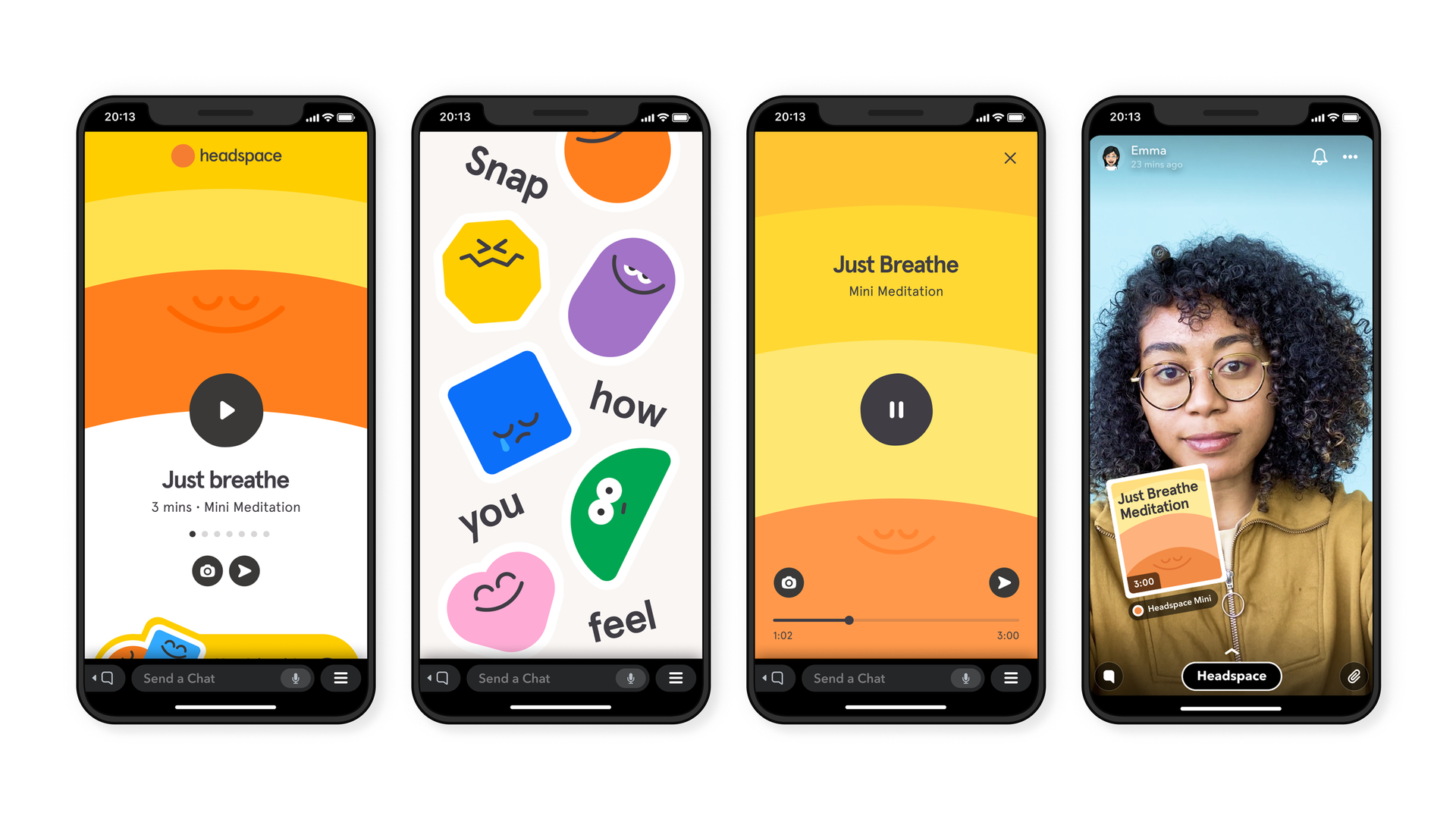 Snapchat is launching in in-app experience with meditation app Headspace, Axios' Sara Fischer reports. The feature will include expert resources related to emotional and physical wellbeing for users during the pandemic and beyond.
Why it matters: Snapchat's core user base is under 30 years old, and many are coping with missing out on school, sports and socialization thanks to COVID-19.
Details: The feature, which will roll out to Snapchatters this week, will also include daily meditations and tools for users to check in with their friends.
Be smart: The partnership is also one of Snapchat's early testing grounds for its new "Minis" features, which lets developers integrate apps and tools within Snapchat conversations.
Using Minis, Snapchat friends can coordinate in-app on activities like meditation or purchases.
The big picture: Snapchat has been expanding its focus on health and wellbeing this year. It expedited the launch of its health and wellness initiative to address users' growing anxiety about coronavirus.
5. Take Note
On Tap
Errata
An item in Friday's Login incorrectly referred to Sen. Mark Warner as John.
Trading Places
ICYMI