Axios Login
November 29, 2022
I could have written any intro I wanted and I just wrote this. What a waste.
😷 Situational awareness: Twitter said that it is no longer enforcing its COVID misleading information policy, which has led to the suspension of over 11,000 accounts over the course of the pandemic.
Today's Login is 1,277 words, a 5-minute read.
1 big thing: Good night, Alexa?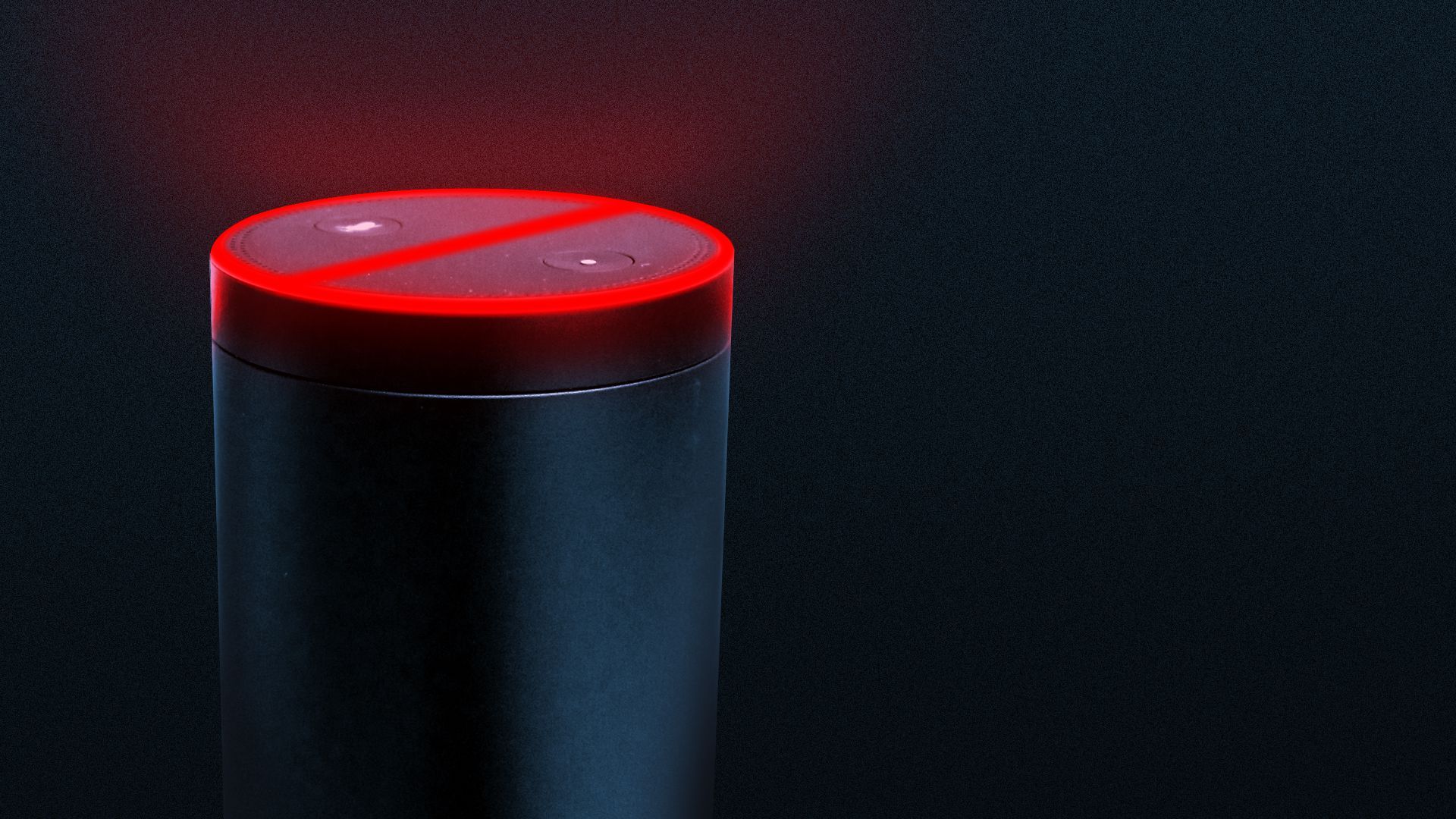 A decade after voice assistant technology captured the world's imagination, Alexa and Siri appear to be on the wane.
Why it matters: Alexa's rise and fall shows that for every winner in the tech industry's never-ending game of "dominate the next platform," there are multiple money-incinerating losers.
Driving the news: Amid tech's biggest slump in two decades, companies are tightening their belts and decreasing investments in secondary devices and voice assistants.
Earlier this month, a report from Insider detailed that Amazon workers had determined that Alexa was a "colossal failure of imagination" and "wasted opportunity." Insider reports its division was on track to lose up to $10 billion in 2022.
This was followed by news of Amazon's biggest layoffs to date, with Alexa's team reportedly among those heavily affected by the cuts.
A month ago, Google reportedly decided to scale back development and support for its Google Assistant.
Flashback: When Siri first hit the market in 2011, it was championed as "probably one of the most novel applications Apple has ever produced."
Amazon released the first Echo featuring Alexa in 2014 and it was a hit, selling 5 million devices in the first two years.
Between the lines: Though voice assistants have become a literal fixture in millions of homes, they have not delivered on their creators' revenue targets.
Amazon's goal with Alexa was to give users an even easier way of ordering from the retail giant, but Insider reports that a few years into Alexa's life, most interactions were trivial.
What they're saying: Amazon points to internal statistics showing a 30% increase in Alexa interactions over the past year and says it's "still in the earliest days of what Alexa will become."
"The fact is, Alexa has changed how people interact with technology, and we are observing incredible momentum with our customers," an Amazon spokesperson told Axios.
Though voice assistants have slowly evolved to understand more complex commands, research shows that most people use them for simpler tasks like checking the weather or making a call.
Meanwhile, a February report from Voicebot Research showed that fewer Americans used voice assistants in 2021 compared with 2020.
Microsoft's Cortana and Samsung's Bixby have also seemingly failed to gain traction.
The intrigue: Voice assistants have also faced growing concerns over consumer privacy.
Yes, but: Voice assistants have proven to have a wide range of applications and champions, even if not in the ways Amazon and Apple originally planned.
Voice input has been hugely important in providing greater tech accessibility, offering those with limited vision, motor impairments or other challenges a smoother way to interact with devices.
The world of "Internet of Things" products has produced an ecosystem of devices that can be controlled with users' voices.
Using voice commands has increasingly allowed drivers to keep their hands on steering wheels. And a 2016 study showed that 62% of iPhone users used Siri in the car.
Additionally, innovations in wearables like VR headsets and AR glasses have leaned on voice inputs so users don't have to keep touching their heads or carry awkward controllers.
What's next: Voice could see a revival if the dreams of metaverse pioneers and AR innovators come true.
2. Musk threatens war with Apple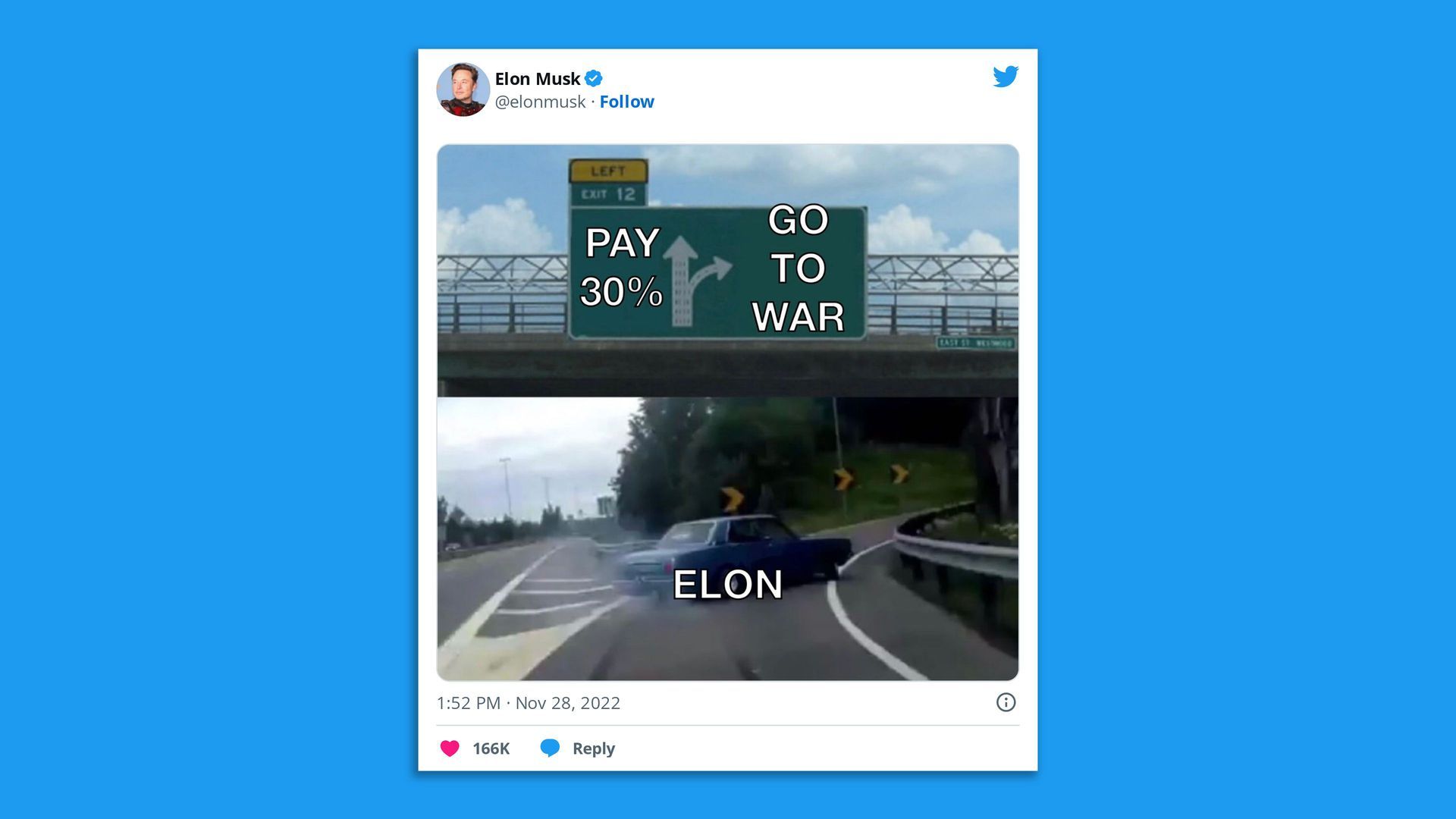 Elon Musk on Monday fired off a series of tweets blaming Apple for a host of grievances, including allegedly threatening "to withhold Twitter from its App Store" and pulling most of its ad spend on Twitter, Axios' Sara Fischer and I report.
Why it matters: The tweets are part of a broader narrative Musk is trying to paint that Apple is a monopoly and uses its power to censor voices.
Yes, but: Most advertisers see their spending choices as another kind of free speech.
In another series of tweets, Musk called out Apple's 30% cut of transactions through its app store — a longstanding arrangement that has drawn the ire of other tech companies and is the subject of a major lawsuit between Apple and Epic Games.
Musk said last week he would build his own smartphone if Apple pulled Twitter from its app store for violating its rules. But doing so would take enormous resources and time.
Apple did not respond to a request for comment on Musk's complaints.
Be smart: As Musk tries to drum up engagement on Twitter and fulfill his promises to reduce the platform's limits on speech, he has shown that he's not afraid to alienate two of his most important business stakeholders: App stores that distribute Twitter and advertisers that fund it.
More than half of smartphone users in the U.S. use Apple devices.
The vast majority of Twitter's revenue comes from advertising.
Apple has been a key advertiser: In the first quarter of this year it spent $30 million on Twitter in the U.S., a source told Axios, and $48 million globally, per the Washington Post.
Meanwhile, Musk has already begun the process of reinstating tens of thousands of previously banned, widely followed accounts, per Platformer. That follows through on an "amnesty" pledge Musk made last week.
The big picture: Musk isn't the first tech executive to go after Apple for alleged misuses of market power.
Companies like Meta and Spotify have also recently called out the iPhone maker for its app store policies.
What to watch: Apple has shown no reluctance to ban apps from its app store, including several that cater to far-right users, if it determines that they do not operate effective content moderation policies.
3. Crypto lender BlockFi files for bankruptcy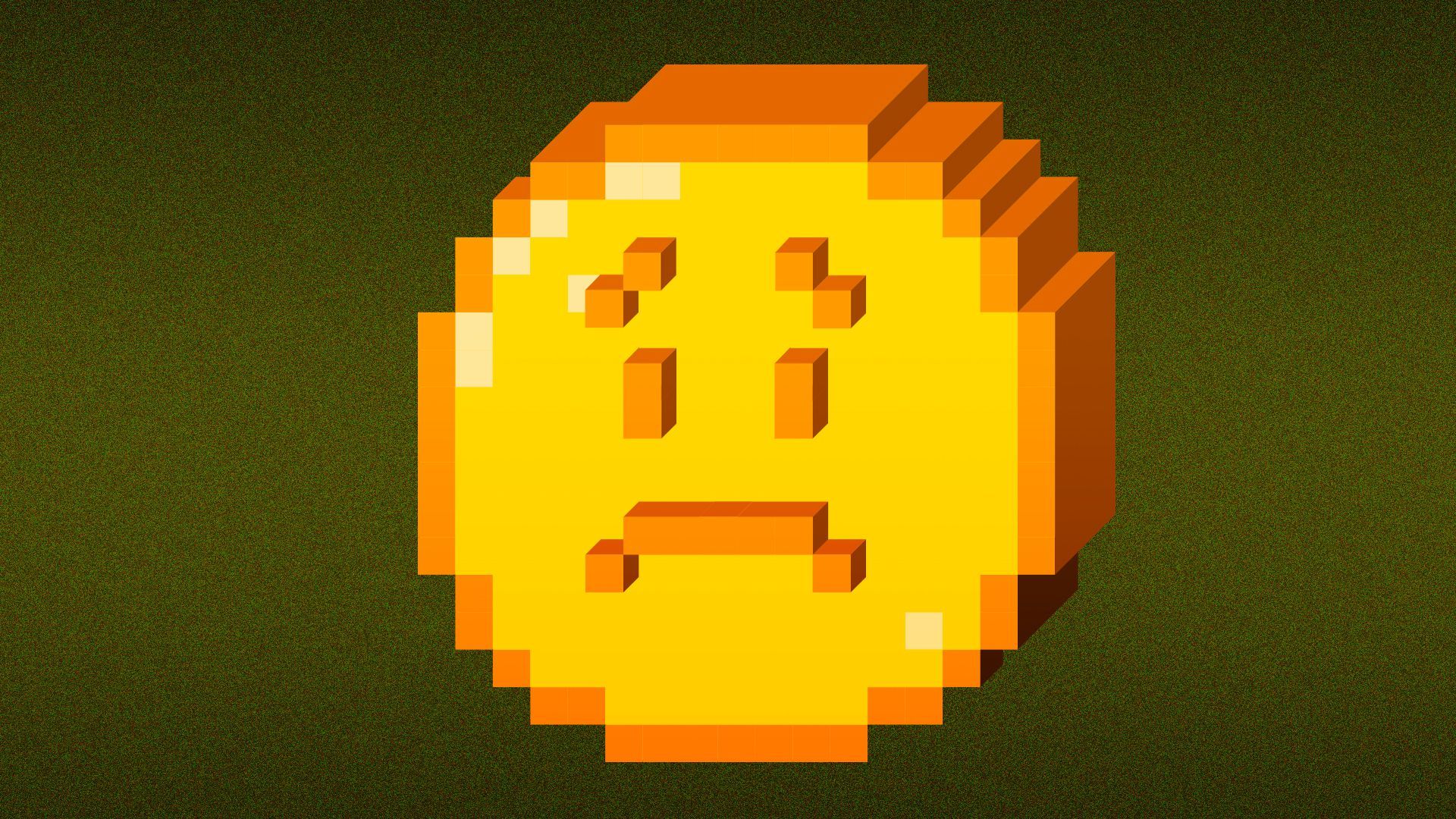 Cryptocurrency lender BlockFi filed for Chapter 11 bankruptcy protection on Monday, the latest casualty of crypto contagion following the collapse of FTX, Axios Pro's Ryan Lawler reports.
Why it matters: The dominoes continue to fall in the crypto world, as a series of bad bets and a market plunge has sent companies like FTX into bankruptcy.
Details: The firm and eight of its affiliates filed in the U.S. Bankruptcy Court for the District of New Jersey.
BlockFi says it has $256.9 million in cash on hand to support ongoing operations during the restructuring process.
Flashback: BlockFi was one of several firms FTX helped prop up following the liquidation of 3AC.
In July, BlockFi agreed to a $400 million credit facility from FTX, along with an option for the crypto exchange to acquire it outright for up to $240 million.
But FTX's business quickly collapsed and the company filed for bankruptcy, putting BlockFi's own future in doubt.
4. Take note
On Tap
Trading Places
REAL Messenger, a social app for real estate, has hired former Meta data products director Kamal Shaik to be its chief data officer.
ICYMI
Facebook parent Meta was hit with a $275 million fine by Irish data protection authorities for a data scraping incident. (TechCrunch)
Snapchat parent Snap has told workers to return to the office four days per week starting in February. (Bloomberg)
Thanks to Scott Rosenberg and Peter Allen Clark for editing and Nick Aspinwall for copy editing this newsletter.