Axios Login
May 25, 2021
OK. I did promise you an intro. Hmm. Four score and seven newsletters ago ... nah. It was the best of newsletters. It was the worst of intros...
Today's newsletter is 1,221 words, a 5-minute read.
1 big thing: Services push makes Apple a target
Apple's successful long-term effort to generate new revenue from the services that run on top of iPhones and Macs is also carving out new vulnerabilities for the giant — including antitrust charges, lawsuits by developers and new conflicts over privacy and content moderation.
Why it matters: Apple has been relatively unscathed by the criticisms that dog Facebook, Google and Amazon, but the more cash it squeezes out of its App Store and other services, the more of a target it will become, Axios' Sara Fischer and Ashley Gold report.
Driving the news: Arguments wrapped up Monday in a three-week trial pitting Apple against "Fortnite" maker Epic Games, which wants to force Apple to open iOS to rival app stores and payment systems.
Judge Yvonne Gonzalez Rogers has expressed skepticism about how much competition Apple faces.
Apple is facing new vulnerabilities on multiple fronts.
Developers: Apple's emphasis on services revenue has placed it squarely at odds with some key app developers — not just Epic but Spotify, Tinder and others.
China: Last week, a New York Times investigation alleged Apple has ceded control of the data of its Chinese customers to the Chinese government.
App store reviews: The size of Apple's App Store makes governing it increasingly difficult, particularly with regard to user reviews, where critics say fraud has multiplied.
Privacy: As Apple rolls out new privacy protocols, it faces allegations of monopoly abuse from competitors, primarily Facebook, who argue Apple is trying to undermine competitors' advertising businesses.
The bottom line: Apple remains very good at selling beautiful, functional devices — lots of them. But as its hardware business stops growing and services become a bigger part of its revenue, its headaches are likely to multiply.
Go deeper: Apple pivots to media as iPhone sales fall
2. Arm CEO on the upside of global chip shortage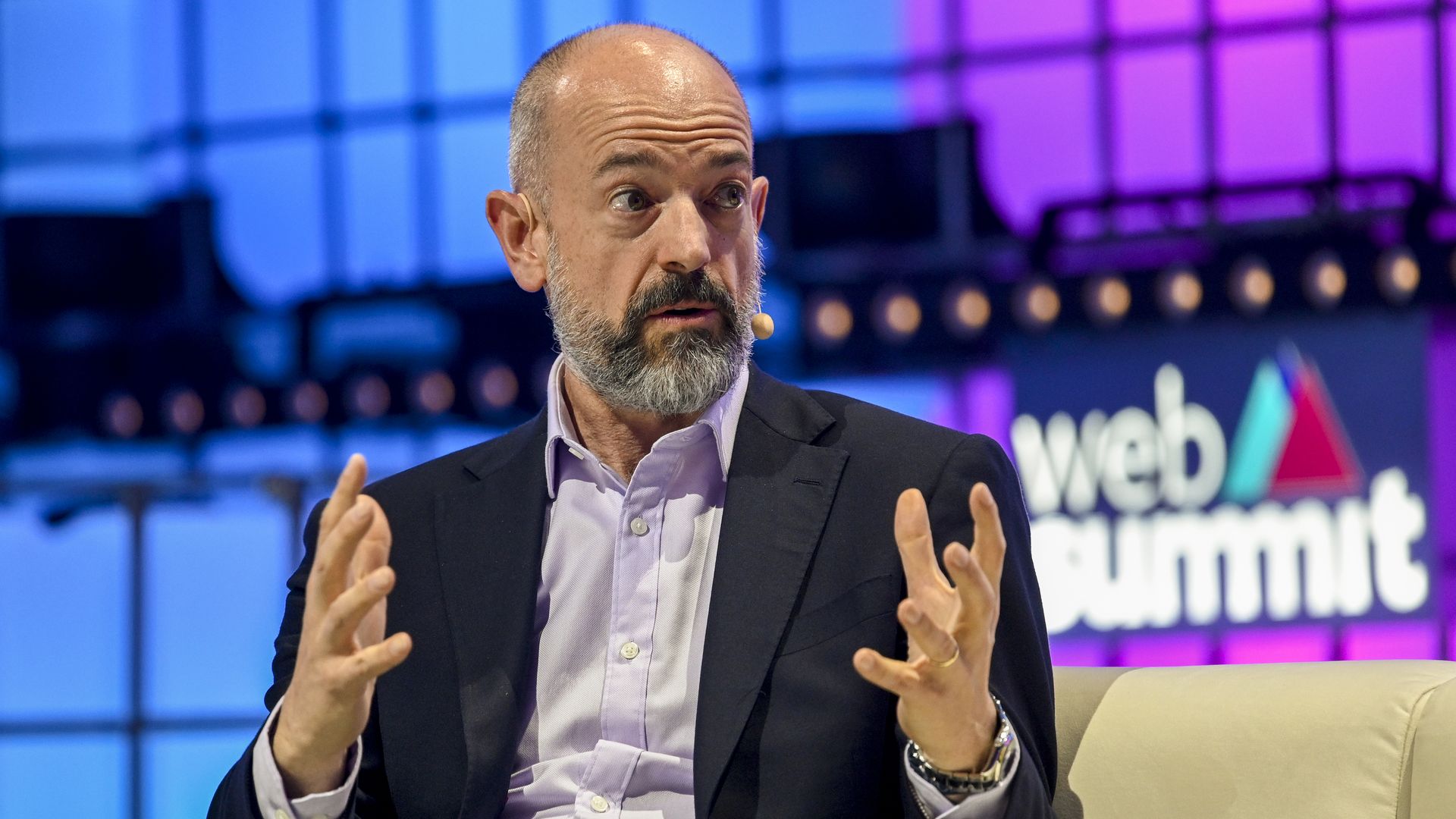 Simon Segars has been a busy guy during the pandemic, even if the Arm CEO has spent the bulk of the last 15 months at home.
During that time, he's overseen a redesign of his company's products, helped his customers deal with a global chip shortage and engineered a $40 billion deal to sell his company.
Why it matters: U.K.-based Arm, uniquely in the chip industry, neither designs nor manufactures entire processors. It focuses on chip cores, and its energy-efficient designs sit at the heart of billions of products, from phones and computers to cars and home electronics.
If nothing else, Segars says the global chip shortage means people are finally talking about semiconductors.
"I hope this interest does spur people to want to come into this industry," Segars said in an interview with Axios Monday.
The big picture: There's a reason that SoftBank paid $32 billion to buy it five years ago — and it's the same reason that Nvidia is coughing up even more to acquire it now.
Arm licenses its chip-core architecture to the firms that design chips — companies such as Apple, Samsung and Qualcomm.
Its partners made some 25 billion chips based on its architecture last year. And, with the chip industry booming, Arm has seen its business grow too, with revenue last year up 11%.
In March, the company announced its latest chip architecture, known as V9, which adds improved security and machine learning capabilities, along with better overall performance.
What's new: Arm is announcing how that design will impact the mobile industry, which has adopted Arm designs almost universally.
While Intel defined the PC era with its ever more powerful chips, Arm's designs aim for the optimum balance of performance and power efficiency.
That's important because battery technology improves only a little each year, while people constantly want to do more with their devices without having to stop midday to recharge their phone.
3. Tech regulations take different paths by party
There's broad agreement among leaders of both parties that Big Tech needs to be reined in — but widely different views on how to do it, as two Monday stories illustrated.
In Washington, Democrats on a key House committee met with various stakeholders to carefully craft new legislation that might fly with both industry and its critics, Axios' Margaret Harding McGill scooped. Representatives of Facebook, Twitter and Google all attended.
Florida's Republican governor, meanwhile, signed legislation severely limiting social media companies' ability to moderate content — a law seen by many as blatantly unconstitutional and unlikely to survive a certain court challenge.
Driving the news: The Florida law would fine social media services that permanently ban candidates running for office in Florida.
The law also prevents platforms from removing content from news outlets above a certain size.
It allows people to sue platforms if they think social media companies are inconsistently applying their content rules.
Between the lines: While Florida's law might never be enforceable, if nothing else it could serve as a warning to tech companies of what can happen when you don't have a seat at the table.
4. Amazon-MGM deal a milestone in media-tech consolidation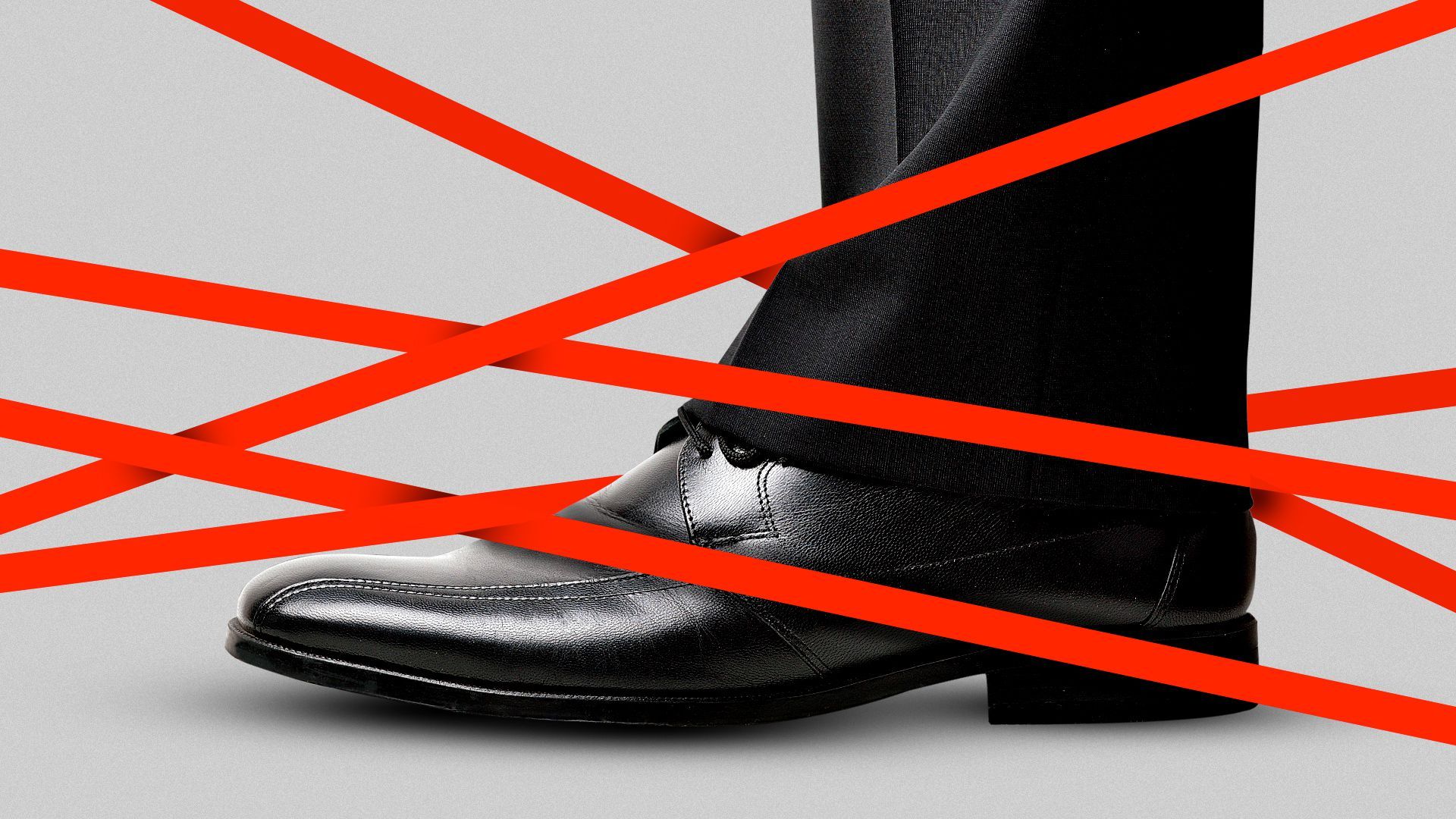 Media industry consolidations and acquisitions by tech companies are drawing renewed attention from regulators, Margaret and Sara report.
The big picture: Big Tech deals "will probably heighten calls for antitrust legislation," says former Justice Department antitrust chief Makan Delrahim.
Driving the news: Amazon is in final talks to acquire MGM Studios for roughly $9 billion including debt, according to the Wall Street Journal.
The deal, which would mark the second-largest acquisition for Amazon, would be a milestone in the tech sector's push into entertainment.
MGM has long been considered a prime acquisition target as one of the last independent content companies not yet gobbled up by a tech firm or bigger studio.
Lawmakers are taking aim at the deal. "This proposed merger is yet another example of Big Tech's commitment to total dominance in every sector of our economy," tweeted Republican Rep. Ken Buck, a member of a House Judiciary subcommittee on antitrust issues.
The Amazon report follows blockbuster news announced last week that AT&T will spin off WarnerMedia to form a new media behemoth with Discovery.
Between the lines: WarnerMedia/Discovery will be the first major media deal to be scrutinized by the Biden administration.
"We think the deal ultimately gets approved, either by the DOJ or by the courts, but there is some risk of rejection," writes Blair Levin, an analyst at New Street Research.
The last major media merger to face serious regulatory scrutiny was AT&T's acquisition of Time Warner in 2018. The Justice Department and Delrahim sued to block the deal, but failed.
5. Take note
On Tap
Sens. Mike Lee and Amy Klobuchar, leaders of the Senate Judiciary antitrust subcommittee, will introduce Tuesday the Senate version of a House bill Axios scooped last week. The bill gives state attorneys general more power to keep antitrust cases in the venues they prefer.
Microsoft's Build developer conference takes place online today through Thursday.
Trading Places
The Semiconductor Industry Association, the U.S. chip industry trade group, has hired former Commerce Department national security policy adviser Meghan Biery as director of global technology and security policy.
ICYMI
Russian communications regulators ordered Google to take down what it termed prohibited content within 24 hours, or face fines. The company could eventually see traffic to its sites slowed. (Reuters)