To my Ohio readers, you can join Axios' Mike Allen at The Ohio State University Monday for a discussion on the Future of Work with entrepreneur Mark Cuban, Governor John Kasich, and our own Jim VandeHei. To RSVP, click here.  
https://www.axios.com/newsletters/axios-login-9df73973-416e-40ce-b891-dcdbfb85c409.html?chunk=0#story0
Memo to Facebook: Read your memos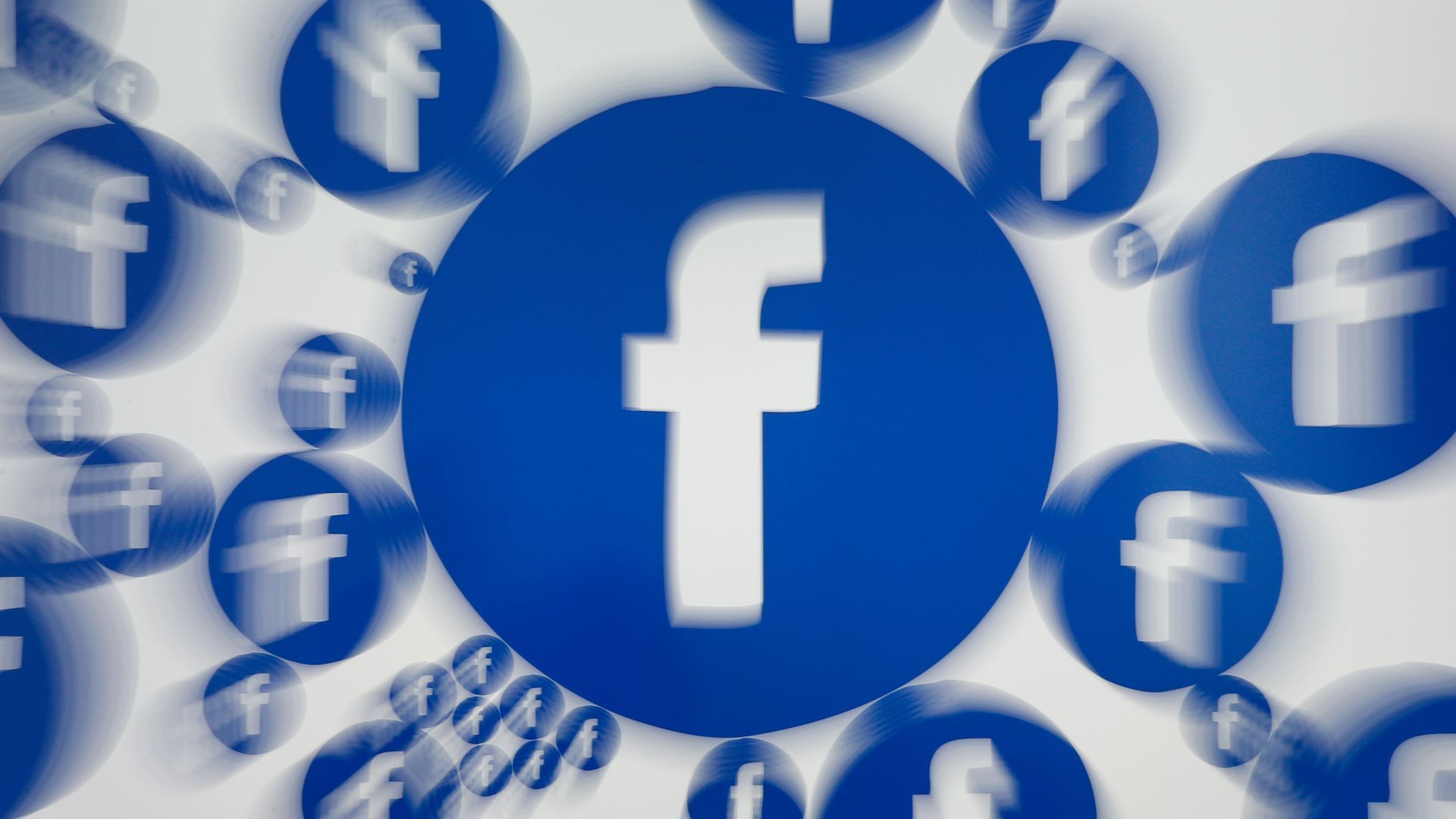 Facebook leaders often express surprise at how their platform could be so misused, and that has always strained credulity.
Driving the news: A June 2016 internal memo, revealed by BuzzFeed on Thursday, makes it clear that at least some at the company have been imagining such scenarios for a while.
In the memo, titled "The Ugly" and posted by BuzzFeed, Facebook VP Andrew "Boz" Bosworth writes:
"So we connect more people. That can be bad if they make it negative. Maybe it costs someone a life by exposing someone to bullies. Maybe someone dies in a terrorist attack coordinated on our tools."
BuzzFeed's analysis: "The Bosworth memo reveals the extent to which Facebook's leadership understood the physical and social risks the platform's products carried — even as the company downplayed those risks in public. It suggests that senior executives had deep qualms about conduct that they are now seeking to defend. "
Facebook's response: CEO Mark Zuckerberg said, "Boz is a talented leader who says many provocative things. This was one that most people at Facebook including myself disagreed with strongly. We've never believed the ends justify the means."
Bosworth himself said that he doesn't agree with the memo today and that he didn't even agree with it at the time, but was looking to "bring to the surface issues that I felt deserved more discussion with the broader company."
Really? If he was just playing devil's advocate, why didn't he say so in the memo and why, as The Verge's Casey Newton reports, did he delete the post today?
Internally Facebook employees responded with outrage — outrage that someone leaked the memo, Newton writes.
More questions: In a Twitter thread, BuzzFeed's Ryan Mac raises a number of still-unaddressed issues that he hopes get pressed in the coming days.
https://www.axios.com/newsletters/axios-login-9df73973-416e-40ce-b891-dcdbfb85c409.html?chunk=1#story1
How health care turmoil hurts the gig economy
Independent contractors and freelancers make up an increasing share of the workforce, yet Washington is largely neglecting the market where self-employed workers get health insurance, Axios' Caitlin Owens reports.
That's bad news for people in the burgeoning "gig economy," where work is divorced from an employer — and thus from employer-sponsored insurance.
Key quote: "Obamacare and the gig economy were a match made in heaven," said the Kaiser Family Foundation's Larry Levitt. "But, with instability and rising premiums in the individual market, especially for people not eligible for subsidies, it's not as good a solution for gig workers as it was initially."
https://www.axios.com/newsletters/axios-login-9df73973-416e-40ce-b891-dcdbfb85c409.html?chunk=2#story2
A look at Uber under Dara Khosrowshahi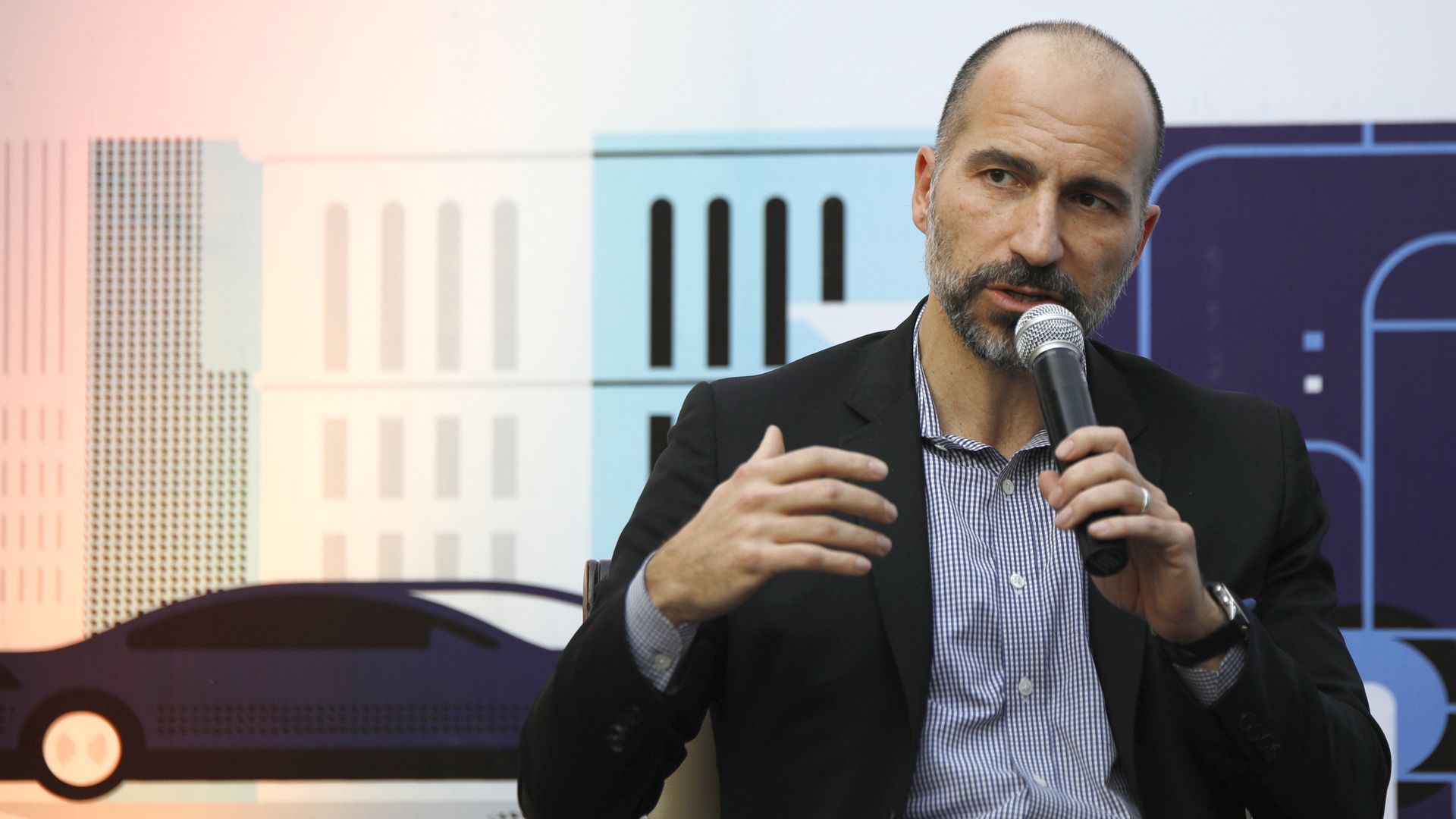 The New Yorker has a well-timed look at how Uber has changed with the entry of CEO Dara Khosrowshahi. While much of the piece was clearly reported before the recent fatal self-driving car crash, the piece includes the aftermath of that incident.
"What happened last week was truly tragic," he said. "We've clearly taken a very, very big step back," Khosrowshahi tells New Yorker's Sheelah Kolhatkar.
Also of note, per the article:
Kolhatkar shares an experience from a January test ride in one of Uber's self-driving Volvos, writing that the car's computer crashed once and required a reboot, and that the safety driver "jumped in with surprising frequency."
Recode executive editor Kara Swisher knew Dara was hired before he did, emailing Khosrowshahi's then-boss Barry Diller to say: "It's Dara."
https://www.axios.com/newsletters/axios-login-9df73973-416e-40ce-b891-dcdbfb85c409.html?chunk=3#story3
Trump may not understand Amazon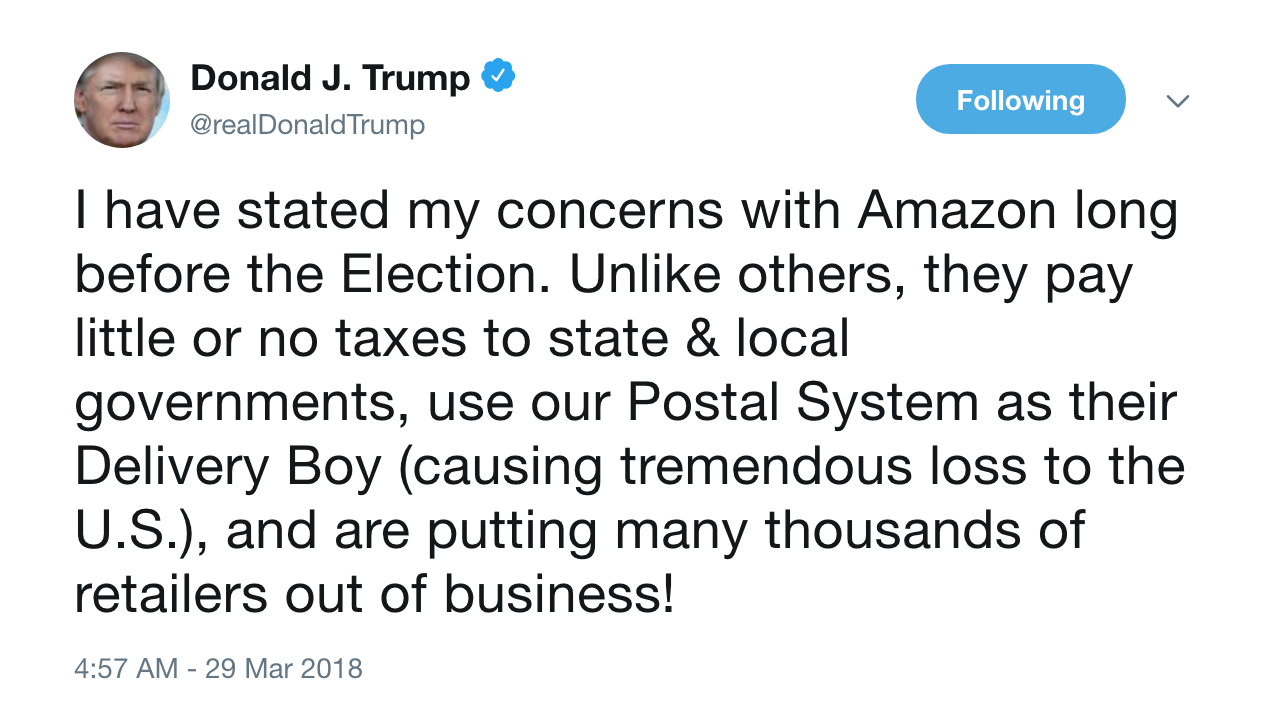 In a morning tweet Thursday (seen above), President Trump confirmed our reporting that he is concerned about Amazon — and gives a glimpse into some misunderstandings about the retail giant.
Fact check: Trump is certainly wrong on the first two fronts.
While true in the early days, Amazon now collects state sales tax in all the states that have one.
As for the post office, its business has been in decline and Amazon is one of its largest customers. Don't take my word for it, here's a former Postmaster General arguing the same, via a WSJ tweet.
Yes, but: He may well have a point on that last front — on putting thousands of retailers out of business — though it's worth noting that there's also a new crop of retailers who sell through Amazon.
Go deeper: Trump hates Amazon, not Facebook.
https://www.axios.com/newsletters/axios-login-9df73973-416e-40ce-b891-dcdbfb85c409.html?chunk=4#story4
Take Note
On Tap
It's National Virtual Vacation Day, so strap on an Oculus Rift or HTC Vive and imagine you're somewhere else. (Personally, I'd prefer an actual vacation.)
Trading Places
Windows boss Terry Myerson, a 21-year Microsoft veteran, is leaving the company amid a broader reorganization.
Etsy is adding Facebook marketing chief Gary Briggs and former Goldman Sachs executive Edith Cooper to its board of directors. The moves expand the board to eight members, while maintaining gender parity, Etsy said.
ICYMI
https://www.axios.com/newsletters/axios-login-9df73973-416e-40ce-b891-dcdbfb85c409.html?chunk=5#story5
After you Login
In hockey, even in professional hockey, teams don't have a lot of extra goalies to spare. So when 2 Chicago Blackhawk goalies got hurt Thursday, they had to call on an emergency backup — Scott Foster, a 36-year-old professional accountant who hadn't played competitively since college a decade ago. He played more than 13 minutes, stopped all seven shots he faced and helped Chicago earn the win. His post-game interview is also worth a watch.