Axios Login
May 10, 2017
Welcome back. Once again we are joined by our MIT friends, and I am writing to you from Boston.
Tech entrepreneurs could learn a lot from this little iron fish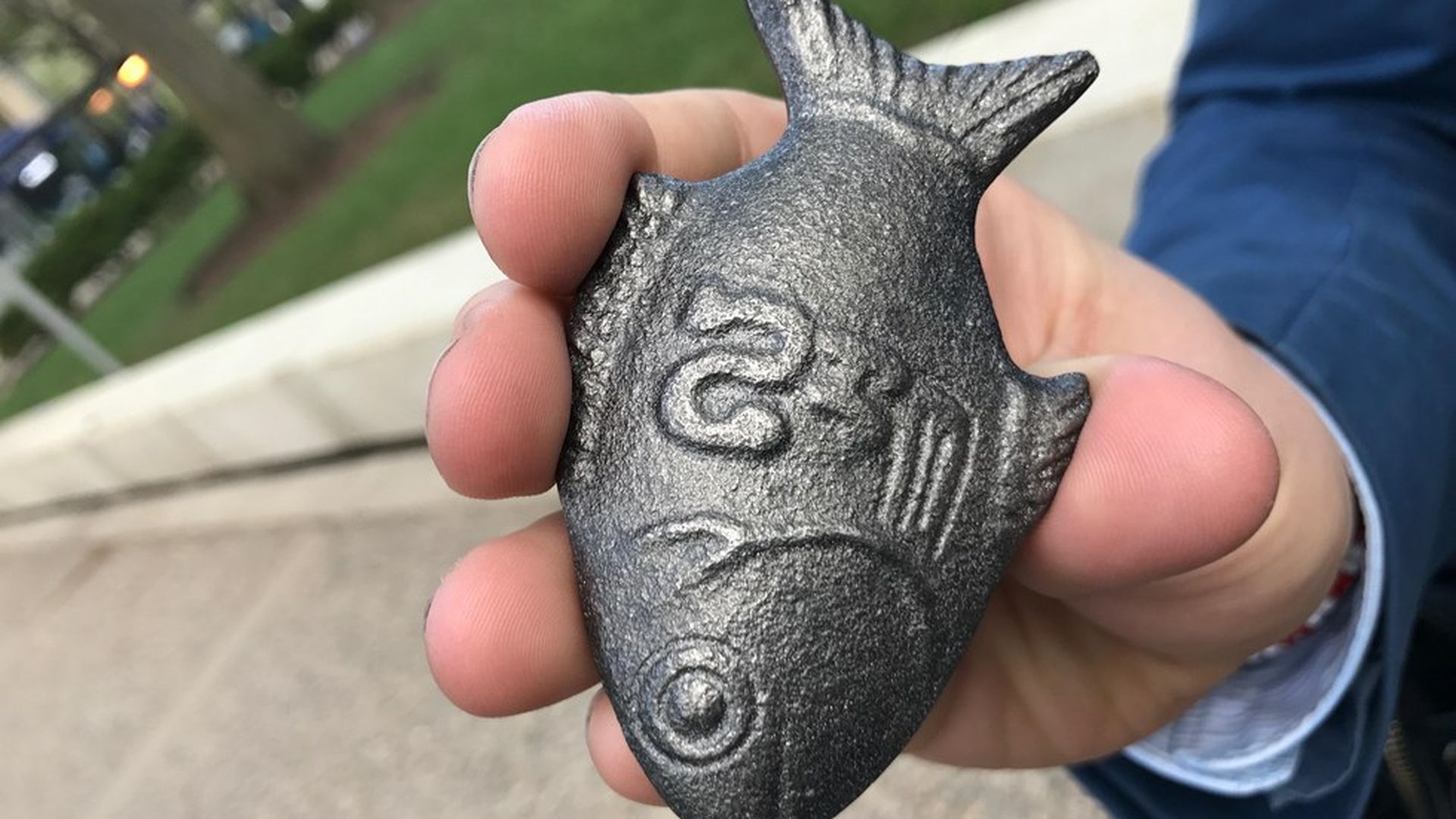 While one wouldn't think an alternative was needed for iron supplements, it turns out they taste terrible. As a result, two-thirds of the people that need more iron stop taking the pills.
Enter the little Lucky Iron Fish. It looks like little more than a paperweight. But boil it in a pot of water for 10 minutes and the resulting liquid has enough iron to meet someone's nutritional needs. Plus it lasts for five years, making it more affordable in the long term than taking a daily pill.
Lessons we can learn: Inside that little metal fish are also some good lessons for any tech entrepreneur. It's proof that sometimes problems that appear to be solved, really aren't. And, sometimes a completely new approach may be needed. Plus, the shape of the fish is a reminder that design matters. Initially, it was just a little iron disk, but when Gavin Armstrong was developing it for use in Cambodia, he found people were much more likely to use a fish-shaped object because fish are considered lucky there.
Lucky Iron Fish is just one of the ideas being highlighted at this year's Solve conference at MIT. The goal of the program is to encourage entrepreneurs with innovative takes on thorny global problems. The conference began with talks from cellist Yo-Yo Ma and former defense secretary Ash Carter (which I moderated), but the real focus of the event is on the 30 or so entrepreneurs, known as Solvers.
Solvers: Participants are working on topics such as tools for educating refugees, creating more inclusive innovation, and developing techniques for cutting carbon emissions. (Several new programs announced at the event included preparing youth for the future workplace, brain health, and increasing women in technology).
To get an even better sense for Solve, check out this video from Vice. The short documentary shows how the program works through the eyes of Mohsin Mohi Ud Din, who presented at the conference. His project, Me/We, helps Syrian refugees regain control of their lives through digital storytelling.
Some thoughts on Beddit, Apple's 'sleepy' little acquisition
After sleeping on the news of Apple's acquisition of Beddit, I still think it is too soon to say what will become of the technology.
The company isn't known for keeping products alive once it buys them. Beats' headphones business is an obvious exception but that was a much, much, much larger company with a huge established business and brand.
Beddit, by contrast, is a tiny company from Finland. So, if you want one of their devices, my advice is to buy one sooner rather than later. For now, it continues to be available online from Apple, and from Apple stores, but won't be sold at other retailers.
But, what about the tech?: As for where the technology goes, one likely candidate is the Apple Watch. Unlike some other smartwatches, Apple doesn't already have sleep tracking built into Apple Watch. That's likely in part because the device still needs to be charged every day. But as battery life improves, the watch would be a logical place to see some sleep-tracking technology show up. And Beddit already works with Apple's HealthKit.
That said, Beddit's technology is a sensor that goes on the mattress rather than a wrist-worn product like some rivals. So perhaps Apple will keep it around after all. I'm kind of tossing and turning on this one.
What to expect from Snap's first earnings report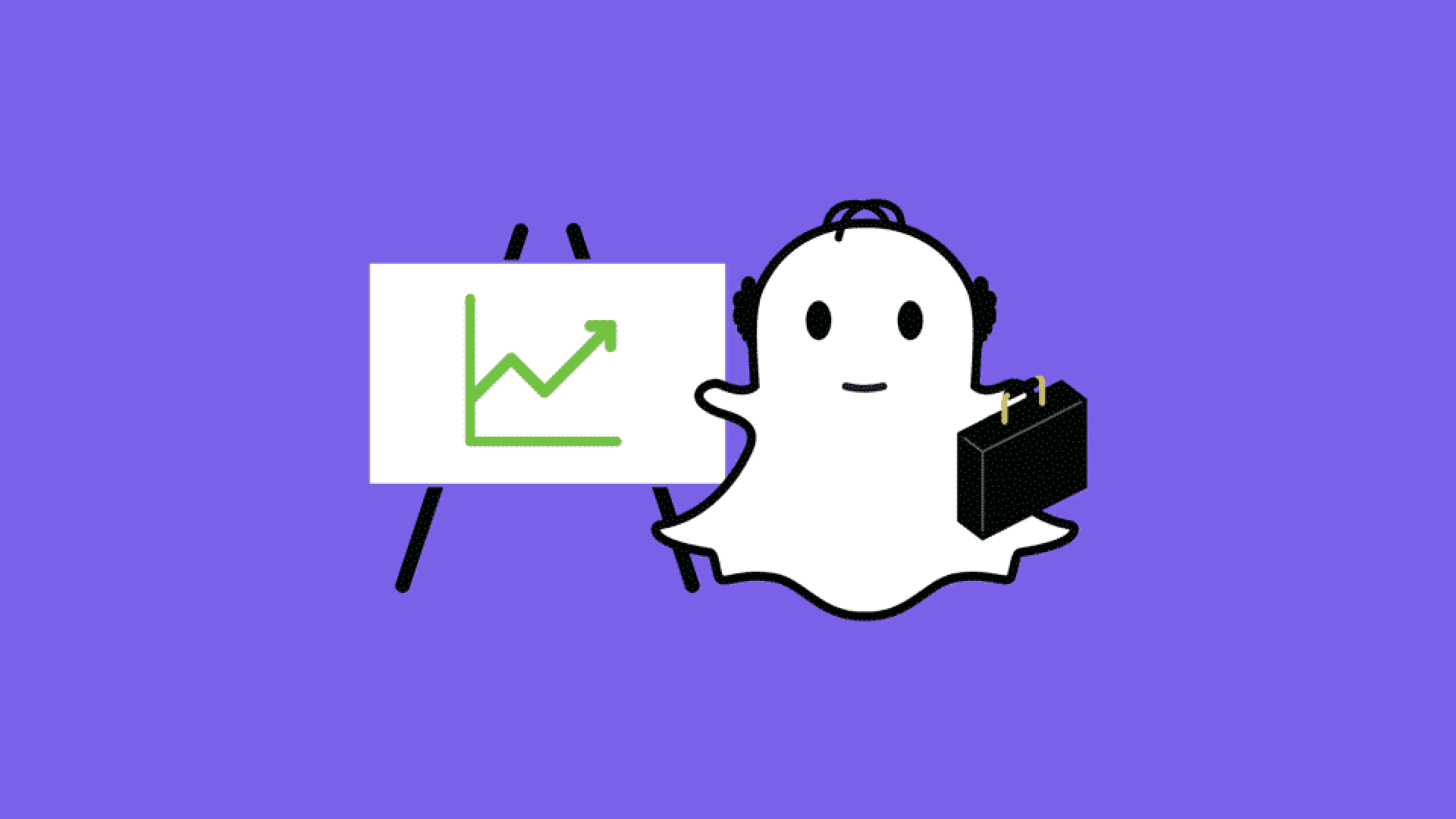 Just over two months since it went public, Snap is gearing up to release its first quarterly earnings report at market close today.
The stakes: Snap's earnings will be under heavy scrutiny. It commanded a massive valuation at IPO despite being unprofitable and having far fewer users than Facebook, so it will have to show improved financials and continued growth. It also must fight growing perceptions that Instagram's cloning of its most popular features is a serious threat.
For more details on what to expect, check out this preview from Kia Kokalitcheva and Sara Fischer.
Spoiler alert: This chart isn't as rosy as it seems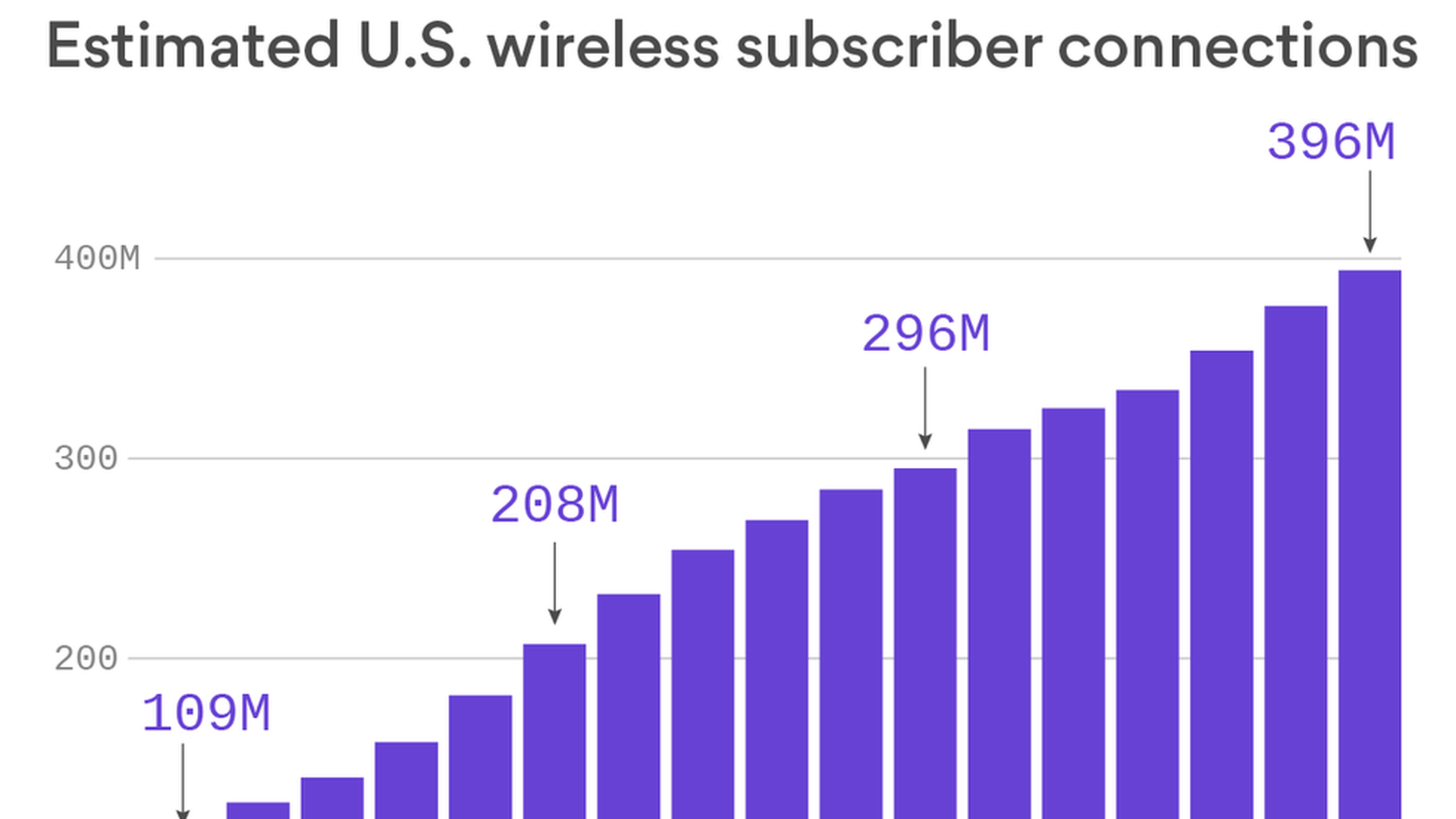 Yes, the number of wireless subscribers in the U.S. is growing, as the latest data from the CTIA shows. And of course, as it always does, the amount of data used continues to rise significantly.
But the chart above paints a highly incomplete picture. Wireless subscribers are the same and most of the new subscribers -- 75% last year -- come from non-phone devices. Out of those, 77% came from cars and IoT devices.
Why it matters: Phones are traditionally the most lucrative since they generate the highest revenue and profit margins. But the battle for them has intensified. "The U.S. is virtually running out of 'new' postpaid subscribers," wireless industry analyst Chetan Sharma told Axios. "The only way remaining for them to grow the phone base is by stealing subs from each other hence the price war."
Take Note
On tap: MIT's Solve conference wraps up today in Cambridge, with former U.S. CTO Megan Smith among the speakers...National Venture Capital Association's annual meeting kicks off in D.C. with discussions including immigration and tax reform...The Senate Judiciary Committee is slated to hold its already delayed confirmation hearing for President Donald Trump's pick for DOJ antitrust enforcer Makan Delrahim.
Trading places: 21st Century Fox hired Jamie Gillespie as VP of government relations; he comes from the National Association of Broadcasters.
ICYMI: Amazon, as expected, yesterday announced a smart speaker with a built-in screen for video chat and other uses. Not surprisingly, some critics are raising security and privacy concerns over an always-on device that sits in the home and also packs a screen and camera...The judge overseeing the lawsuit between Uber and Waymo told lawyers to expect a decision soon on Uber's effort to send the case to arbitration and Waymo's move for an injunction to halt some of Uber's self-driving car work...Nvidia shares surged after the graphics chipmaker's earnings beat expectations...NBC took a look at how smart home tools like Apple's HomeKit can make a huge difference in helping people with disabilities live more independently.
If you like what you just read, consider forwarding the e-mail to a friend. If not, consider forwarding it to several enemies. In any case, thanks for reading.