I'm in Vancouver for the TED conference. There's tons taking place on stage, including talks from venture capitalist Kai-Fu Lee, Dolby Labs' chief scientist Poppy Crum and former Uber exec Frances Frei. And there are lots more people here that we're eager to catch up with.
Meanwhile, the rest of the Axios tech team has its eyes glued to all things Facebook, including CEO Mark Zuckerberg's Senate testimony later today.
https://www.axios.com/newsletters/axios-login-940fdc37-0c9b-4bb0-a6a7-ff0517161192.html?chunk=0#story0
Privacy services gain from Facebook scandals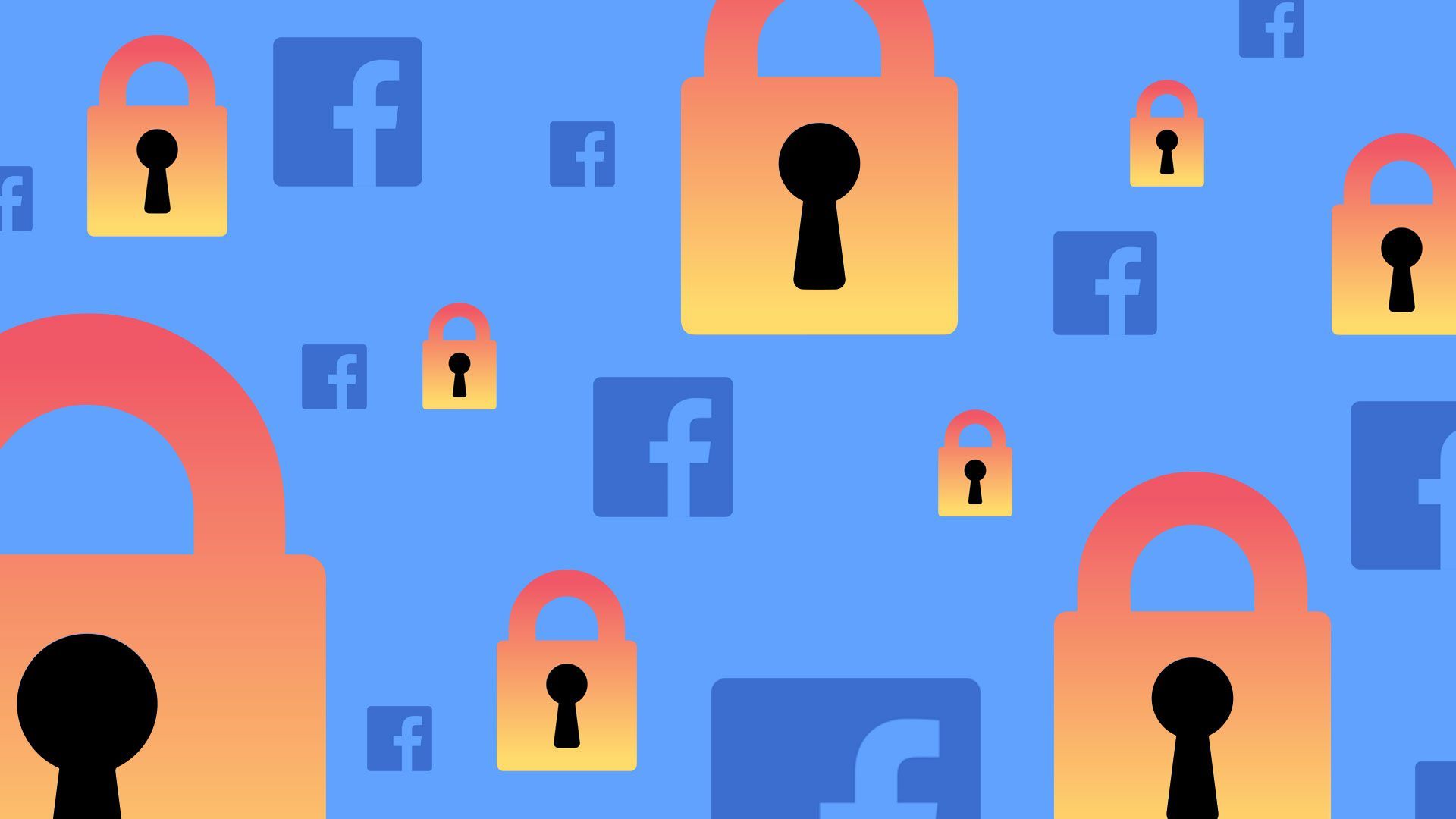 Facebook's privacy scandals may be creating a stronger market for privacy-oriented sites and services, which are seeing a slow increase in use in the wake of the latest revelations, Axios' Scott Rosenberg reports.
So far, it's a stream, not a flood. But it's a useful proxy for measuring possible defections from Facebook, since no one outside Facebook knows for sure whether significant numbers of people are abandoning the network.
The big picture: Even though #deletefacebook is a trendy hashtag, Facebook says it's seen no "meaningful" drop in usage, and it's not likely to disclose updated numbers until its next quarterly report in about a month.
The catch: There's no popular, privacy-conscious alternative to Facebook waiting to welcome defectors, the way Lyft was standing by to snap up disenchanted Uber customers during the heyday of #deleteuber.
Scott has more here, including a look at some of the services that could gain from the anti-Facebook movement.
https://www.axios.com/newsletters/axios-login-940fdc37-0c9b-4bb0-a6a7-ff0517161192.html?chunk=1#story1
The latest on Facebook heading into the hearings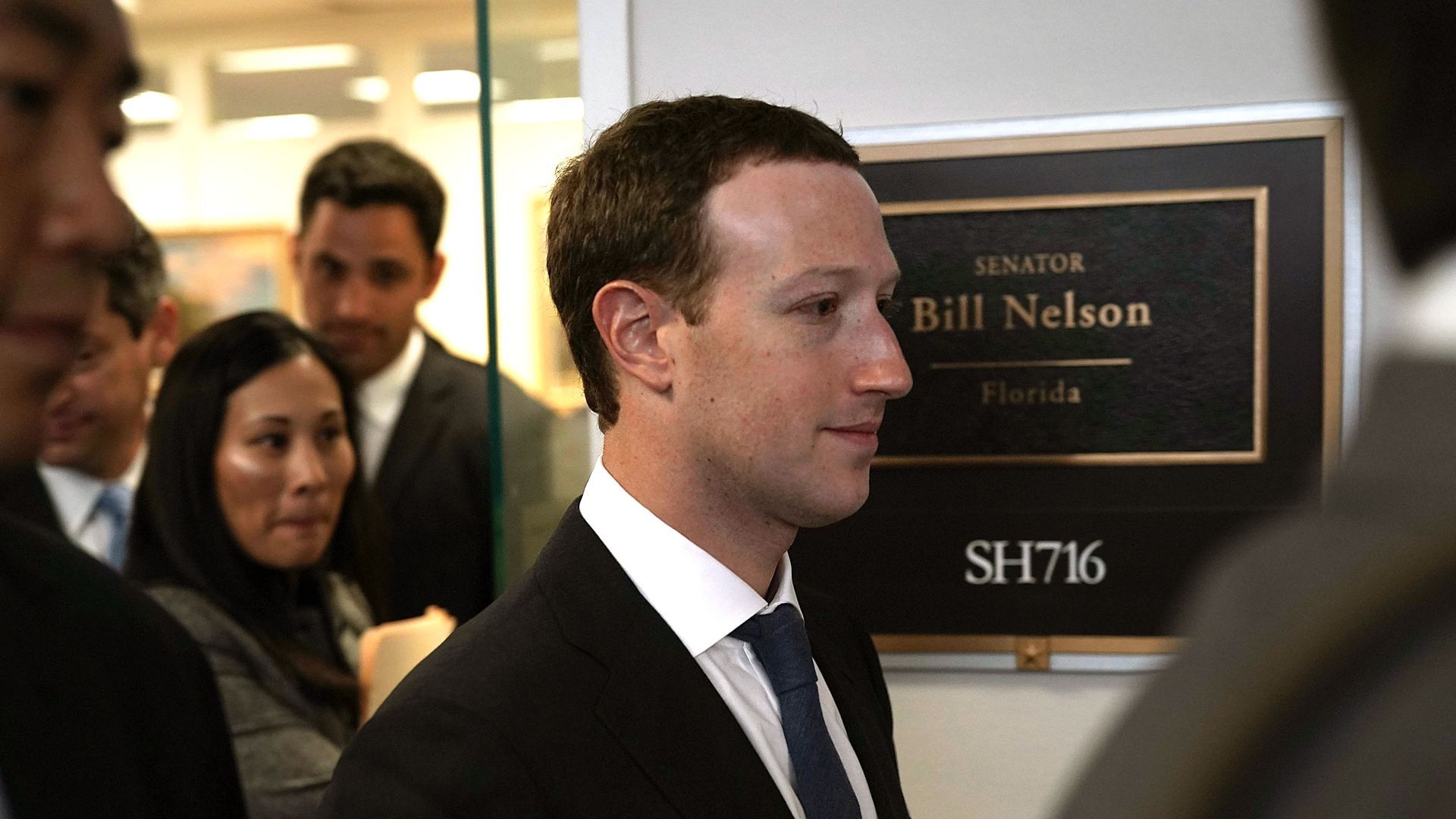 Reporters on Capitol Hill — including our very own David McCabe — got a workout Monday chasing Zuckerberg as he ducked into various offices (and evaded reporters' questions).
He was surrounded by a phalanx of U.S. Capitol Police officers as well as his own policy staffers. Zuckerberg was accompanied at different points by global policy chief Joel Kaplan, top lobbyist Greg Maurer and Andy Stone, the company spokesperson who has been working on the Russia issue.
His meetings included the chairmen and top Democrats on the Senate Commerce and Judiciary committees, which will host him at a joint hearing today.
The bottom line: Early reviews were mixed, with some senators praising his forthrightness, but also saying they have lots of unanswered questions. While Zuckerberg spent Monday roaming the halls of Congress, others prepared for his testimony in their own way.
Yes, but: This week's importance cannot be overstated. As Axios' Mike Allen writes this morning: "For a decade-plus, Washington worshiped the power of the tech giants because they were cool and had coin."
Yet, when Zuckerberg is sworn in on Capitol Hill today around 2:15pm, Allen says "it'll mark the official start of a new era that will be defined by skepticism, regulation and constant collision."
Allen also says Silicon Valley is changing gears — after dismissing Washington, they now plan constant engagement. Uber CEO Dara Khosrowshahi will speak in Washington tomorrow, and Axios has learned that LinkedIn CEO Jeff Weiner has booked a visit.
Meanwhile:
https://www.axios.com/newsletters/axios-login-940fdc37-0c9b-4bb0-a6a7-ff0517161192.html?chunk=2#story2
U.S. still doesn't have a cybersecurity doctrine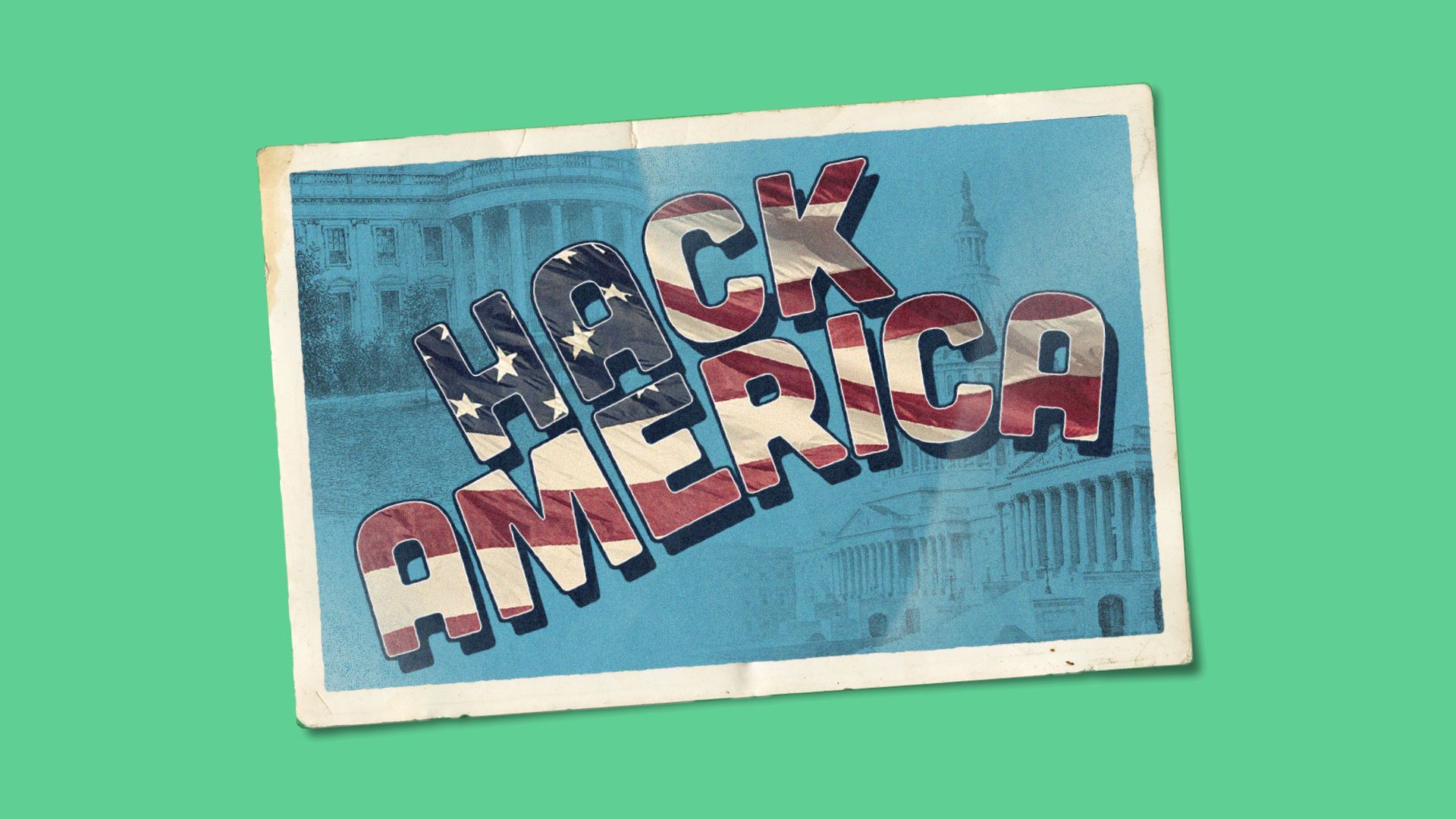 The U.S. still doesn't have a national cybersecurity doctrine that outlines what would happen to adversaries when they launch cyberattacks against the U.S., Shannon Vavra reports.
Why it matters: The country's ability to fight back is limited without the overarching doctrine and authority laid out for government agencies. That's a problem given that the midterm elections are coming up, and intelligence leaders have said Russia is showing no signs of letting up on its hacking attempts.
What they're saying:
"When you lack a strategy or a doctrine, you don't have the advantage of deterrence," Republican Rep. Will Hurd, who serves on the House Homeland Security Committee, told Axios.
The concern, as independent Sen. Angus King put it during a recent hearing on election security, is that "the Russians sent in this whole operation in to our election system…and paid no price."
"No one is saying 'the buck stops here,'" Democratic Sen. Martin Heinrich said.
https://www.axios.com/newsletters/axios-login-940fdc37-0c9b-4bb0-a6a7-ff0517161192.html?chunk=3#story3
The GOP split on Big Tech vs. Big Media
Two mega-stories in media are hitting Washington at the same time, and Republicans are split on how to manage them, Axios' Sara Fischer and David McCabe report.
What's happening: Lawmakers are being torn between the pressure to take tech regulation seriously in light of recent events and their traditional philosophies of deregulation.
Some Republicans in Congress are likely to put on a show in front of live television audiences today and Wednesday when Zuckerberg testifies.
These Republicans, like Sens. John Thune and John Kennedy, have been more open to talks of industry regulation ever since the Cambridge Analytica scandal erupted.
Yes, but: They're not over the traditional conservative aversion to regulation — let alone representative of the majority of their colleagues on Capitol Hill and at the FCC.
Why it matters: At the heart of the tension is whether government should regulate tech companies (like Facebook) or deregulate legacy media companies (like Sinclair Broadcast Group) to allow them to compete with tech. Passing meaningful legislation to regulate industry usually takes consensus, and a split Republican Party would make consensus difficult.
Our thought bubble: Republicans are going into Tuesday's hearings looking for reasons not to have to regulate the tech companies.
https://www.axios.com/newsletters/axios-login-940fdc37-0c9b-4bb0-a6a7-ff0517161192.html?chunk=4#story4
Take Note
On Tap
Facebook CEO Mark Zuckerberg is set to testify before a joint Senate hearing (see above).
Uber CEO Dara Khosrowshahi is in Los Angeles where the company is set to announce some major changes for drivers. The 10am PT event is scheduled to be live-streamed here.
The TED conference kicks off in Vancouver, and as mentioned, I'll be covering it for Login and the Axios stream.
Trading Places
ICYMI
https://www.axios.com/newsletters/axios-login-940fdc37-0c9b-4bb0-a6a7-ff0517161192.html?chunk=5#story5
After you Login
Check out U.S. Olympic Gold Medal hockey player Kendall Coyne delivering the first pitch at a White Sox game in the most perfectly unusual of ways.