Axios Login
June 17, 2021
Good morning! If you read yesterday's newsletter intro you know that Ina is at the Happy Place in southern California, and I am here to write Login while she is there.
Join Axios gaming reporters Stephen Totilo and Megan Farokhmanesh today at 3pm ET on r/games for an AMA! Ask them about E3 and all the latest in gaming...
Today's newsletter is 1,340 words, a 5-minute read.
1 big thing: Exclusive — The broadband vacuum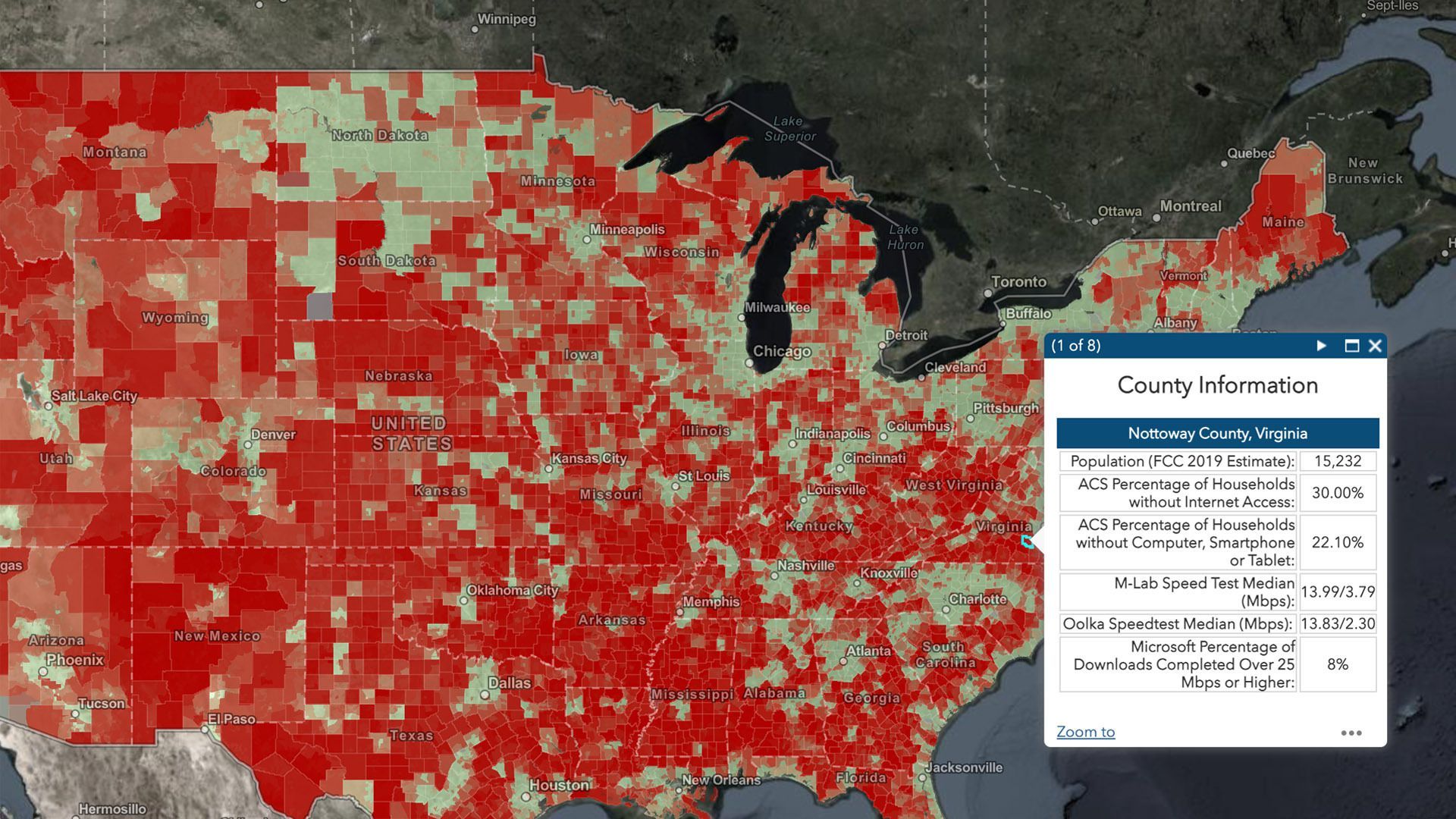 The Biden administration Thursday unveiled a new mapping tool that shows much greater gaps in use of high-speed internet service across the U.S. than the government's previous maps reported, Axios' Margaret Harding McGill scoops.
Why it matters: The White House is pushing for big spending to provide more, better broadband service to underserved areas after the pandemic made Americans more dependent than ever on their internet connections.
The new, zoomable map draws on a wider pool of data than existing maps by the Federal Communications Commission, which relied exclusively on industry-provided data that overstated broadband penetration.
Driving the news: The map raises questions about the gap between internet availability and actual usage, with usage reports indicating wide swaths of the country are not making a home broadband connection.
"What it tells you is there's a lot of places in the United States that aren't using the internet at broadband speeds," a White House official told Axios, estimating that means tens of millions of people.
The big picture: The Biden administration originally proposed a $100 billion investment in broadband as part of the American Jobs Plan infrastructure package.
The intrigue: The map shows the gulf between the data set the FCC has used to map broadband availability and where Americans actually report using the internet.
The FCC relies on data supplied by internet service providers about where they could offer service.
Companies can report that a census block is served even if only one household has internet service — which leads to maps that overstates access.
"There's a large gap between what the carriers are saying is on offer to be used and what's actually being used," the White House official told Axios.
Yes, but: Acting FCC chairwoman Jessica Rosenworcel announced a broadband mapping task force earlier this year to improve the agency's data collection and mapping tools.
The FCC uses its maps to allocate billions of dollars of subsidies for broadband deployment.
The administration effort is not meant to replace those maps or guide broadband funding grants, the White House says.
2. Big Tech moves in on the creator wars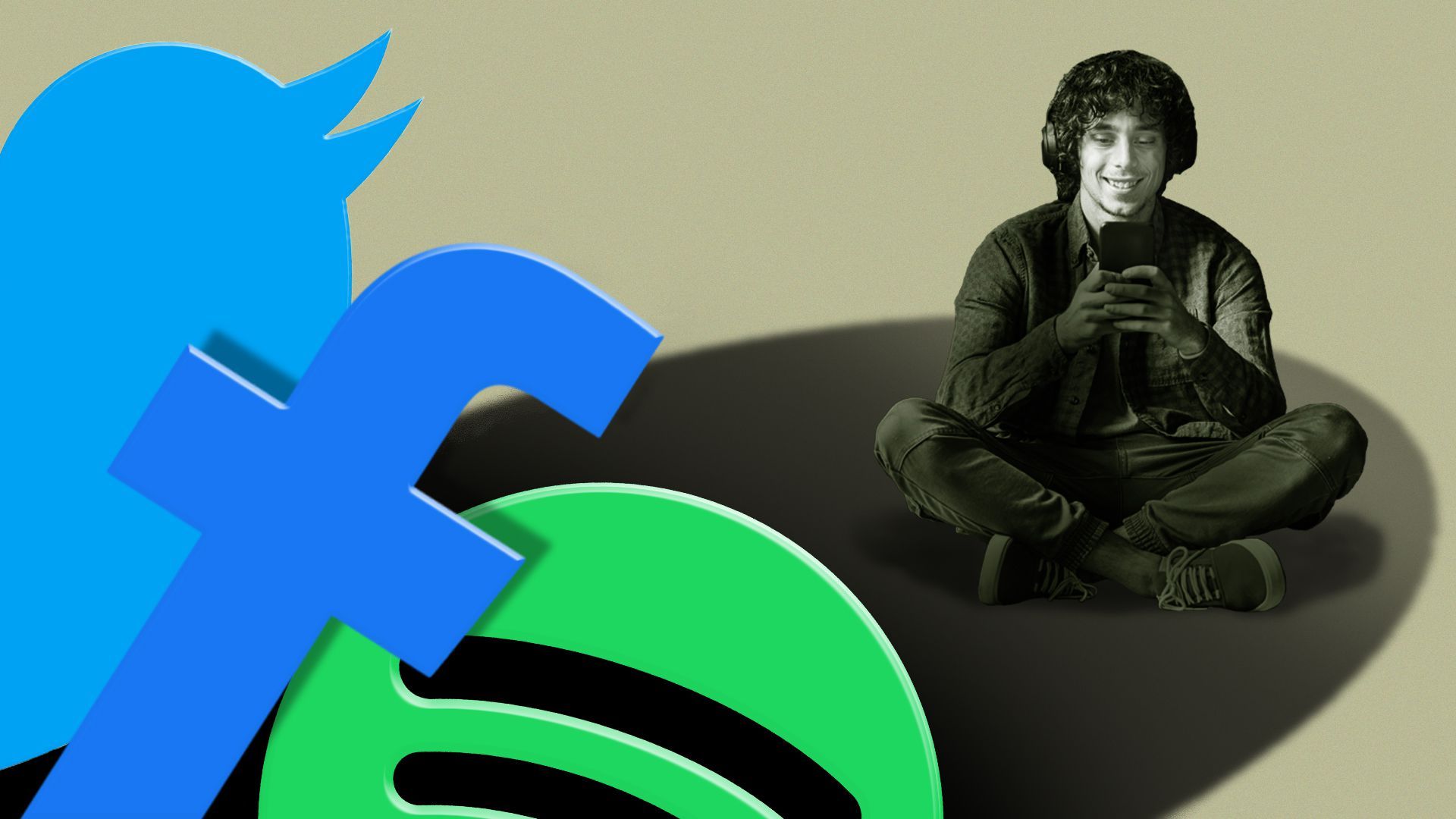 Tech giants like Facebook, Spotify and Twitter are racing to build and acquire new tools that will help them compete with smaller upstarts for the attention of participants in the new creator economy, Axios' Sara Fischer reports.
Why it matters: The creator economy, centered on individuals who make content for niche groups of fans on social platforms, grew significantly during the pandemic.
Tech platforms like Google, Facebook and Twitter, focused on making ad revenue from businesses, fell behind in making tools to help individual creators
Now that brands and consumers are catching on, Big Tech firms want in.
The upstarts that gained traction over the past two years — including Clubhouse for live audio, Discord for group chats, TikTok for short video, Substack for newsletters and Patreon for tipping and payments — now face an onslaught of competition from much bigger companies on many fronts.
Live audio: Spotify on Wednesday unveiled its new live audio app called Greenroom, which lets creators join live audio rooms and turn those conversations into podcasts.
Facebook hosted its first beta test of a new live audio feature Tuesday called Live Audio Rooms. Reporters joked that the feature looked similar to other live audio apps, including Twitter Spaces and Clubhouse.
Twitter Spaces last month expanded, further encroaching on the turf of Clubhouse — the venture-backed standalone live audio app that saw its popularity spike during the pandemic.
Podcasts: Facebook will roll out new podcast tools for creators next week, The Verge reports.
Spotify is launching specialized creator tools for smaller podcasters to earn money from subscriptions or tips.
Apple's new podcast subscription and creator tools rolled out worldwide on Tuesday.
Newsletters: Facebook is looking to soon launch its independent creator newsletter writing tool, called Bulletin, Vox Media reports.
Twitter earlier this year bought newsletter platform Revue for journalists to write newsletters and embed sign-up links in their Twitter profile. Twitter launched its first news operation via Revue earlier this month.
Payments: Many platforms have started to roll out features that allow users to tip their favorite creators, or pay them directly.
Short-form video: Facebook, Twitter, Snapchat, YouTube and Reddit have all launched or acquired short-video products to compete with TikTok.
Yes, but: Unlike some other creator apps, TikTok seems poised to withstand the competition — in large part because it's already owned by a massive Chinese tech company, ByteDance.
By the numbers: About 50 million people who consider themselves to be creators, according to the venture firm SignalFire.
3. Facebook's new ad turf: VR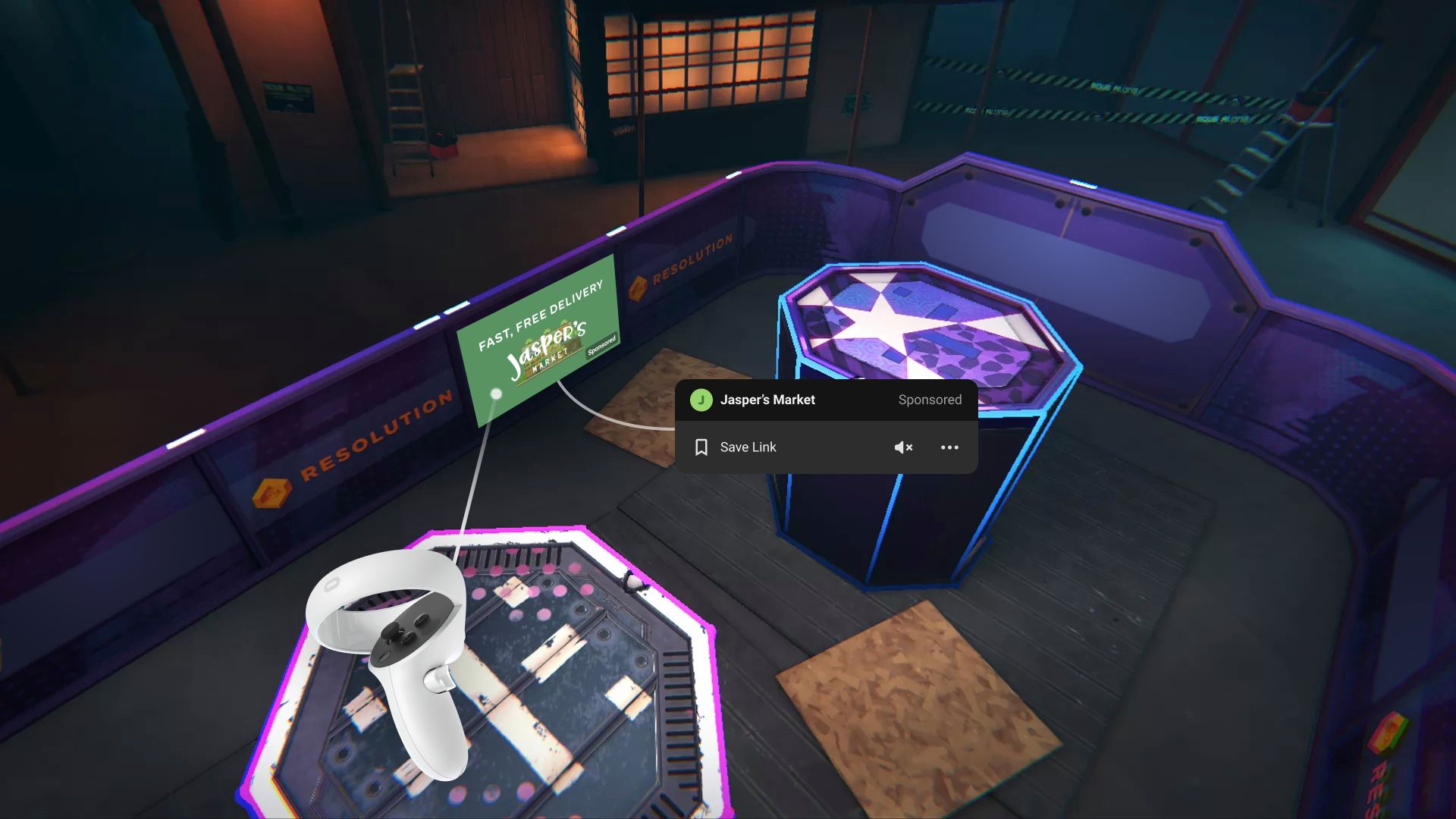 There's virtual reality as a place to have fun playing games. There's VR as a place to experience otherwise out-of-reach environments. There's VR as a place to interact with others in virtual space. And now, there's VR as a place to be bombarded by sponsors' messages.
Driving the news: Facebook announced Wednesday it would begin testing ad placement inside games and apps for its Oculus Quest VR system.
VR makers have experimented with product placement in the past, but Facebook's outsize role in the digital advertising world makes this move a historic moment.
What they're saying: The "small test of in-headset ads," announced in a blog post, will help the company bring the price of Oculus hardware down and make its platform more attractive to content developers.
"We want to help developers generate revenue and help people find great experiences at better prices — this is a part of how we'll create a healthy, self-sustaining platform for everyone," Adam Bosworth, the Facebook VP who heads up its Reality Labs, tweeted.
Facebook also says the ads will follow its advertising principles, allow users to block ads they don't like, and protect personal information users store on their headsets from advertisers access.
Why it matters: From the debut of banner ads on the web in 1994 to the rise of Google and Facebook as the ad industry's unstoppable duopoly, digital advertising has always driven the growth of business online. It has also been responsible for the internet industry's biggest ethical compromises and betrayals of users' privacy.
Our thought bubble: The real pileup of demand for "in headset" ads will be in augmented reality, with its digital overlays placed atop users' real-world sights. It will be irresistibly tempting for service providers to respond to each user information request with a paid pitch — auctioning off our attention even more efficiently and invasively than on the web or our phones.
4. Biden gave Putin "off-limits" cyber target list
President Biden said Wednesday that at his summit with Russian President Vladimir Putin he proposed that a list of key targets should be "off-limits" to cyber-attack.
The list — identical to the 16 "critical infrastructure sectors" designated by a key Washington cybersecurity agency, per CyberScoop — includes everything from the chemical industry and dams to water systems, nuclear power and food.
Context: Wednesday's summit between the two leaders came on the heels of a series of major ransomware incidents aimed at U.S. targets that experts say had Russian fingerprints on them.
Our thought bubble: Human beings have been fighting one another for millennia, and we have so far done a very poor job of drawing and observing lines between acceptable and forbidden behavior in conflict. Cyberwarfare is new, elusive and rapidly evolving, and states pursuing it are unlikely to play by the rules, even if we can agree on them.
Yes, but: Biden's message to Putin was likely less a broad policy proposal than a strategic warning that if Russia crosses these lines, the U.S. will retaliate.
5. Take note
On Tap
Adobe reports earnings.
Trading Places
Microsoft CEO Satya Nadella adds the job of chairman of the board, matching what were once founder Bill Gates' titles — though not his ownership.
ICYMI
The key was a cookie sale: All the details on how hackers ripped off source code from Electronic Arts. (Vice)
The pandemic is over, but food delivery apps are still growing. (Axios)
6. After you Login
Here's a cool photo of the film and audio setup for how MGM captured the famous lion's roar its movies used to open with. Now, with same-day delivery!