I hope you had a nice weekend off. Mine was cut short thanks to a couple of mobile carriers who shall remain nameless (but will be named T-Mobile assuming their deal goes through).
https://www.axios.com/newsletters/axios-login-90624208-ebc1-4a97-96fd-85a284ea23ce.html?chunk=0#story0
1 big thing: The waiting game for Sprint and T-Mobile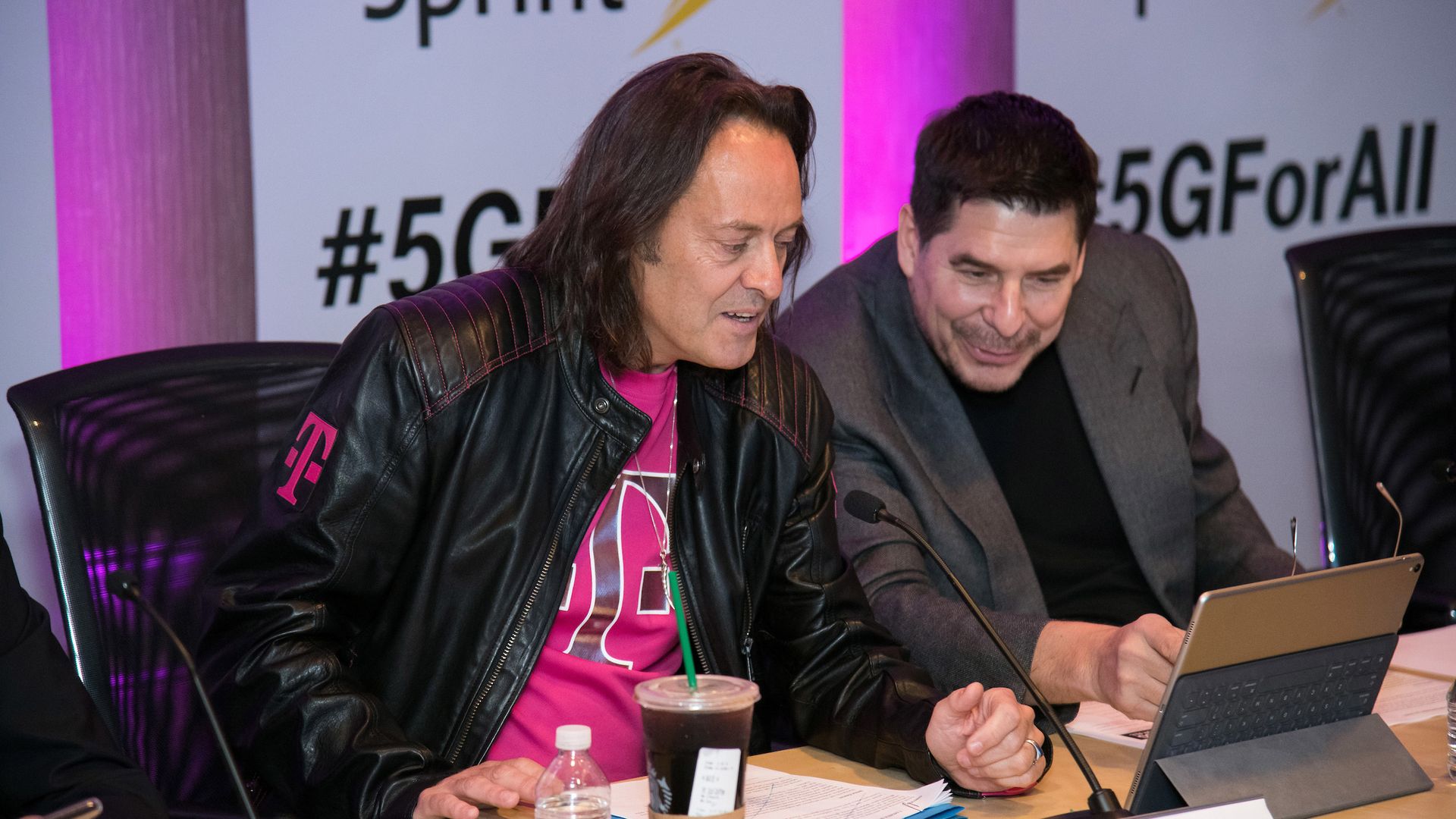 One of the biggest challenges for Sprint and T-Mobile over the next few months will be building for two different futures. The two companies are hoping to merge in a year's time and build their 5G network together. But each company must also plan for life should the deal fall through.
Executives from both companies acknowledged that there will necessarily be some duplication of effort, but downplayed the impact.
"It turns out that an awful lot of the things that you would naturally do as a standalone company wind up being accretive to that ultimate 5G network."
— T-Mobile COO Mike Sievert tells Axios
But, but but: That said, Sprint will be building some things that it needs as a standalone company that wouldn't be needed if the deal goes through. Sprint CEO Marcelo Claure tells Axios that Sprint will increase its spending on network infrastructure this year and next.
"We're going to continue to invest as much as we said we will, which is significantly more than in previous years," Claure says. "But in addition, as part of this transaction, we signed a roaming agreement with T-Mobile that gives Sprint customers access to the T-Mobile network."
The roaming agreement will live on even if the merger deal falls apart.
Baked in: T-Mobile says its analysis of the cost savings from the deal accounts for the fact that Sprint will have to build some "stranded" network capabilities that won't be needed if the deal is successful.
"There is an understanding that as this deal gets approved over the next year, there may be some need for Sprint to deploy capabilities, the majority of which would enhance our ability to migrate after the deal is approved," T-Mobile CEO John Legere tells Axios. "But yeah, some will be stranded capabilities."
More from Axios:
More from others:
https://www.axios.com/newsletters/axios-login-90624208-ebc1-4a97-96fd-85a284ea23ce.html?chunk=1#story1
2. Impact of the looming anti-trust battle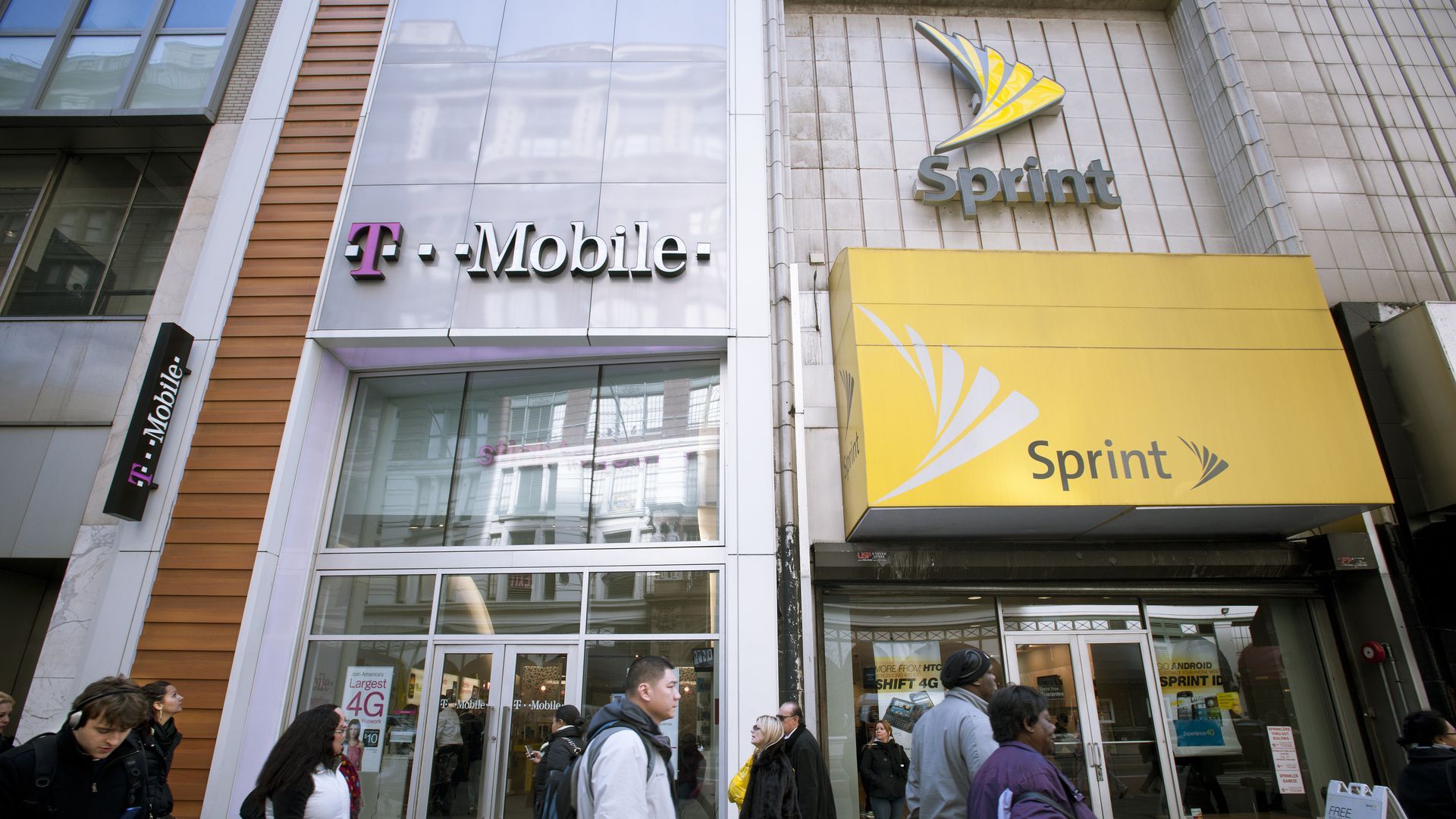 The outcome of AT&T's fight with the Justice Department over its bid for Time Warner could loom large as Sprint and T-Mobile try to get regulatory approval for their deal, Kim Hart reports.
The bottom line: The verdict of that trial, expected in the coming weeks, could impact antitrust regulators' appetite for challenging another telecom deal, as well as AT&T's level of enthusiasm for intervening in the process. 
The differences: That said, the two deals are archetypes of the two kinds of big acquisitions.
1. The AT&T/TimeWarner deal is a "vertical" deal, joining two companies that aren't direct competitors. If it goes through, the new company would be "vertically integrated" by combining film and TV production with the distribution of that programming, similar to Comcast's acquisition of NBC Universal in 2011.
"As the case has progressed, the expectation that AT&T will win has progressively risen," MoffettNathanson analyst Craig Moffett told Axios last week in an interview for C-Span's "The Communicators."
"My guess is that the broad consensus is something like 80/20 that AT&T will win the case."
2. The Sprint/T-Mobile deal is a classic "horizontal" merger that combines two direct competitors in a four-player market. Such horizontal mergers typically trigger tougher antitrust scrutiny, making the Sprint/T-Mobile deal more likely to face a challenge than AT&T/Time Warner was initially considered to be. 
Go deeper: Kim has more here.
https://www.axios.com/newsletters/axios-login-90624208-ebc1-4a97-96fd-85a284ea23ce.html?chunk=2#story2
3. Stacking up a combined Sprint and T-Mobile
After years of being far smaller rivals to AT&T and Verizon, the combination of Sprint and T-Mobile would instantly find itself in the same ballpark as the two telecom giants, at least in terms of U.S. wireless subscribers.
Exactly where it would fit in depends on how you account for wholesale customers. (The above chart uses the numbers the firms reported to the SEC at the end of 2017.) AT&T and Verizon, of course, have lots of businesses beyond cellphones.
AT&T owns DirecTV, has operations in Mexico, and is looking to buy Time Warner.
Verizon, meanwhile, owns Yahoo, AOL and other online properties.
Be smart: Wireless is a scale game and being the same order of magnitude as its rivals would definitely help the combined company get a greater return on its network investments.
It could also help as Verizon and AT&T both step up their video efforts. T-Mobile has announced its own plans to enter the space via its acquisition of Layer3, which closed in January.
https://www.axios.com/newsletters/axios-login-90624208-ebc1-4a97-96fd-85a284ea23ce.html?chunk=3#story3
4. Facebook prepares for a very different F8
In years past, Facebook has used its F8 conference to get developers excited about all the new capabilities they will have. But when executives take the stage on Tuesday, they will likely have a very different message.
What's happening: In recent weeks, the company has gone in the other direction, taking away platform capabilities from developers in an effort to protect users against misuse in the wake of the Cambridge Analytica scandal.
Among Facebook's recent moves:
Limiting developer access to information about Facebook groups, pages and events, restricting the type and amount of data that developers have access to. Facebook made some changes on April 4, and another set last week.
Revising its privacy policy in response to Europe's new data protection law as well as the recent controversies.
Changes to Facebook Login designed to prevent mass scraping of public profiles (but which also limited some access for developers). By default, apps using Facebook Login will only get the user's name, photo and email address. Access to other types of data will require Facebook's approval, while other classes of data will be off-limits altogether.
Key quote:
"We'll always make the important platform changes, trying to strike the right balance between creating compelling social experiences, protecting people's data, and supporting an innovative developer ecosystem," Facebook VP Ime Archibong said in a statement. "These changes can be disruptive. ... This F8, it's important to bring our global community together to navigate these changes and explore new ways we can build community."
What is on the agenda: Expect Facebook to talk about new developer opportunities, especially in emerging areas like virtual reality, as well as to offer details on some of its new areas of focus, such as identifying fake news.
Go deeper: The Verge's Casey Newton has an in-depth preview, comparing the ambition of past events to what's expected this year and getting reaction from developers.
https://www.axios.com/newsletters/axios-login-90624208-ebc1-4a97-96fd-85a284ea23ce.html?chunk=4#story4
5. Take Note
On Tap
Trading Places
Nintendo said last week that CEO Tatsumi Kimishima will step down in June to be replaced by 46-year-old corporate planning executive Shuntaro Furukawa, according to the Wall Street Journal.
Alibaba's U.S. investment chief, Michael Zeisser, is stepping down.
ICYMI
https://www.axios.com/newsletters/axios-login-90624208-ebc1-4a97-96fd-85a284ea23ce.html?chunk=5#story5