TGIF. Well, it's Thursday for me. But, by the time you open this....
Oh Twitter...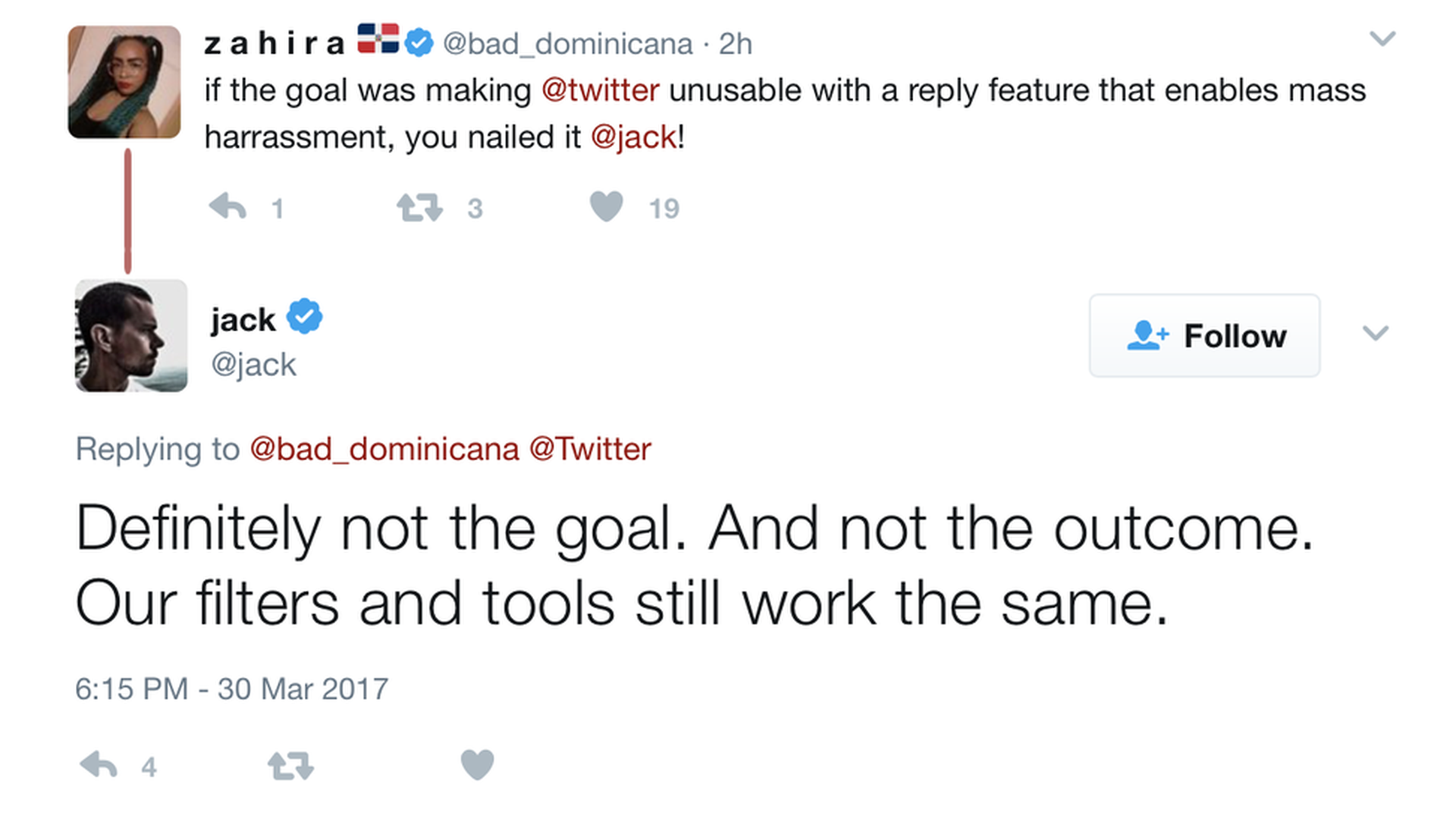 Even when Twitter adds a feature people have been begging for years, it can't seem to make friends.
The company rolled out a change Thursday that stopped counting mentions of people toward the 140-character limit. But, the way it did so immediately caused a giant backlash. Critics bemoaned the change to Twitter's user interface, its perceived impact to quality control mechanisms, and the potential of the new feature to lead to more abuse as people tag vast numbers of people.
A Twitter representative declined to comment on all the negative reaction, though CEO Jack Dorsey and Product VP Keith Coleman spent a good chunk of the day responding to the disgruntled on Twitter.
Cloudera plans to make IPO paperwork public
As Dan Primack reported on Thursday, big data software maker Cloudera is expected to officially file its IPO papers today with the Securities and Exchange Commission, according to a source. It will join other unicorns in going public this year, including Mulesoft and Snapchat parent Snap.
A recent Bloomberg report suggested Cloudera will seek a valuation of around $4.1 billion (same as its most recent private round), although that information won't be in the company's initial S-1 filing. Existing backers include Intel, Accel Partners, Greylock Partners, T. Rowe Price and Google Ventures.
Charting it: Music streaming surpasses downloads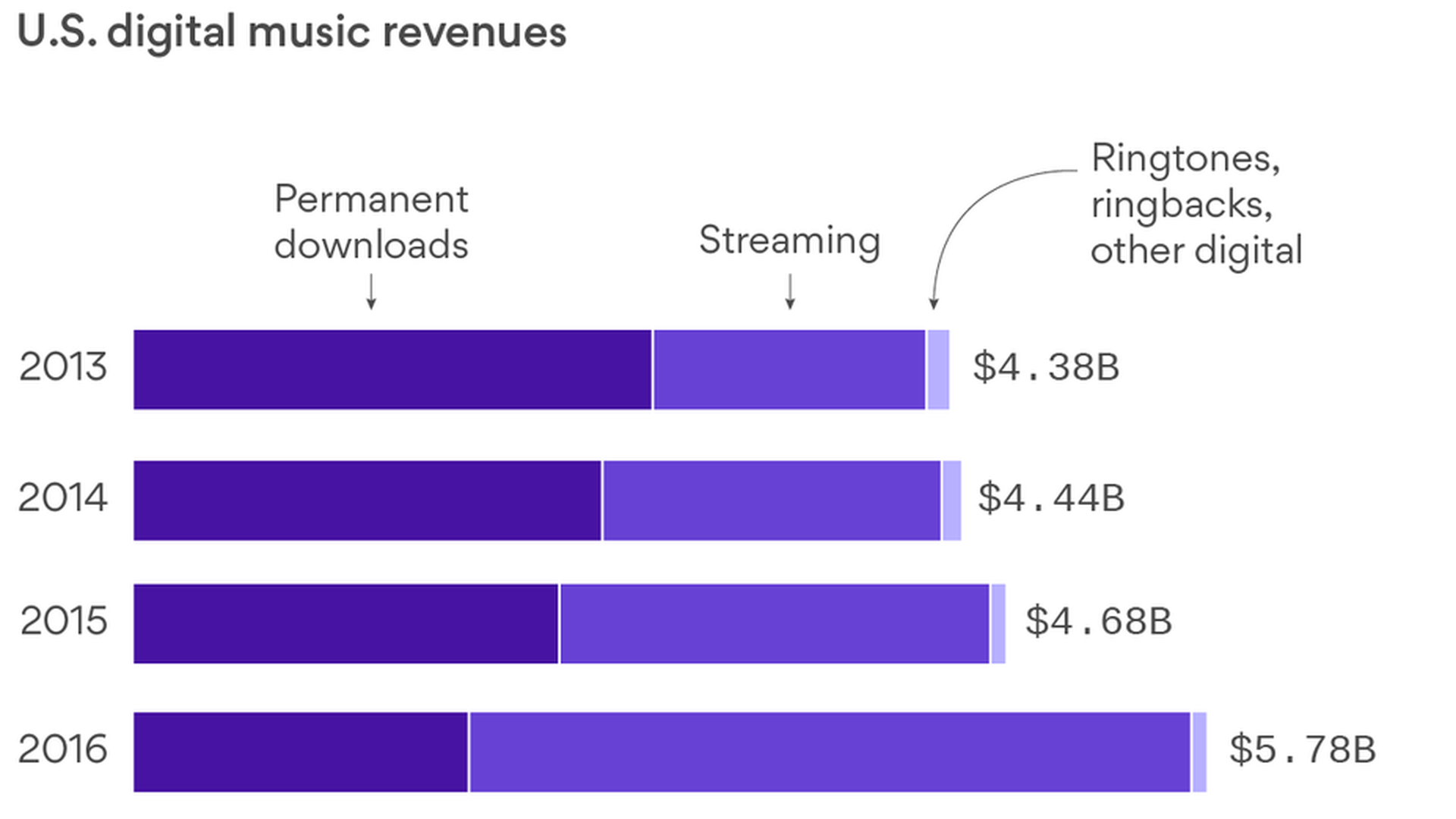 Steve Jobs famously said that people wanted to own, not rent their music. For a long time he was right, but in 2016 revenue from music streaming accounted for more than half of the U.S. market, more than the combined amount of money generated by digital downloads and physical music like CDs and records.
For more on the state of the U.S. music industry, check out this story.
What the privacy vote means for net neutrality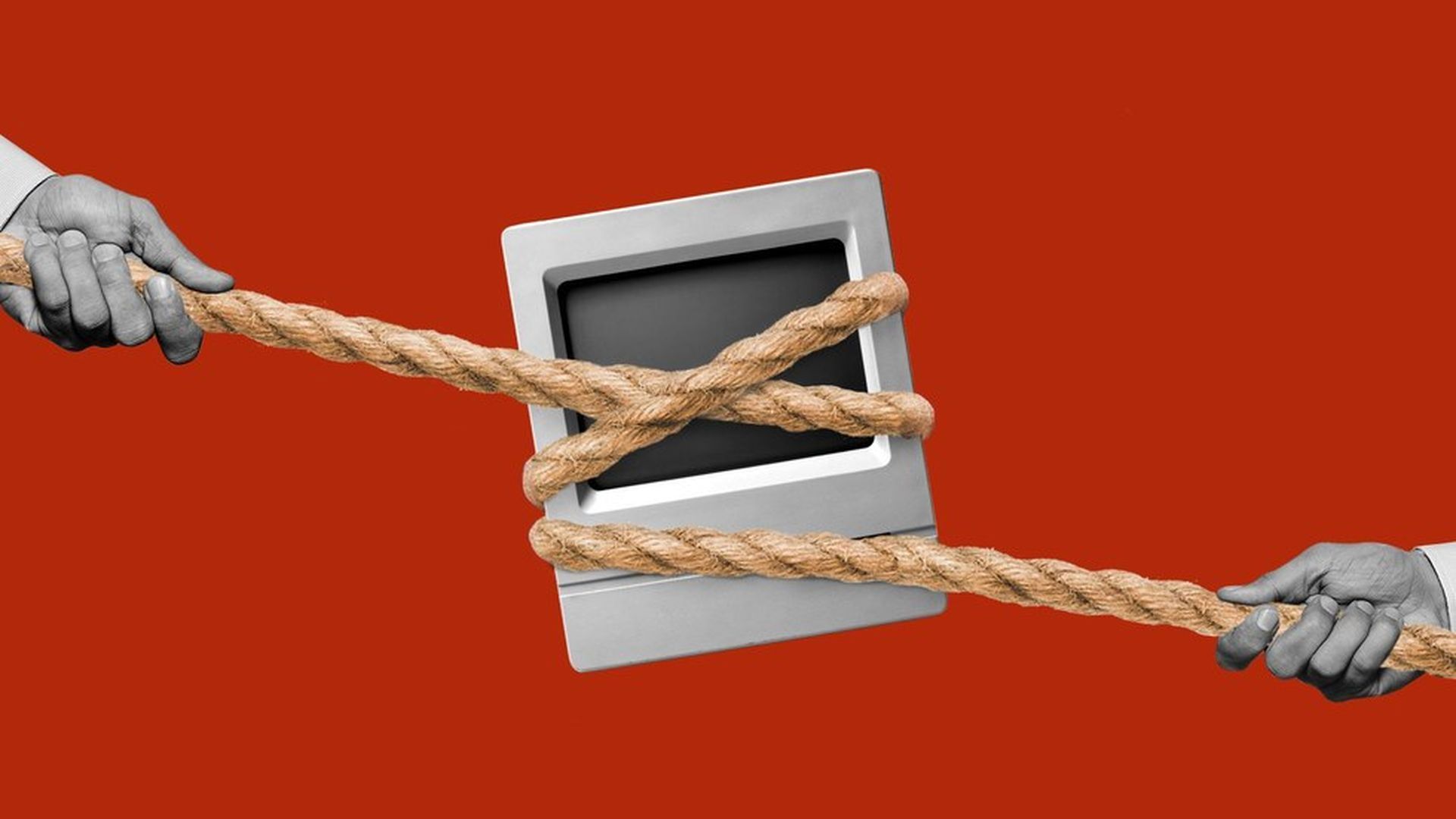 After Republicans in Congress pushed through a resolution to overturn internet privacy rules, which is expected to be signed by the president, some Democrats are warning an agreement on net neutrality may be harder to reach. Rep. Frank Pallone compared this week's vote to a "sledgehammer" and said it "really poisons the well" for a broader net neutrality bill. David McCabe reports on where things stand now:
There's little doubt that FCC chairman Ajit Pai hopes to see scrapped the legal designation of broadband service that allowed the FCC to implement its net neutrality rules in the first place. He hasn't provided much in the way of details on what path he'll take. Now, public interest groups could use the privacy battle to rally their base.
Democrats are seizing on the privacy vote as a political issue. But not every lawmaker is on the same page. Democratic Sen. Bill Nelson, who would play a major role in any deal, says he doesn't want to link the privacy votes and a broader net neutrality deal. Same for Sen. Brian Schatz: "I don't know that it's the same thing."
Reality check: Senate Democrats are unlikely to strike up serious conversations with Republicans about the issue before they see what Pai is up to.
Why this matters: A legislative replacement for the FCC's net neutrality rules was never going to come easy. But any increased skepticism focuses the spotlight on Trump's FCC chairman and what he plans to do about the rules.
Netflix's mobile strategy pays off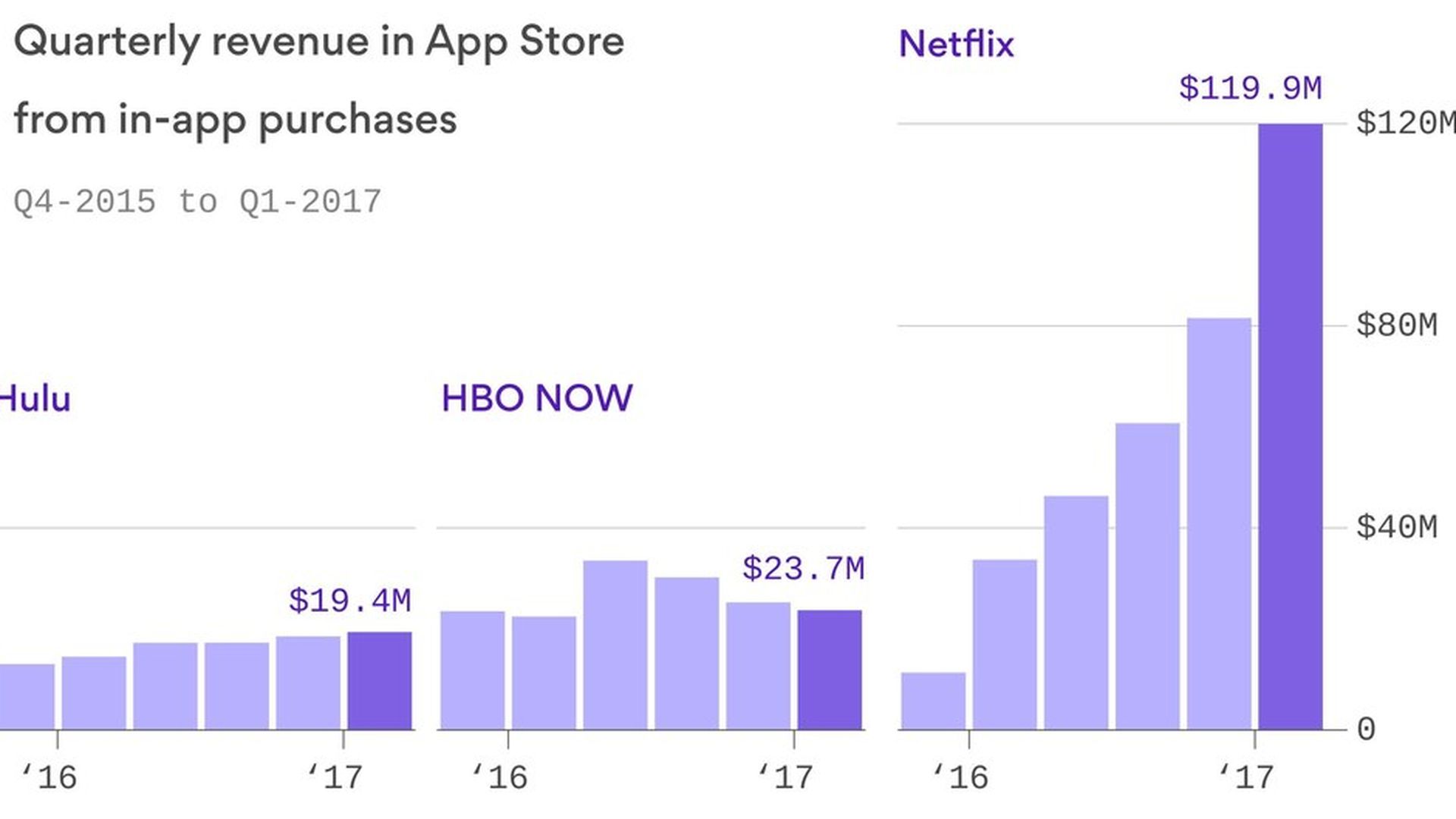 Whatever Netflix is doing on mobile, it's working. The company's in-app revenue from iOS devices has been growing exponentially over the last few quarters, hitting nearly $120 million in this last quarter alone, according to data from mobile analytics company SensorTower. In late 2015, when it first began to offer in-app subscription purchases, Netflix brought in a mere $11.4 million from iOS devices.
Meanwhile, competitors Hulu and HBO Go have lagged behind. Hulu has seen modest growth every quarter, but it only made $19.4 million in this last quarter from iOS in-app subscriptions. HBO Go, which was raking in the most money in late 2015, has seen its quarterly iOS revenue decline over the past year.
All about the content: It's clear that the original content produced by these companies drives their mobile revenue, which comes from customers purchasing monthly subscriptions. HBO Go, for example, saw a bump in the second quarter of 2016 before a steady decrease, which coincided with the airing of the sixth season of Game of Thrones, its popular TV series. Netflix, meanwhile, has been adding new show after new show to its roster over the last couple of years, including Orange is the New Black, Stranger Things, the Gilmore Girls' revival, Making a Murderer, Master of None, and numerous comedy specials.
Palantir CEO: "The Valley is marching off a political cliff"
Worth a read: Palantir CEO Alex Karp told the FT's Gillian Tett that the tech industry is overplaying its hand with the Trump administration.
"The Valley is marching off a political cliff," Karp, who works closely with Trump ally Peter Thiel, told Tett. "The [tech companies] have all these monopolies and economic capital, and assume that it translates into political capital — but that isn't true." Here's why Tett thinks tech is vulnerable:
Miles apart: Silicon Valley was largely "on the wrong side of" the election, and they were quick to challenge Trump's immigration policies. And few tech CEOs sit on Trump's advisory council, which Uber CEO Travis Kalanick quit.
Jobs losses: "Until now Mr. Trump has blamed trade for American workers' woes. However, another big culprit is the type of digitisation being unleashed by Silicon Valley. Tech businesses could become convenient scapegoats, particularly since companies such as Amazon, Apple, Google and Facebook have enjoyed fat profits and near-monopoly power in certain sectors."
Taxes: "As profits have boomed, tech groups have amassed $867 [billion] in offshore cash piles, partly to avoid paying high U.S. taxes. This irritates American politicians."
Take Note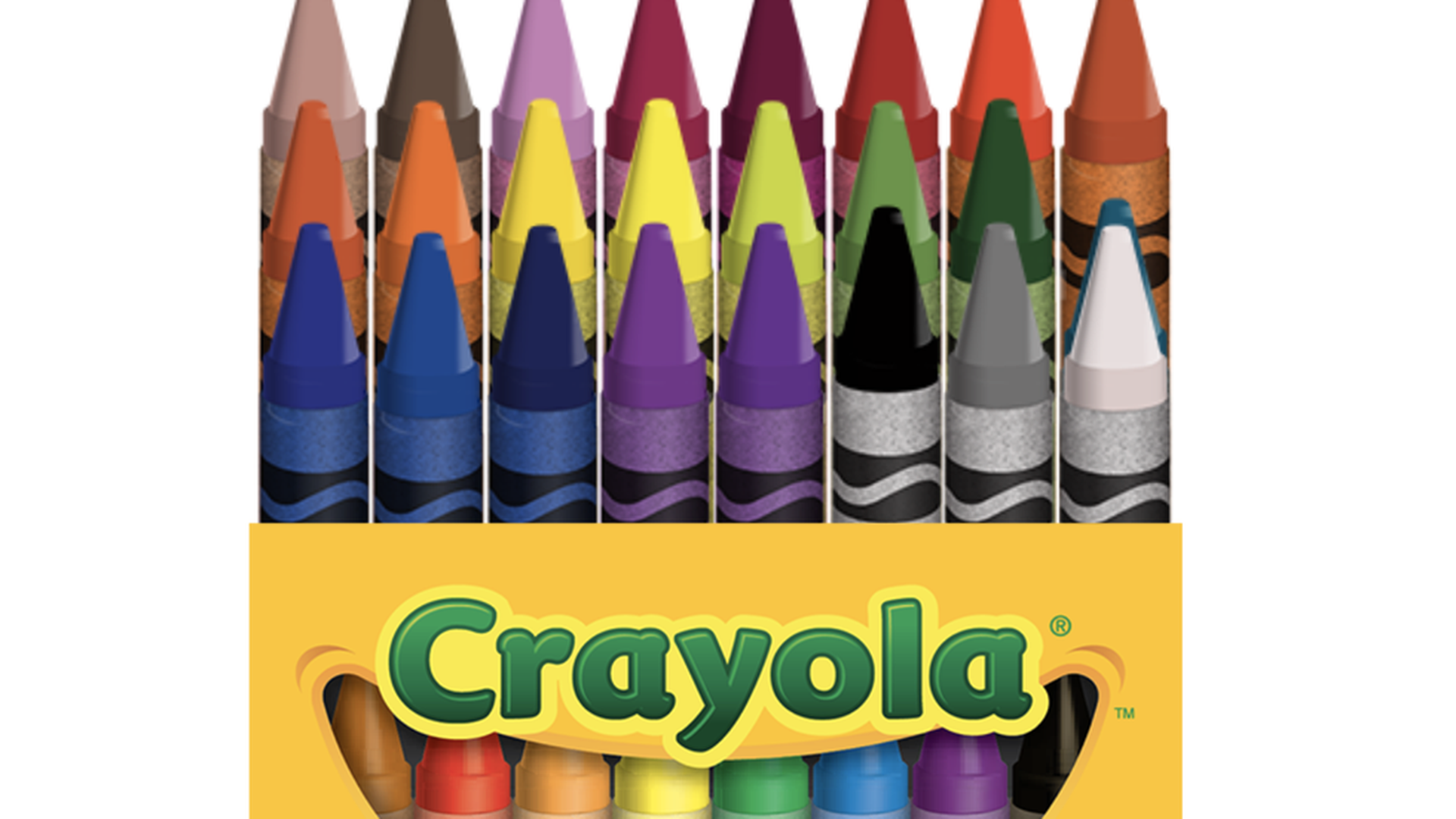 On Tap: Friday is National Crayon Day. But it's not all good news: Crayola is promising to kill off one of its iconic colors. Spoiler alert: It's Dandelion....The Women's NCAA Final Four basketball tournament tips off this evening in Dallas (Go Stanford!)....It's also the last work day before April Fool's Day. So expect a lot of unfunny, nonsense press releases.
Trading Places: Oculus co-founder Palmer Luckey is leaving Facebook....Intel named Aicha Evans as Chief Strategy Officer. At one point last year, it looked like Evans might be leaving the chipmaker....Microsoft named former Oculus CMO Liz Hamren as corporate VP of a new unit to market its HoloLens and Windows-based mixed reality gear.
ICYMI: SpaceX was able to reuse one of its rockets for the first time to launch a communications satellite on Thursday....Uber executive Anthony Levandowski plans to take the Fifth rather than testify in Google's suit over alleged trade secret theft....USTelecom CEO Jonathan Spalter wants to set a few things straight about Congress' vote on online privacy in an Axios op-ed.
After you Login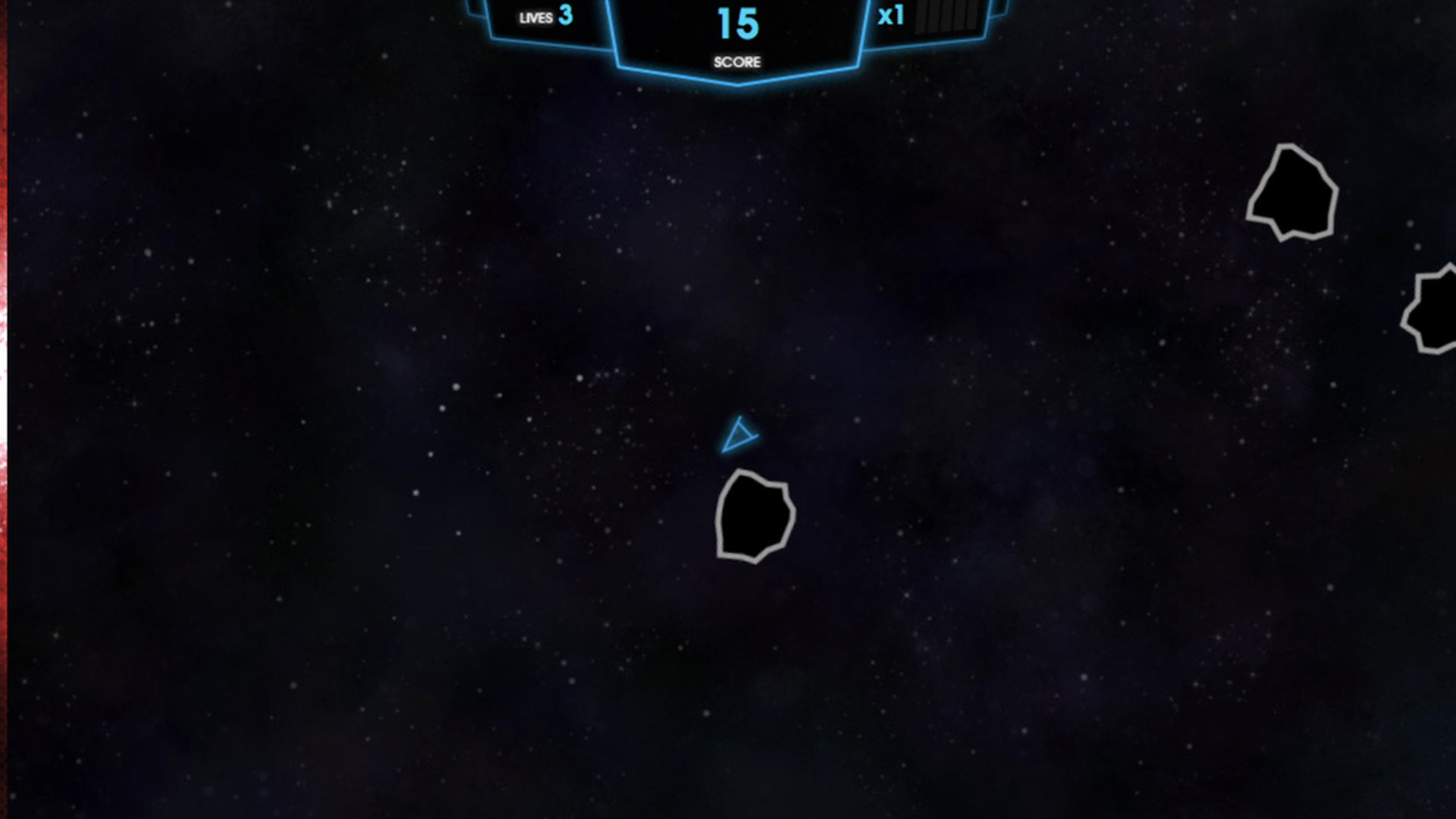 You're still here? That's it. We'll be back on Monday.