Happy Tuesday! Welcome again to those joining us from 1776.
Marc Andreessen voices the car industry's big fear: becoming Nokia
The biggest concern among many carmakers isn't that they will lose ground to an auto industry rival. It's that all the companies that build cars will become like the companies that manufacture cell phones: hollowed-out shells that cede most of the value to software makers like Apple and Google.
"Car CEOs, the new generation, they're all working on this," venture capitalist Marc Andreessen told Bloomberg View. "They're spending a lot of time out here and they're spending a lot of time with us. But literally, the way they frame that question is, 'We, existing car company, do not want to be the Nokia of cars.' "
It's definitely an outcome that worried just-ousted Ford CEO Mark Fields. In a 2015 interview Fields told me he worried about ceding too much room in the car to Apple and Google.
"At the end of the day we don't want to end up as the handset business," he said.
Ina has more here.
Revolution's Murray on impact of Snap IPO, SoftBank's VisionFund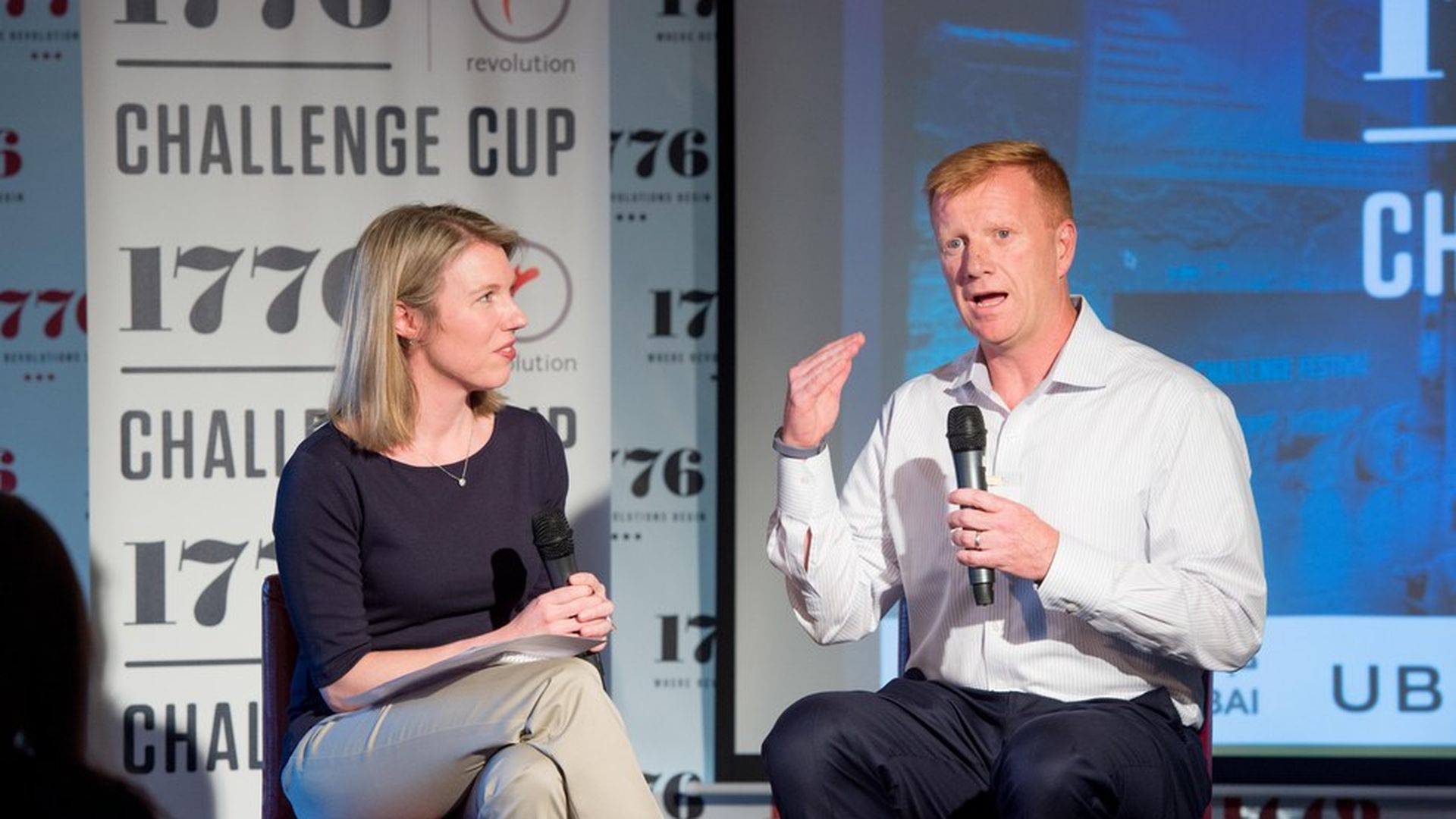 Steve Murray spent 20 years at SoftBank before joining Revolution last year. He and Kim chatted onstage last night during the D.C. kickoff event for 1776's 75-city Challenge Cup. Here are a couple of highlights:
On the impact of Snap's IPO:
"From what I hear from folks in the investment banking community, it has led to a pipeline that is moving through the system (and) they expect the second half of this year to have a lot more activity on the tech IPO front. As companies mature and get bigger, to the extent there are not a lot of chances to go public because of market conditions, it changes the dynamic with respect to buyers. If you have a credible threat to take a company public, it gives more balanced leverage to the company when they're having discussions about being acquired by someone else or going public."
On SoftBank's new $93 billion VisionFund:
"You can't talk about anything with respect to Softbank without Masayoshi Son. If you think about what he's trying to do, he's trying to find the next Alibabas, if you will…. Masa is a huge believer in technology. He sees huge opportunities going forward. He's created this fund to have patient capital that doesn't have quite the same demands (for quick) return...They're going to have to find certain companies that can take the kind of capital they can deploy — $250 million will be a small check for them. I think it will be a challenge to deploy that. If it was being managed by someone other than Masa, I'd bet against it perhaps, but I wouldn't bet against him."
Kim has more here.
Facebook drives lifestyle news traffic while Google boosts business and sports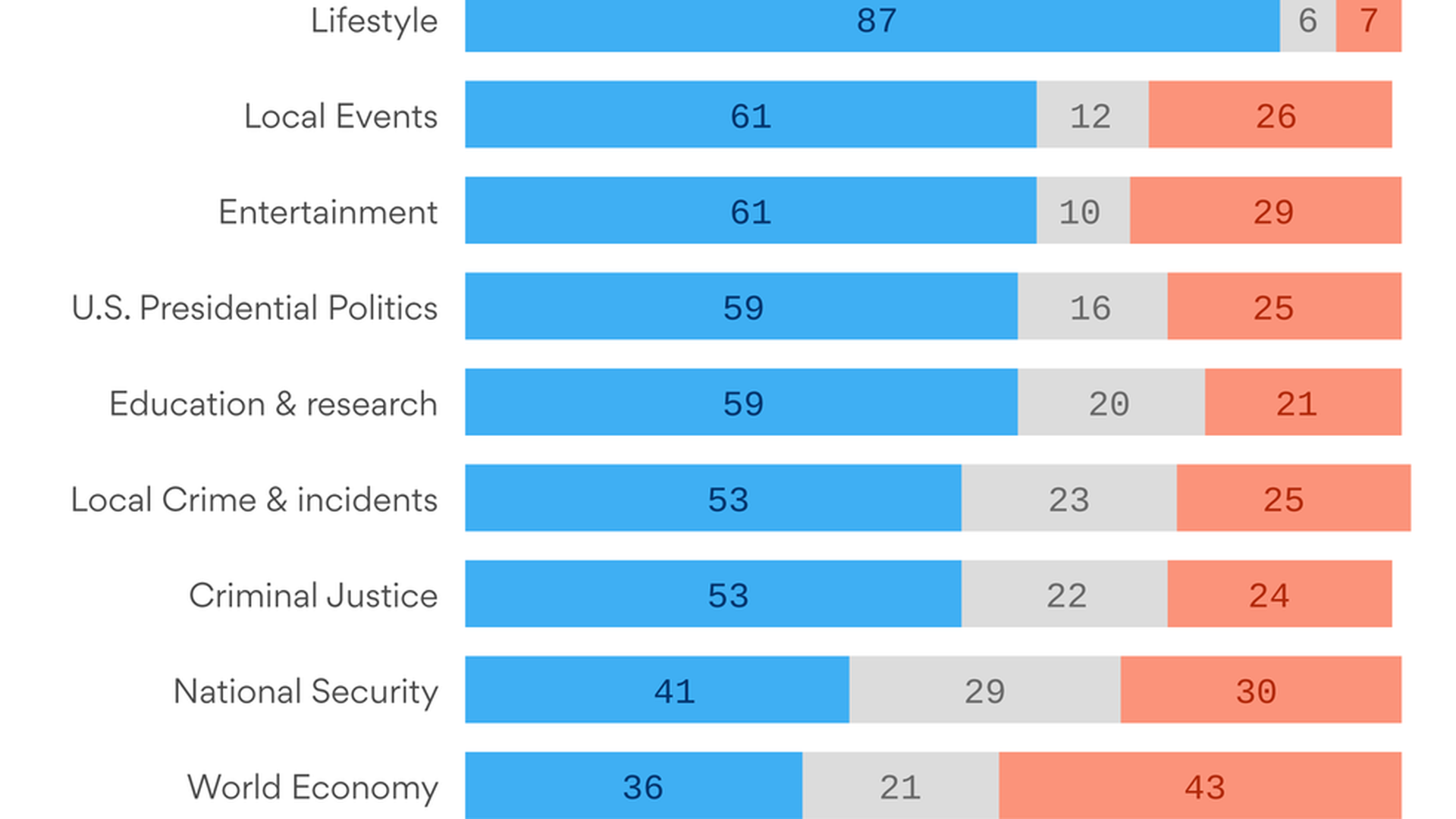 Facebook and Google, which together drive the majority of web traffic on the internet, send traffic to different topics, research from digital analytics company Parse.ly shows. Facebook overwhelmingly drives lifestyle and entertainment news traffic, while Google largely drives business, tech and sports news traffic. When it comes to politics, Facebook is more likely to refer readers to presidential political stories, while Google is more likely to refer to stories about state and local politics, Sara reports.
Why it matters: The combined size of Google and Facebook make nearly it nearly impossible for web publishers to reach an audience without their help. But even though they rely on them for traffic, research from Digital Content Next, the trade association that represents premium publishers, finds that platforms drive just 14% of revenue.
Supreme Court ruling in patent case means fewer trips to Texas
Historically, companies seeking to make patent infringement claims have flocked to Tyler, Texas, which is home of the federal court for the Eastern District of Texas. That court, home to a third of all patent suits last year, was seen as having rules particularly friendly toward those filing suit. However, a Supreme Court ruling on Monday tightened the rules on where patent claims can be filed.
"The Supreme Court's unanimous decision sends a strong message to patent trolls: knock it off," Consumer Technology Association CEO Gary Shapiro said in a statement, echoing similar sentiments from all the big tech industry trade groups (ACT, CCIA, BSA, etc.). "Now small and medium-sized businesses have a fairer chance of fighting against bogus patent extortion attempts."
The bottom line: Now suits will have to be filed in places where the defendants do substantial business or are incorporated. So what the high court has taken away from Texas tourism may be given to our nation's first state, Delaware, where many businesses are incorporated.
For more industry reaction, check out this post from IPWatchdog.
Take note
On tap: The JP Morgan Technology Media and Telecom Conference continues through Wednesday in Boston...Postmates CEO Bastian Lehmann testifies before the House Energy & Commerce's digital commerce subcommittee at a hearing on the impact of on-demand platforms and automation on delivery services.
Trading places: Twitter hired former Bloomberg video executive Todd Swidler to run the company's live video partnership efforts...Coleman Mehta has joined Palo Alto Networks as senior director for U.S. Policy, having served as legislative affairs director at the National Security Council under both the Trump and Obama administrations...Java creator James Gosling is joining Amazon's AWS as a distinguished engineer; Also joining AWS is Richard Kerris, a tech industry veteran who has previously worked at Apple, HP and Nokia, among other companies.
ICYMI: Twitter has "kicked around" the idea of a paid premium service, CEO Jack Dorsey said at the company's annual shareholder meeting...CNET looks at the increasingly common Silicon Valley practice of offering egg freezing as part of company benefits.
After you Login
There was once a Monty Python video game. Dubbed Monty Python's Complete Waste of Time, it came out in 1994 for Mac, Windows, and DOS. You can still buy a copy from Amazon, or check out this YouTube video to see the gameplay in action.
Thanks, as always, for reading. Btw, our own David McCabe is in the Bay area this week. Drop him a line at mccabe@axios.com to say hi.