Please be sure you are plugged into power and have backed up all your important files before reading this intro.
https://www.axios.com/newsletters/axios-login-81c05958-93ff-4016-bb04-214c2f64d2e3.html?chunk=0#story0
iPhone 8 and Apple Watch reviews pour in as iOS 11 arrives
The first reviews of the iPhone 8 are in. Not surprisingly, many are suggesting it is only a modest upgrade and those interested in a big leap forward should wait for the all-screen iPhone X to arrive in November. Meanwhile, Apple Watch reviews are also trickling in, and some report a few stumbling blocks.
iPhone 8 details: The camera is, of course, one of the biggest features on any new smartphone. TechCrunch's Matt Panzarino noted that his review of the iPhone 8 basically boiled down to an assessment of its photographic abilities.
"This is a camera review. There are a number of updates that should appeal in the iPhone 8 and 8 Plus, but the one question most upgraders are going to be asking is how good is the camera?"
Meanwhile, my former CNET colleague (and amazing photographer) James Martin, put the iPhone 8 Plus camera through its paces, shooting more than 2,000 photographs on the new device.
"More than 2,000 photos later, I feel like I have a good sense of what this new camera can do. I'm definitely impressed."
Apple Watch reviews: The first Apple Watch reviews hit this morning too, and it isn't all pretty. The Verge's Lauren Goode says that the signature new feature, a built-in LTE connection, didn't always work for her.
Plus, that LTE comes at a cost. In addition to the higher upfront price, users can expect to pay $10 per month to their cellular provider. Reviewers also found that adding a cellular connection dents battery life, as expected.
New iOS 11: The new mobile operating system also arrived Tuesday, delivering a good chunk of new features for free. As we've noted in our early look, it's a much bigger deal for iPads, which get a lot better at doing computer-like tasks thanks to improved multitasking, drag-and-drop, and the new Files app.
But, for those wanting to give their current iPhone a makeover, iOS 11 is a free option. Support for a wave of new augmented reality apps is probably the biggest reason to do so.
https://www.axios.com/newsletters/axios-login-81c05958-93ff-4016-bb04-214c2f64d2e3.html?chunk=1#story1
Google AI chief says computers still aren't as smart as four-year-olds
A couple years back, Google executive John Giannandrea opined that artificial intelligence had reached the level of a preschooler.
And now? "I think I was over optimistic," he said Tuesday, noting that a four-year-old child can do lots of things a computer can't.
For example: Even young children can learn from just one or two strong examples while computers need lots of data for machine learning, he said. Computers are also bad at transferring knowledge to adjacent tasks: If a kid is good at Pong, they will probably be good at Breakout — not so for computers.
Read more of my story to find out Giannandrea's thoughts on AI apocalypse worries, his two main concerns over machine learning, and some hints about Google's product roadmap.
https://www.axios.com/newsletters/axios-login-81c05958-93ff-4016-bb04-214c2f64d2e3.html?chunk=2#story2
Kevin Durant doesn't want AI to replace human refs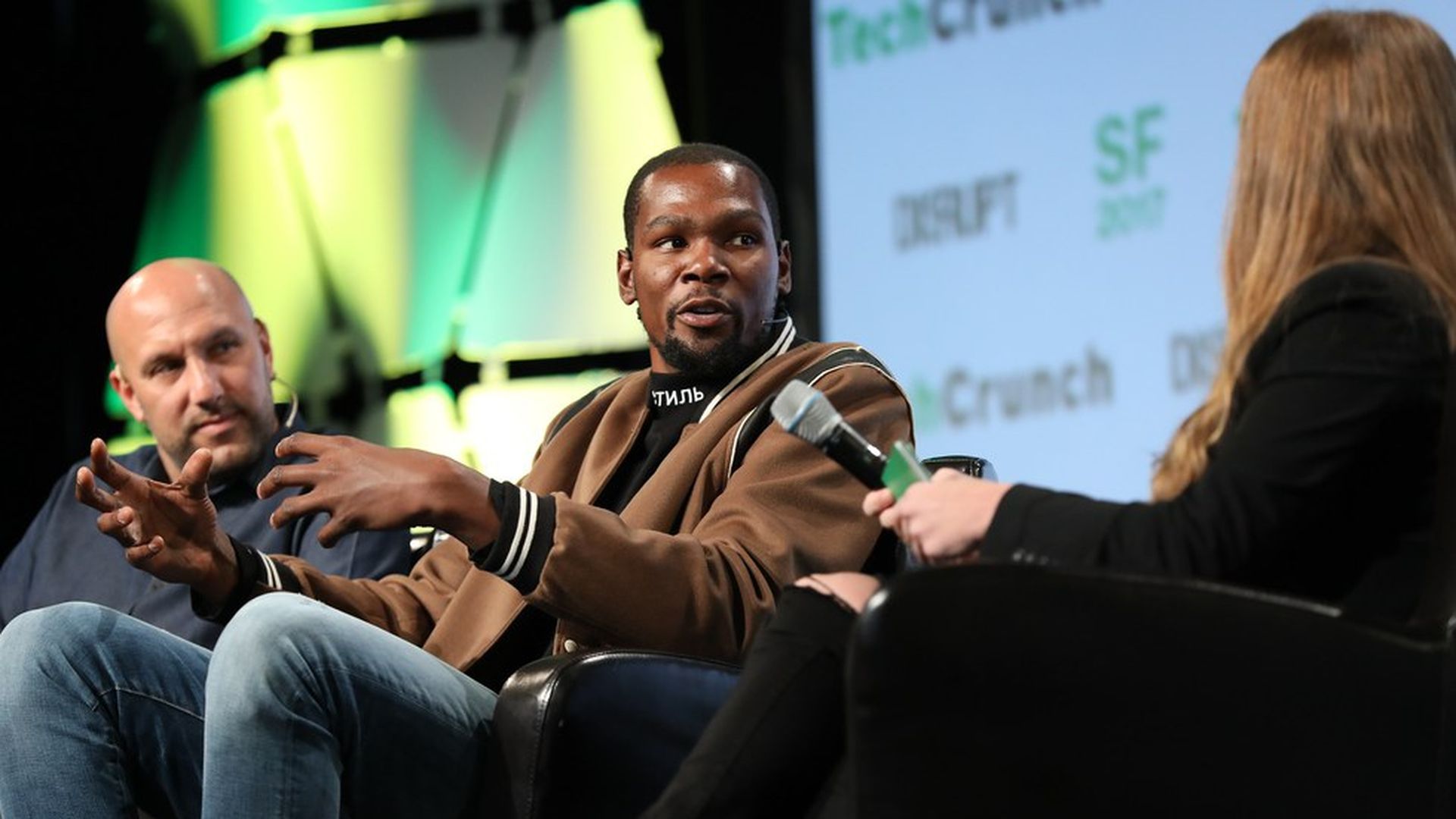 Speaking onstage Tuesday at TechCrunch Disrupt, Golden State Warriors star Kevin Durant was quick to side against computers when asked if he would like to see human referees be replaced with artificial intelligence.
"They will call every touch a foul," Durant said. "And I get away with a lot."
Durant, who is also a tech investor, weighed in on a variety of topics during a "lightning round" of questioning by moderator Jordan Crook.
iPhone or Android: "iPhone. Easy one."
Call or text?: "Facetime audio."
Ferrari or Model S (He has both): Model S
Which camera - Nikon, Sony or Canon: Nikon
Hotel or Airbnb: Hotel
Xbox or PS4: Xbox
https://www.axios.com/newsletters/axios-login-81c05958-93ff-4016-bb04-214c2f64d2e3.html?chunk=3#story3
Amazon glitch promises baby gifts are on their way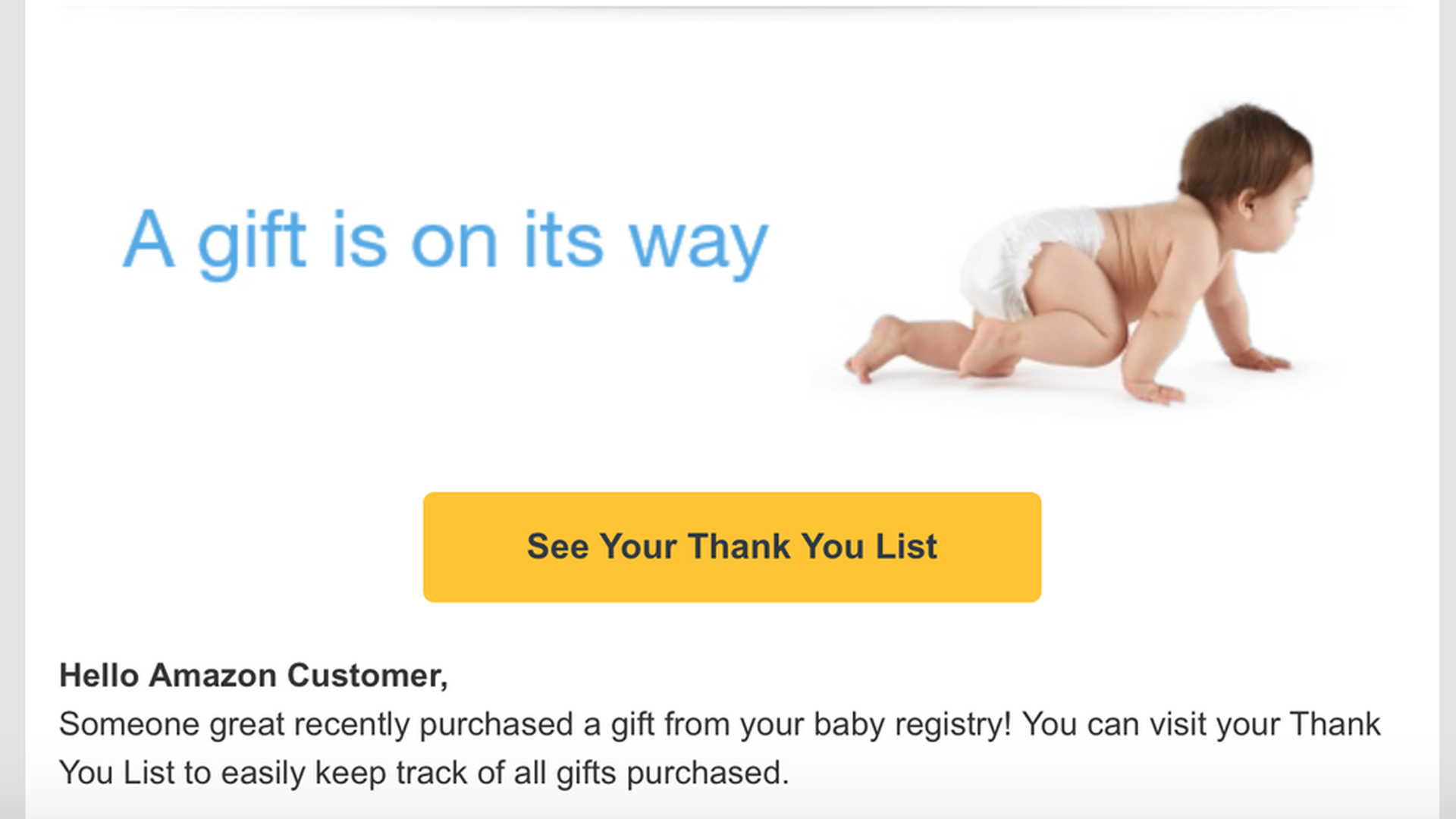 An apparent glitch Tuesday had Amazon notifying tons of users that someone had purchased something from their baby registry.
What happened: "A gift is on its way," exclaimed the email. "Someone great recently purchased a gift from your baby registry! You can visit your Thank You List to easily keep track of all gifts purchased."
Amazon sent a second email on Tuesday evening, apologizing for its earlier one: "Earlier today, we accidentally sent you an email from Amazon Baby Registry. We apologize for any confusion this may have caused."
Why it matters: Mistakes happen, but the subject of having a baby or not can be a sensitive one, so it's a particularly bad area to mess up.
Speaking of Amazon: The Financial Times scooped late on Tuesday that the company is working on its first wearable product — a pair of smart glasses with Alexa built-in. The newspaper also said the company is working on a security camera and one or both products could be introduced this year.
https://www.axios.com/newsletters/axios-login-81c05958-93ff-4016-bb04-214c2f64d2e3.html?chunk=4#story4
Take note
On tap: TechCrunch Disrupt wraps up in San Francisco ... Zenefits is holding Shift, an industry conference on culture. Arianna Huffington and Ben Horowitz are among the main speakers.
Trading places: Björn Jeffery, CEO and co-founder of kids' game maker Toca Boca, is stepping down after 7 years. Toca Boca COO Caroline Ingeborn will add the title of president and, along with co-founder Emil Ovemar, will run day-to-day operations; Ronnen Harary, co-CEO of parent company Spin Master, will officially be CEO of Toca Boca ... Pepsi CFO Hugh Johnston is joining Microsoft's board, while a representative of activist shareholder ValueAct won't seek re-election ... Meanwhile, former Google CFO Patrick Pichette will replace Johnston on Twitter's board (and tweeted for the first time).
ICYMI: Stop me if you have heard this one before, but CNBC says Sprint and T-Mobile are in active merger talks again, with Deutsche Telekom poised to become majority owner if a deal goes through ... The Verge says HTC is said to be planning to halt trading in its shares Thursday morning Taiwan time for a major announcement, which Bloomberg's Tim Culpan first tweeted. Earlier this month, it was reported the company was in advanced talks with Google to sell part of its smartphone operations ... Taiwanese scooter maker Gogoro scooped up another $300 million in funding, adding Japan's Sumitomo and Singapore's Temasek as investors ... An aggressive new ransomware attack is spreading via a malicious email, according to Barracuda Networks ... Per The Verge, some U.S. Navy subs will be getting Xbox 360 controllers in a move to make the periscopes easier to operate and less costly ($20 vs. $38,000).
https://www.axios.com/newsletters/axios-login-81c05958-93ff-4016-bb04-214c2f64d2e3.html?chunk=5#story5