Axios Login
November 23, 2020
Welcome to Thanksgiving week at Login. Ina is off for a well-deserved break, so I'm here to keep the newsletter wheels turning.
Join Axios' Caitlin Owens tomorrow at 12:30pm ET for a virtual event on the future of health equity, featuring Inova Loudoun Hospital president Deborah Addo, Harvard T.H. Chan School of Public Health professor of health policy Robert J. Blendon, and GE Healthcare United States and Canada president and CEO Everett Cunningham. 
Today's Login is 1,355 words, about a 5-minute read.
1 big thing: Biden's openings for tech progress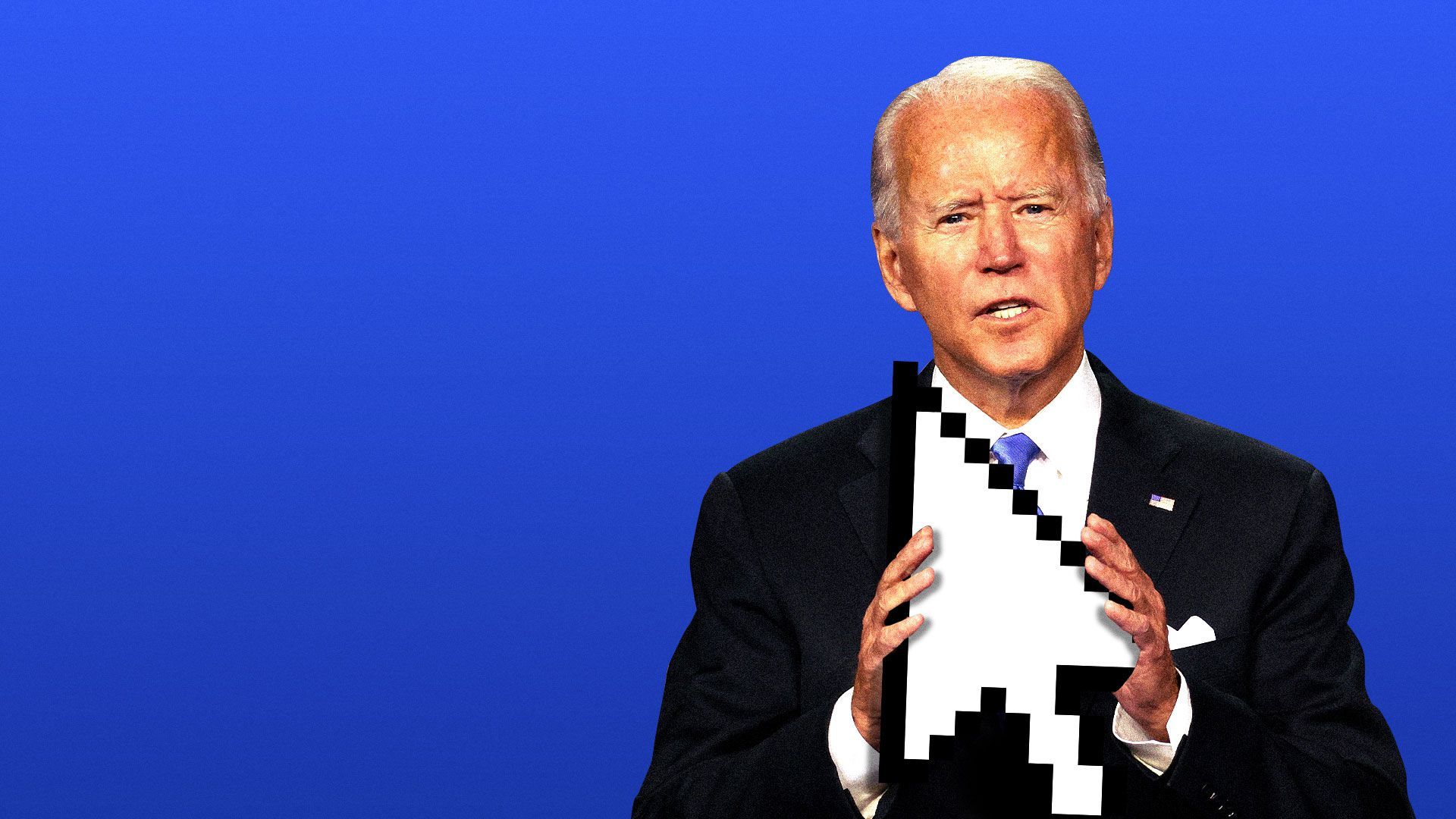 Item No. 1 on President-elect Joe Biden's day-one tech agenda, controlling the flood of misinformation online, offers no fast fixes — but other tech issues facing the new administration hold out opportunities for quick action and concrete progress, Axios' Kyle Daly reports.
Closing the digital divide will be a high priority, as the pandemic has exposed how many Americans still lack reliable in-home internet connections and the devices needed to work and learn remotely.
Antitrust action against Big Tech is the rare policy area where the Trump administration has set up its successor to take the baton and run with it.
Other Trump-era tech imbroglios will likely peter out.
Between the lines: Biden also has a major opportunity to re-establish stability on matters of tech.
"Gov tech" is another realm where Biden may be able to pick up where President Obama left off.
2. Meet Spotlight, Snapchat's take on TikTok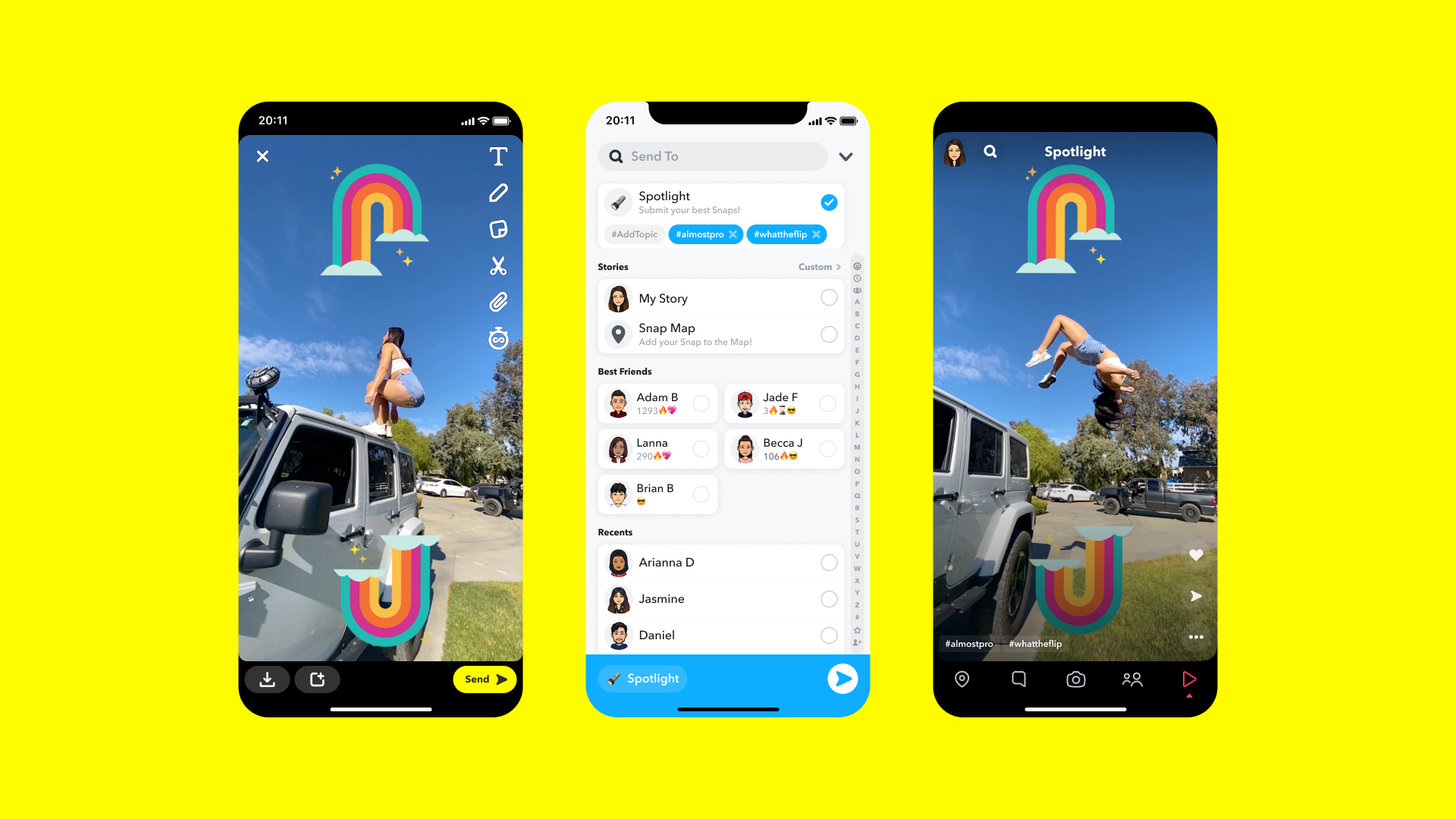 Snapchat Monday launched Spotlight, a video tab within its app that, like TikTok, distributes videos based more on how popular they are than on who created them, Axios' Sara Fischer reports.
Of note: To lure users to try the new feature, Snapchat says it will give away $1 million to the creator of the top-performing video on Spotlight each day for the remainder of 2020, and potentially beyond.
Why it matters: TikTok's explosive growth has put dominant American social media platforms on notice.
Details:
Anyone can upload a video to Spotlight, but videos will only be visible to users' friends unless they specifically set them to be public (and eligible for the reward).
The Spotlight algorithm surfaces the most engaging Snaps based on a user's personal preferences and past choices. It works tournament-style, distributing videos first to 100 users, and then, if they win engagement, to the next tier of 1,000, and so on.
Snapchat isn't alone in incentivizing creators with cash. In July, TikTok announced a $200 million creator fund that it says will grow to over $1 billion in the U.S. in the next three years.
Snapchat has two big ways to differentiate Spotlight from TikTok.
Spotlight is private by default, and doesn't include public comments — both unlike TikTok.
Snapchat also hopes Spotlight will help its users show off its augmented reality tools, like 3D filters. These features have always been Snapchat's strong suit.
3. An infinity of faces without names
In a remarkable feature over the weekend, the New York Times demonstrated how far AI-driven software for generating realistic looking (but fake) human faces has come in just a few years.
If you haven't already, go have a look at the story (subscription required), by Kashmir Hill and Jeremy White, and its gallery of metamorphosing miens.
How it works: Hill and White, using software reliant on the machine-learning technique called generative adversarial networks, generated a wide array of portraits of non-existent people.
Why it matters: It's another body blow against verifiable reality.
Our thought bubble: In AI's early days, theorists described a problem they called "the uncanny valley" — a creepiness that viewers felt when they saw images that weren't obviously unreal (like a cartoon) but weren't good enough to fool the eye.
Today's AI code has clearly climbed out of the uncanny valley and is beginning to scale the peaks of perfect simulation.
Of note: The Times journalists trained their AI on a dataset based on tens of thousands of publicly licensed headshots from Flickr. That means, if you are one of the vast population of Web 2.0 enthusiasts who put their faces on that pioneering photo service back in the 2000s, you just might have contributed a little DNA to the Times' horde of fake faces.
4. How to fight a digital "infodemic"
Combatting the global "infodemic" of harmful information online requires structural changes in how states exercise power over tech giants, a new report this month from an international human rights coalition argues.
The report, from the Forum on Information and Democracy's Working Group on Infodemics, recommends a broad new set of regulations to govern global digital platforms.
They include:
Transparency requirements with tough penalties for violations;
content moderation rules following human rights principles;
a "digital building code" approach to software innovation;
and new safeguards for private message groups to limit the virality of misleading content.
The group is chaired by Maria Ressa, an editor who has faced prosecution in the Philippines for taking on the Duterte government, and former European Parliament member Marietje Schaake.
What they're saying: Ressa warned that other countries could easily slip into practices seen in Duterte's Philippines, where extrajudicial killings have become commonplace, cheered on by online extremists.
"Our dystopian present is your future," she said. "It's time to end the whack-a-mole approach of the technology platforms to fix what they have broken."
Why it matters: With the U.S. debate over misinformation stuck in a partisan rut, it's valuable to zoom out on a global view of the problem and consider ideas from a broader set of sources than D.C.'s Republicans and Democrats.
Read the report (PDF).
5. Lynn Conway, double pioneer, gets IBM apology
IBM last month offered a public apology to Lynn Conway, a pioneering computer scientist whom the company fired in 1968 when it learned of her gender transition.
The big picture: Conway broke new ground in both tech and transgender rights, and IBM's apology, first reported in Forbes, came with a Lifetime Achievement Award.
After IBM fired her, Conway went to work at Xerox's fabled PARC lab, and her research in the 1970s was crucial for the development of VLSI (Very Large Scale Integrated) processors.
Why it matters: That technique makes possible all of today's "system on a chip" devices — from your smartphone to Apple's new M1 Mac processor.
Our thought bubble: All of us — particularly those leading businesses — can ask what injustices are happening under our noses that we can stop right now, rather than waiting decades to make amends.
6. Take Note
On Tap
It's a slow half-week before the Thanksgiving holiday. Enjoy the paucity of virtual industry events.
Trading Places
Baiju Bhatt, cofounder of the youth-oriented stock trading app Robinhood, is stepping down as co-CEO, Fortune reports. Vlad Tenev will remain as CEO, with an IPO rumored.
ICYMI