February 10, 2022
Good morning, Login readers.
Situational awareness: Twitter released its quarterly earnings this morning, and it reported $1.57 billion in revenue, up from $1.29 billion the previous quarter, and 217 million monetizable daily active users.
Plus: Join Axios virtually at our inaugural What's Next Summit on April 5. Register here to attend livestream sessions with discussions on trends that will revolutionize our future. 
Today's newsletter is 1,177 words, a 4-minute read.
1 big thing: Gaming is antitrust regulators' blind spot
The biggest video game companies are gobbling up the competition faster than ever while so far escaping significant resistance from antitrust regulators, Axios' Peter Allen Clark reports.
Why it matters: Gaming has grown into one of the world's largest media industries but has yet to face the scrutiny other tech sectors routinely encounter over how business practices affect competition, consumers or workers.
State of play: The two largest acquisitions in video game history have happened since 2022 began, and 2021 saw over 250 gaming deals, totaling over $38 billion.
Microsoft has been on a spending spree for years, including a $7.5 billion ZeniMax/Bethesda deal in 2020 and its recent $69 billion plan to acquire Activision Blizzard.
Sony has steadily snatched up top tier studios, including its recent bid for Destiny creator Bungie, and now owns the makers of acclaimed game series like Uncharted, Spider-Man and Horizon.
Meanwhile, China-based conglomerate Tencent became the majority shareholder of at least seven studios in 2021.
Deals in Big Tech and media now routinely face hurdles from regulators, lawmakers and activist groups.
The FTC has an ongoing antitrust suit against Facebook parent Meta over its attempts to bury competitors.
Amazon's bid to buy MGM has led to progressive groups lobbying the FTC to block sale.
While the WarnerMedia-Discovery merger was recently approved, it faced pushback from dozens of lawmakers.
Yes, but: Although game industry titans may have free rein to close deals. they're still keeping a close eye on their watchdogs.
Microsoft came out on Wednesday with a preemptive, full-throated welcome of regulators questions, pledging open marketplaces in the future and support for the Open Markets App antitrust bill.
And, in its support for more open app stores, Microsoft shifted the blame to evergreen antitrust targets like Apple and Google.
Additionally, now that the FTC has antitrust activist Lina Khan at the helm, many expect the agency to assert a more active role in scrutinizing big buys.
And for all the bluster, regulators and lawmakers have also let a lot of non-gaming mega content deals go through,
Between the lines: Defining what constitutes a monopoly or stifles competition in an industry can be tricky — especially in a fragmented field like games.
To prove that a company has a monopoly, regulators have to draw lines around specific markets that are being dominated, and that can be done in countless ways.
Gaming could be one big market, or split among mobile, console and PC gaming, or subdivided many other ways.
What's next: In a seemingly make or break moment, Congress is considering a few antitrust bills that could make things complicated for future acquisitions — in gaming as everywhere else in tech.
Meanwhile, both Microsoft's Activision Blizzard deal and Sony's Bungie bid both must get the OK from regulators to proceed.
2. Exclusive: Americans support tech regulation
Three-quarters of Americans say that U.S. democracy could be at risk without stronger regulation of false information online, according to a poll by bipartisan advocacy group the Future of Tech commission, results of which were shared first with Axios.
Why it matters: Congress is considering a range of new restrictions on tech, including bills related to privacy, competition and possible limits to Section 230 of the 1996 Communications Decency Act, which protects online platforms from being sued for user-contributed content.
"Voters across party lines overwhelmingly support a range of government actions," Common Sense Media CEO Jim Steyer told Axios. Steyer is a co-chair of the Future of Tech commission, along with former Massachusetts Gov. Deval Patrick and former Education Secretary Margaret Spellings.
By the numbers: The survey of 1,000 Americans, conducted by Benenson Strategy Group on the commission's behalf, found especially strong support to limit collection of users' personal data — and even stronger support to limit it for users under 18.
78% of Americans believe consumers should have to "opt-in" before their personal data is shared.
76% of those surveyed say companies should not be able to collect and use personal data beyond what's necessary for the service being provided.
75% said they support prohibiting companies from collecting personal data on anybody 16 or under.
Yes, but: It's one thing to call for these limits in the abstract — and another once users realize they might be asked to pay for or give up services that are now supported by targeted advertising.
Between the lines: While there is strong bipartisan support, in both polls and among legislators, for reining in Big Tech, the consensus often disappears once the problems described and solutions proposed get more specific.
Steyer acknowledged a steep partisan divide when it comes to questions about content moderation and Section 230 reform.
The big picture: While the politics of getting anything passed by Congress are complicated, other countries are poised to act, with the EU and U.K. both considering fresh legislation.
3. Senators again take up tech liability changes
Speaking of Section 230, limiting tech's liability shield in the name of fighting online child sexual exploitation is once again on Congress' agenda, Axios' Ashley Gold reports.
Driving the news: The EARN IT Act, which removes tech platforms' immunity for violations of laws related to online child sexual abuse material, will be voted on by the Senate Judiciary Committee Thursday.
A version of the bill passed out of committee in 2020 but never received a full Senate vote. Sens. Lindsey Graham (R-S.C.) and Richard Blumenthal (D-Conn.) reintroduced the bill earlier this month.
Why it matters: The renewed effort to move the bill forward signals that there's still bipartisan interest in modifying tech's online liability shield, Section 230 of the Communications Decency Act, which has become a battleground in recent years.
The other side: More than 50 civil rights, civil liberties and privacy groups wrote to committee lawmakers Wednesday arguing the bill would make it harder for law enforcement to protect children, hurt marginalized communities and jeopardize encryption.
Be smart: The bill is likely to make it out of committee but faces a tough road to full Senate approval and House passage.
4. Take note
Trading Places
Defense Secretary Lloyd Austin has nominated businessman and former New York Mayor Michael Bloomberg to chair the Defense Innovation Board.
Former Commerce Department official Sarah Kemp is joining Intel as VP of international government affairs.
ICYMI
5. After you Login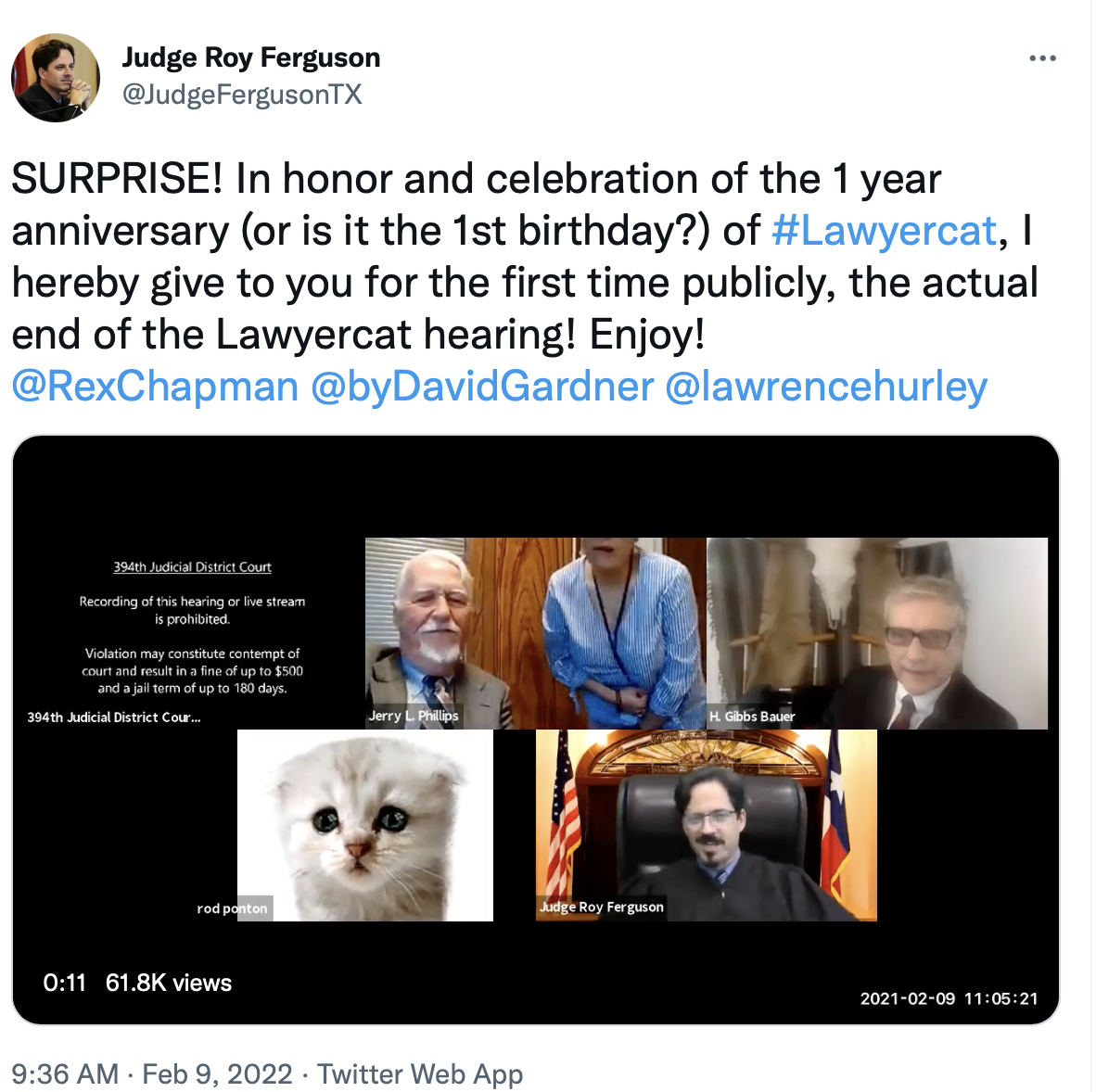 Yesterday marked one year since a lawyer in Texas left on his cat filter during a court proceeding. To mark the occasion, the judge in the case shared just how that hearing ended.