Ina returns today (yes!). She made a few contributions to today's Login and will be back to your inbox tomorrow. Today, we've got a few things in store for you, including a satellite startup's lobbying battle, streaming cliques, and red-state robots...
https://www.axios.com/newsletters/axios-login-74a71f60-b1cd-47c0-853b-379d7de12231.html?chunk=0#story0
A spacey startup wants to power the Internet of Things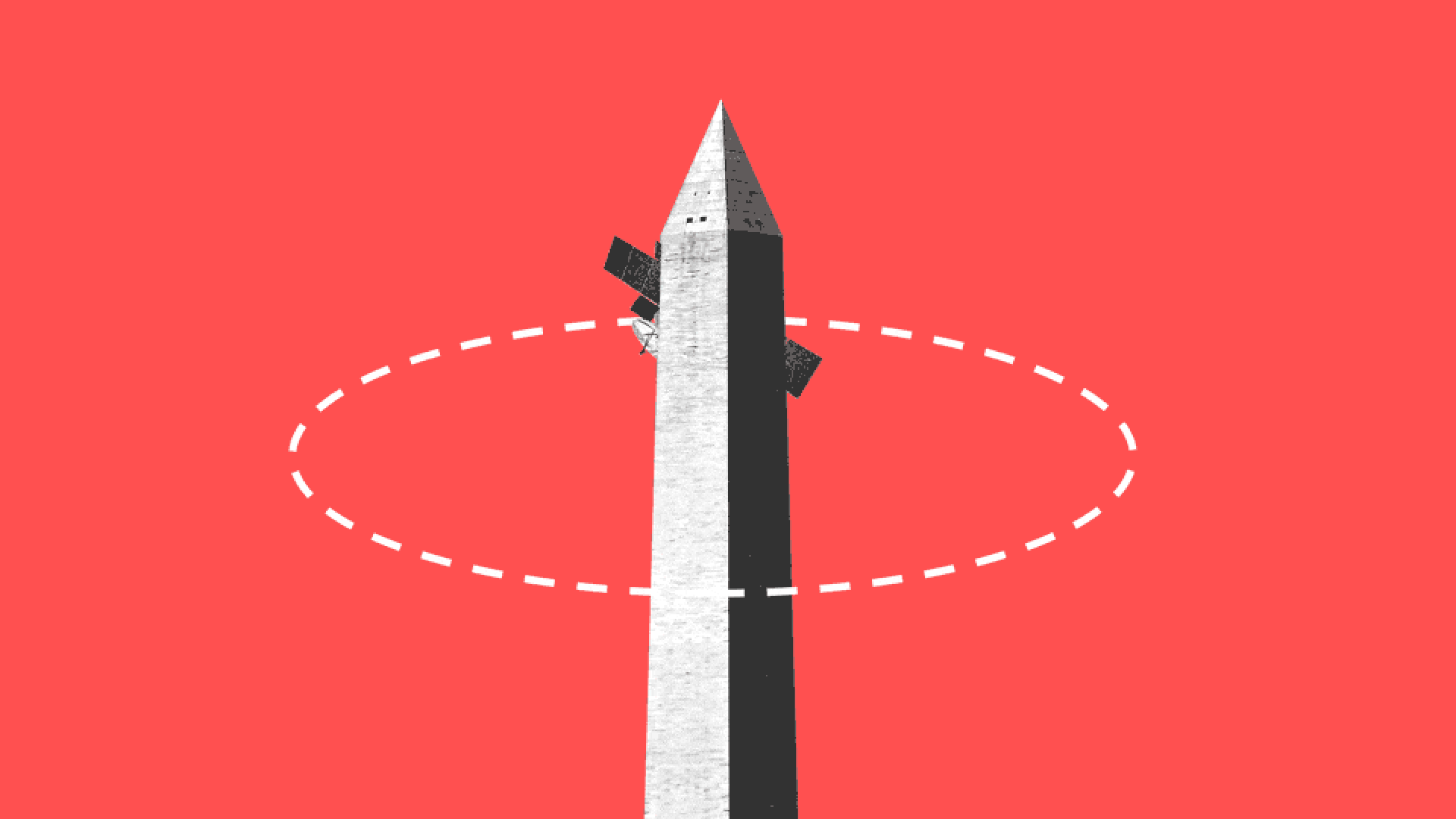 But it needs to convince regulators to let it use crucial airwaves to build a nationwide mobile data network.
It's the second time the company, now called Ligado Networks, has fought the battle. Its previous iteration, backed by Phil Falcone and called LightSquared, hit a dead end 5 years ago amid concerns over GPS interference and other issues. Now it's back with a new name, a lot of money and well-connected allies as it tries to strike gold in the Internet of Things, which it says it can serve using a combination of satellite airwaves and traditional airwaves — creating a sort of hybrid network.
Why it matters: If it's successful, Ligado could become an important player in the growing market for internet-connected devices, resulting in a big payout for its big-name investors including Centerbridge, Fortress and J.P. Morgan Chase (the IoT market could be worth $110 billion by 2020, according to estimates).
What's next: FCC Chairman Ajit Pai hasn't tipped his hand, and there are no indications that a decision is imminent. But Ligado is on the clock: Reuters reported earlier this year that the company was working with bankers to explore a possible sale or find another investment.
Go deeper: David has more details here.
https://www.axios.com/newsletters/axios-login-74a71f60-b1cd-47c0-853b-379d7de12231.html?chunk=1#story1
The robots are landing — in clusters & in red states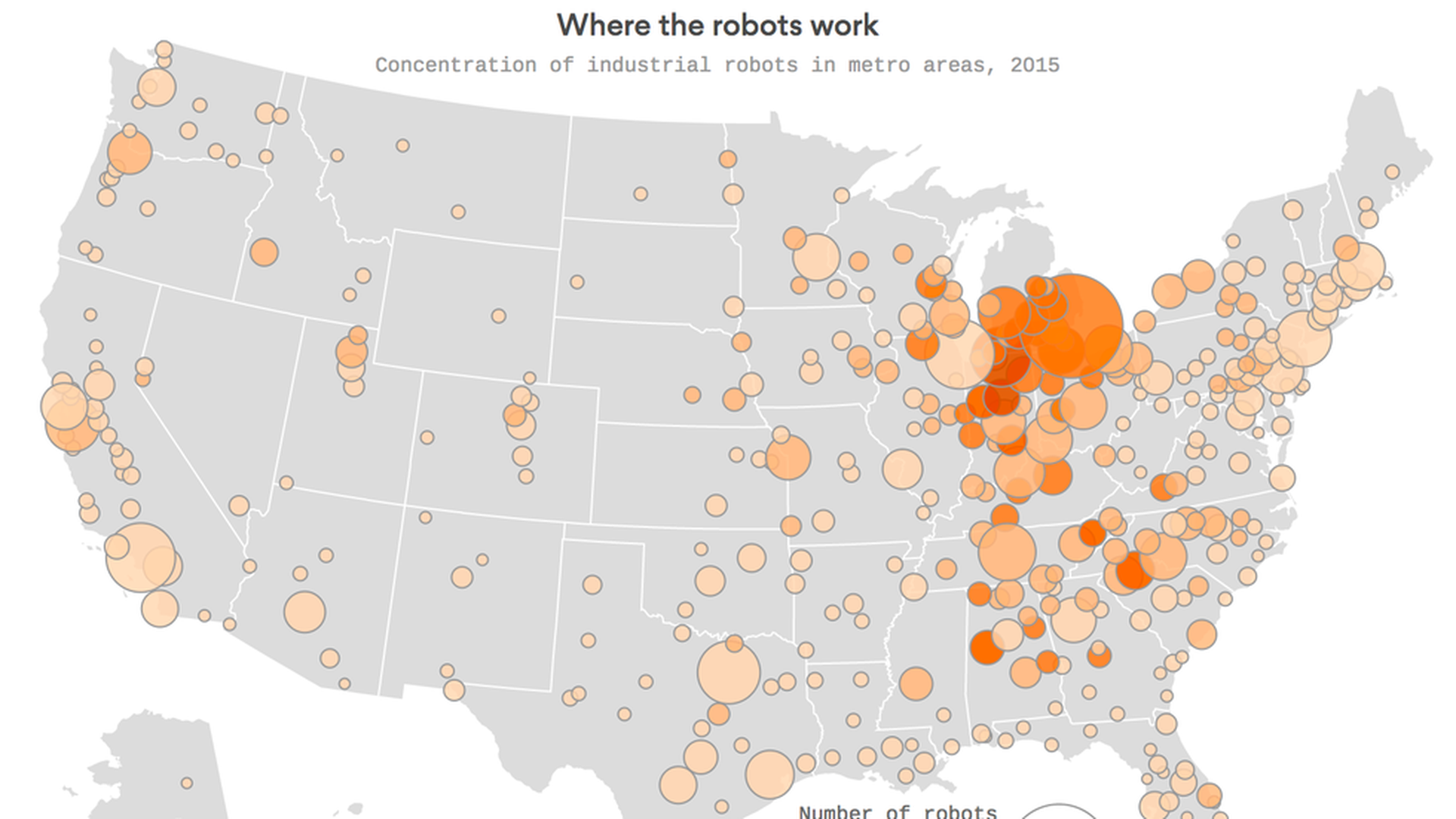 Their largest population is in Michigan and Ohio, the base of the U.S. auto industry, and the home of one of every five robots in the U.S., Axios' Steve LeVine writes.
In all, the auto industry accounts for nearly half of all industrial robots in use in the country, with Detroit alone having almost five times the number of any other major U.S. city (see the enormous red circle), per a new Brookings study.
There's dense concentration in the industrial upper Midwest, Northeast and Upper South, along with the San Francisco and Los Angeles areas.
As you see in the map, vast parts of the country have none, while a few secondary cities, like Kokomo (auto parts) and Elkhart-Goshen (RVs) in Indiana, have 35 robots for every 1,000 people (even Detroit has just 8.5).
"They aren't everywhere," said Mark Muro, senior fellow at Brookings, told Axios. "They are in industrial parts of the country associated with heightened social and labor market anxiety."
The politics of robots: Brookings found that robot and broader economic anxiety is highest in "red" states such as Michigan, Wisconsin and Pennsylvania — where the 2016 election's outcome was determined. In fact, robot incidence in red states that voted for Trump is more than twice that in the blue states that voted for Clinton.
https://www.axios.com/newsletters/axios-login-74a71f60-b1cd-47c0-853b-379d7de12231.html?chunk=2#story2
Intel CEO leaves Trump's manufacturing council; IBM, Dell remain
Late last night, Intel CEO Brian Krzanich said he was exiting President Trump's American Manufacturing Council, citing a toxic political environment that was preventing any progress on the issue.
He became the third CEO of the day to leave the body, following the head of Merck and the CEO of Under Armour. (Here's our updated list of who is in and out.)
"My request—my plea—to everyone involved in our political system is this: set scoring political points aside and focus on what is best for the nation as a whole," Krzanich said in a blog post. "The current environment must change, or else our nation will become a shadow of what it once was and what it still can and should be."
Here are some other ways that the tech industry has been pushing back against the far-right.
https://www.axios.com/newsletters/axios-login-74a71f60-b1cd-47c0-853b-379d7de12231.html?chunk=3#story3
How the streaming market turned into a clique-y high school cafeteria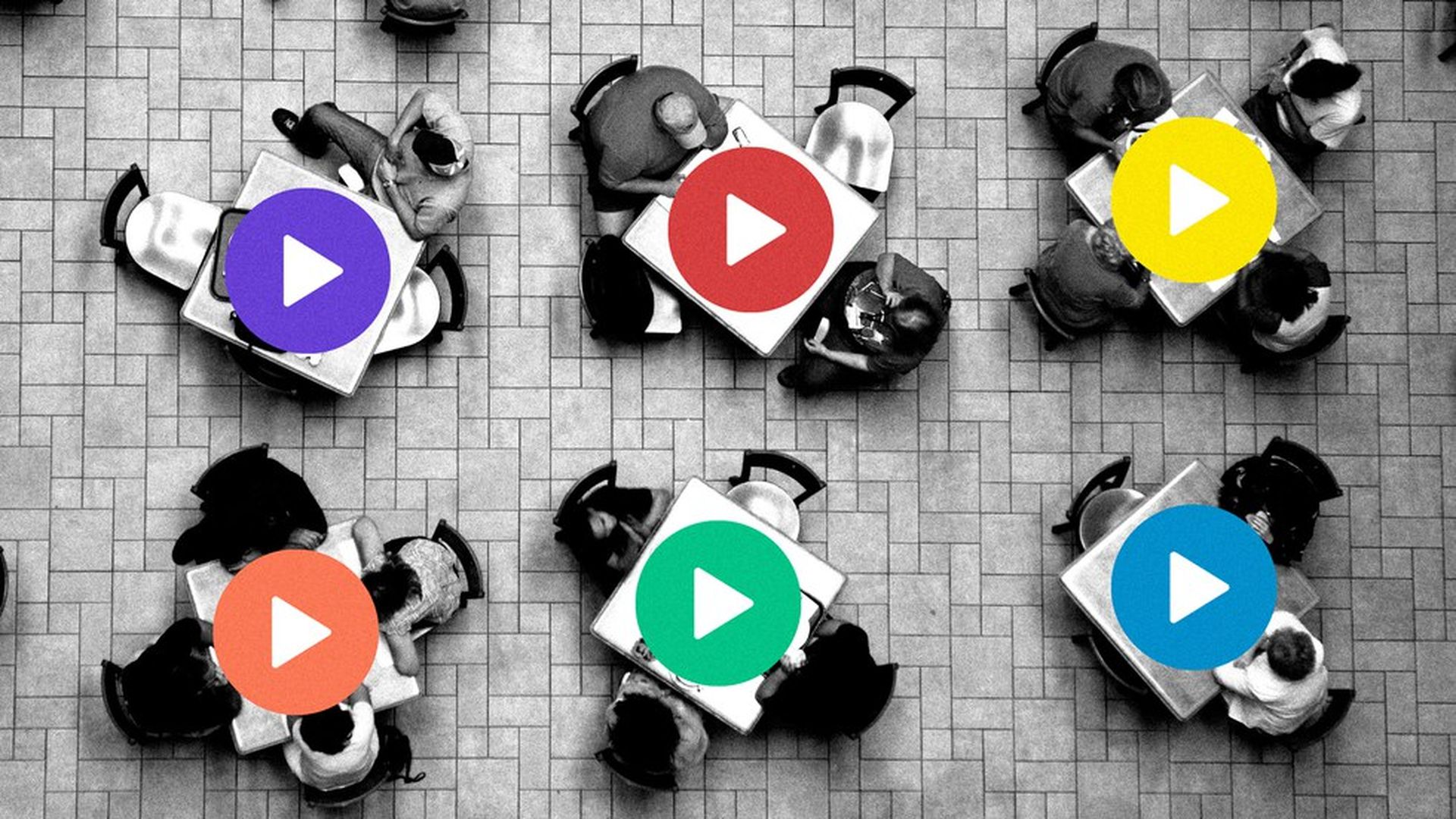 Like-minded TV networks are either competing against one another for distribution deals with the popular telecom/tech streaming companies or coming together in order to compete for better deals collectively (think Discovery/Scripps merger). It's an interest-based power struggle that resembles the nature of a high school cafeteria, Axios' Sara Fischer explains.
Why it matters: Axios' Dan Primack put it best in his Pro Rata newsletter last week: "Hopes for a 'skinny bundle' are fast being replaced by a fat streaming bill. At some point consumers will demand a consolidated option that looks a lot like digital cable."
Sara has more details on who's in these cliques and how they came together here.
https://www.axios.com/newsletters/axios-login-74a71f60-b1cd-47c0-853b-379d7de12231.html?chunk=4#story4
Teens & smartphones: It's complicated
Jean Twenge's article in The Atlantic on the disastrous effects of smartphones on teens spread like wildfire earlier this month. (Axios' brief version is here.) Unsurprisingly, several moms, researchers and psychologists have since taken issue with her findings that smartphones are making teens isolated, immature and suicidal.
Vicky Rideout, who researches youth and media, writes: "The fact that there is a relationship between heavy social media use and depression may mean that social media use is contributing to teens' depression; but it truly could mean that teens who are depressed are turning to social media for help, or distraction, or validation."
Lisa Guernsey, a mother of teenage girls, writes in Slate that maybe today's teens and parents are simply more open to identifying and talking about depression than previous generations, though her daughter did relate to teens' loneliness described by Twenge.
Alexandra Samuel makes an eye-opening observation about the data: Smartphones and social media have caused parents to disengage from their kids. Suddenly, that teen loneliness makes more sense.
My thought bubble: My two toddlers can navigate an iPad as well I do. Twenge is clearly on to something. But the real question remains: What are parents supposed to do about it in an age when taking away phones, from kids or parents, isn't really a viable option?
https://www.axios.com/newsletters/axios-login-74a71f60-b1cd-47c0-853b-379d7de12231.html?chunk=5#story5
Take note
On Tap: Ina's triumphant return!
Trading Places: Swift creator Chris Lattner tweeted he is joining Google Brain after a brief stint running Autopilot software at Tesla ... Pandora named Roger Lynch as new CEO/President, per Variety.
ICYMI: A federal judge says LinkedIn cannot prevent startups from using public profile data, per Reuters. ... As President Trump takes trade action against China, the New York Times has a look at China's growing tech ambitions. ... Former Uber CEO Travis Kalanick said he is "baffled" by a lawsuit from major shareholder Benchmark and is seeking to have the case moved to arbitration. ... DreamHost said it is fighting a DoJ request to turn over all visitor data for an anti-Trump Web site; The Guardian has more here.
https://www.axios.com/newsletters/axios-login-74a71f60-b1cd-47c0-853b-379d7de12231.html?chunk=6#story6