Fake news and virtual reality. Welcome to 2017.
https://www.axios.com/newsletters/axios-login-6eb35b16-1325-4037-aadf-4c8fab5c5b82.html?chunk=0#story0
Microsoft's plunge into VR comes as market is cooling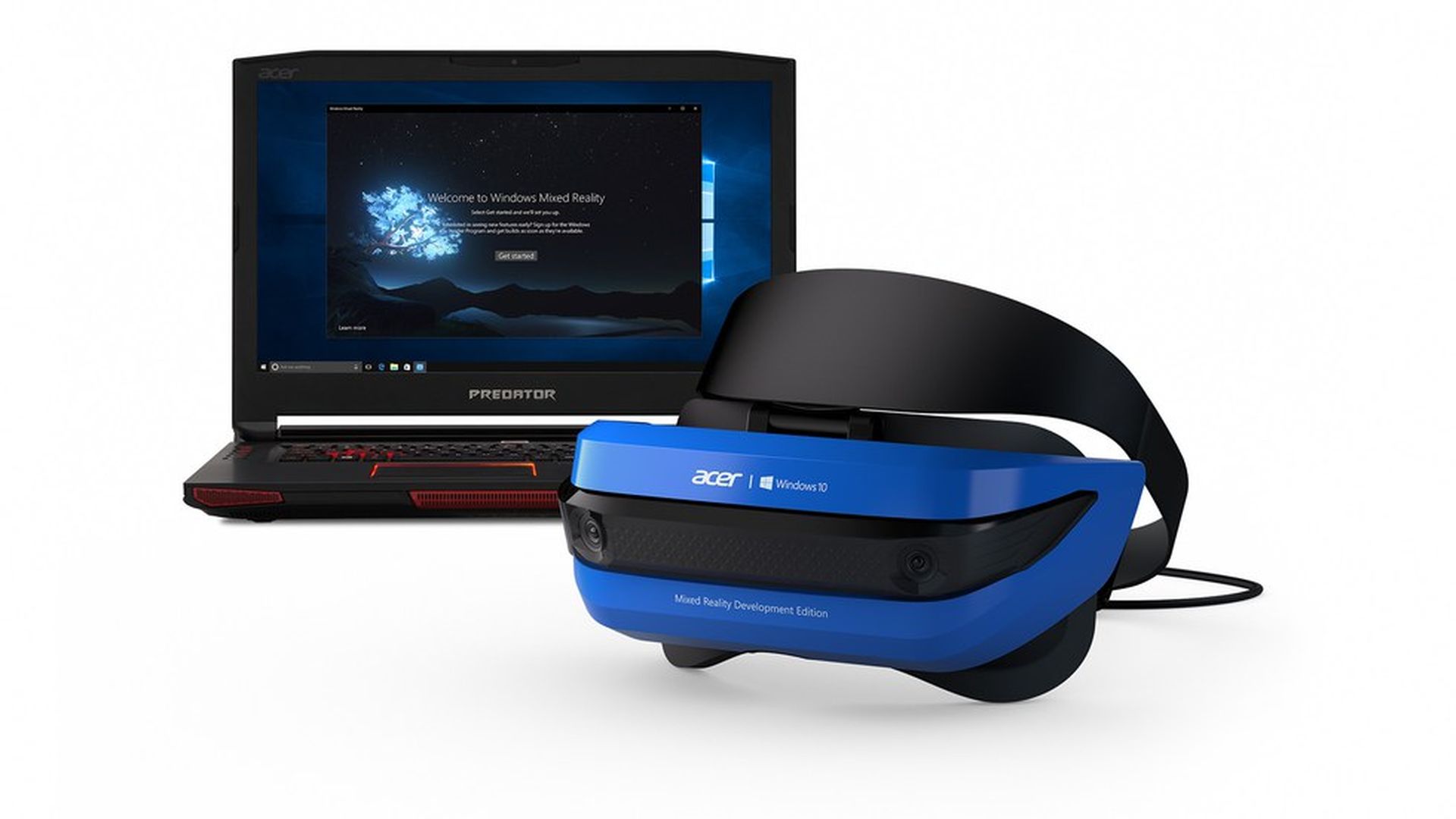 When Microsoft first started talking up its plans to enter the virtual reality space a couple years ago, VR headsets were all the rage. But as it finally debuts the first Windows 10-based consumer devices in San Francisco today, enthusiasm has diminished significantly.
Behind its plan: Microsoft, for its part, thinks it can help solve three key issues that it believes is causing some of the slow adoption: price, complexity, and compatibility.
The company has promised that headsets will start at $299.
As with Oculus Rift and HTC Vive, the headsets require a tethered PC, but Microsoft says it won't need as beefy a PC to power its headsets.
It's also promising set-up in minutes, as compared with several hours needed for some rivals.
What to expect: Unlike the HoloLens AR glasses, which Microsoft is making itself, the "mixed reality" headsets being shown off Tuesday will come from a variety of PC-maker partners, such as HP and Acer. (Developer versions have been on sale since earlier this year.)
Reality check: Microsoft is diving in as others are cutting prices, scaling back expectations, or exiting the market entirely, as Intel did last month when it pulled the plug on its Project Alloy reference design.
Meanwhile, VR also now finds itself competing with augmented reality now that Apple (and soon Google) is building support for AR right into their mobile operating systems — no extra hardware required.
"VR's market potential has been diminished by the emergence of mobile AR as a rival platform," says Tim Merel, managing director of Digi-Capital. Merel wrote that high-end VR might not really begin to grow until a new generation of headsets arrive in 2019 or 2020 that aren't tethered to either a cellphone or a PC.
https://www.axios.com/newsletters/axios-login-6eb35b16-1325-4037-aadf-4c8fab5c5b82.html?chunk=1#story1
IBM hopes "Dreamer" employees can help save DACA
IBM is launching a major lobbying effort to urge Congress to find a legislative fix that will let so-called "Dreamers" stay in the country, Axios' Kim Hart reports.
What's happening: Instead of relying on lobbyists, the company is letting its own employees do the talking. IBM will bring some of its more than 30 Dreamers on staff to D.C. to share their stories with lawmakers.
Background: A number of tech companies have vocally defended the Deferred Action for Childhood Arrivals program, which is set to phase out starting next spring. Many DACA beneficiaries, known as Dreamers, work at companies like Microsoft, Apple, and Amazon.
Why it matters: IBM CEO Ginni Rometty, who has a more cordial relationship with the Trump administration than most tech executives, is the only major tech CEO to directly lobby leaders in Congress and the administration on the issue.
Why now: IBM's campaign launches today in time for a Senate Judiciary Committee hearing, the first hearing on DACA since the phase-out was announced.
https://www.axios.com/newsletters/axios-login-6eb35b16-1325-4037-aadf-4c8fab5c5b82.html?chunk=2#story2
Key report in Uber-Waymo case made public
Late Monday, one of the most sought-after documents (by Waymo and reporters alike) was made public: a due diligence report created last year when Uber acquired Otto Trucking, the startup founded by former Waymo employee Anthony Levandowski.
Axios' Kia Kokalitcheva reports that the document confirms much of what Waymo, which is suing Uber for allegedly stealing its trade secrets, has suspected about Levandowski.
Key findings
Levandowski had company files on his personal devices, and destroyed some as well.
He worked to recruit Waymo employees for his new company.
He met with Uber executives while still working at Waymo.
Why it matters: Levandowski fought to keep the report from turning up in the lawsuit, even appealing the court's decision to allow it to be released. Waymo believed it contained incriminating evidence and pushed to get access to it.
Meanwhile, a group of media companies is fighting to keep the upcoming trial fully open to the public.
Go deeper: Kia has more here, including comments from Waymo and Uber, as well as the full report.
https://www.axios.com/newsletters/axios-login-6eb35b16-1325-4037-aadf-4c8fab5c5b82.html?chunk=3#story3
Fake news is everywhere you look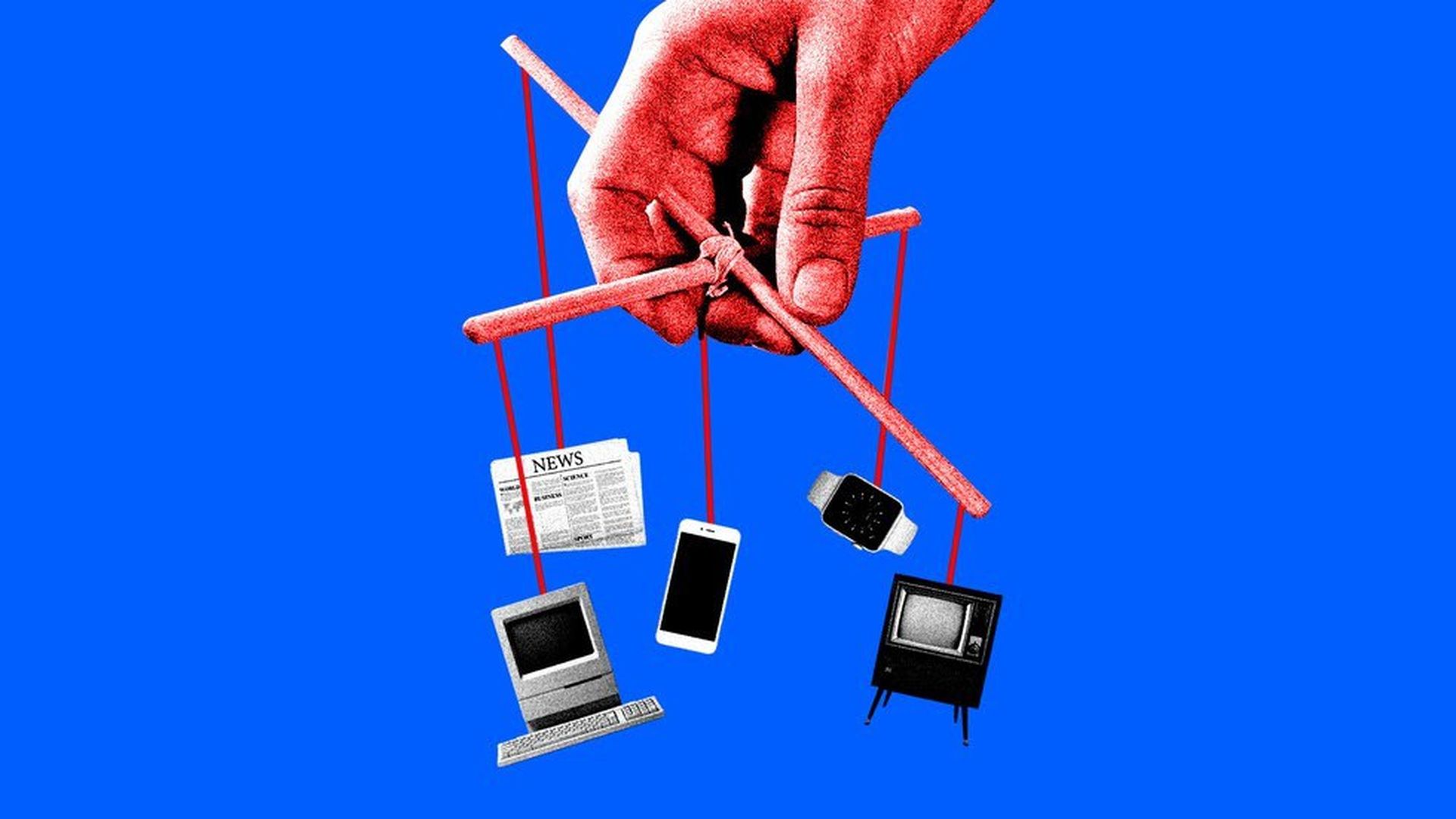 A global war against fake news is raging, and the U.S. — at the center of the mayhem — is being swallowed by it. Tech giants are creating new policies, but fake news still abounds. Regulators want them to do better, but the biggest tech companies are nowhere near formalizing a concrete policy of their own, Axios' Sara Fischer reports.
The latest example: Within minutes of the deadly Las Vegas attack, fake news started circulating about the suspect and victims, forcing tech platforms to apologize for surfacing news from faulty outlets.
In the West: The Atlantic Council's Digital Forensic Research Lab writes that in Spain, Russian state-backed news organizations and bots "have aggressively promoted digital misinformation and outright fake news about the politically charged vote," planned for last Sunday in Catalonia. This is in addition to fake news campaigns to meddle with elections this past year in the U.K., France, and Germany.
In the East: A new report from The Washington Post details how in India, false information spread through Facebook-owned WhatsApp has become "a part of everyday life," leading to violence, as well as religious and caste tensions. A Facebook spokesperson tells Axios it recognizes that "this is a challenge and we're thinking through ways we can continue to keep WhatsApp safe."
The bottom line: Nobody's winning the war against fake news, except maybe Russia (which is fighting on the other side).
For more media news, be sure to sign up for Sara Fischer's weekly Axios Media Trends newsletter.
https://www.axios.com/newsletters/axios-login-6eb35b16-1325-4037-aadf-4c8fab5c5b82.html?chunk=4#story4
Take note
On tap: Ford CEO Jim Hackett is in New York this afternoon to give a strategic update to investors...Microsoft is hosting its mixed reality hardware event in San Francisco (see above)...Oracle OpenWorld also continues in San Francisco.
Trading places: Sony announced late Monday that it is replacing Andrew House, the head of its PlayStation business, with his current deputy, John (Tsuyoshi) Kodera...Despite a last-minute push by some Democrats, the Senate voted 52-41 to confirm FCC chairman Ajit Pai for another five-year term on the commission...Jo Bertram, Uber's head of Northern European markets, stepped down Monday. The move follows the company seeing its license pulled in London.
ICYMI: Wired has an interesting look at how good selfie potential can dramatically boost the appeal of museum exhibits...Walmart acquired logistics startup Parcel in a bid to boost its same-day delivery capabilities, per Recode...Taking on Nest and others, connected doorbell maker Ring launched Protect, a $199 home security system, TechCrunch says...The Information reports that Alphabet's Waymo is preparing to offer the first commercial ride-hailing service with fully autonomous vehicles (with no safety driver). It could come later this year.
https://www.axios.com/newsletters/axios-login-6eb35b16-1325-4037-aadf-4c8fab5c5b82.html?chunk=5#story5