BTW, we know we had some problems getting Login to some of you yesterday. It turns out plugging carrier pigeons into routers is a bad idea (and messy). Rest assured we are working to try to prevent it from happening again. And I am always here for your feedback (as well as news tips). Just hit reply or drop a note to ina@axios.com.
https://www.axios.com/newsletters/axios-login-6c43ff99-5112-4112-ae46-358bc9678766.html?chunk=0#story0
Tech's gender troubles will remain if leaders deny the problem
It's hard to see how much Silicon Valley will clean itself up when some of the biggest names in the industry still profess ignorance of the problem.
"I did not know there was any discrimination," venture capitalist Vinod Khosla said at a Commonwealth Club event on Thursday, according to Recode. Khosla also maintained that harassment in tech is rarer than in most other industries.
Most recent reports: The comments came the same day that yet another woman stepped forward to say she was harassed by a venture capitalist. TechCrunch's Catherine Shu wrote about a 2015 incident in which she said she was propositioned and groped by 500 Startups' Tristan Pollock.
You'll recall that 500 Startups founder Dave McClure has already resigned as a general partner after multiple harassment allegations and issued a public apology. And 500 Startups is far from alone, even among reported instances.
Klawe's advice: Indeed things are so bad that Harvey Mudd College president Maria Klawe — a driving force behind getting more women into computer science — has advised young women to consider avoiding Silicon Valley startups.
"For ages, we've been talking to students about whether they want to go to startups or not because they tend to have virtually no HR," Klawe told CNBC. "If something goes wrong, it's a matter of luck whether you have management that cares about these issues."
https://www.axios.com/newsletters/axios-login-6c43ff99-5112-4112-ae46-358bc9678766.html?chunk=1#story1
Microsoft's cloud business reaches a key milestone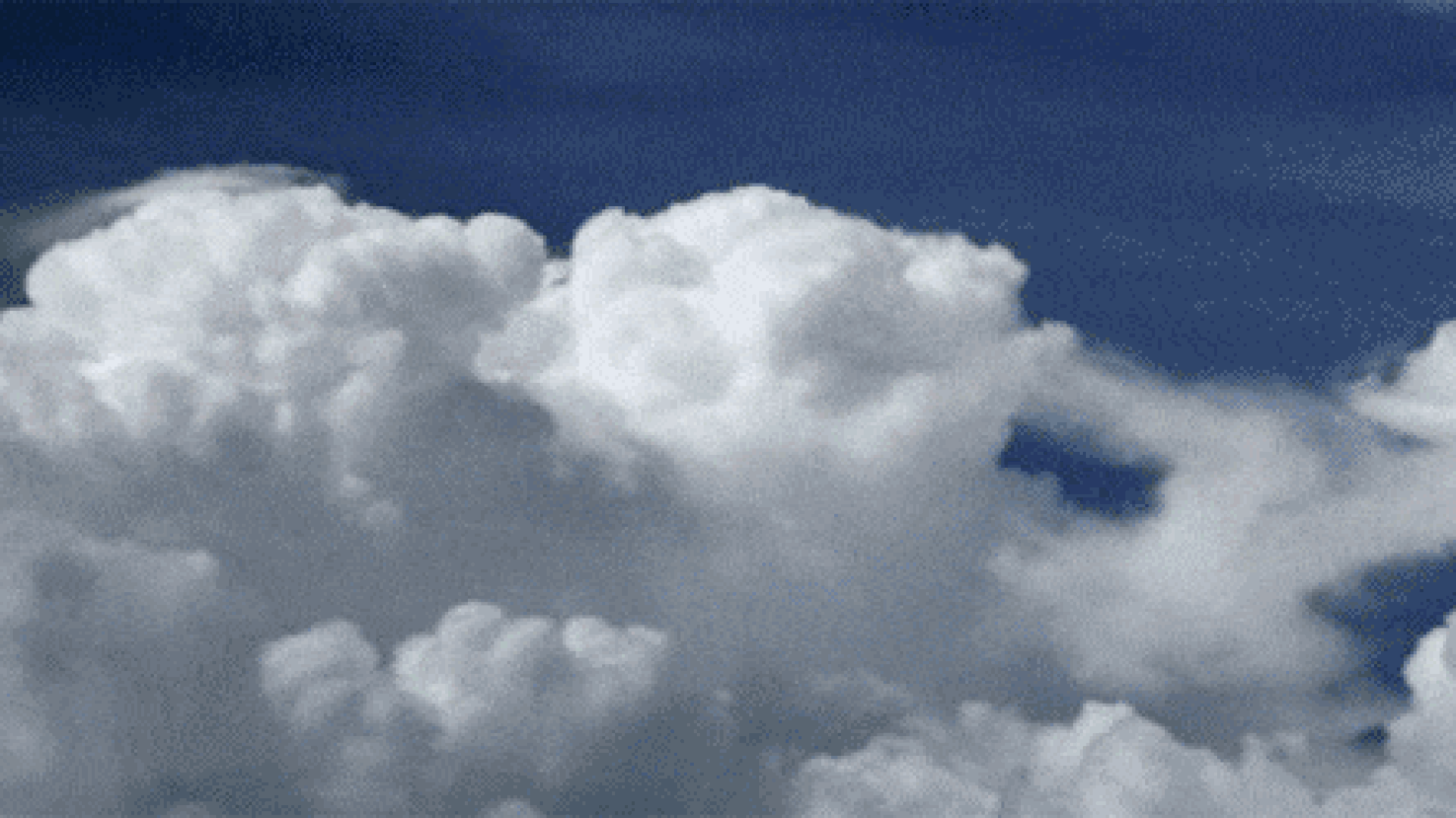 A healthy cloud business overcoming a sluggish PC market was clearly the big story in Microsoft's earnings report on Thursday.
One statistic really drove that point home. On the conference call with analysts, Microsoft CFO Amy Hood noted that, for the first time, Microsoft got more revenue from its Office 365 subscription business than it did from traditional software licensing of Office.
Investors liked the report, sending the company's shares, already at all-time highs, to new record levels in after-hours trading.
https://www.axios.com/newsletters/axios-login-6c43ff99-5112-4112-ae46-358bc9678766.html?chunk=2#story2
Intel wades into Apple's dispute with Qualcomm
Eager to help out a customer taking on a rival, Intel has weighed in on Apple's side in the iPhone maker's dispute with Qualcomm. In particular, Intel opposes Qualcomm's recent move to ban the import of some iPhones into the U.S.
Behind the scenes: Intel has an especially good reason to oppose Qualcomm's request. While Qualcomm maintains that all iPhones require a patent license, its request with the ITC only seeks to ban iPhones that use Intel rather than Qualcomm modems. In part, Qualcomm says that's because of contractual requirements.
But as Intel points out in a new legal filing, it's also a handy way for Qualcomm to try to win back more of Apple's business, while damaging its main competitor in the high-end modem business.
"An exclusion order would fence Intel, Qualcomm's only remaining competitor, out of the premium LTE market for reasons unrelated to the merits of its products," Intel said in its filing. "Such an order would cause harm to competitive conditions because it would outright eliminate competition."Our take: This is a battle among giants all of whom play rough, including Intel which had a number of sharp elbowed tactics when the PC was king and it had dominant market share. That said, while there may be contractual reasons Qualcomm can't seek a ban of iPhones with its chips, keeping out only iPhones with Intel modems would seem to create some other potential harms to competition.
https://www.axios.com/newsletters/axios-login-6c43ff99-5112-4112-ae46-358bc9678766.html?chunk=3#story3
What a world without drivers will look like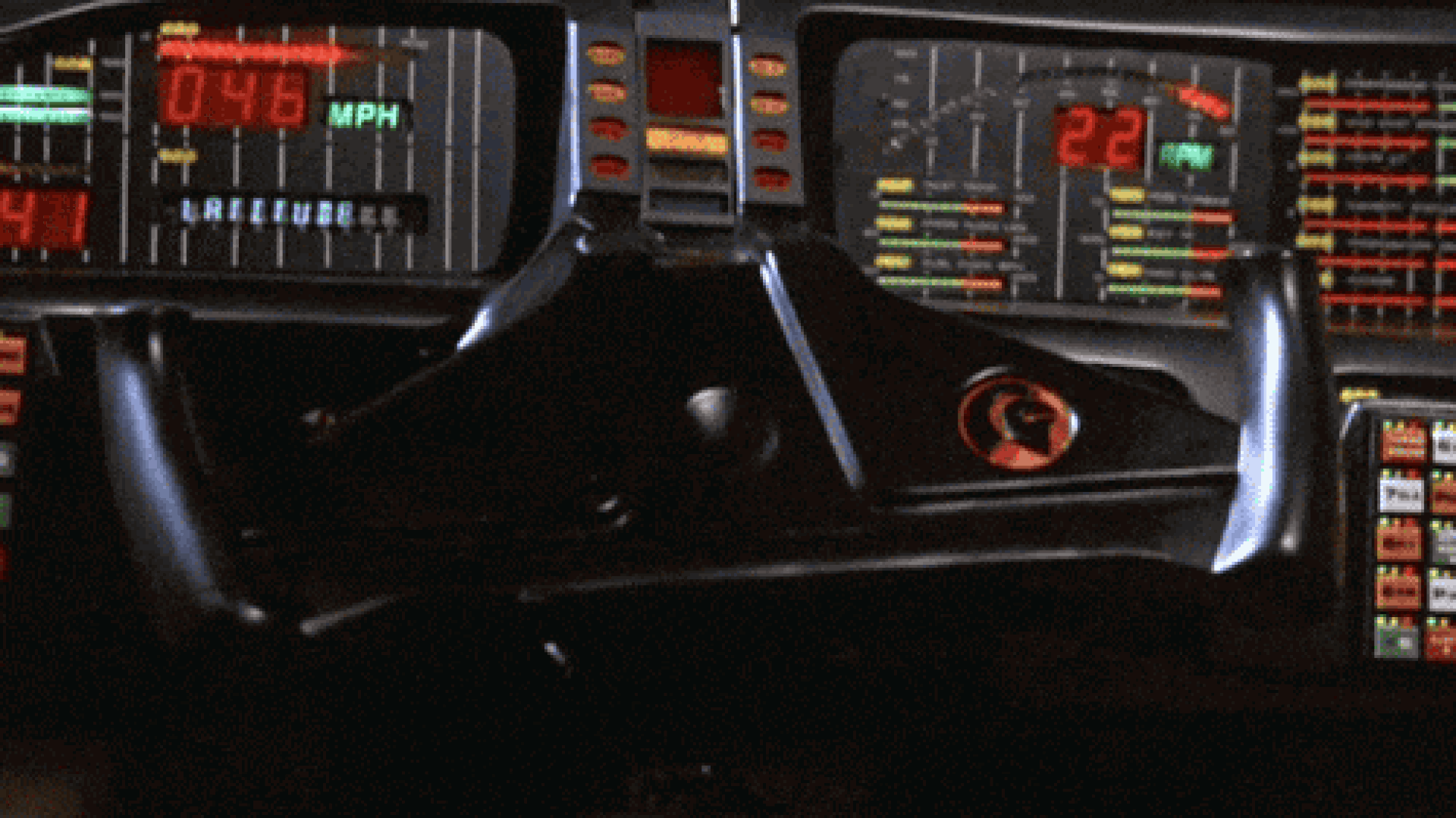 Just what will it look like when fully autonomous vehicles take over the roads? Forrester has some predictions in a new report:
Platoons of autonomous trucks will replace human-driven freight, especially on long-haul routes, as soon as it is technologically and legally possible. (David wrote about the implications of this a while back.)
Your insurance bill may stay high. Sure, human error will be taken out of the equation. But all those high-tech sensors and software will make it more difficult to decipher what's to blame when something goes wrong, and vehicles will be more expensive to repair, per CNET. (Ina's thought bubble: I'm not so sure about this. Other people think that the cost of insurance will be baked into the car price because the drivers won't really be at fault).
Your commute will be bombarded with ads. Advertisers and media companies will compete for a spot inside the new vehicle experience and big brands will sponsor rides.
Bottom line: As Forrester puts it, "We predict that by 2035, the global economy will be unrecognizably different."
https://www.axios.com/newsletters/axios-login-6c43ff99-5112-4112-ae46-358bc9678766.html?chunk=4#story4
Uber board considering BofA exec for vacant CEO spot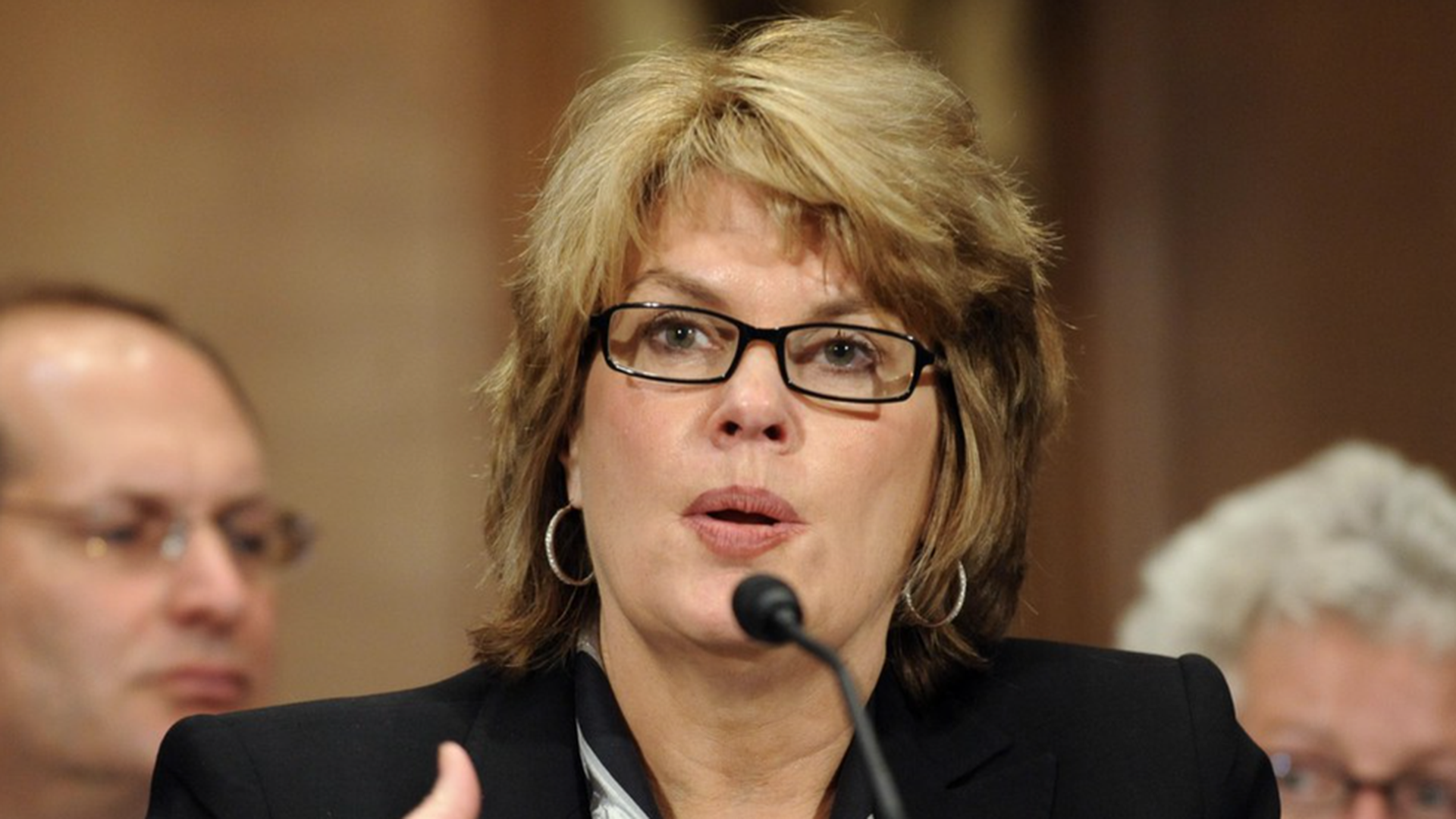 Multiple individuals close to Uber's board of directors have reached out to Bank of America vice chairman Anne Finucane about the company's CEO position, which has been vacant since Travis Kalanick resigned in June.
Dan Primack, who scooped the news Thursday, reports that Finucane is said to be intrigued by the opportunity, but has not yet held any official talks with Uber or its retained executive search firm. Both she and Uber declined comment.
https://www.axios.com/newsletters/axios-login-6c43ff99-5112-4112-ae46-358bc9678766.html?chunk=5#story5
Take note
On tap: Comic-Con International continues in San Diego.
Trading places: Vimeo has promoted Anjali Sud to CEO, replacing interim chief executive Joey Levin, CEO of parent company IAC. Sud had been general manager and SVP of Vimeo's creator business. The previous permanent CEO, Kerry Trainor, left more than a year ago...Randy Garutti, the CEO of Shake Shack, is joining the board of Jack Dorsey-run payments company Square...CNBC reports that Amazon has hired Missy Krasner, the head of health industry efforts for cloud storage provider Box.
ICYMI: Trump official discusses current fintech startup regulatory plan...eBay reported quarterly revenue of $2.3 billion, up 4% from the prior year as earnings generally matched expectations; however its profit outlook was below what many analysts were expecting and its shares dropped in after-hours trading...Amazon quietly acquired data startup Graphiq back in May for around $50 million, the LA Times reported...Google expanded its YouTube TV service to 10 more cities, including D.C., Detroit, Atlanta, and Phoenix.
https://www.axios.com/newsletters/axios-login-6c43ff99-5112-4112-ae46-358bc9678766.html?chunk=6#story6
After you Login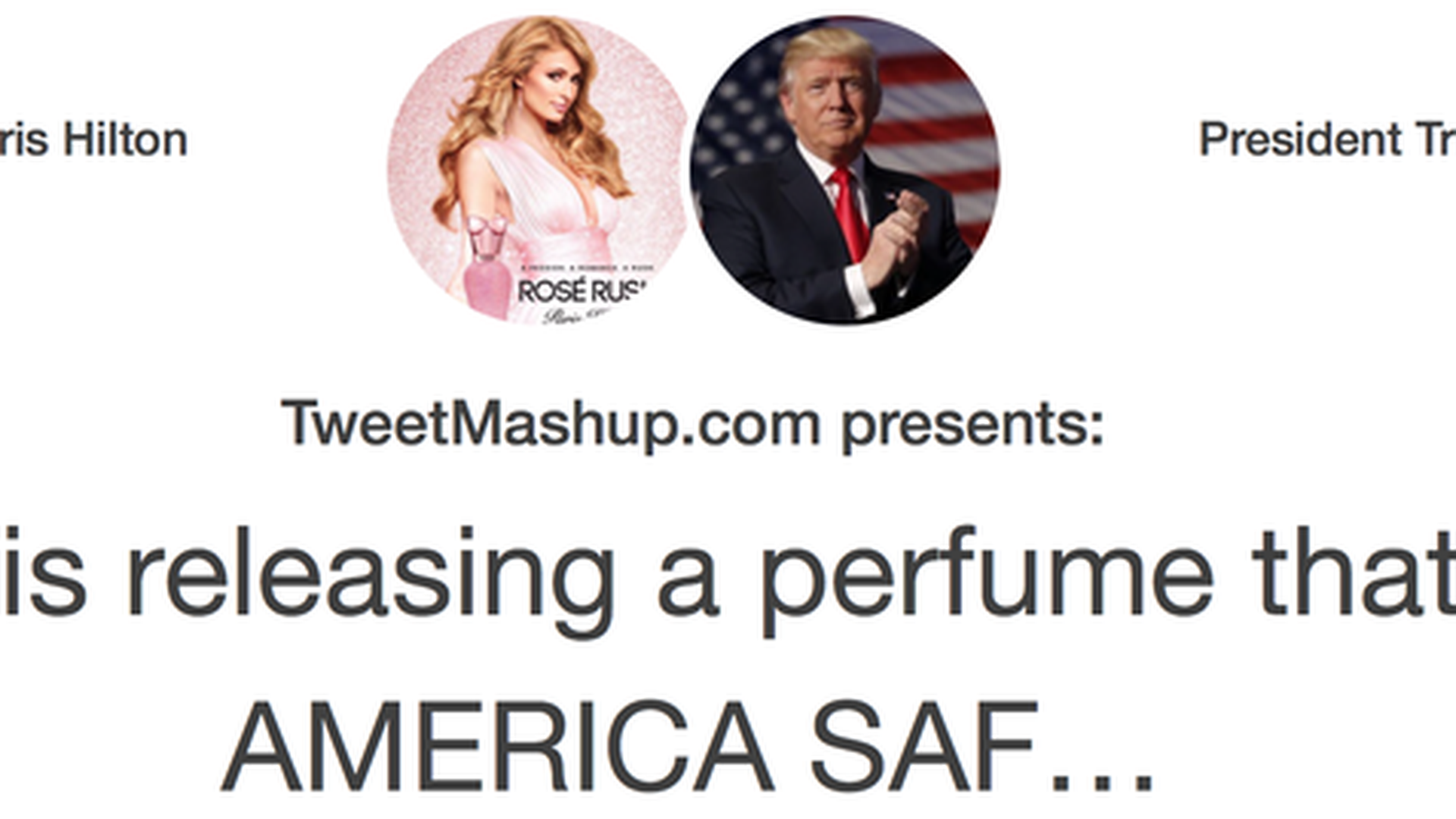 Tweetmashup lets you merge any two twitter accounts to create some fabulous messages by combining past tweets. For those feeling uncreative, you can choose from some suggested pairings, like Cher and Elmo, or President Trump and Paris Hilton.