Man oh man, what a day. Once again, Trump talk trumped all else in tech.
https://www.axios.com/newsletters/axios-login-6344de8c-6a5a-4579-9696-eae76b6d026c.html?chunk=0#story0
Online hate strains one of tech's core principles: free speech
The recent events in Charlottesville and resulting debate have all manner of tech companies, from Web platforms to payment processors, rethinking where to draw the line between protecting free speech and allowing the promotion of hate speech.
Background: Historically tech companies have tried to remain as hands off as possible, for a variety of ethical, practical, and financial reasons. While nearly all firms have terms of service that allow them to cease doing business with whomever they want, internet companies have long held themselves out as content and viewpoint agnostic.
Doing so has allowed the companies to avoid having to separate content into good and bad. That allows the companies to do the maximum level of business and to be able to say that they are promoting free speech. Plus, in some cases, too much moderation could shift a company from a legally protected internet service provider to a publisher that is liable for what lands on their sites.
Yes, but: Even companies that have been among the most ardent free speech advocates are starting to feel there are limits.
David and Sara have more, including a timeline, here.
Meanwhile: Writing for TechCrunch, Taylor Hatmaker argues that, press releases notwithstanding: "Tech is not winning the battle against white supremacy."
https://www.axios.com/newsletters/axios-login-6344de8c-6a5a-4579-9696-eae76b6d026c.html?chunk=1#story1
Trump goes after Amazon — again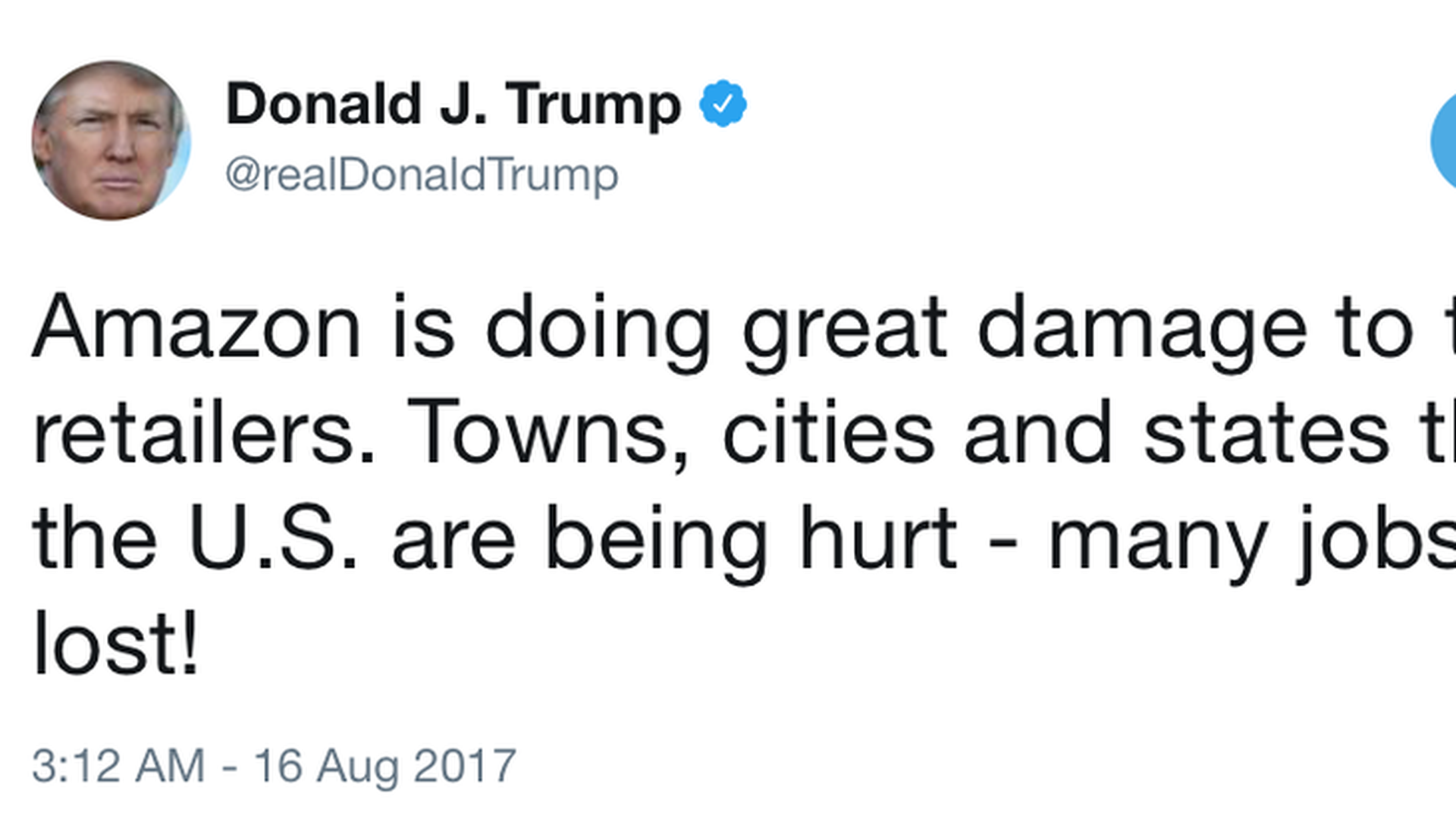 President Trump took another swipe at Amazon, tweeting Wednesday that the company is paying no taxes, killing jobs, and damaging "towns, cities and states throughout the U.S."
Why Trump is wrong: As of April, Amazon does collect taxes on goods sold from its own inventory for every state that has a sales levy.
Why Trump is right: Amazon has been a buzzsaw through big swaths of traditional retail, including brick-and-mortar bookstores, department stores, and apparel shops. Tens of thousands of jobs have been lost, along with sales taxes that fund local services. And Amazon doesn't collect sales taxes on goods sold by third-party affiliates, unless it is contracted to do so by those sellers.
Note: Amazon declined to comment, but has said previously that close to half the items sold on its site are from third-party affiliates.
My thought bubble: It's worth pointing out that the tweet came just as the Jeff Bezos-owned Washington Post printed a particularly scathing indictment of the president.
Christopher Matthews has more here.
https://www.axios.com/newsletters/axios-login-6344de8c-6a5a-4579-9696-eae76b6d026c.html?chunk=2#story2
Meanwhile, Tim Cook takes on Trump
Apple CEO Tim Cook issued a passionate email to employees Wednesday night, pledging to use Apple's cash and stature to fight the kind of hateful messages embraced in Charlottesville last weekend.
"Hate is a cancer, and left unchecked it destroys everything in its path," Cook said in an email to employees across the globe and obtained by Axios. "Its scars last generations. History has taught us this time and time again, both in the United States and countries around the world."
"I disagree with the president and others who believe that there is a moral equivalence between white supremacists and Nazis, and those who oppose them by standing up for human rights. Equating the two runs counter to our ideals as Americans," Cook wrote.
Cook said Apple would donate $1 million each to the Southern Poverty Law Center and the Anti-Defamation League. Apple also will match employee donations and make it easier for customers to contribute via iTunes.
Other tech and business leaders have distanced themselves from Trump in the wake of his handling of the events in Virginia, with two CEO advisory councils disbanding earlier Wednesday.
Delayed reaction: After declining to say anything all week about her continued presence on a Trump council, IBM CEO Ginni Rometty issued a statement Wednesday condemning the violence in Charlottesville while justifying her company's longstanding policy of engaging with U.S. leadership.
Michael Dell, who was also on one of the Trump councils, had even less to say, telling USA Today's Jon Swartz simply that the matter was "resolved" with the council disbanded.
https://www.axios.com/newsletters/axios-login-6344de8c-6a5a-4579-9696-eae76b6d026c.html?chunk=3#story3
Lansing has the best wireless service in the U.S.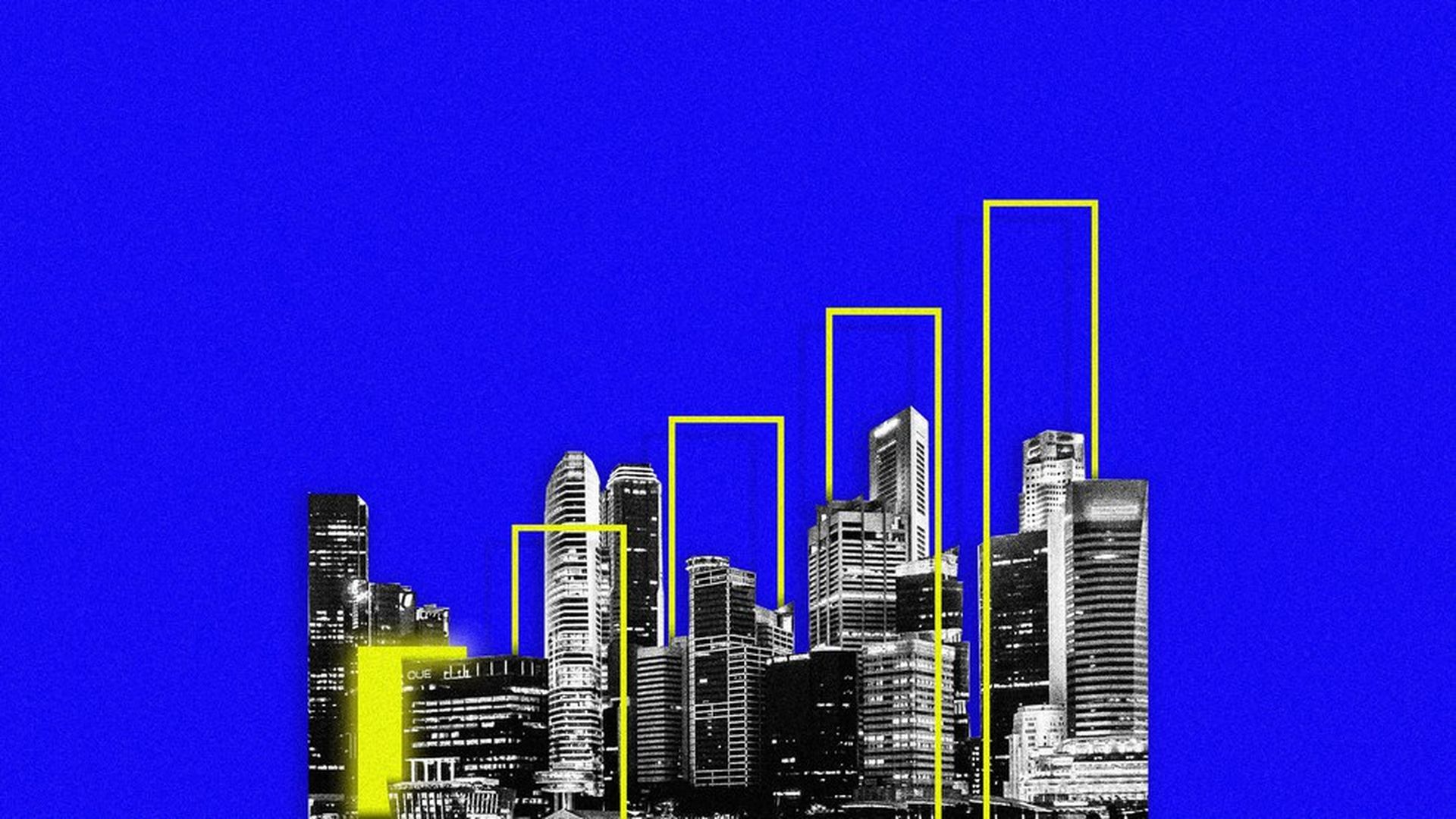 When it comes to wireless service, being in the biggest city doesn't necessarily equal getting the best service. Indeed, in the most recent RootMetrics study, it was Lansing, Michigan, that had the best wireless service, with Modesto, Calif., and Port St. Lucie, Fla., also in the top five for the first half of 2017.
Among the big cities, only Chicago ranked in the top five, coming in at No. 3. New York slid a few places, from No. 66 to No. 72, while Boston showed the biggest jump among the ten largest cities, climbing 42 spots, to No. 55.
How it's measured: RootMetrics measures factors like network reliability, the speed of data and texts, and call quality.
Ina has more here.
https://www.axios.com/newsletters/axios-login-6344de8c-6a5a-4579-9696-eae76b6d026c.html?chunk=4#story4
Why VCs are tapping into the cryptocurrency boom
Top-tier venture capital firms are quietly taking advantage of the recent explosion in new cryptocurrencies, with many backing so-called "crypto hedge funds" that trade and invest in cryptocurrencies, usually at their earliest stages. Others are experimenting alone.
Why it matters: More than $1.5 billion has been raised through initial coin offerings — or ICOs — so far this year. In many cases they can serve as an alternative funding mechanism to traditional venture capital, so backing crypto hedge funds can help VCs maintain a piece of the action.
For example: In the spring, venture firms including Sequoia Capital, Andreessen Horowitz, and Union Square Ventures reportedly invested in a crypto hedge fund called MetaStable. Another crypto hedge fund called Polychain has raised from some of the same shops, while other VC firms like CrunchFund are directly participating in cryptocurrency token sales.
More: Kia goes deeper, including a handy explainer on how these things work.
https://www.axios.com/newsletters/axios-login-6344de8c-6a5a-4579-9696-eae76b6d026c.html?chunk=5#story5
Take note
On tap: Ford is hosting a daylong "City of Tomorrow" symposium in San Francisco.
Trading places: Zenefits plans to announce later Thursday it has hired former Workday executive Lisa Reeves as senior vice president of product.
ICYMI: Altspace VR may not be shutting down after all. The company says it is "deep in discussions" with others to keep the virtual world going...Fiat Chrysler is joining an autonomous car effort among BMW, Intel, and MobileEye (soon to be part of Intel), per The Verge...Cisco posted earnings that beat estimates, CNBC reports.
https://www.axios.com/newsletters/axios-login-6344de8c-6a5a-4579-9696-eae76b6d026c.html?chunk=6#story6