Axios Login
March 31, 2023
I've enjoyed steering the good ship Login this week! Ina will be back as usual Monday.
Today's Login is 1,254 words, a 5-minute read.
🚫 Situational awareness: The Italian privacy regulator temporarily banned ChatGPT, alleging privacy violations, Politico reports.
1 big thing: Government begins to act on battery fires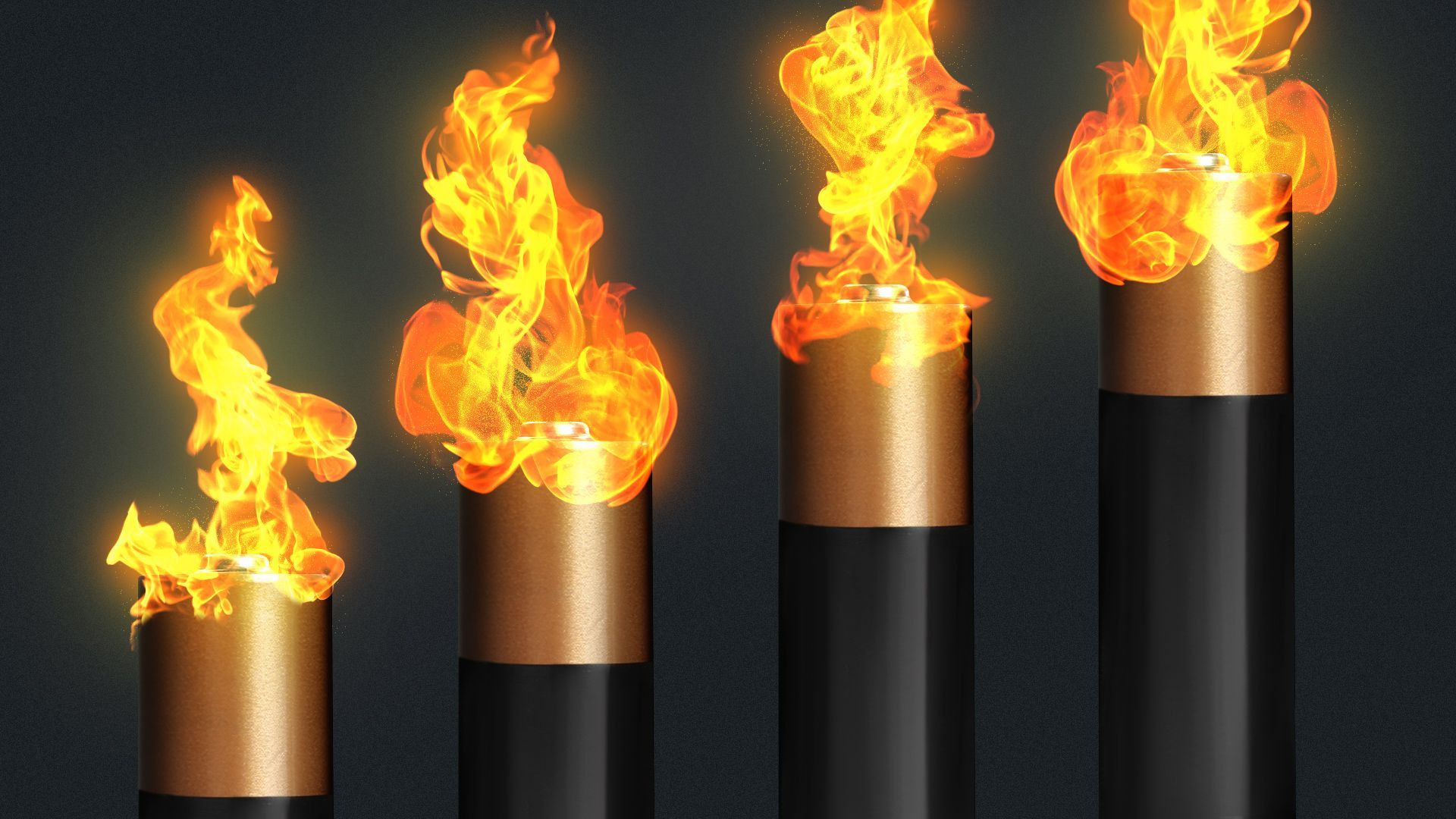 Federal, state and local lawmakers are beginning to eye regulating lithium-ion batteries, following a spate of fires, Axios' Peter Allen Clark reports.
Why it matters: Rechargeable lithium-ion batteries are the workhorse power source today for digital devices, and they're increasingly providing a backbone for the climate-inspired electrification of everything.
The big picture: In the past, batteries used in laptops or smartphones raised the most concern for fire risk. As their reliability has increased, fires started by the larger batteries used in vehicles and mobility devices such as scooters and e-bikes have captured public attention.
Driving the news: New York City Mayor Eric Adams signed a package of bills last week meant to further regulate lithium-ion batteries, promote safe usage and advocate for further federal actions. The batteries are believed to have caused 33 fires in 2023 in NYC so far, resulting in the deaths of three people.
New York state Rep. Jeffrey Dinowitz introduced a bill in the State Assembly last month to ban the sale and manufacturing of batteries that do not meet minimum safety standards.
Meanwhile, U.S. Rep. Ritchie Torres (D-N.Y.) introduced the Setting Consumer Standards for Lithium-Ion Batteries Act in Congress earlier this month. It tasks the federal Consumer Product Safety Commission (CPSC) with establishing "a final consumer product safety standard for rechargeable lithium-ion batteries used in personal mobility devices."
"Lithium ion batteries have become an increasingly common cause of fires, and nowhere more so than in New York City," Torres told Axios. "The growth has been exponential and lithium ion battery fires are the easiest to start and the hardest to extinguish."
New York is far from alone in this problem. Reports of fires believed caused by batteries, from scooters to electric vehicles, have increased nationally and globally.
Lithium ion batteries pose a fire risk largely because they're increasingly built to carry more power in smaller forms.
By the numbers: EV, e-bike and electric scooter adoption has soared in the U.S. The Light Electric Vehicle Association estimates that the e-bike market is outpacing EV sales.
Subsequently, fires and loss of life from the technology have also risen.
A December release from the CPSC says that "From Jan. 1, 2021 through Nov. 28, 2022, CPSC received reports of at least 208 micromobility fire or overheating incidents from 39 states, resulting in at least 19 fatalities."
What they're saying: Low quality products and lack of market regulations have emerged as a key factor in the fires.
"After COVID started, scooter use went dramatically up, especially in places like New York City, for deliveries," Steve Kerber, vice president and executive director of Underwriters Laboratory's Fire Safety Research Institute told CNN this month. "People started to get overcharged for them and turned to manufacturers which happened to have lower quality control with the battery systems. The quality manufacturers are not having issues."
NYFD fire commissioner Laura Kavanagh sent a letter to the CPSC asking it to begin "seizing imported devices at the ports that fail minimum industry standards, levying penalties against manufacturers who fail to inform CPSC of hazards posed by their products, and seeking additional recalls of unsafe products."
Between the lines: UL Solutions has established battery manufacturing standards for micro-mobility devices, but Torres points out that compliance is "purely voluntary."
The intrigue: As part of an effort to shore up gaps in supply chains and reduce foreign dependence, the U.S. has launched an all-out push to increase the domestic manufacturing of batteries.
2. Who's schooling Congress on AI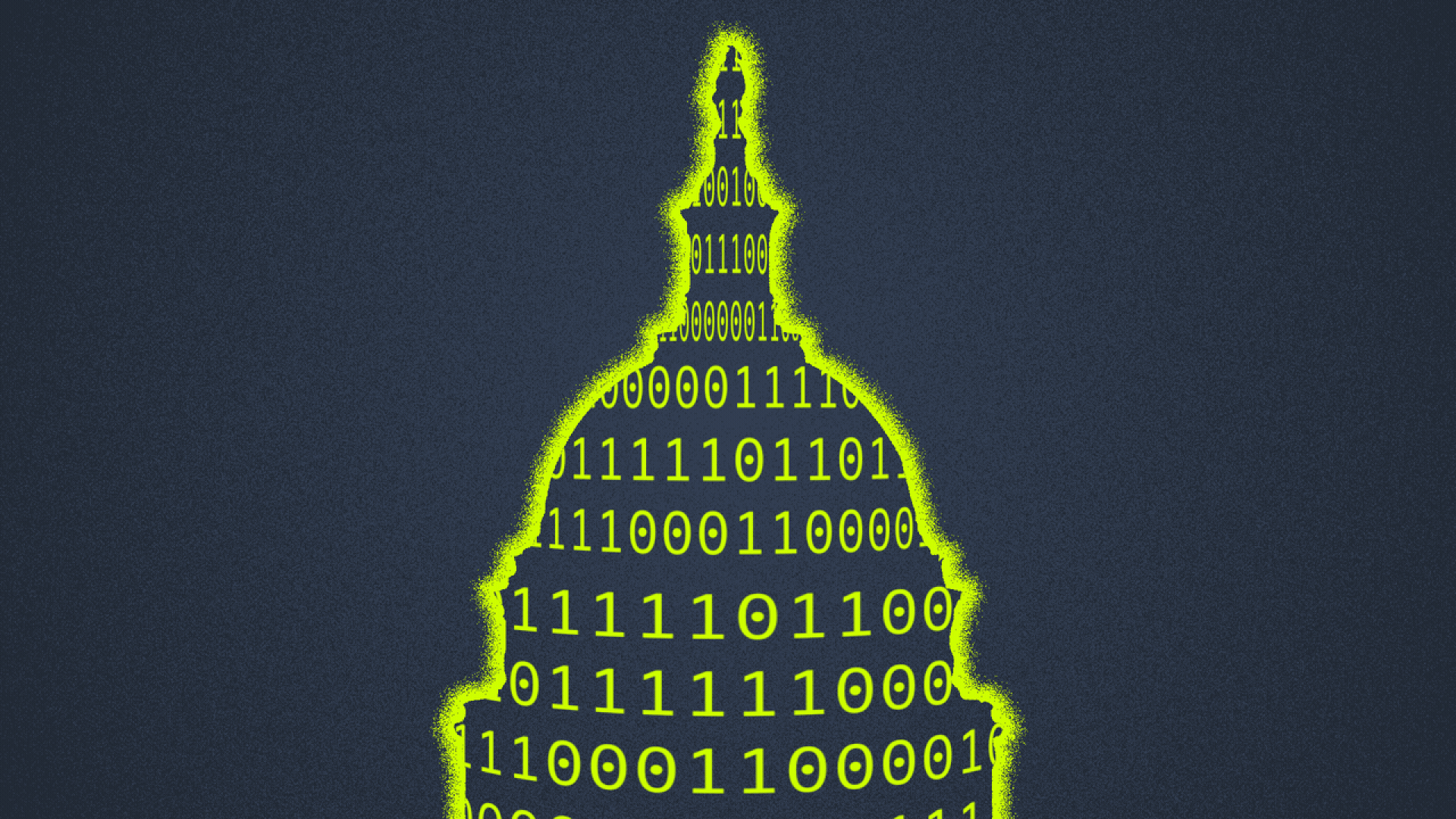 Congress gets a lot of flak for not being savvy on tech issues. But as artificial intelligence advancements heat up, some members are working hard to educate themselves, Axios Tech Policy Pro's Maria Curi and Ashley Gold report.
Why it matters: AI has the potential to transform our society, and as lawmakers grapple with how to regulate the technology, companies are scrambling to inform their opinions.
Behind the scenes: Generative AI is heavy on lawmakers' minds on both sides of the aisle.
The New Democrat Coalition Action Fund's retreat this month in Maryland included a panel titled "Charting a Course for AI Policy: Navigating Opportunities and Challenges."
Rep. Jeff Jackson (D-N.C.) moderated the event featuring software company SAP, IBM, two technology trade groups and nonprofit EqualAI, per an agenda shared with Axios.
This week, the Congressional Artificial Intelligence Caucus held an AI primer event with IBM and Austin Carson, formerly a Hill staffer and now president of nonprofit SeedAI.
The invite to the briefing reads, "There is a clear lack of understanding of what AI is, how widely it is deployed, how it effects our everyday lives, and what it is and isn't capable of. We aim to remedy that in Congress."
CEOs on the Hill: Sen. Mark Warner (D-Va.) has met with OpenAI CEO Sam Altman and Scale AI CEO Alexandr Wang along with Tristan Harris, executive director of the Center for Humane Technology, per spokesperson Rachel Cohen.
Topics discussed, per Cohen, included "potential regulation, growth models and projections on future development and national security challenges."
In addition to Altman, Rep. Don Beyer (D-Va.) speaks periodically with Miriam Vogel, who chairs the National AI Advisory Committee, and think tank researchers. Beyer is also taking courses at George Mason University in pursuit of a degree in machine learning, his deputy chief of staff, Aaron Fritschner, said.
Microsoft president Brad Smith made a swing through Washington in the early weeks of ChatGPT's deployment, and has kept up a Hill presence in the weeks since, sources tell Axios.
What they're saying: "There's a lot to be said for the work of OpenAI and other companies; I'm fascinated by it," one veteran tech lobbyist told Axios. "But from a lobbying, D.C. tech policy perspective, I can just see the train wreck coming."
The lobbyist added it's harder for smaller companies to get engaged on AI on the Hill compared with behemoths like Google, IBM and Microsoft, which already have relationships in Washington.
Lila Ibrahim, DeepMind's chief operating officer, told Axios: "We spent the past week in Washington engaging in conversations with policymakers, regulators and think tanks on how collectively we can develop guardrails to ensure we are maximizing the opportunities AI affords, while mitigating the risks."
Threat level: Christopher Padilla, IBM's government and regulatory affairs vice president, said he worries there will be a "techlash" and emphasized that consumer-facing AI, such as ChatGPT, involves fundamentally different risks from the AI work his company is doing.
IBM is pushing for risk-based rules. For example, the level of scrutiny on the medical advice a chatbot might give should not be the same as a recommendation for a good Greek restaurant, Padilla said.
3. Take note
On Tap
Tomorrow is April 1, which means you should either take everything you read online with a grain of salt or, even better, just avoid the internet entirely.
Trading Places
Charlie Bell, Microsoft's executive vice president of security, compliance identity and management, joins Twilio's board of directors.
ICYMI
Thanks to Peter Allen Clark for editing and Bryan McBournie for copy editing this newsletter.