Just a reminder that you can share this newsletter with your friends just by hitting the handy "forward" button. Go ahead. I'll wait. (They can also sign up here.)
https://www.axios.com/newsletters/axios-login-60e1b785-8abf-45be-8dc7-f06c73979d6c.html?chunk=0#story0
What's the future of being human? We asked 5 sci-fi writers
One of our great debates is whether we are on the cusp of a robot-and-artificial intelligence apocalypse that renders many humans jobless, at least in the sense of work as we know it today. Is super-human intelligence coming soon? Is it coming at all? Are humans in danger? The reality is that, despite great apparent certitude on all sides, no one really knows.
Silicon Valley — the place inventing much of this future — is frankly unable to tell us what is coming, instead thinking mostly of the next cool device. To paint their worlds, many virtual reality firms hire science fiction writers, per the NYT's Nick Wingfield.
We, too, decided to go that way. Axios' Steve LeVine asked five science fiction writers from around the world for their response to the following question: It's 2035. Growth in AI and robotization has continued unabated. What does it mean to be human? Here are their responses:
https://www.axios.com/newsletters/axios-login-60e1b785-8abf-45be-8dc7-f06c73979d6c.html?chunk=1#story1
Tim Cook's trek to Middle America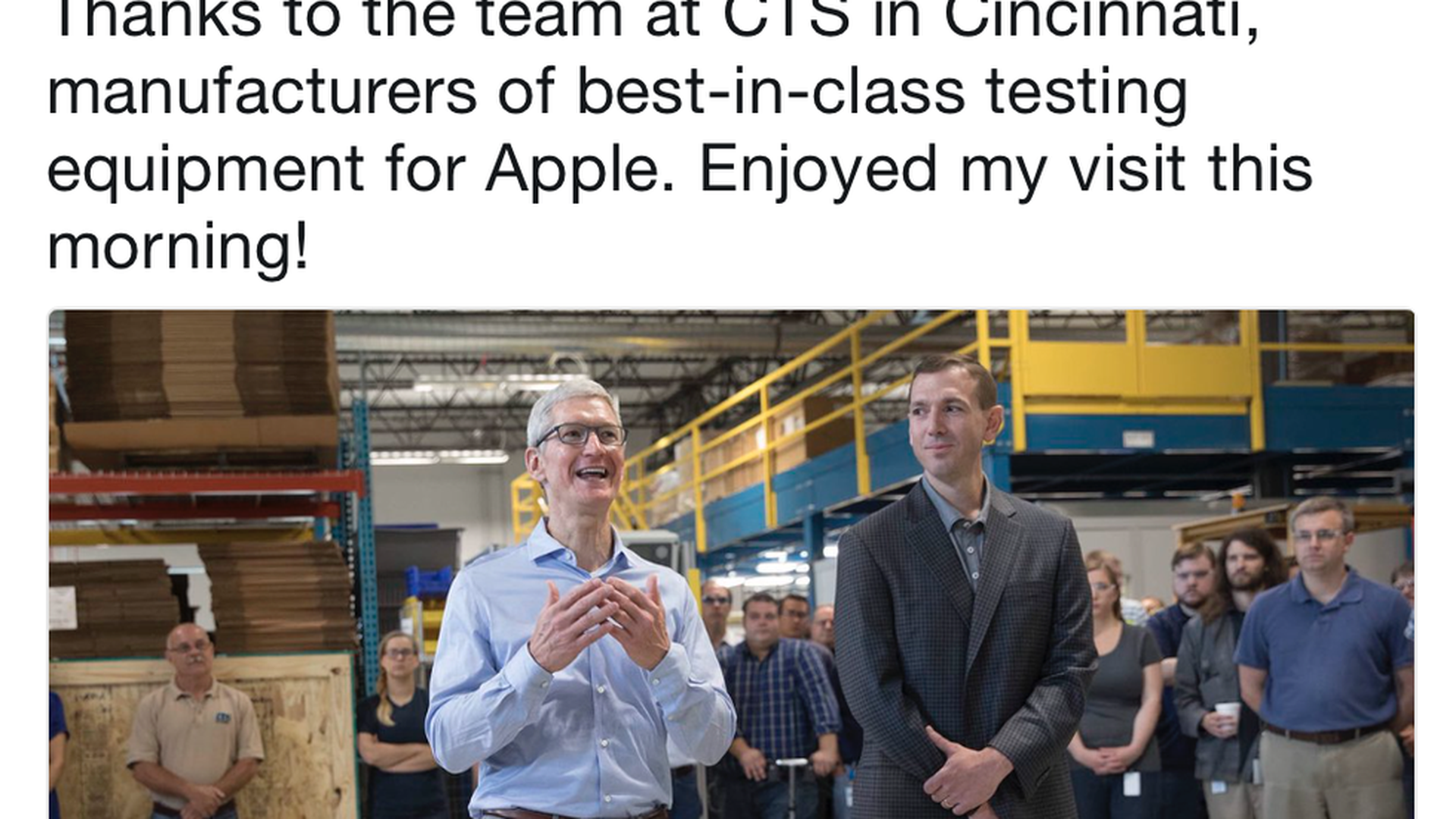 Tim Cook was in the midwest on Thursday, and, as usual, his every step was dissected by Apple watchers, David reports.
The Apple CEO tweeted that he visited a manufacturer in Cincinnati who makes "testing equipment" for the company.
In Iowa, Cook announced the company would build a data center near Des Moines, per CNBC.
Our thought bubble: Now more than ever, big tech wants to show that it creates jobs — not just in Silicon Valley's enclaves but around the country. Apple has already said it plans to invest a billion dollars in manufacturing in the U.S., and bringing manufacturing jobs back is a huge theme for the White House.
Plus: Since Apple doesn't make iPhones here, it makes sense to show off all the U.S. work being done by its suppliers and contract manufacturers.
Also, this is 2017, so tech CEO + travel to middle America = speculation about their political ambitions. Midday on Thursday the Drudge Report was running a picture of Cook with the headline "TIM COOK BARNSTORMS IOWA…" linking to a story that asked, "Is Tim Cook running for president?"
Yes, but: Apple fans, meanwhile, had a more pressing question: Was that an iPhone 8 in Cook's front pocket?
https://www.axios.com/newsletters/axios-login-60e1b785-8abf-45be-8dc7-f06c73979d6c.html?chunk=2#story2
Breaking: Someone's mind actually got changed on Twitter
A thread, discussing former Uber employee Susan Fowler's amicus brief to the Supreme Court, started like many others on Twitter. A woman (in this case Fowler herself) posted something (in this case, a link to a Bloomberg story on her legal action). Then she got dismissed and demeaned by some random internet dude.
"She destroyed millions of dollars worth of shareholder value already, but hell hath no fury like a feminist scorned and she is going again," Twitter user @contratastic wrote.
My thought bubble: What happened next is amazing, and sadly all too rare. The person read more about the issue, learned what happened to Fowler, and changed his mind. He went from blasting Fowler to recognizing her side of the issue and wishing her luck at the Supreme Court. The full thread is here, and worth a read.
https://www.axios.com/newsletters/axios-login-60e1b785-8abf-45be-8dc7-f06c73979d6c.html?chunk=3#story3
Atlassian pushes diversity goals to the next level
Like a growing number of other large tech companies, Atlassian releases annually a report on the demographic makeup of its workforce — but with a twist.
Atlassian has been focused on the diversity of individual teams and departments, Kia reports. The company says it wants to know not just its overall numbers, but also whether a particular team is entirely composed of similar individuals or if it is made up of workers with different backgrounds.
This approach not only shows whether employees of an underrepresented group are all clumped together in one part of the company, but also how many teams are reaping the benefits of having diverse team members and ideas, as Atlassian's head of diversity and inclusion, Aubrey Blanche, explained last year.
It also helps the company highlight what employees from these underrepresented backgrounds may need. For example, if several engineers are the only woman on their respective teams, they may benefit from company resources to connect with their peers in the company.
Still:
Atlassian's focus on team-level diversity inclusion didn't bring along any improvement in company-wide employment of underrepresented minorities,
the company admits
. And its overall numbers still lack a lot of women and minorities — like the rest of the tech industry.
https://www.axios.com/newsletters/axios-login-60e1b785-8abf-45be-8dc7-f06c73979d6c.html?chunk=4#story4
Take note
On tap: It's National Kiss and Make Up Day. cc: @uber @waymo @benchmark @tkalanick @shervin. Oh, and @apple @qualcomm.
Trading places: Qualcomm president Derek Aberle plans to step down at year's end...Twitter CMO Leslie Berland is adding oversight of HR to her duties, while the company has also hired American Express HR executive Jennifer Christie as VP of people strategy, reporting to Berland...Pure Storage said that former Cisco Systems and Silver Lake Partners executive Charles Giancarlo will become CEO, with current chief Scott Dietzen named chairman...MIT alumna Danielle Wood is returning to her alma mater, leading up a new space research team at the school's Media Lab.
ICYMI: Apple plans to introduce a new version of its Apple TV with support for 4K video content alongside the updated Apple Watch and next crop of iPhones, according to Bloomberg...Meanwhile, the NYT reported that Apple has removed a bunch of apps that provide services in Iran, citing the U.S. trade embargo with that country...Uber is reportedly putting its downtown Oakland office up for sale...Samsung de-facto chief Jay Y. Lee was sentenced to five years in a South Korean jail for bribery, embezzlement, and perjury, CNBC reports...A group of med students has come up with an app to match LGBTQ patients with culturally competent doctors, according to NBC News...CNET shows this dad created a texting app that makes it impossible for kids to ignore their parents' messages.
https://www.axios.com/newsletters/axios-login-60e1b785-8abf-45be-8dc7-f06c73979d6c.html?chunk=5#story5