Good morning. We have some exciting news below ...
Coming this fall: Axios on HBO

Illustration: Caresse Haaser/Axios
Axios has signed a deal with HBO to produce a limited docu-news series airing this fall. The series will feature breaking news, interviews with the world's most influential leaders, and short documentaries on the topics that matter most. Axios will work with HBO and a cast of Emmy®-winning producers to help viewers better understand the collision of politics, technology, business and the world.  
1 big thing: Twitter stands, alone, with Alex Jones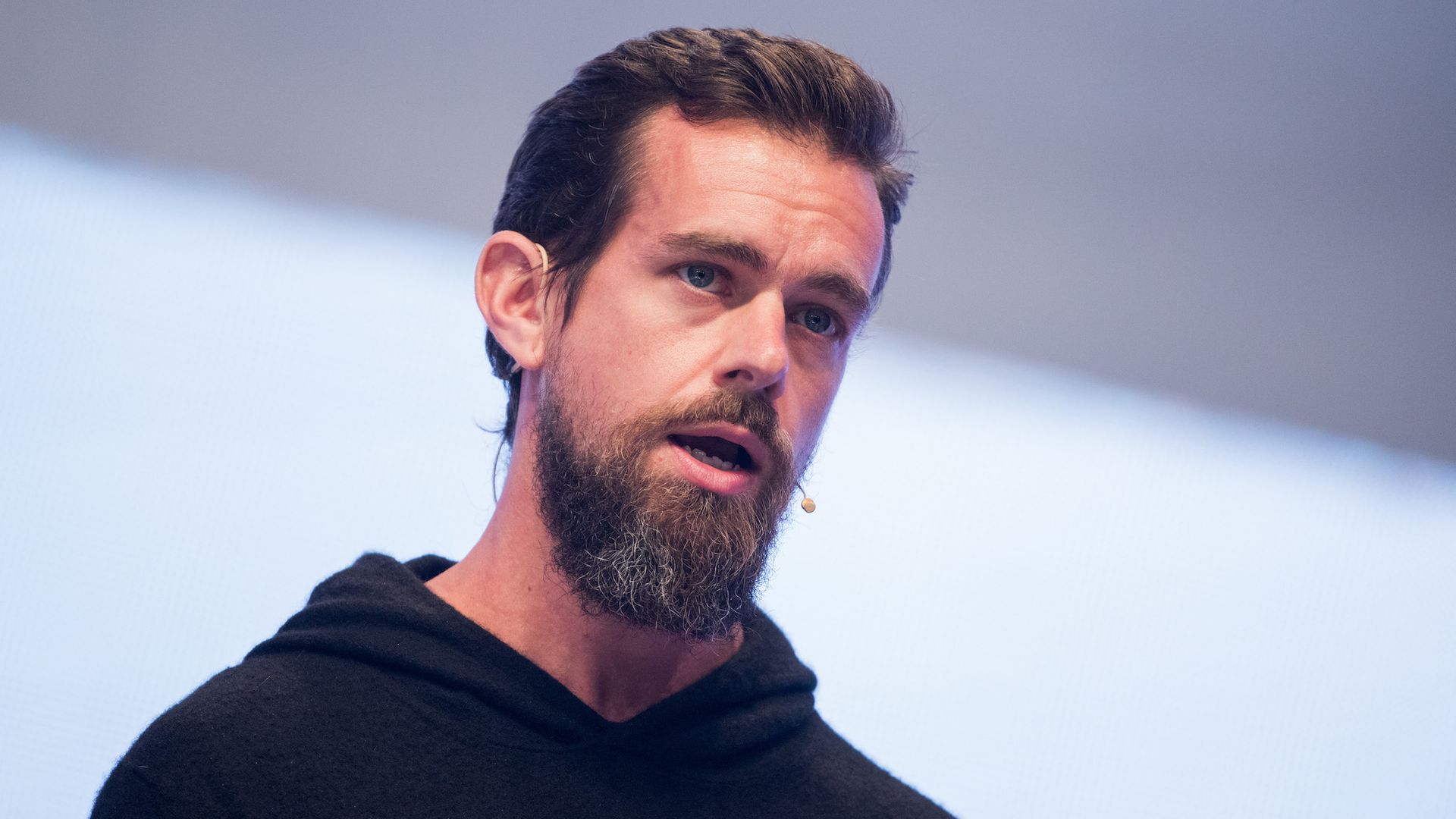 On Tuesday evening, Twitter CEO Jack Dorsey drew a line in the sand of the online controversy surrounding conspiracy-monger Alex Jones.
Dorsey's message: Other social media platforms may be joining what is becoming effectively a boycott of Jones and his outlet InfoWars, but Twitter won't.
In a series of tweets, here's what Dorsey said:
We didn't suspend Alex Jones or Infowars yesterday. We know that's hard for many but the reason is simple: he hasn't violated our rules. We'll enforce if he does... We're going to hold Jones to the same standard we hold to every account, not taking one-off actions to make us feel good in the short term, and adding fuel to new conspiracy theories.
If we succumb and simply react to outside pressure, rather than straightforward principles we enforce (and evolve) impartially regardless of political viewpoints, we become a service that's constructed by our personal views that can swing in any direction. That's not us.
Background: Facebook and some other platforms that have removed Jones' content — which includes conspiracy arguments that the Sandy Hook shootings were an "inside job" — are classifying it as hate speech.
Conservative critics are calling that "political correctness," and urge the social networks to rely instead on existing legal definitions of libel and slander.
Dorsey's critics either argue that Jones clearly is violating Twitter's rules against "targeted harassment" and "abusive behavior" — or they want Twitter to revise its rules to deal with what they view as an obviously outrageous case.
My thought bubble: Platforms are different. Twitter is less reliant on algorithmic selection than Facebook, making it arguably less of an editorial filter. But it's also a favorite hangout for journalists and media people, many of whom are appalled by Jones and perplexed by inconsistencies in Twitter's enforcement policies.
Why it matters: Twitter lacks Facebook's scale and revenue, but it has become the U.S.'s biggest public square online — and a place where presidents and CEOs break news.
Between the lines: Twitter is positioning itself as the free-speechiest of the major online platforms — and inheritor of the web's nearly-anything-goes spirit.
But it can't really be a free-fire zone with no rules: It's also a public company with an underperforming stock, an advertising environment to maintain, and responsibility for the safety of its users.
Twitter is stressing that its policies are "living" and will change over time. This story isn't over.
Go deeper:
2. Musk's thunderbolt: Privatizing Tesla

When Tesla CEO Elon Musk dropped that astonishing tweet Tuesday afternoon, the authorities halted trading in the electric automaker's stock.
But, as Axios' Dan Primack writes, the really critical part of his tweet may not have been the statement of intent, which was aspirational, or the share price, which is in line with similar privatization offers.
It was Musk's factual claim of "funding secured" that raised Wall Street eyebrows — and could land the rules-bending CEO in hot water if he hadn't secured the funding when he tweeted. Companies are allowed to disclose material information via social media, but disclosing false or misleading information remains off-limits.
Go deeper: Read Dan's full analysis.
3. Snap's mixed bag: Users down, Saudi cash up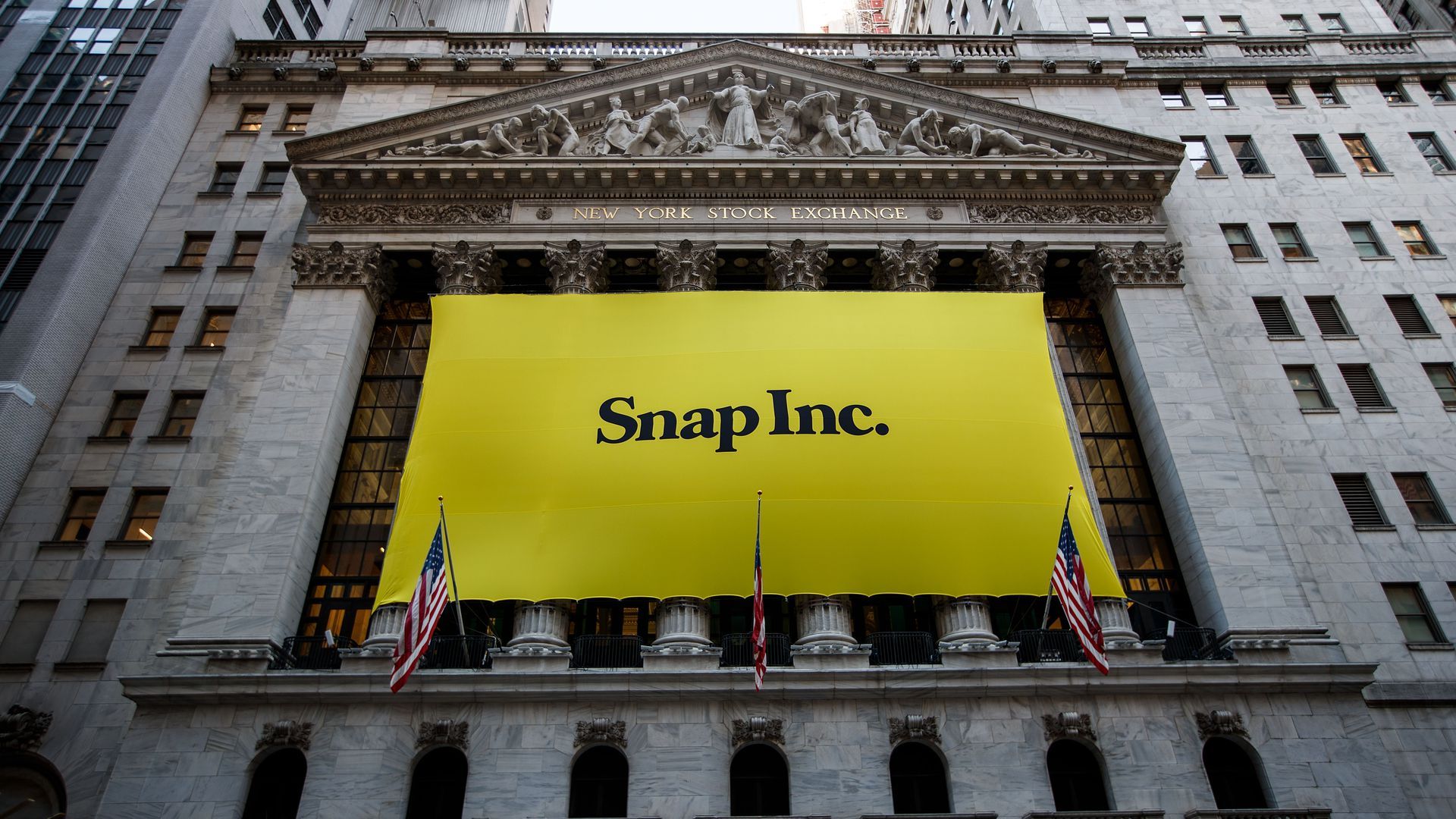 Tuesday was a roller coaster day for Snap, Axios' Kia Kokalitcheva reports. The company posted quarterly earnings with mixed results and revealed that Saudi Prince Al-Waleed bin Talal made a $250 million investment in the company.
The bottom line: The company is making efforts to show a more stable and growing business despite an app redesign that didn't go as well as planned, and user growth that declined for the first time.
The bad: For the first time, Snapchat's daily active users (DAUs) declined. They were down 2% (or about 3 million) since the previous quarter.
Snap attributed the drop to the rollout of its controversial iOS app redesign, which wasn't received all that well by users.
Its DAUs also grew 8% year-over-year — a slower growth rate than in the past.
Of note: The company also expects DAU growth to be lower next quarter, based on historical Q3 numbers.
The good: Snap's global average revenue per user (ARPU) continues to grow, hitting $1.40, a 35% year-over-year increase.
And while the U.S. and Canada saw modest growth, Europe and especially the rest of the world saw 70% and 233% year-over-year increases, respectively.
The new: For the first time, Snap revealed its monthly active users, saying it has more than 100 million across the U.S. and Canada. The move was notable since Snap has described daily, and even hourly, usage as more meaningful in the past (as CEO Evan Spiegel said in 2015).
The surprising: Just as its earnings report came out, Al-Waleed tweeted that he has invested $250 million for a 2.3% stake in Snap. According to the accompanying press release, the deal was done May 25.
Go deeper: Read Kia's full story.
4. Anki's latest robot knows a few new tricks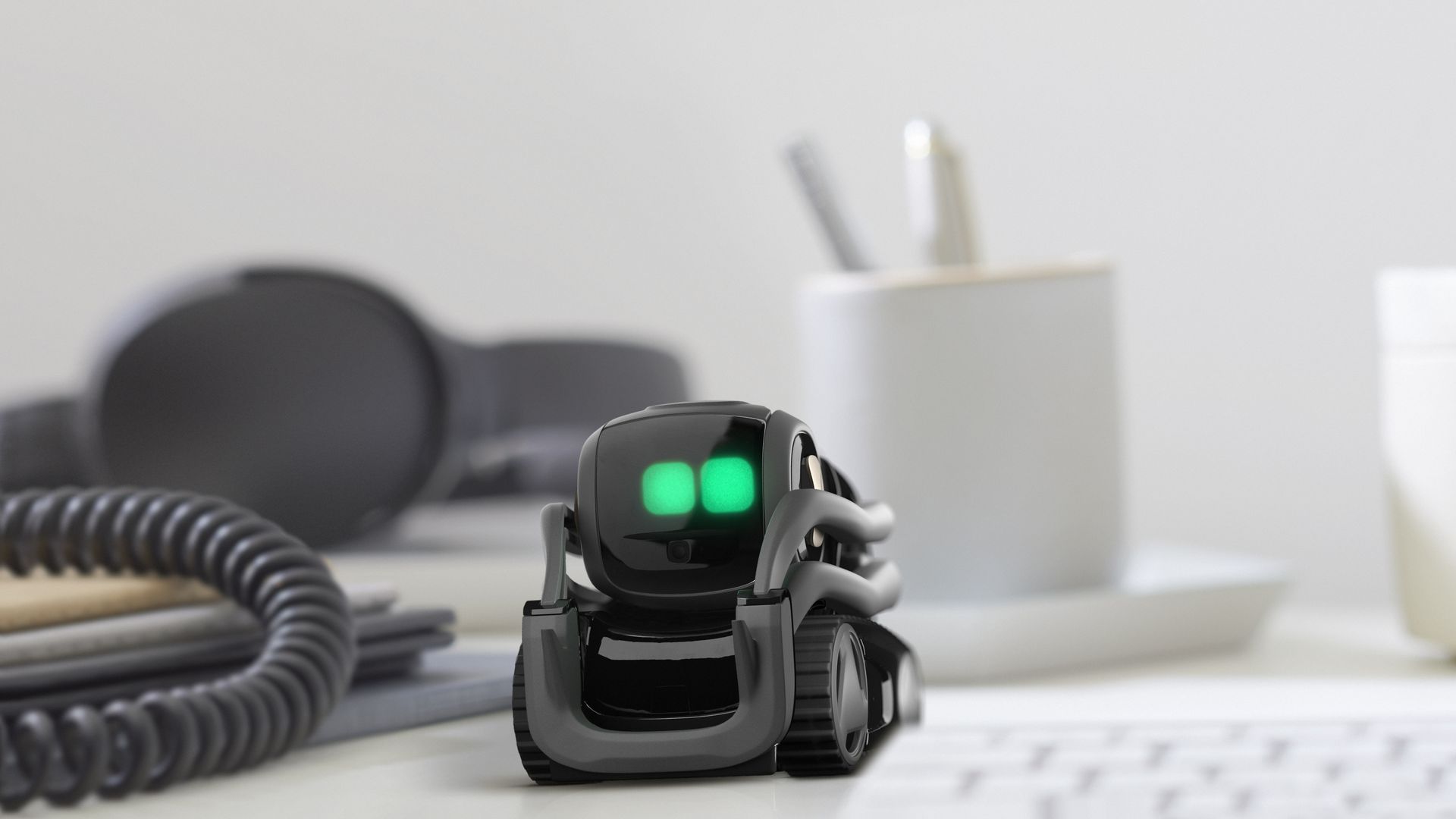 Anki, known for its Overdrive iPhone-controlled race cars and Cozmo robot, is launching a third product called Vector, Ina Fried reports. It's like Cozmo's older brother — capable of running on its own without a smartphone and able to find its own way to a charger.
Why it matters: Anki has bigger ambitions than most people realize, but believes the key to building Rosie from "The Jetsons" is to start small and get better over time.
"At a high level, our goal is to figure out how to get robotics into people's homes," Anki president Hanns Tappeiner told Axios. So far Anki has sold 1.5 million of its first two products, including several hundred thousand Cozmos.
The details: Vector will sell for $249 and go on sale Oct. 12, with a Kickstarter pre-sale. It's powered by a Qualcomm quad-core processor, has about twice as many parts as Cozmo (nearly 700 vs. 340) and operates independently over a Wi-Fi connection. Like Cozmo, it can recognize people's faces and enjoys play. This time around, the toy can also respond to both speech and touch.
Go deeper: Read Ina's full story.
5. Magic Leap launches its first product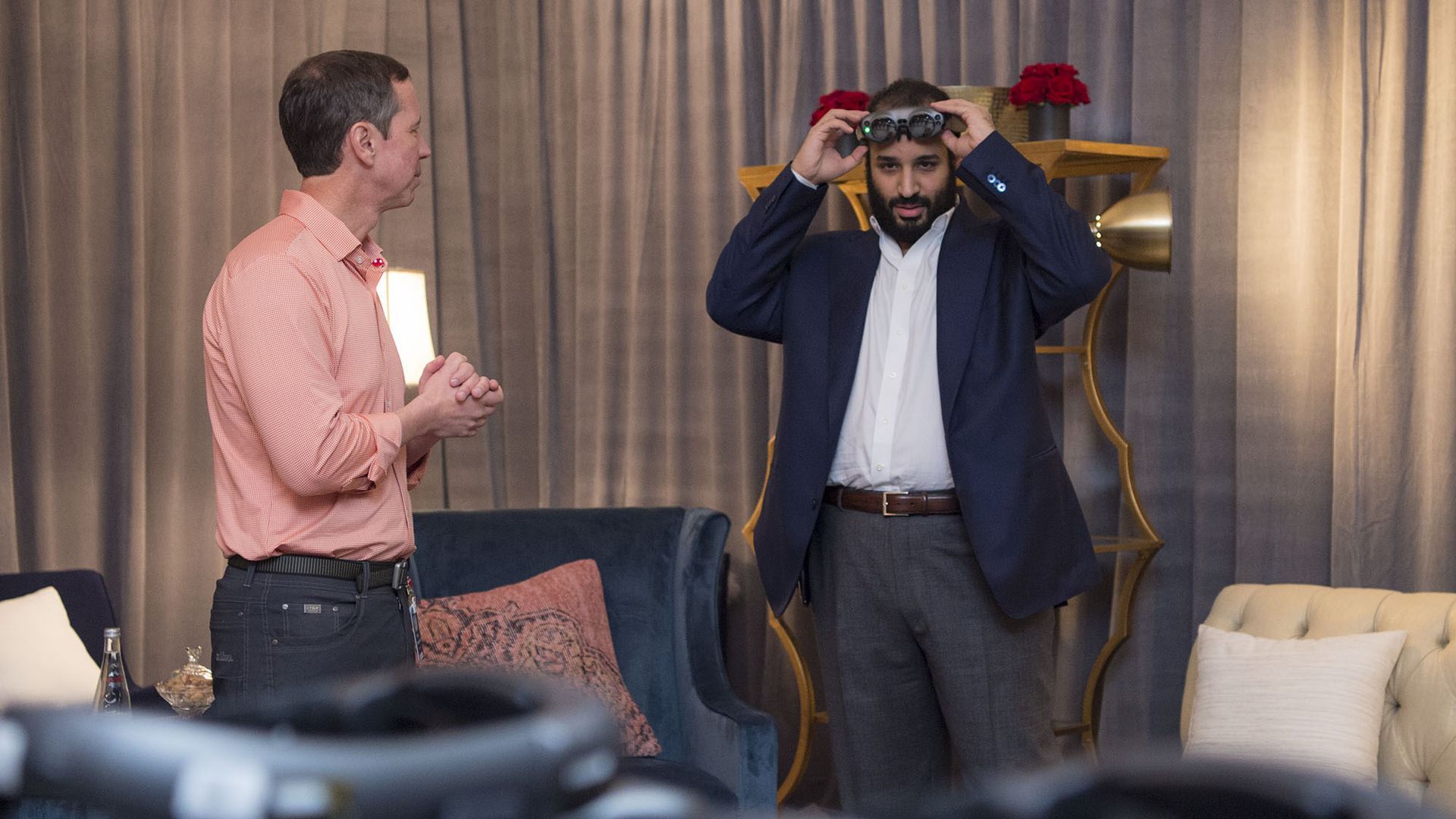 Magic Leap, the secretive virtual reality company, announced the launch of its long-awaited first commercial product on Wednesday, Axios' Haley Britzky writes.
The details: Priced at $2,295, the Magic Leap One Creator Edition is an augmented reality headset that "brings digital content to life here in the real world with us," per the company's press release, by superimposing computer-generated effects over the user's surroundings.
The big picture: Magic Leap has spent years raising billions of dollars from investors without a product to show for it. Now, the company will face its first real test as reactions roll in.
A quick take: CNBC reporter Todd Haselton, who was invited to test out the headset, writes the "experience with the goggles...was like a computer-generated 3-D world with real depth." He adds:
"The Magic Leap One is impressive, and it's unlike any computer I've used before. I see a real future in being able to interact with digital screens inside the real world around us, but Magic Leap is going to need to convince everyone else of that, too. ... I imagine we're years away from the Magic Leap that's ready for the rest of us."
6. Take Note
Trading Places
Salesforce promotes Keith Block to be co-CEO with founder Marc Benioff.
Brandon Pollak, formerly of the 1776 incubator and venture fund, joins scooter startup Bird as its director of civic engagement and strategy.
ICYMI
7. After you Login
Not all Twitter bots fling outrage and political misinformation at you. Some just offer a regular selection of piquant quotations from "Moby Dick."
Login will return tomorrow morning. Hit "Reply" for feedback and story tips.