Axios Login
May 24, 2023
Ina here; glad to be back in your inbox. Today's Login is 1,262 words, a 5-minute read.
1 big thing: Americans trust tech firms that deal in goods
Large tech companies crowd both ends of the rankings in this year's Axios Harris Poll 100 brand reputation survey — with those that provide tangible products and useful services clustered near the top, and those that trade in social-media messages banished to the bottom, Axios' Ryan Heath reports.
What's happening: Worries over the rise of AI, on top of long-building distrust of social media providers, have pushed the public toward these extremes.
75% of surveyed American adults said they are concerned about deep fakes and other generative AI content.
The highest-scoring tech companies are Samsung, Amazon and Apple, all in the retail and hardware game.
TikTok, Meta and Twitter are locked in a race with Fox, the Trump Organization and failed crypto exchange FTX for the worst reputation among the top 100 brands.
Winners: The tech companies with the highest Reputational Quotient, or RQ, scores, were Samsung (81), Amazon (80.7) and Apple (80.6), which retained their 2022 position. Sony (79.8), Microsoft (79.7), and LG (78.8) also landed in the top 20.
Millennials ranked Google highest, though the company ranked only 35th overall.
JPMorgan Chase beat out Apple and Paypal to receive the highest data privacy protection score.
Losers: TikTok, with an RQ of 61, was the highest ranking social media platform at 94th, followed by Facebook (Meta) in 97th and Twitter in 98th. All received lower RQ scores in 2023 compared to 2022.
Meta was the company least trusted by women, and the second-least trusted by Gen Z (16%), ahead of only the Trump Organization.
Yes, but: Meta is now the best performing stock of the year — more than doubling in value since January — suggesting that investors are more cheered by cost-cutting measures than worried about the company's reputation.
Between the lines: Elon Musk's chaotic takeover of Twitter hurt the social platform, and showed Tesla stakeholders weaknesses in Musk's manic leadership style.
Tesla's reputation dropped 50 places from 12th in 2022 to 62nd place this year.
Meanwhile, a generational split is leaving TikTok exposed, despite its large user base — paving the way for more bans on the service.
Boomers gave TikTok a RQ score of just 41, compared to 68.7 for Gen Z/millennials — the biggest generational split of any company in the survey.
Ryan's thought bubble: People can see more tangible benefits from the Apples and Amazons and Samsungs.
They employ more people because they make and sell things, which you can see and hold.
In most cases, you paid them money for what they offer, instead of paying in data (though sometimes it's both).
They're less often drawn into the political controversies that divide social media users, whereas the big social platforms stoke those arguments to inflate engagement and boost profits.
Ina's thought bubble: Social media companies are likely always going to have a tougher task than hardware makers and retailers for all the reason Ryan lists.
However, that doesn't mean the actions taken by companies in either group can't have a big impact on how they perform relative to their history and their peers.
It wasn't that long ago (think pre-Cambridge Analytica) that Facebook and Twitter were held in much higher esteem.
I'll be interested to see how companies such as OpenAI fare in future surveys.
Go deeper: Full results and poll methodology
2. Biden's AI plans creep forward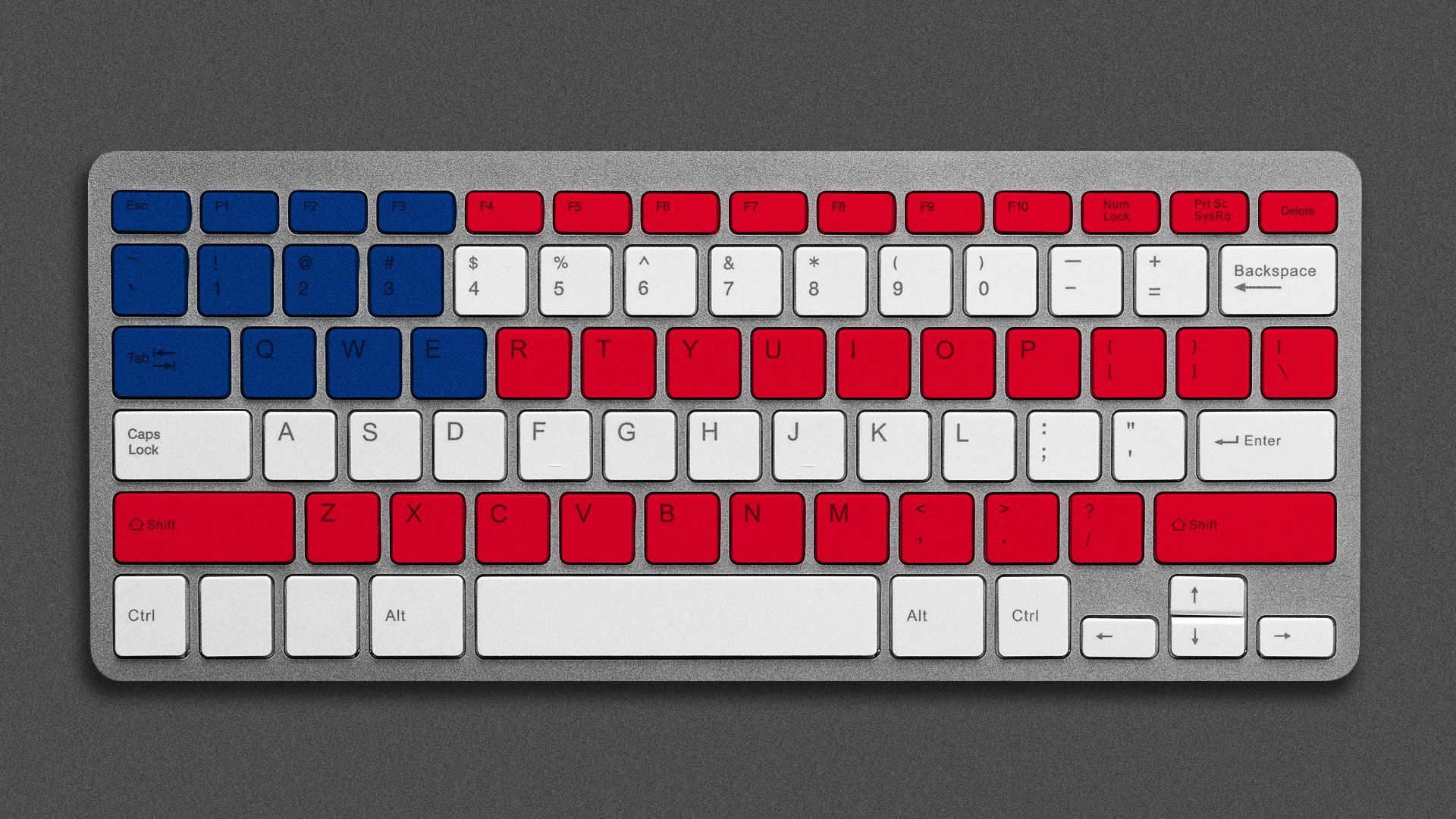 President Biden on Tuesday announced a string of plans designed to promote the benefits of artificial intelligence while curtailing risks, Axios' Ashley Gold and Ryan report.
Why it matters: The U.S. government is playing catch up with tech companies — and both allied governments and adversaries — amid rapid AI advances and deployment.
What's happening: A Department of Education report flagged deep concerns about "racial equity and unfair bias" in AI systems, urging AI use based on evidence of effectiveness and "with humans in the loop."
Between the lines: These plans continue the Biden administration's cautious approach of working to apply existing laws and funding streams to emerging AI issues, rather than taking steps towards a new standalone AI regulator.
What they're saying: Randi Weingarten, American Federation of Teachers president, told Axios she's ready to embrace AI in schools, with conditions.
There are "many productive and collaborative ways to incorporate tech and AI into our schools," Weingarten said, but insisted teachers "need to be involved in negotiating the deep equity and ethical issues at play."
💭 Our thought bubble: AI in schools can free teachers to offer better support to kids, but it might also turbo-charge bias and digital divides, or spark yet another culture war.
The fears have progressed from concern over kids abusing AI, by taking shortcuts or cheating, to concern that they might be harmed by it.
💡A version of this story was published first on Axios Pro. Get news like this by subscribing. Use code POLICY100.
3. Microsoft adds an AI copilot to Windows
Microsoft used its Build developer conference on Tuesday to announce it is bringing an AI-assisted "copilot" directly into its Windows operating system.
The big picture: Microsoft has already announced plans to put OpenAI's technology into nearly every major product in its portfolio — including its Bing search engine, Edge web browser, and Office apps such as Word, Excel and Powerpoint. It also offers a number of cloud-based AI services through Azure.
"I think over the coming years, this will become an expectation for how all software works," chief technology officer Kevin Scott said in a statement.
Details: The Windows version of the copilot will help users change settings and access other operating system features as well as put the Bing copilot in its own panel, which users can choose to keep in a persistent side panel so it is always available.
Corporate vice president Yusuf Mehdi told Axios the Windows Copilot will turn all Windows users into power users: "Today we have some incredible features and people don't know how to turn them on."
Microsoft said it will begin making a preview of Windows Copilot available in June.
Microsoft also used the event to announce:
It is adopting the same plug-in system for Bing as OpenAI is using for ChatGPT, making it easier for developers to work with the AI-powered search chatbot. Microsoft also announced new partners for the Bing Chatbot, including Instacart, Kayak, Klarna, Redfin and Zillow.
Bing will also become the default search engine for ChatGPT, with the chatbot using Bing at its discretion when queries would benefit from up-to-date search results.
Azure will offer a new service that uses AI to help moderate comments on social media. Microsoft has already been using the system with Bing and GitHub.
4. Take note
On Tap
Trading Places
Chris Inglis, who stepped down from his post as the first U.S. national cyber director in February, is returning to Paladin Capital Group as a strategic adviser, Axios' Sam Sabin reported yesterday.
ICYMI
5. After you Login
Lizzo (and her flute Sasha) are getting a cameo in an upcoming episode of "The Simpsons."
Thanks to Scott Rosenberg and Peter Allen Clark for editing and Bryan McBournie for copy editing this newsletter.