It's the middle of summer and lots of folks are headed on vacation. So just a friendly reminder to pack along your sunscreen. Unless you are in San Francisco, in which case replace sunscreen with sweatshirt. (Thanks Karl.)
https://www.axios.com/newsletters/axios-login-5ace8a4b-214b-441f-a4ed-9116b35fc35a.html?chunk=0#story0
By the numbers: Alphabet's earnings
There's always a ton of interesting data in Alphabet's earnings report. It is, after all, the parent company of Google. But, in that sea of information, here are a few numbers that stood out to us from Monday's announcement:
$26.01 billion (Alphabet's total revenue, up 21% year-over-year and just ahead of analysts expectations)
$248 million (Alphabet's revenue from its non-Google "other bets," up 34%)
$772 million (Alphabet's operating loss on those "other bets," down from $855 million a year ago)
75,606 (Alphabet's total workforce, up from 66,575 a year ago)
$29.29 (the amount Google shares fell in after-hours trading, despite exceeding Wall Street estimates, a 3% drop)
Bottom line: Google continues to be a cash cow for Alphabet (it took a $2.7 billion EU fine to dent income growth), but expectations are high and Wall Street isn't easily satisfied (shares fell because Google's costs related to mobile advertising keep rising).
New threat? My colleagues Dan Primack and David McCabe report this morning on a more ominous danger for Alphabet, and other big tech companies: Democrats seem to have decided they need to go the more populist route, finding common ground with the Trump administration in aiming for monopolies, including those in the tech world.
https://www.axios.com/newsletters/axios-login-5ace8a4b-214b-441f-a4ed-9116b35fc35a.html?chunk=1#story1
Trump continues his Twitter war with Amazon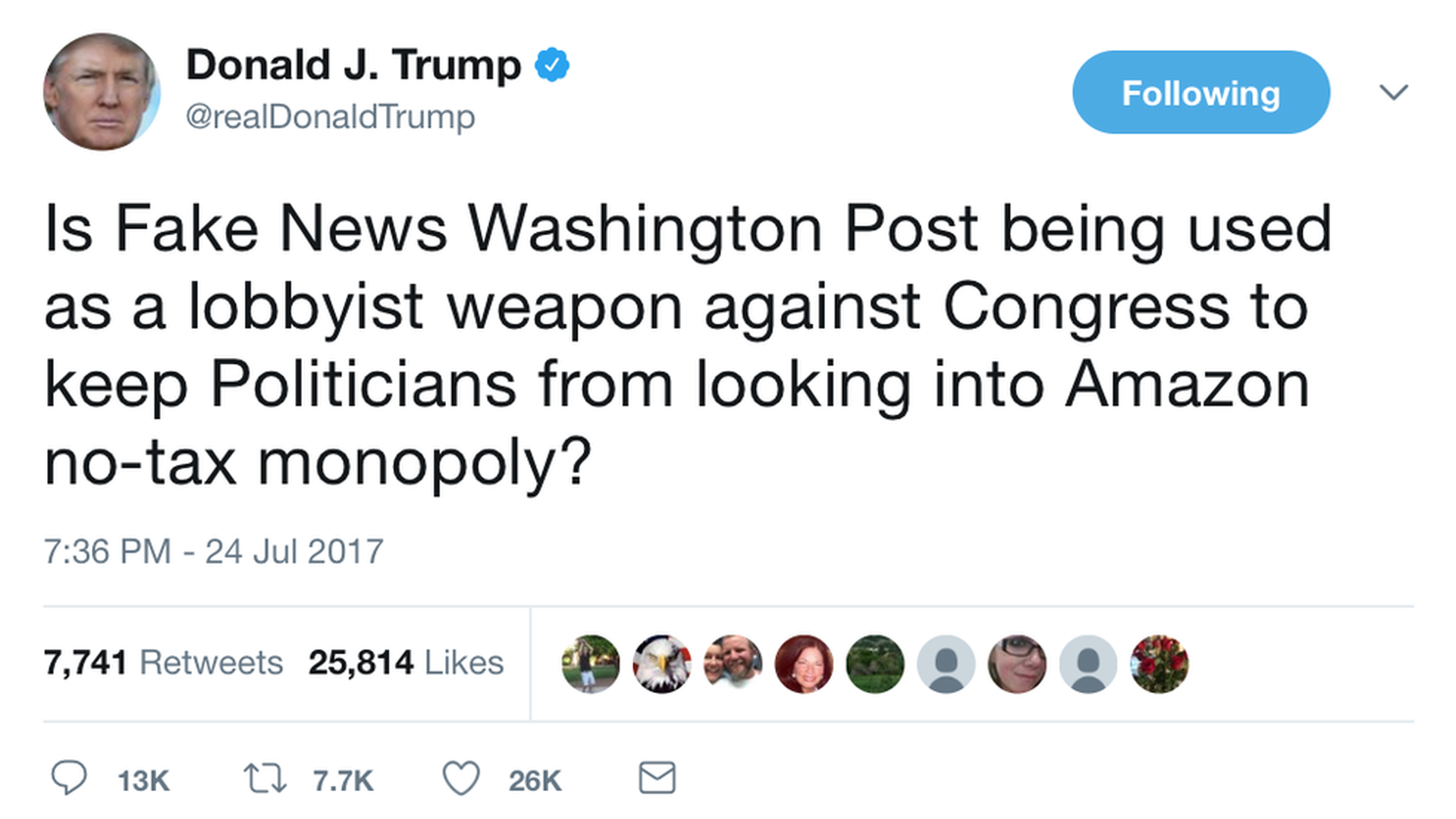 As a candidate, Donald Trump went after Amazon and The Washington Post on Twitter. While there appeared to be a break during the the first couple months of his presidency, this has now changed.
On Monday night, Trump accused Amazon of using the Post to protect its supposedly tax-free status (as he has before). There's, of course, a couple big problems with that contention.
First, Amazon CEO Jeff Bezos, not the company, owns the Post and the paper isn't known for doing Amazon's bidding.
Second, while Amazon did enjoy a tax advantage early on by not having to collect state sales tax, the company now collects tax in every state that has such a levy.
https://www.axios.com/newsletters/axios-login-5ace8a4b-214b-441f-a4ed-9116b35fc35a.html?chunk=2#story2
What tech can do for trucking, even before the robots arrive
With all the recent predictions that truck driving jobs will be the first to disappear, thanks to autonomous driving, it would seem almost backwards for any company to build tech tools for drivers themselves — but Kia reports that's exactly what a 2-year-old, Seattle-based startup is doing.
Startup's plans: Convoy has built a marketplace plus the tools to more efficiently connect trucking companies with shippers who need to have loads delivered.
"There's gonna be a long transition" to trucks being fully self-driven, Convoy CEO Dan Lewis told Axios. "I think no one fully understands exactly what the timeframe and the timeline is gonna be for that."
Lewis predicts:
During the initial phases, humans will still have to be in the trucks to manage the trip or perform certain tasks.
"Until there's not a person in the truck, the cost structure is not gonna change very much. But in the meantime, 40% of the time, trucks are driving empty," which is where Convoy comes in, he says.
Bottom line: Someday robots will likely drive our trucks, but in the immediate future, technology can best serve the trucking industry by tackling problems of efficiency, according to Convoy, which has just raised $62 million in new funding.
https://www.axios.com/newsletters/axios-login-5ace8a4b-214b-441f-a4ed-9116b35fc35a.html?chunk=3#story3
MS Paint will live on after all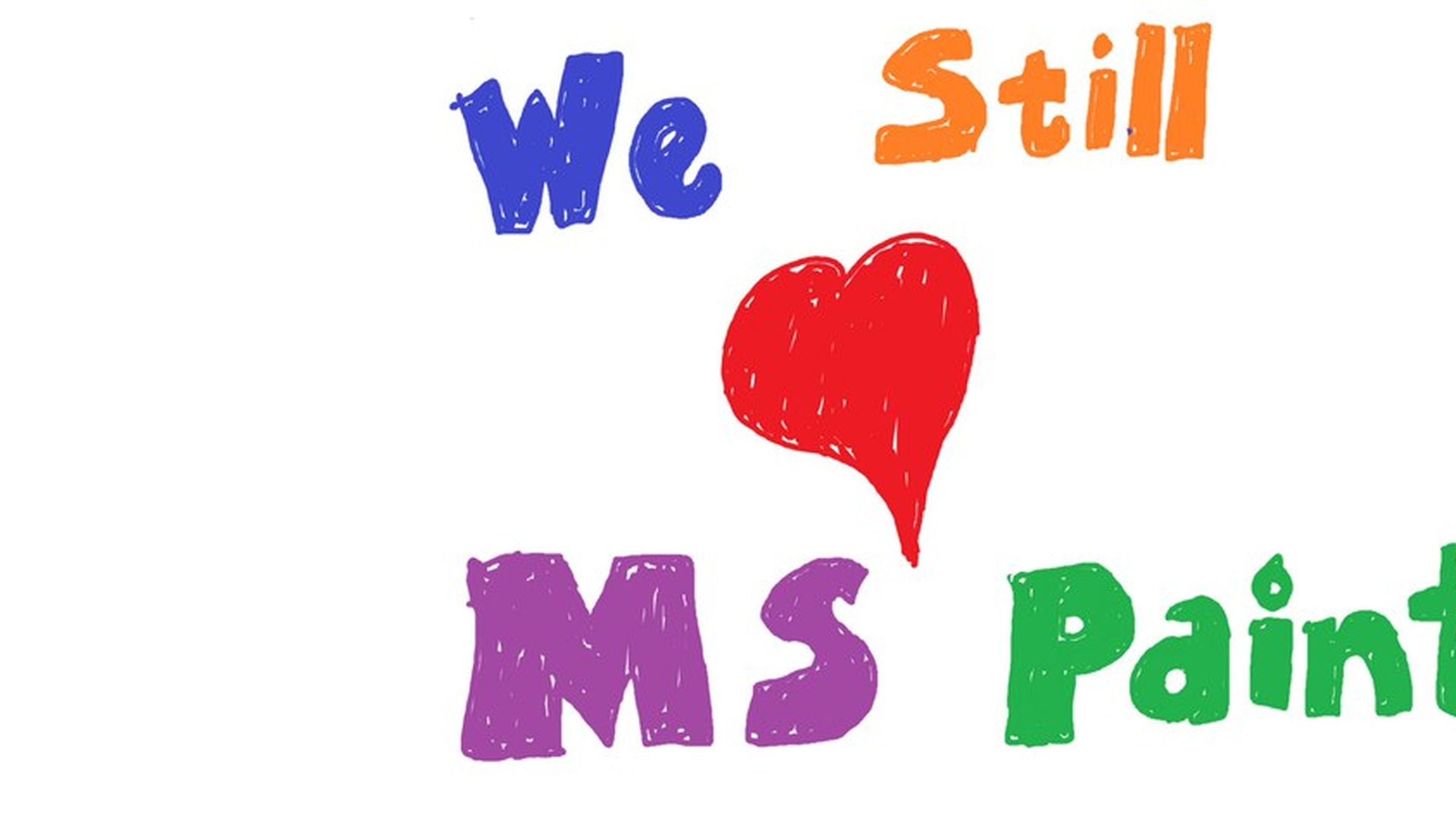 Rumors of MS Paint's death have been at least a little bit exaggerated.
The internet shifted into "mourning mode" Monday amid reports that Microsoft was going to "deprecate" Paint with the next release of Windows 10. Indeed, I was all set to spend the evening in Paint creating a graveyard with a tombstone for the venerable digital paint program.
Yes, but: It turns out that a) lots of other people had the same idea and b) Microsoft insists that the venerable program isn't going away, just moving locations. What was once built into Windows will now be a free download from the Windows store.
Meanwhile: CNET apparently is ready to move on, offering up five able replacements for those who need a basic digital painting tool.
https://www.axios.com/newsletters/axios-login-5ace8a4b-214b-441f-a4ed-9116b35fc35a.html?chunk=4#story4
Take note
On tap: The Black Hat security conference continues in Las Vegas...Earnings reports include AT&T, Texas Instruments, Shutterfly, and iRobot.
Trading places: Google parent company Alphabet has added Sundar Pichai, CEO of the main business, to its board of directors...Roi Carthy, former chief marketing officer for Israeli ad tech firm Shine, is joining Singulariteam, an Israeli investment fund focused on the cryptocurrency and blockchain areas.
ICYMI: Baidu and JD.com are reportedly joining Alibaba and Tencent in a $12 billion investment into state-owned China Unicom, one of the country's two big mobile carriers...CNBC's Christina Farr reports that Alphabet's Verily unit has invested in cancer testing startup Freenome and is building it a lab on its campus...Facebook has acquired Source3, a video rights startup that could help the company's anti-piracy efforts, according to Recode...Flipboard is crushing it on mobile...Sara Fischer scoops that SimilarWeb receives $47 million in funding.
https://www.axios.com/newsletters/axios-login-5ace8a4b-214b-441f-a4ed-9116b35fc35a.html?chunk=5#story5
After you Login
While many like to ponder about all the possibilities of artificial intelligence in the years-off future, I like to focus on what it can do now. Such as the ability to come up with a list of fake, but convincing British place names. Names like Brotters Common, North Praftton, and Lunsel's End.