Axios Login
February 01, 2023
1 big thing: ChatGPT sparks surge of AI detection tools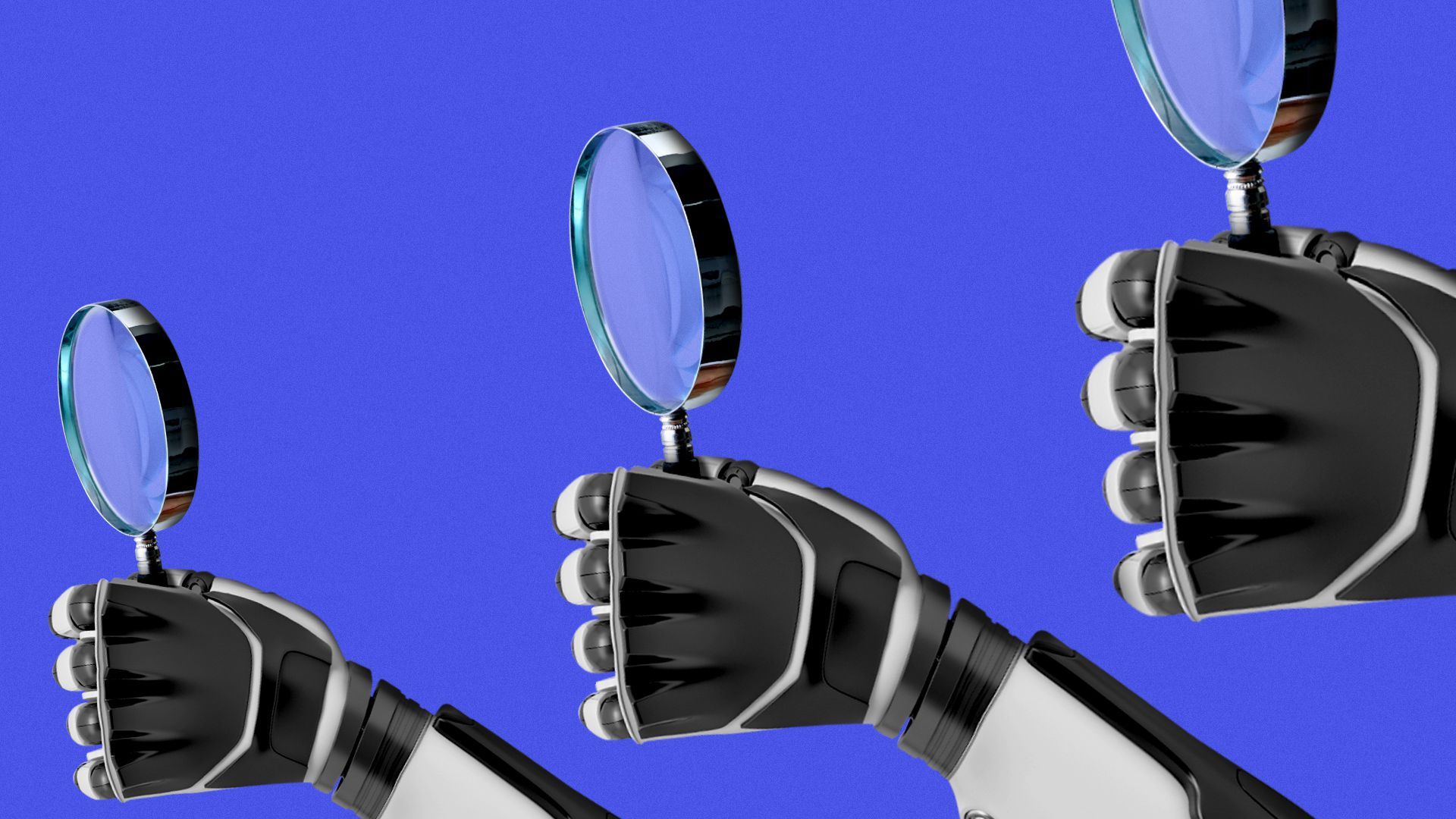 The rise of generative AI tools is creating parallel demand for a new class of systems that can help distinguish AI-generated text and images from those created by humans.
Why it matters: Educators, in particular, are concerned about students turning in work created by an AI system. But experts are also worried about how generative AI can create a flood of misinformation and impersonation. Detection tools, if they can be made sufficiently accurate, could help.
Driving the news: OpenAI released a free web-based tool Tuesday designed to help distinguish AI-generated text from that written by humans. But it isn't alone in trying to address this issue. A number of startups, organizations and individuals have also released or are developing AI-detection software.
GPTZero was created by college student Edward Tian and works similarly to the new tool from OpenAI, assessing the overall likelihood that a piece of content was machine-generated.
Self-funded startup Fictitious.ai is testing a product with educational institutions that analyzes content paragraph-by-paragraph rather than just providing an overall score.
Writer.com has a tool to help writers detect if their writing will pass as human, since search engines penalize content they believe to be machine-generated.
Yes, but: While detection tools show potential, the current tools are prone to making wrong calls, particularly when used on a writing sample that's very different from the ones used to train the system.
The tools will no doubt improve, but so will the means for evading detection, likely creating something of a cat-and-mouse game.
"We believe that techniques for detecting AI content will improve, and continue to surpass human ability to discern between machine- and human-written content," a Fictitious.ai representative told Axios. "With that said, there is clearly a limit at which sufficient human editing will always obscure traces of AI-generated content."
OpenAI and others are also exploring other approaches, such as watermarking their systems' creations to make it easier to spot machine-generated content.
The big picture: Generative AI has hit a tipping-point of popularity, and that means all manner of computer-created content is about to explode.
The challenge will be developing enough systems — both human and automated — to deal with the flood of additional content at a time when misinformation is already a significant problem.
In action: Here's how several detectors performed when we asked it to analyze a portion of yesterday's Login newsletter.
OpenAI: "The classifier considers the text to be very unlikely AI-generated."
GPT Zero: "Your text is most likely human written but there are some sentences with low perplexities."
Fictitious.AI: This system broke the newsletter items down paragraph by paragraph, correctly discerning that all but the last part I submitted had less than a 5% chance of being AI-generated. For some reason, though, it decided the last line of a story about TikTok had an 85% chance of being AI-written. (It was us.) Line in question: "Don't be surprised to see such talks eventually resume, given how much there is at stake for the company and its investors."
Writer.com: "Fantastic!" (I.e., we passed as human.)
And here's how the services evaluated a section of a ChatGPT-generated essay on the history of baseball cards. (It was a pretty good history, speaking as someone who knows a bit about the gum-infused cardboard collectibles.)
OpenAI: "The classifier considers the text to be unclear if it is AI-generated."
GPT Zero: "Your text is likely to be written entirely by AI."
Fictitious.AI: The service categorized each paragraph as at least 88% likely to have been AI written with some listed as high as 98%.
Writer.com: "You should edit your text until there's less detectable AI content."
2. Commerce Dept. report criticizes app stores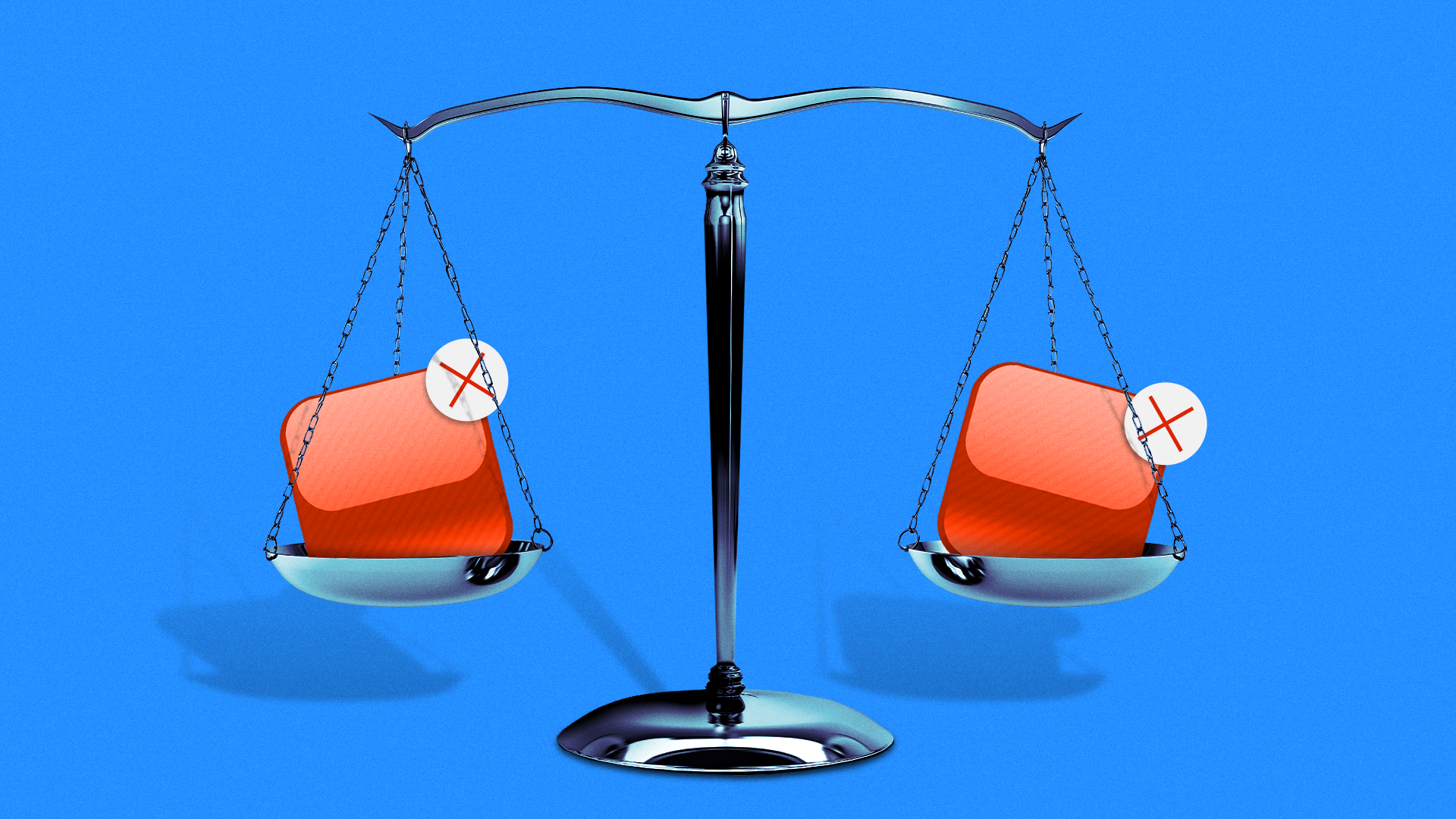 A new Biden administration report describes Apple and Google as "gatekeepers" of mobile app stores and suggests legislation is needed to spur competition and give app makers and consumers more choices, Axios' Ashley Gold reports.
Driving the news: The White House is pushing for tech antitrust action in the new Congress, with a new Department of Commerce report laying out what it sees as a harmful app store environment for both consumers and app makers.
Why it matters: The report, from the National Telecommunications and Information Administration, is the Biden administration's fullest effort to lay out concerns about the app store ecosystem.
What they're saying: There is "real potential harm for consumers" in the way Apple and Google run their app stores, with the companies "inflating prices and reducing innovation," Alan Davidson, NTIA administrator, said in a call with reporters.
"We're looking forward to seeing what legislation gets introduced on Capitol Hill .... Our hope is that this analysis can inform how people are thinking about these issues," he said.
Details: The report, based in part on public comments, concludes that consumers largely cannot gain access to apps except through the Google Play and Apple App stores, and that the two companies "create hurdles for developers."
Be smart: The report draws many of the same conclusions about the state of competition among mobile app stores that motivated the proposed Open App Markets Act, which gathered a lot of support in the last Congress but ultimately failed to pass.
The other side: Apple and Google both argue that their app stores benefit consumers.
"We disagree with how this report characterizes Android, which enables more choice and competition than any other mobile operating system," Google spokeswoman Julie Tarallo McAlister told Axios.
"We respectfully disagree with a number of conclusions reached in the report, which ignore the investments we make in innovation, privacy and security," an Apple spokesperson told Axios.
3. PayPal to cut 2,000 employees
PayPal said Tuesday that it will lay off around 2,000 employees, making it the latest tech giant to slash jobs this year, Axios' Dan Primack reports.
The big picture: This comes on top of the 68,000 tech workers who already have lost their jobs so far in 2023, according to tracking site Layoffs.fyi.
The PayPal move will impact around 7% of its global workforce, with specific reductions to be disclosed in the "coming weeks."
Elsewhere: Earlier Tuesday, business software firm Workday disclosed plans to cut 525 employees, or 3% of its headcount.
Investors cautiously cheered the news from PayPal with a slight bump to its stock price, which is up in 2023 but down more than 50% over the past 12 months.
The company is set to report quarterly earnings on Feb. 9.
Go deeper: Why the tech layoffs are happening and what's next
4. Take note
On Tap
Samsung hosts an Unpacked event in San Francisco where it is expected to debut the Galaxy S23 family of smartphones along with new laptops.
Facebook parent Meta reports earnings after the markets close.
Trading Places
Data scientist (and Twitter and Meta veteran) Solomon Messing has joined NYU's Center for Social Media and Politics as a research associate professor. 
European podcast and audiobook subscription service Podimo has hired Meta and PayPal veteran Malvina Goldfeld to the company as chief product officer and Johann Querné, formerly at Twitter, as vice president of growth. 
ICYMI
Instagram's co-founders are teaming up on a new venture that includes a social news app called Artifact. (Platformer)
Snap Inc. missed Wall Street revenue expectations for the fourth quarter and offered a somewhat bleak outlook for the current quarter. (Axios)
Thanks to Scott Rosenberg and Peter Allen Clark for editing and Bryan McBournie for copy editing this newsletter.