June 11, 2020
Please read quietly. Some of us are still sleeping.
Today's Login is 1,598 words, a 6-minute read.
1 big thing: Tech giants' life cycles shape their crisis responses
As the big five tech giants face a trifecta of crises over pandemic disruptions, government investigations, and protests against racial inequality, their ages and life stages are shaping their responses, Scott Rosenberg writes.
Between the lines: Companies have life cycles that mirror those of people. And like people, they handle stress in different ways at different stages of maturity.
The big picture: Tech companies recruit and motivate workers with promises of wealth and missions to improve the world. That looks glaringly out of step with a moment in which U.S. society is focused on the painful realities of inequality and injustice.
Facebook — founded in 2004 — is dealing with this dilemma like someone in their late adolescence or 20s, still figuring out its identity.
Only recently has Facebook begun to understand just how much power it has through controlling one of the world's largest online platforms.
It's bewildered when others try to hold it accountable for muddled choices and ethical misfires.
As employees have begun protesting its policies, Facebook has seemed more interested in keeping its options open than in taking difficult stands.
Google — founded in 1998 — acts like someone in their 30s, beginning to question the future.
It overachieved as a youngster but now, as its passion to "organize the world's information" becomes more of a maintenance task, it's beginning to wonder what's next.
YouTube, Google's massive video platform, faces the same misinformation and bias controversies as Facebook — and the parent company is bracing for charges likely this summer that it behaves monopolistically.
"Don't be evil," the young Google's keep-it-real motto, feels like a cruel taunt now. Today's powerful Google can't take a single step without considering a far more modest injunction — "first, do no harm."
Amazon — founded in 1995 — behaves like someone in their 40s, feeling the weight of multiple burdens.
The online retail giant was already facing complex labor challenges when the pandemic turned its delivery business into an essential lifeline for many Americans, prompting it to raise some pay and hire 175,000 additional workers.
Meanwhile, the company's Amazon Web Services subsidiary forms the technical backbone for countless other online service providers.
Amazon now has a vast portfolio of responsibilities, some of which — like the health of its warehouse workers — it's being criticized for neglecting.
Apple — founded in 1977 — has the questions and doubts of someone in their 50s, as it wonders whether it can add another transformational act to a lifetime of achievement.
Despite its midlife comeback with the iPhone's success, Apple has never reconciled the revolutionary aspirations of its "1984"-ad youth with the reality of its latter-day wealth and power.
CEO Tim Cook has walked a difficult line between publicly embracing diversity and social justice while continuing to cultivate friendly ties with President Trump and his administration.
Apple, perhaps more than any of its rivals, could take big risks in rethinking how a tech giant can stop fueling and start fighting inequality. Some fans and employees are waiting to see how far the company might go.
Microsoft — founded in 1976 — now plays the role of tech's 60-something grandparent, setting some examples while knowing it can't dictate the future.
The company fought its own stubborn battles in its arrogant youth, and today lives off the fruits of valuable investments made long ago.
It has been wise enough to embrace some of its old enemies, like open-source software development.
Neither its employees nor its customers are up in arms (for the most part), but the company may wonder if that's because it's doing a great job or the world just doesn't care that much.
The bottom line: Tech giants all face the same problem: They're massive concentrations of power and wealth that have all positioned themselves in their own and employees' minds as agents of change.
Each company will choose its own path through this maze, but there's no guarantee any of them will find a way out.
2. Scoop: Facebook is creating a startup-focused venture fund
Facebook has been hiring seasoned tech investors to help lead a new "multimillion-dollar" investment fund within its experimental apps team, Axios has learned.
Why it matters: Starting a formal investing program aimed at startups could bolster the company's ability to spot the next big social app before it becomes big. That visibility is all the more important as antitrust scrutiny has likely closed the door on large acquisitions by Facebook for the near future.
Details: Facebook posted a job opening recently saying it was looking to hire a "head of investments" for its New Product Experimentation (NPE) team, ideally someone with 10 years of tech experience.
"In this role, you will manage a multimillion-dollar fund that invests in leading private companies alongside top venture capital firms and angel investors," Facebook said in the now-deleted job posting. "You will develop investment and impact theses, lead the execution of new investments, and support existing portfolio companies as needed."
Facebook confirmed to Axios that it has hired someone to fill that role but declined to name the person or say how large the fund would be. Also helping manage the new fund is Shabih Rizvi, a Google and Kleiner Perkins veteran who was most recently at Gradient Ventures, one of the corporate venture firms owned by Alphabet, Google's parent company.
Between the lines: A source familiar with the company's plans said the effort is not a general-purpose fund but rather a targeted effort to stay in close touch with the startup world. Facebook characterized the effort as an extension of the work it has done in the past with startup accelerators and hackathons.
"In the same spirit that the New Product Experimentation (NPE) group is charged with product experimentation, the team is also experimenting with ways to support external startups, including with capital," Facebook said in a statement to Axios.
The big picture: Facebook has long tried to identify the next big thing in social media and either acquire the pioneer, as it did with Instagram and WhatsApp or match key features, as has been the case with Snapchat (which famously turned down a $3 billion acquisition offer by Facebook).
For more, read on.
3. Adobe is ready to turn your phone into a Photoshop camera
Adobe is launching Photoshop Camera, a tool designed to offer some of the power of the professional photo-editing software within a smartphone camera app.
Why it matters: Adobe has been trying for years to figure out how best to bring its skills and products to mobile devices. It has managed to bring Photoshop and other programs to the iPad, but smartphone apps like Photoshop Camera offer a way to engage with a far larger number of consumers.
Details: The free app, available for both Android and iOS, looks much like it did in its early test form, which Adobe showed off last year. Among its features:
A variety of editable filters to add artistic effects ranging from the subtle to the wild.
Tailored lenses for specific purposes, such as photographing food or turning a daytime sky into night.
Celebrity-branded lenses from artists and creators starting with singer Billie Eilish.
A portrait mode for phones that don't have one built-in.
Adobe CTO Abhay Parasnis told Axios the company set out to build the product three years ago, then not sure it was feasible to do this much work, in real time, on a mobile device. "It's a pretty big moment for us," he said.
What's next: The company wants to add new filters and features every few weeks, and eventually open filter creation to more artists. Logically, Adobe might want to get the software built-in, or at least preloaded, onto new smartphones.
4. Startup aims to ease social media companies' content moderation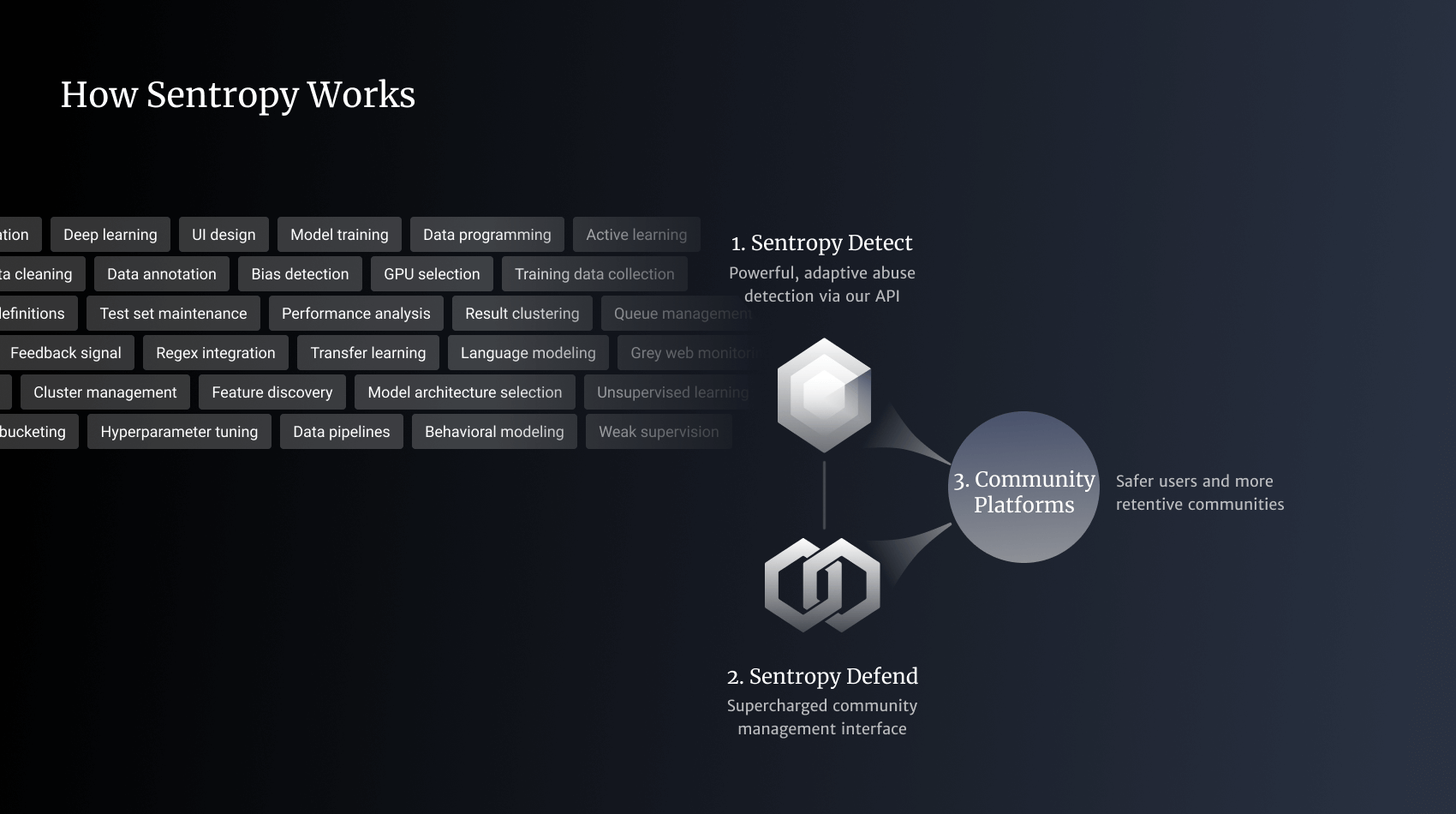 Moderating content is a major challenge for all online platforms, and it's all the harder for smaller companies and apps to enforce standards and protect users from hate and harassment. Enter Sentropy, a startup offering machine-learning-based tools to help companies identify and sort potentially problematic user-posted content.
Why it matters: Quality content moderation requires specialized skills that are in high demand, putting smaller companies in a bind.
What they're saying: "Facebook and Google are going to continue to do this on their own," Sentropy CEO John Redgrave said in an interview. "The rest of the internet just does not have their talent set."
Redgrave said Sentropy wants to serve as a tool for plug-in content moderation, much as companies would use Zendesk to handle customer service, Twilio to build in communication capabilities or Stripe to process payments.
Details: Customers can either use Sentropy Defend, a browser-based moderation tool, or plug into Sentropy through its API, Sentropy Detect.
Redgrave started Sentropy in 2018 after selling his last machine-learning company, Lattice Data, to Apple.
The 20-person company has raised about $13 million through seed and Series A funding rounds, with investors including Reddit co-founder Alexis Ohanian.
5. Take Note
On Tap
Trading Places
ICYMI