Axios Login
March 25, 2021
I may or may not be on CNBC between 10–11am PT talking about today's misinformation hearings, largely dependent on whether the committee takes a break during that time. If I see you, I'll wave.
Today's edition is 1,538 words, a 5-minute read.
1 big thing: COVID-19's misinformation wake-up call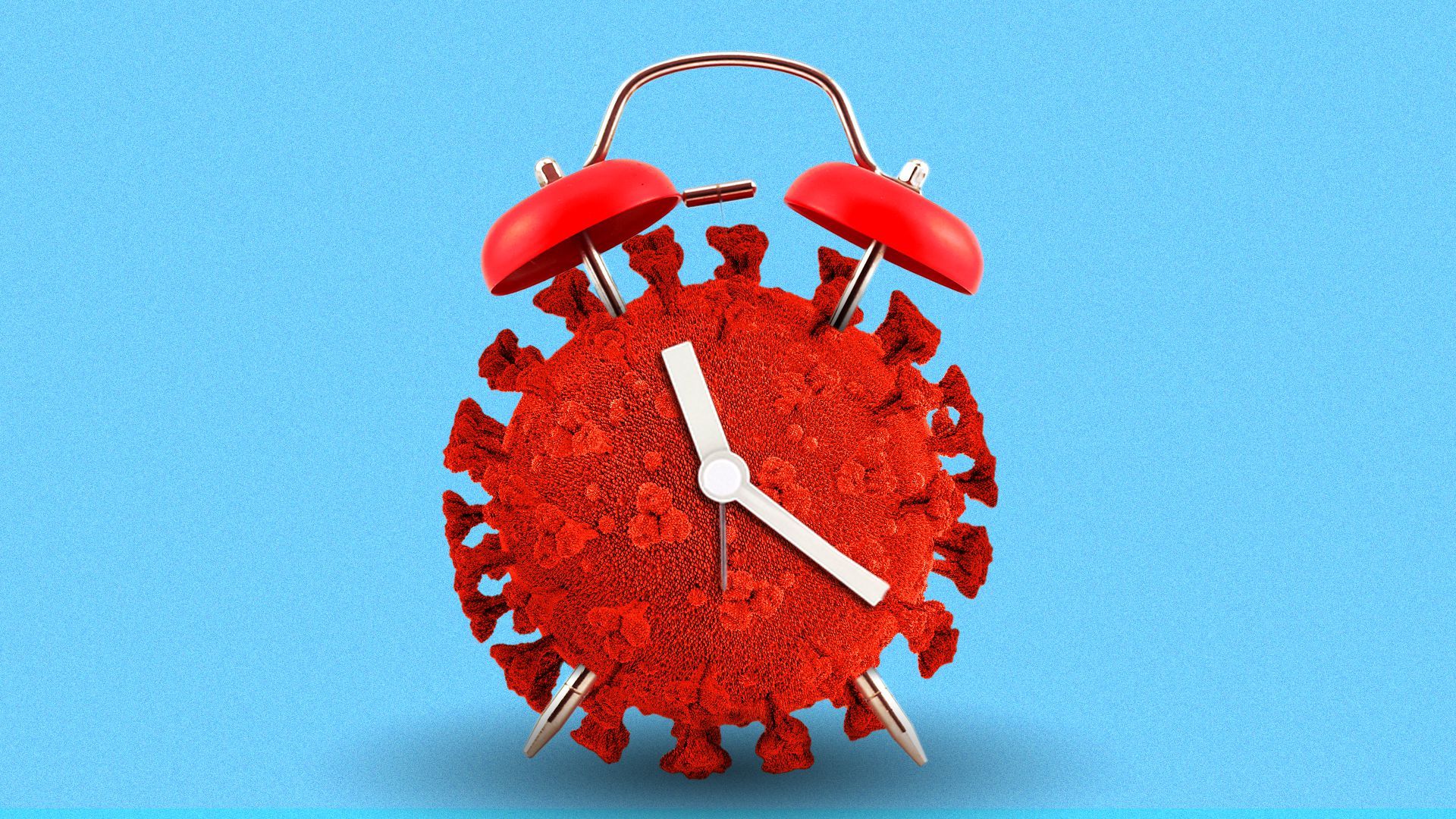 Outrage over misinformation online has been rising for years, but, as Axios' Kim Hart reports, it was the flood of false information surrounding COVID-19 and vaccinations that finally pushed health officials, tech companies and politicians to take strong action.
Why it matters: Political misinformation can sway elections, but COVID misinformation can kill thousands of people a day.
Driving the news: The CEOs of Twitter, Facebook and Google will testify Thursday before the powerful House Energy and Commerce Committee.
The big picture: Alarm over the potential of COVID-19 misinformation to cause harm spread first from public heath officials to tech firms and then moved to legislators.
Health officials
The extent of pandemic-related misinformation and disinformation took the public health community by surprise.
At the start of the shutdowns last year — when many aspects of the virus were still unknown — some researchers were alarmed to see that people weren't dismissing bogus claims about COVID-19.
"I thought people are surely going to be engaged in science and trust science now," said Jon Agley, associate professor in Indiana University's School of Public Health. He took an informal survey of a few hundred people and found he was wrong.
What he did: He then led a larger study trying to identify profiles of beliefs about different COVID-19 narratives — the scientific narrative vs. misinformation, such as the virus is caused by 5G cellphone networks or that COVID-19 was developed as a military weapon.
What he found: Believers in COVID misinformation don't necessarily reject science. And most misinformation believers buy into multiple false narratives.
In a separate study, Emily Vraga, assistant professor of health communication at the University of Minnesota's School of Journalism and Mass Communication, tested whether sharable infographics created by the World Health Organization would effectively debunk misinformation.
What she found: Exposure to a corrective graphic on social media from an official health source helped people discount a false COVID-19 prevention strategy.
"We need experts creating this kind of content that is optimized for social media," Vraga said.
Between the lines: For healthcare officials, the proliferation of pandemic misinformation highlighted the need for factual information from trusted, official sources on social media platforms.
Tech companies
Social media networks have not been able to keep up with the tsunami of misinformation, despite their sizable efforts to remove false information and posts that violate their rules.
Tech firms in general are wary of judging the veracity of users' posts. But the significant public health harm wrought by COVID-19 misinformation has been a tipping point in pushing them to take stronger action.
For example, Mark Zuckerberg told "Axios on HBO" in September that Facebook wouldn't treat anti-vaccination posts as COVID-19 misinformation. By February, the policy had changed — and now, the company is working on a massive study of users who are skeptical of vaccines, per the Washington Post.
Politicians
For Congress members who'll grill the company CEOs on Thursday, the spread of COVID-19 misinformation is another troubling example of how out-of-control false narratives have become on social media.
"It's not like it just stays on the internet," Committee Chairman Frank Pallone (D-N.J.) told Axios' Margaret Harding McGill. "It's disinformation and extremism that gives rise to racial tension and the attack on the Capitol on Jan. 6. And so I think our laws have to change."
2. It's time for tech CEOs' closeups again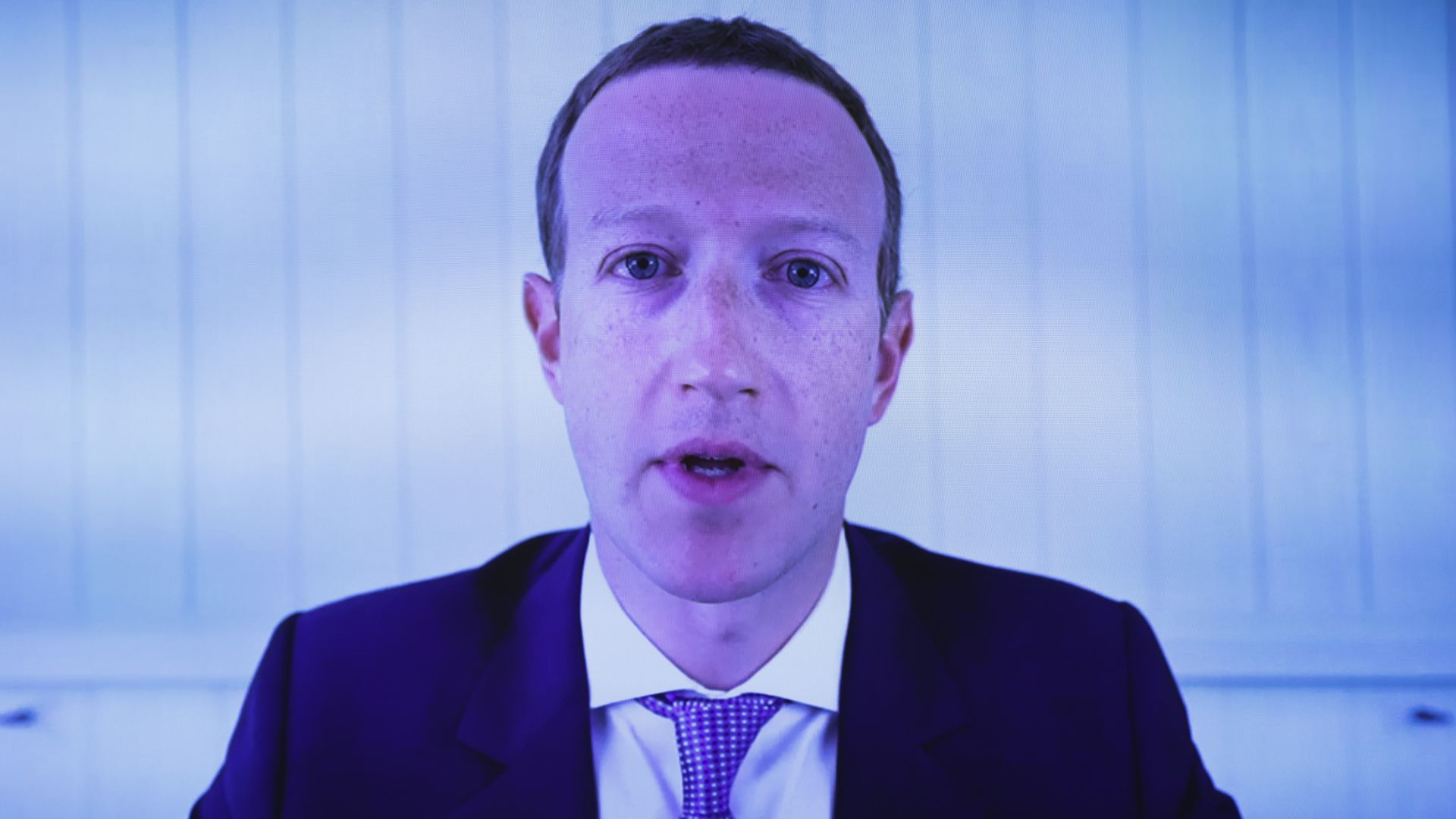 Today's House hearing on misinformation marks the fourth time since the pandemic's start that tech CEOs videoconferenced with Congress.
It's getting to be a regular thing, and industry observers are wondering whether anyone is going to start getting better at it, Axios' Scott Rosenberg writes.
Flashback: The first CEO-palooza last summer — featuring Mark Zuckerberg, Tim Cook, Jeff Bezos and Sundar Pichai — had the advantage of novelty, and the audience gave these executives some slack despite some hiccups.
We saw that even tech billionaires can have grainy video, and watched in amazement as Cook's image briefly dissolved into pixelated shards.
By October's Senate Commerce hearing, with Zuckerberg, Pichai and Twitter's Jack Dorsey, we expected a smoother ride.
But this was the event where the chairman had to call a 5-minute recess because Zuckerberg had still failed to dial in after a half-hour of proceedings.
In the before times, these events were just a bunch of people in suits in a hearing room. In the Zoom era, everything is less predictable.
At the October hearing, Dorsey appeared to be speaking from his deck.
During a November encore that he and Zuckerberg returned for, this time with the Senate Judiciary Committee, the Twitter CEO looked like he was videocasting from his kitchen.
Yes, but: Maybe it was just somebody's kitchen. One fact of Zoom-hearing life is that you never know for sure where any of the guests are.
They beam in from rooms that are not quite offices, not quite homes, not quite hotel rooms — just anonymous liminal spaces.
Nothing personal, nothing quirky, and certainly nothing revealing.
That's unlikely to change this time around. Don't expect anyone to loosen up.
Zuckerberg — the only of these CEOs to appear at all of these events — has plowed his way through each hearing with the camera in his face, and his face in ours.
His head has remained rigidly centered and forward-facing — as if he were two-dimensional.
What to watch: If Facebook's CEO gazes left or right, anything could happen.
3. Slack stumbles in its push to connect everyone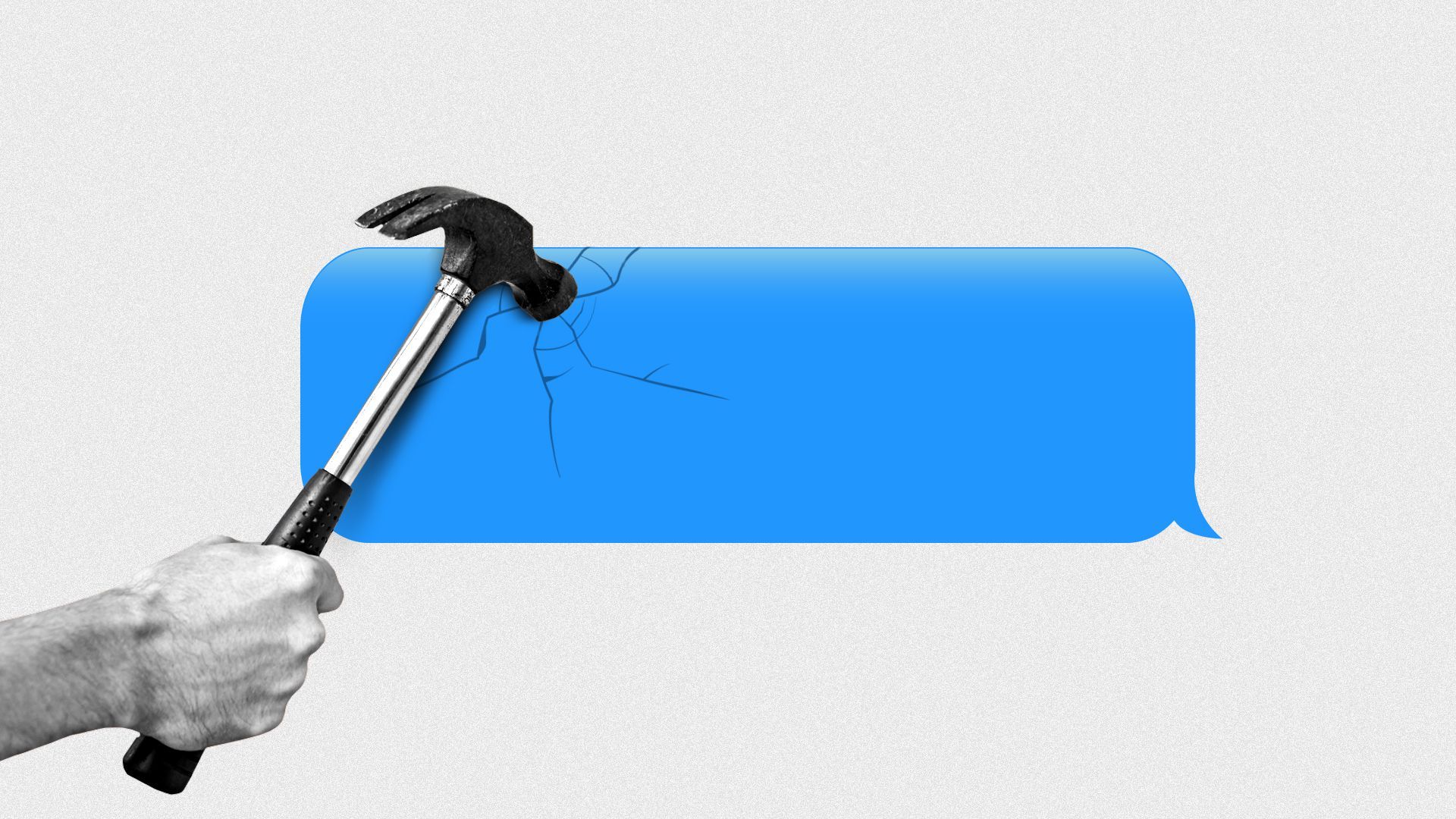 Workplace messaging service Slack on Wednesday turned on a feature allowing users to send messages to others who work for different companies or organizations. However, Axios' Kia Kokalitcheva and I report, the long-planned move quickly hit a speed bump, as users pointed out ways the system could be easily abused.
The big picture: Slack's long-term goal is to be a better alternative to email. But as it tries to expand its service it risks losing the qualities that made it appealing in the first place.
What happened: Slack made the feature, known as Slack Connect, broadly available to paid customers on Wednesday.
Journalists and Slack users immediately pointed out ways that the feature could be misused for spam or harassment, especially since people were allowed to send a message accompanying their request to connect — an open door for potentially unwanted communication.
Slack responded quickly, saying it was eliminating the ability to customize the initial requests — which, after all, was a way to send a message before getting permission to … send messages.
Between the lines: Slack tells Axios that there are limits to the number of Slack Connect DM requests a user can send to prevent harassment and spam, though it declined to share specifics to avoid making it easier for bad actors to exploit its system.
It's also eliminating the ability to send multiple invites to the same email address.
The bottom line: Even if Slack works through these problems, it has a tough needle to thread: the more it tries to open Slack up, which may make business sense for the company, the more likely it is to lose the focus many of its users cherish.
4. Heritage Foundation turned down tech donations
The Heritage Foundation, the prominent conservative think tank, turned down a pair of six-figure contributions last year from tech giants Google and Facebook, Axios' Lachlan Markay scoops.
Why it matters: Heritage's rejection of the companies' support, which came just days before the 2020 election, is an indicator of conservatives' fury at major tech firms.
The big picture: Outgoing Heritage president Kay Coles James wrote pointed letters to Zuckerberg and Pichai in late October turning down their contributions.
The letters, which Heritage provided to Axios, formally rejected a $225,000 contribution from Google and noted that it would be returning a $150,000 donation from Facebook.
"We cannot in good conscience take money from a company that repeatedly, and blatantly, suppresses conservative speech on your platforms," said the letter to Pichai, language closely mirrored in the note to Zuckerberg.
Flashback: According to a Heritage spokesperson, Google had previously donated a total of $1.55 million to the group. Facebook had contributed $275,000.
Contributions to Heritage in 2019 alone totaled more than $87 million, according to its financial statements for the year.
Between the lines: The move comes as Rep. Ken Buck, R-Colo., said on Wednesday that he would not accept future donations from Google, Facebook or Amazon, as Axios' Ashley Gold reports.
5. Take note
On Tap
Expect most eyes to be on the the misinformation hearing, but some tech companies have also figured out that mid-hearing is a good time to dump news. (We're on to you, tech companies.)
Trading Places
Following a protest from users, Reddit says it has parted ways with a controversial former U.K. politician it had hired.
ICYMI
Facebook said Wednesday it has blocked a group of hackers in China who have used the platform to target Uyghur activists, journalists and dissidents living abroad with links to surveillance malware. (Axios)
Scoop: Trump is in talks with upstart apps about new social network. (Axios)
Medium, the platform for long-form writing, is once again pivoting, this time away from funding its own publications and journalism. Exasperated employees were offered a generous buyout. (Axios and The Verge)