Axios Login
April 16, 2019
Sadly, there's no Pulitzer Prize for clever intros, but there are ones for amazing journalism which our society so desperately needs — and here are this year's winners.
1 big thing: YouTube's bogus Notre Dame-9/11 connection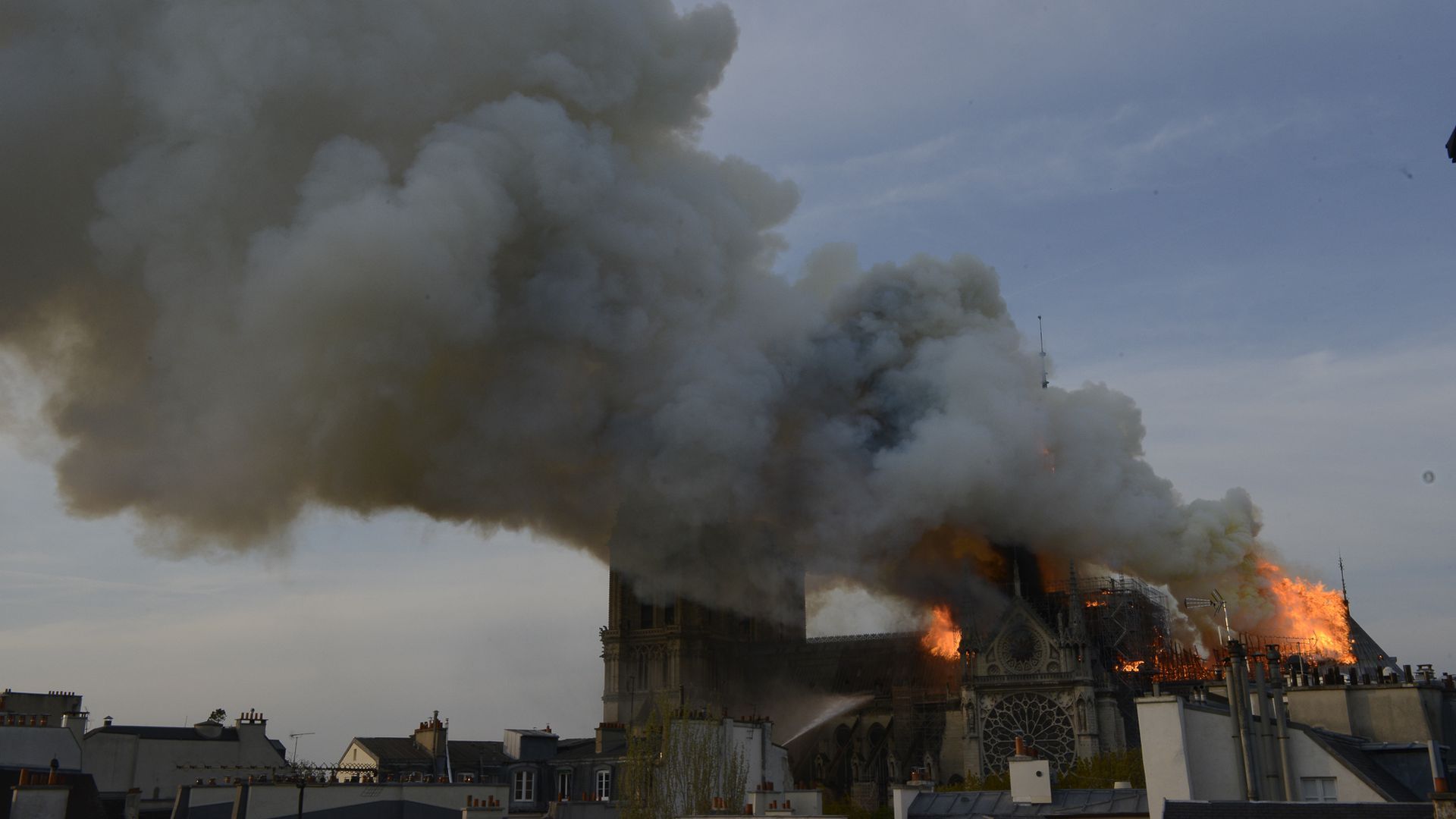 As YouTube viewers Monday followed the latest news updates from the fire at Paris' Notre Dame cathedral, some saw a gray box at the bottom of their screens that had excerpts and links to encyclopedia articles on the 9/11 attacks.
The big picture: These "information panels" pop up automatically as part of a YouTube program aimed at combatting conspiracy-theory-style misinformation — but in this case they arguably promoted such theories instead, Axios' Scott Rosenberg reports.
Details: It's unclear why the information panel feature kicked in.
Perhaps YouTube's pattern-matching algorithm found similarities in flaming-building visuals.
Maybe YouTube detected markers of conspiracy thinking in the comments on these news streams.
Some parts of Twitter were already abuzz with hate-filled, evidence-free musings about Muslims being responsible for the fire. Authorities are saying that a renovation project at the historic site was likely to blame.
YouTube turned off the information panels quickly.
Our thought bubble: The way conspiracy thinking works, the very fact that YouTube briefly linked the two events and then deleted the information might just "prove" to some observers that something fishy was going on.
We don't know how many news streams of the Notre Dame fire triggered the 9/11 link, and YouTube didn't answer the question, but observers on Twitter posted screenshots from CBS, NBC and France24 with the same gray boxes.
Any visitor to those pages — we also don't know how many there were — would at least have wondered what YouTube thought the Notre Dame fire had to do with 9/11. Or, worse, come away believing that the content providers themselves believed the two events were connected.
What they're saying:
"We are deeply saddened by the ongoing fire at the Notre Dame Cathedral. Last year, we launched information panels with links to third party sources like Encyclopedia Britannica and Wikipedia for subjects subject to misinformation."
"These panels are triggered algorithmically and our systems sometimes make the wrong call. We are disabling these panels for live streams related to the fire."
— YouTube spokesperson
Background: YouTube announced the information panel plan a year ago.
"When there are videos that are focused around something that's a conspiracy — and we're using a list of well-known internet conspiracies from Wikipedia — then we will show a companion unit of information from Wikipedia showing that here is information about the event," YouTube CEO Susan Wojcicki said at the South by Southwest 2018 interactive festival, per The Verge.
Between the lines: This incident underscores the fiendish difficulties big platforms still face when handling breaking news events, even after years of focus on combating misinformation.
Human monitors can't keep up with the scale, and algorithms fail at the most basic tasks.
The bottom line: Tech companies approach software as a game of incremental improvement. YouTube's information panels will doubtless work better at handling this particular problem tomorrow — but by then, there will be new problems.
2. Paul Allen's legacy includes a VR "Holodome"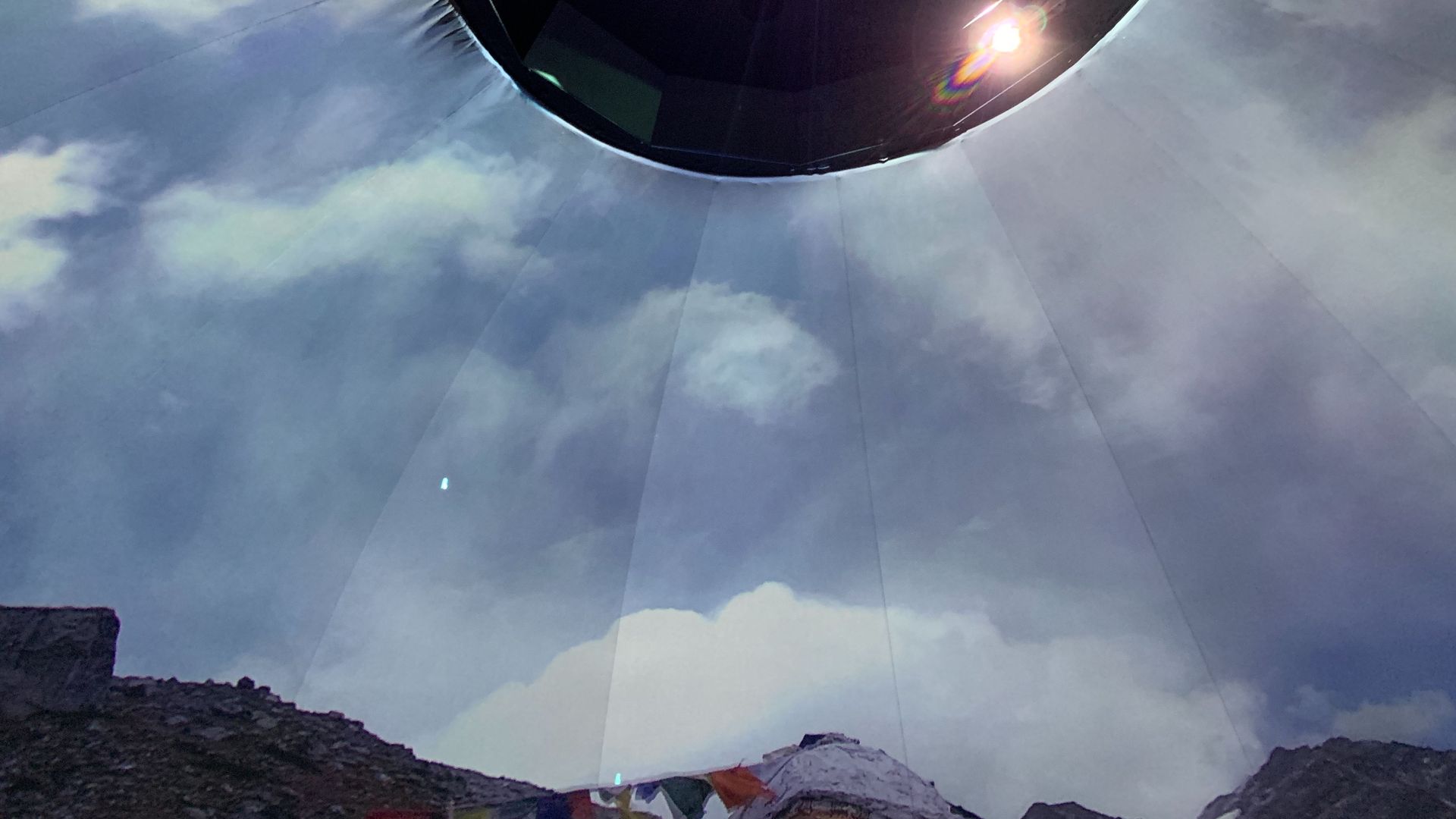 The TED conference often serves as a preview for where the virtual reality industry is going. This year, it's all about entering immersive VR domes rather than strapping on a headset.
Why it matters: Destination VR, despite its promise, has struggled financially, with IMAX closing many of the locations it had opened. Paul Allen's company Vulcan is seeking new partners as it debuts new experiences for its Holodome.
The centerpiece of the dome movement is Holodome, which was a pet project of the late Microsoft co-founder.
At TED, Vulcan debuted 2 new experiences: one is a live-action film that takes you to the top of Mount Everest and another takes you inside the Impressionist works of Claude Monet as you step inside the artist's world.
The video is not just all around you, but also above you and at your feet.
My thought bubble: Both new exhibits do exactly what good VR should — that is, convincingly take you to a place you couldn't go, somewhere either inaccessible, like Everest, or unreal, as with Monet.
Details: The centerpiece of the technology is 4 very-high-resolution projectors.
There are 2 Holodomes already in the wild, one that was used for consumers at the Museum of Popular Culture (MoPop) in Seattle and another in Venice, California, where Vulcan has been showing the technology to creators.
Pros: It's a more social experience — you don't have to strap anything on. Unlike VR, which is usually limited to those 13 and over, Holodome itself is suitable for all ages.
Cons: While immersive, you don't feel quite as transported as in goggles-style VR given the hole for the projector and the fact you see shadows. Like other destination VRs, it's expensive, with units currently costing on the order of hundreds of thousands of dollars.
The bottom line: Holodome is captivating, but translating such experiences to business success has proven tougher than expected. Vulcan is wise to be seeking partners to help it bring the technology to market.
Go deeper: Read my full story.
3. Breakthrough tech allows speaking without talking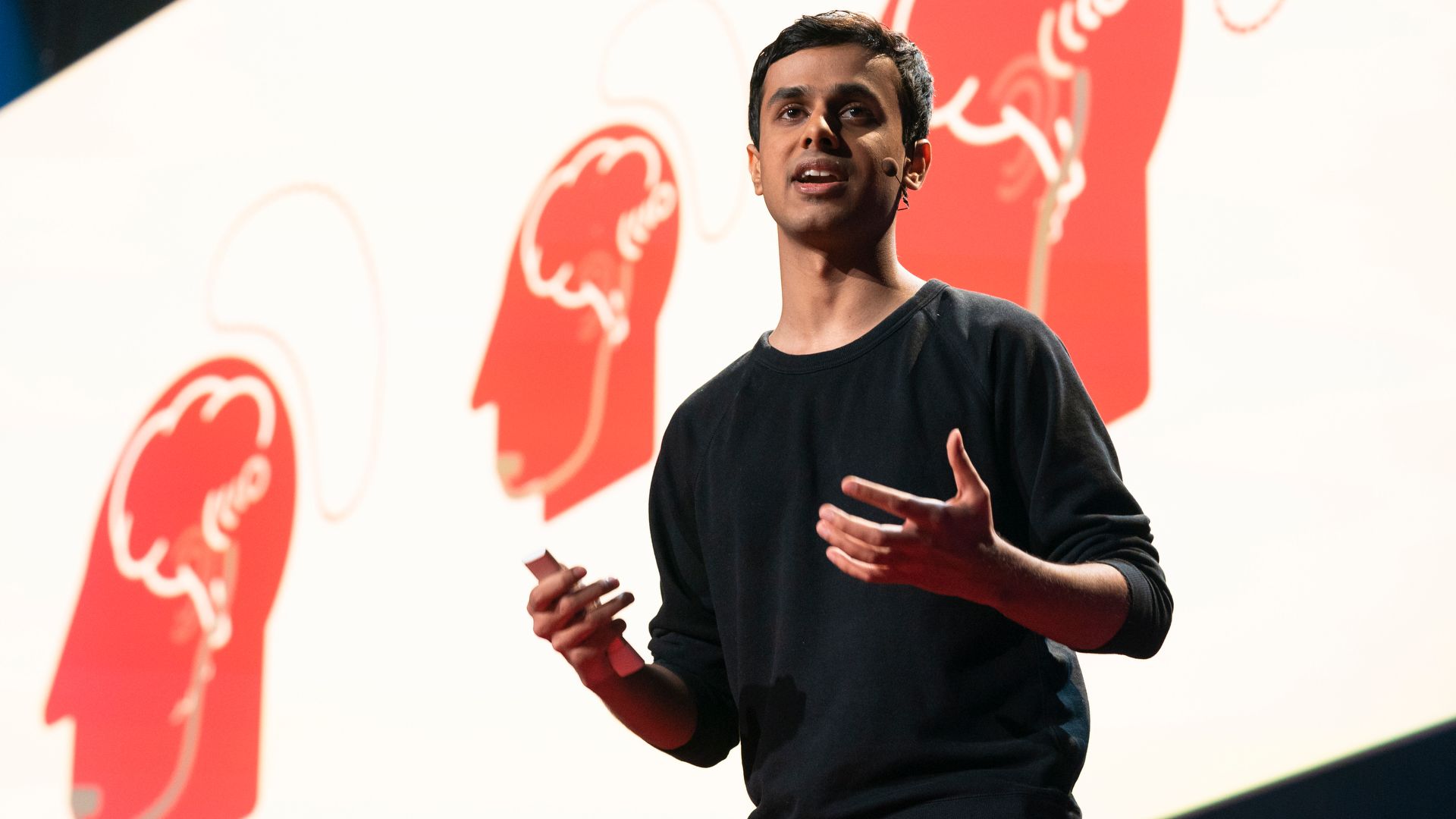 Over the years, TED has been home to a lot of impressive demos on ways to augment human senses or even add entirely new ones.
This year, TED fellow and MIT grad student Arnav Kapur showed another impressive merging of man and machine.
Kapur's creation — Alter Ego — allows users wearing a special facial patch to silently speak a command or query and have a computer silently talk back, audible only to the user via bone conduction. (The patch is connected to a cloud-connected computer board.)
Why it matters: The technology could allow those who have lost the ability to speak to regain a voice while also opening up possibilities of new interfaces for general purpose computing.
The latest: At TED, Kapur demoed the latest iteration publicly for the first time and showed video of the technology allowing someone with ALS to speak a command for the first time since losing that ability.
How it works: Alter Ego doesn't read people's minds, but rather detects the speech signal being sent to the face from the brain.
"You are speaking to yourself and you hear the answer," Kapur told Axios in an interview after his talk. But you only have to intend to speak: "You don't mouth the words. You don't murmur."
By focusing on words you intend to speak, his device is in no way "reading your thoughts" but only measuring things you intend to convey. This is by design, he said, to ensure the technology is used only as intended.
People often focus on brain waves, but "electricity is everywhere within the body," Kapur said.
What's next: While Alter Ego remains a research project for now, Kapur hopes the technology will be used both to help those who have lost the ability to speak (it has been tested with people with a range of conditions) and also to augment human capabilities more broadly.
The initial app, for example, allowed people to silently speak complex math equations and hear an answer.
"I do think of it as a post-smartphone personal computing system," Kapur said.
4. Calling out Big Tech for subverting Western democracy
Carole Cadwalladr, the U.K. journalist who first exposed the Cambridge Analytica scandal, used a TED talk yesterday to blame Facebook and other tech giants for nothing less than the undoing of Western democracy.
Why it matters: She called Britain and the Brexit vote the "canary in the coal mine" of what happens to democracy in the era of social media.
"We are what happens to Western democracy when 100 years of election laws are disrupted by technology," Cadwalladr said.
Details: Cadwalladr said she was using her talk to address the "gods of Silicon Valley."
She specifically singled out Facebook CEO Mark Zuckerberg and COO Sheryl Sandberg, Google co-founders Larry Page and Sergey Brin, and Square and Twitter CEO Jack Dorsey as "accessories" to "subversion."
She called on Facebook to reveal more of what happened in Brexit and the 2016 U.S. elections. "It's a crime scene and you have the evidence," she said. "It's not enough to say you will do better in the future."
She asked the tech leaders if they want to be remembered as "handmaidens" to the "authoritarianism on the rise all across the world."
And she called on others to speak out."My question to everyone else is, 'Is this what we want? To let them get away with it and to sit and play with our phones?'"
What's next: Dorsey is set to be interviewed on stage today. TED curator Chris Anderson also added that there is an open invitation for Facebook's executives to join the TED stage this week.
5. SF's conditional OK for scooter expansion
Since allowing scooters back on its streets in October, San Francisco has found a mixed bag of results, Axios' Kia Kokalitcheva reports.
What's happening: While locks have greatly decreased complaints of sidewalk vehicle littering, the two companies with permits to operate have also signed up few customers to their low-income rider program.
Driving the news: Ahead of today's board of directors meeting, San Francisco's transportation agency said on Monday that it will let Skip and Scoot each add 175 scooters if they each sign up 150 users for their low-income program.
They'll be able to double their current fleets (to 2,500 total) if they reach 500 signups.
By the numbers: The transportation agency also ran a survey, which found that 63% of scooter riders are white, 82% are male, and 68% have incomes over $100,000 annually. (A Skip spokesperson highlighted to Axios that the survey's respondents may not fully represent the ridership's demographics.)
Of the nearly 250,000 trips from mid-October through February, 90% were on Skip scooters and 10% on Scoot.
70% of trips were less than two miles in length, 75% lasted under 25 minutes, 42% replaced car trips, and most were clustered in the downtown area of the city.
Complaints (693) and citations (166) have significantly declined compared to when three companies operated last spring without permits in the city.
Yes, but: The companies are still short on some of initiatives they pitched as part of their permit applications last year.
Go deeper: Read more of Kia's story here.
6. Microsoft works on carbon footprint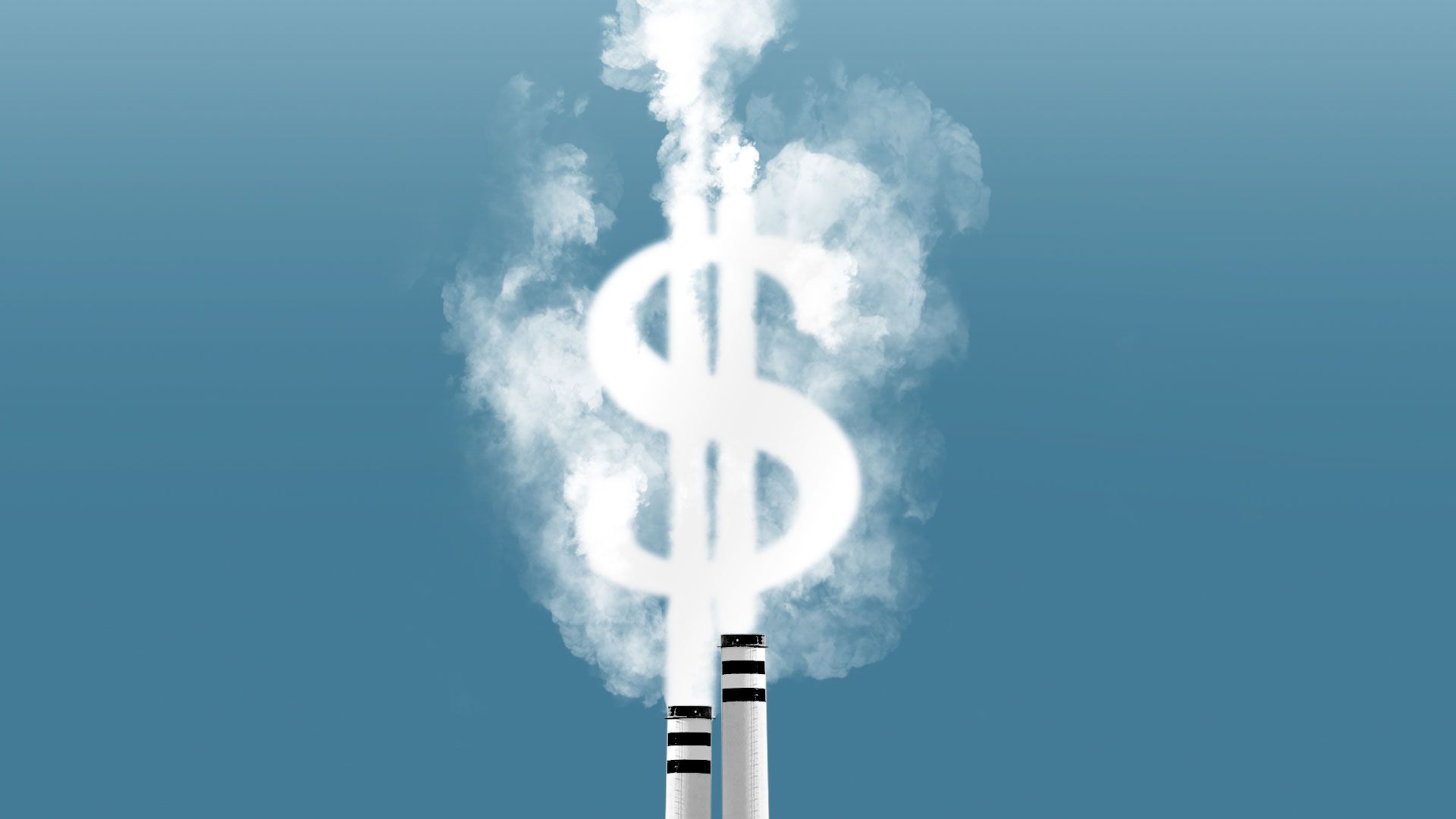 Microsoft is almost doubling its internal carbon tax that helps fund the company's sustainability work and is joining a Big Oil-backed group pushing for a federal emissions fee, Axios' Ben Geman writes.
Why it matters: These announcements arrive amid scrutiny of Big Tech's carbon footprint and work with oil companies.
What's next: Microsoft President Brad Smith said in a blog post that they will...
Expand offerings that help customers use AI to boost environmental performance.
Host gigantic environmental datasets on its cloud platform Azure to aid researchers.
Aim to have data centers run on more than 70% renewables by 2023. (Microsoft said it will reach 60% this year.)
Raise its internal carbon fee, launched in 2012, from $8 to $15 per metric ton.
For a sense of scale, Microsoft said that last year it collected $20 million from the tax to pay for internal carbon neutrality work and fund grantees of its AI for Earth program.
Microsoft also is one of the first Big Tech companies to join the Climate Leadership Council.
What they're saying: Lucas Joppa, Microsoft's chief environmental officer, said there's huge potential in using AI and other advanced tech to help industries cut emissions.
"There has been this disturbing trend that technological revolutions have essentially paid for the present by borrowing from the future," he said, noting the rise of the fossil fuel economy.
"There needs to be a recognition that this industrial revolution, this kind of AI-enabled revolution, has got to be the first one that breaks that cycle," he told Axios.
Go deeper: Read Ben's full story here.
7. Take Note
On Tap
Trading Places
YouTube hired former Fox exec Alex Piper.
ICYMI
8. After you Login
Ever wanted to make your own 10-pound giant Tootsie Roll? Here's how.