I know many of you were without the internet for a chunk of the day Monday, so happy to get you all caught up.
https://www.axios.com/newsletters/axios-login-330402ee-5912-4359-a127-548d9c34a17b.html?chunk=0#story0
Public not impressed with Big Tech or Congress after hearings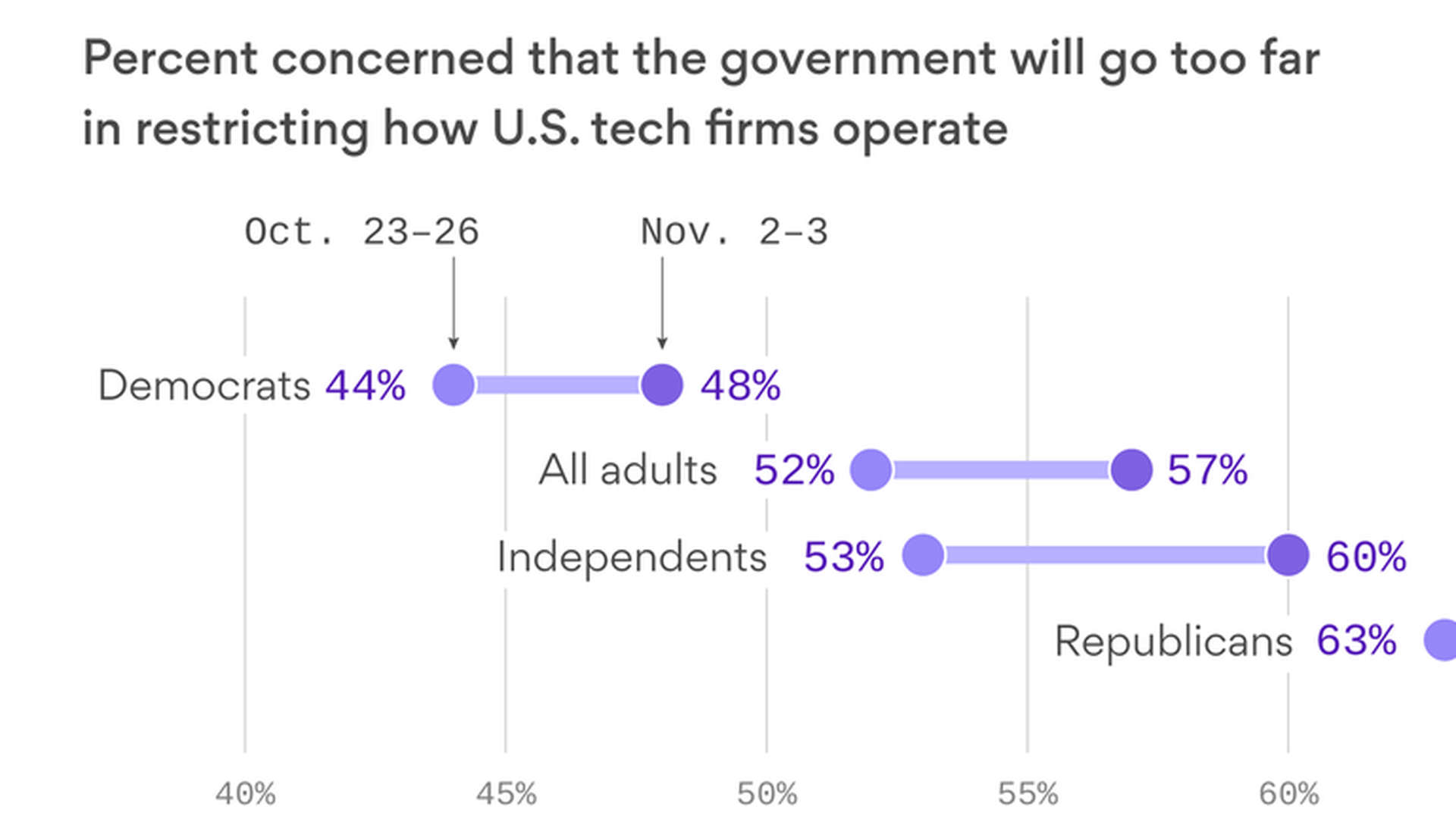 Most people didn't pay close attention to last week's congressional hearings with Google, Facebook and Twitter on Russia — but those that did thought both sides came out worse for it, losing confidence in how the companies and congressional leaders are addressing foreign election interference, according to an Axios-SurveyMonkey Poll.
Other key findings:
More Americans are now wary of the government going too far to regulate web platforms than before the hearings.
In a slight shift from the survey two weeks ago, a narrow majority of Americans now believe social media helps (rather than hurts) democracy and free speech.
Just 19% of people surveyed said they paid "a lot" of attention to coverage of the hearings, which were overshadowed by news about about Bob Mueller's investigation, tax reform and the NYC terrorist attack.
Why it matters: Americans weren't impressed by tech firms' explanation of how Russian actors took advantage of their platforms during the 2016 election, but most people still don't embrace regulating the web platforms to prevent it from happening again.
The bottom line: The hearings were seen as a chance for lawmakers on both sides of the aisle to slap Big Tech on the wrist for not taking enough responsibility for what happens on their platforms. But, according to the poll, the hearings' main impact actually worsened Americans' views of all involved. While those who changed their minds about congressional leaders or tech companies were more apt to say their views got worse rather than better, even more said the two days of testimony on Capitol Hill didn't impact their views at all.
https://www.axios.com/newsletters/axios-login-330402ee-5912-4359-a127-548d9c34a17b.html?chunk=1#story1
But Washington is not done with Big Tech
Take a deep breath: You know that sense of relief you feel, now that tech's marathon of Russia hearings is over? It's going to be short lived. Silicon Valley has a packed dance card in Washington over the next two months.
Here's what's coming up, per David:
A surveillance reform fight is going to play out around a key law that has to be reauthorized — or expire — by the end of the year.The Senate is pushing forward with a bill to weaken liability protections for online platforms when it comes to sex-trafficking.Congress wants to reform the federal tax code with implications for small startups and tech giants alike.The Russia investigation continues and several lawmakers are pushing a bill with new ad disclosure requirements for platforms.And on Thursday, Attorney General Jeff Sessions launched a new attack on encrypted data — meaning that fight could be on its way back, too.
https://www.axios.com/newsletters/axios-login-330402ee-5912-4359-a127-548d9c34a17b.html?chunk=2#story2
Highlights from Techonomy
Techonomy attracts the kind of speakers and attendees you might find at other Big Tech conferences, but with everyone taking a slightly longer-term look at the future. Later this morning, I'll be talking about the future of augmented and virtual reality with Unity's Tony Parisi and Accenture Labs' Marc Carrel-Billiard.
In the meantime, here are some notable moments from Monday:
Elevation Partners' Roger McNamee: "What we are learning under Trump is civilization is a thin veneer over savagery."
3D Systems CEO Vyomesh Joshi: By 2019, 10% of people in developed nations will live with a 3D printed device on or inside them.
Cisco's John Chambers: We'll all be eating crickets in 20 years. "The primary source of protein you will be having within your life, definitely within 20 years and maybe within 15, will be insects," he said, per CNET.
https://www.axios.com/newsletters/axios-login-330402ee-5912-4359-a127-548d9c34a17b.html?chunk=3#story3
Both candidates in Utah election used crowdfunding site
Today's special election in Utah makes an apparent first in online fundraising. Both candidates launched their bids using donations raised via crowdfunding site Crowdpac, which uses Kickstarter-like methods to raise money for political campaigns.
Democrat Kathie Allen and Republican John Curtis both started getting contributions before even entering the race, with Curtis having been drafted after backers had already raised several thousand dollars in pledges on the site.
As of Monday, Allen had raised more than $500,000 on the site, while Curtis had raised over $9,000.
The bottom line: The site's influence could grow as a number of House Republicans have announced they won't run for re-election. For example, Lamar Smith of Texas and David Trott of Michigan had challengers who had raised hundreds of thousands of dollars on Crowdpac before announcing their retirement.
https://www.axios.com/newsletters/axios-login-330402ee-5912-4359-a127-548d9c34a17b.html?chunk=4#story4
AT&T deploys its first flying cell tower to help in Puerto Rico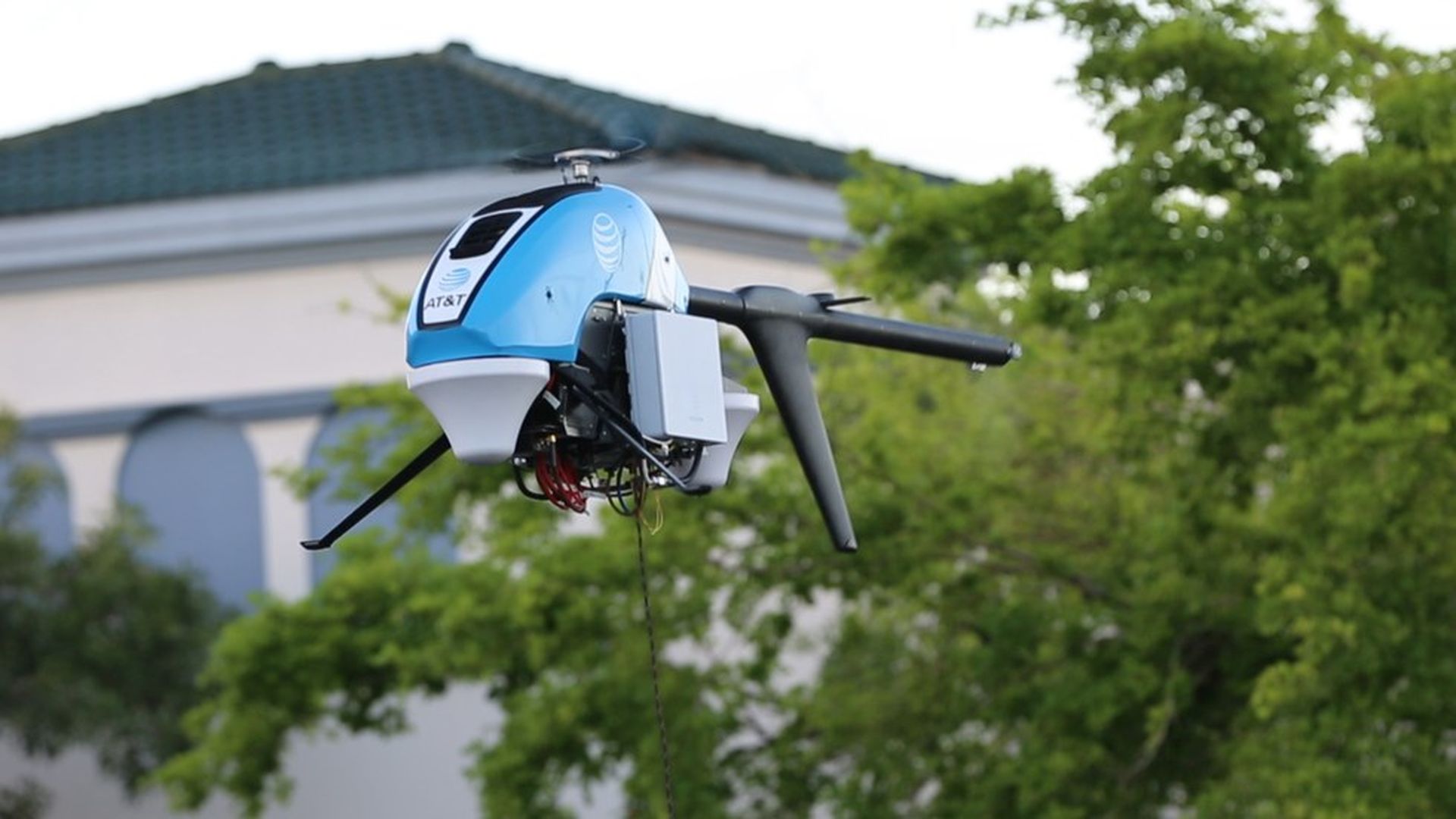 It's not uncommon for mobile operators to use mobile towers, known as Cell-on-Wheels, or COWs, for both special events and in the wake of natural disasters. AT&T, though, has been working on a flying cell-on-wheels. On Monday, the company said it will make its first real-world use of the drone-based system to help restore service in Puerto Rico.
Both AT&T and and T-Mobile are also making use of the Project Loon balloons from Google parent Alphabet to offer another option to get cell service to customers.
https://www.axios.com/newsletters/axios-login-330402ee-5912-4359-a127-548d9c34a17b.html?chunk=5#story5
Yes, but...
Sometimes the first headline on a news item doesn't tell the story nearly as well as a cutting take on that same news. We're highlighting just those occasions in our new recurring segment "yes, but..." Let me know what you think and feel free to send suggestions my way as well.
Yes, Will.i.am's tech startup raised $117 million to create a customer service voice assistant. But...entrepreneur Everette Taylor noted that is more than the other black founders he knows have been able to raise combined.
Yes, Google and Salesforce announced a partnership tying the CRM service with Google's G Suite.But...as some quickly pointed out, the announcement was reminiscent of one the two companies inked all the way back in 2008.
https://www.axios.com/newsletters/axios-login-330402ee-5912-4359-a127-548d9c34a17b.html?chunk=6#story6
https://www.axios.com/newsletters/axios-login-330402ee-5912-4359-a127-548d9c34a17b.html?chunk=7#story7