Today's Login is being written on a Virgin America plane from D.C. to San Francisco, or my "home office" as I like to call it.
https://www.axios.com/newsletters/axios-login-32ebfa80-1b0d-4174-b036-44e138a7fbd1.html?chunk=0#story0
Twitter's wake-up call on Russian election meddling
Twitter got a major dose of reality in the investigation over Russian election interference on Thursday, Axios' David McCabe reports.
What's happening: In a press conference Thursday after Twitter briefed the Senate Intelligence Committee staff, a visibly frustrated Mark Warner, the panel's top Democrat, laid into the social network for a briefing he called "frankly inadequate on almost every level." The senator said it pointed to a company that didn't understand the stakes.
"The notion that their work was basically derivative, based upon accounts that Facebook had identified, showed an enormous lack of understanding from the Twitter team of how serious this issue is, the threat it poses to democratic institution, and again begs many more questions than they offered," said Warner.
Why it matters: Twitter and Facebook, which also briefed the committee on Russian election meddling on its platform, are finding themselves out of their depth. Lawmakers like the usually even-keeled Warner will keep hammering this issue for months to come. This is an active probe into foreign espionage — not a wonky regulatory issue that can be swept aside by savvy lobbyists.
The details:
Warner's comments about Twitter came after Facebook was forced to promise to hand over the actual ads purchased by Russian actors before and after the election focused on divisive political issues.
He indicated that without companies being forthcoming about ad buys, "at some point these companies are going to test the confidence and faith that Americans have in their enterprises that's been built over the last few years."
Adam Schiff, the top Democrat on the House Intelligence Committee, was less outraged, but he agreed that Twitter needed to provide more. "Much of the information that Twitter used to identify Russian-linked accounts, however, was derived from Facebook's own analysis, and it is clear that Twitter has significant forensic work to do to understand the depth and breadth of Russian activity during the campaign," he said in a statement.
Twitter, Facebook and Alphabet had already been invited to testify publicly before the Senate Intelligence Committee on Nov. 1. The House committee has scheduled its own hearing for October. This dustup ramps up the pressure on company execs, who often dodge requests to testify, to show up.
Plus: CNN reported late Thursday that the Russian government was behind "Blacktivist" — an effort on Facebook and Twitter to stoke racial tensions ahead of last year's Presidential election.
By the numbers: Axios' Kim Hart digs into the Twitter findings that set Warner off, and Axios' Stef Kight looks at an Oxford study finding that Twitter users shared more fake news than mainstream news during the election.
Go deeper:
Read about how drama over the Russia probe is just one place where tech is facing
ratcheted up pressure
in Washington.
https://www.axios.com/newsletters/axios-login-32ebfa80-1b0d-4174-b036-44e138a7fbd1.html?chunk=1#story1
Judge grants public access to key document in Uber-Waymo case
On Thursday, the judge presiding over the Waymo-Uber trade secret theft lawsuit ruled that a due diligence report could not be kept confidential during the upcoming trial, Kia reports. The document was compiled last year by a forensics firm as part of Uber's acquisition of a self-driving truck company founded by former Waymo employees.
Why it matters: The report has been at the center of a battle in the case. Waymo believes it contains evidence that former employee Anthony Levandowski downloaded company files before resigning and planned to use the stolen trade secrets to develop Uber's self-driving car technology.
Levandowski, in particular, sought to keep the report from turning up in court — even appealing a judge's decision that it be included — by invoking his Fifth Amendment right. Thursday's decision struck down requests by all parties to keep part or all of the report for the courtroom only, meaning that now it will be publicly available in trial.
https://www.axios.com/newsletters/axios-login-32ebfa80-1b0d-4174-b036-44e138a7fbd1.html?chunk=2#story2
Rovio touts IPO on Finnish tram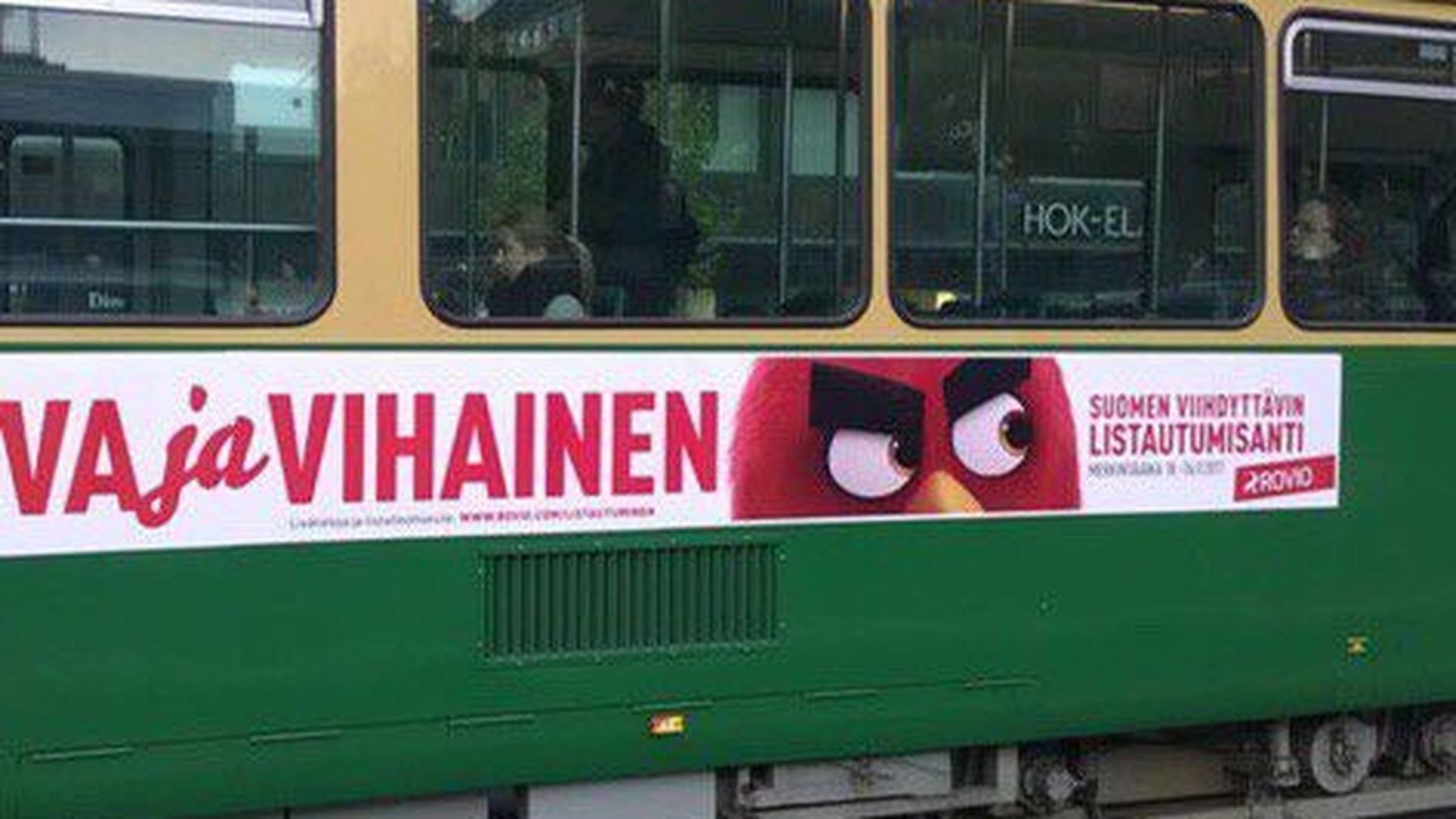 U.S. laws tightly limit how companies can market their public offerings, imposing a so-called "quiet period" where firms are limited to using a detailed prospectus to advertise the stock sale. Regulations in Finland appear to be a little less strict.
This photo shows a Finnish tram touting Angry Birds creator Rovio as "Strong and Angry — the Most Entertaining IPO in Finland," regarding its initial public offering happening today.
Kiitos to Tero Kuittinen, a strategist at app investment company Kuuhubb, for both the photo and the Finnish translation.
https://www.axios.com/newsletters/axios-login-32ebfa80-1b0d-4174-b036-44e138a7fbd1.html?chunk=3#story3
FCC chairman wants Apple to do the impossible
Federal Communications Commission chairman Ajit Pai, who was re-confirmed Thursday, put out a statement calling for Apple to activate the FM chips in the iPhone.
There's just one problem: The latest two generations of the iPhone don't have an FM radio chip. Some earlier versions do have a chip that includes FM capabilities, but Apple never connected the function to anything, so it's not like the company can just flip a switch to turn on the radio abilities.
The bottom line: Though not broadly popular, an FM radio option on cell phones could be useful in an emergency. But that still doesn't make Pai's request feasible.
Apple's response: Apple said in a statement that it "cares deeply about the safety of our users, especially during times of crisis" and points to other safety features on the iPhone.
"iPhone 7 and iPhone 8 models do not have FM radio chips in them nor do they have antennas designed to support FM signals, so it is not possible to enable FM reception in these products," Apple said in the statement.
Apple declined to comment on the FM capabilities of older iPhones.
https://www.axios.com/newsletters/axios-login-32ebfa80-1b0d-4174-b036-44e138a7fbd1.html?chunk=4#story4
Stat of the day: 300 feet
One fun thing: The average person scrolls through 300 feet of mobile content every day, Facebook creative director Andrew Keller said at this week's Advertising Week NYC.
Axios' Sara Fischer has more stats and analysis from the conference here.
https://www.axios.com/newsletters/axios-login-32ebfa80-1b0d-4174-b036-44e138a7fbd1.html?chunk=5#story5
Take note
On tap: The throwback Nintendo SNES Classic game console goes on sale Friday. The Verge says that supplies are expected to be super tight, though perhaps not as tight as those of last year's NES.
Trading places: Faced with ongoing antitrust battles and a bitter legal battle with Apple, Qualcomm continues to beef up its legal staff. Its latest hire is Koren Wong-Ervin, who joins as senior legal counsel from George Mason University's law school where she headed its Global Antitrust Institute.
ICYMI: Elon Musk wants a rocket to take people anywhere on earth in under an hour, and also to reach Mars as early as 2022, with manned flight as soon as 2024...IBM now has more employees in India than in the U.S., according to the NYT...Ikea bought digital odd jobs site TaskRabbit for an undisclosed price...Roku closed its first day of trading at $23.50, up nearly 68% from its IPO price of $14...Whole Foods is investigating a possible security breach...Girls Who Code CEO Reshma Saujani published a powerful op-ed in the NYT on why her group decided not to take part in a White House-backed effort to increase computer science education; it's well worth a read...Per Reuters, BlackBerry shares rose after the company posted record software revenue and a better-than-expected profit...Axios' Kia Kokalitcheva reports that two former 500 Startups partners, Elizabeth Yin and Eric Bahn, are raising up to $50 million for a new venture capital effort called Hustle Fund.
https://www.axios.com/newsletters/axios-login-32ebfa80-1b0d-4174-b036-44e138a7fbd1.html?chunk=6#story6