It's OK to stare directly at this newsletter. No special glasses required.
Startup aims to be a LinkedIn for job seekers with a record
Kia attended the first leg of Y Combinator's "demo day," its twice-a-year event at which startups participating in its accelerator program present their businesses in front of a room of investors and journalists. One startup that stood out was 70MillionJobs: a job-placement service for folks with a criminal record.
The opportunity: 70 million Americans have criminal records, according to the company (hence its name). Most of the current organizations helping them with employment are small non-profits. 70MillionJobs founder and CEO Richard Bronson believes there is an opportunity to build a large for-profit service. "This population is having their moment," Bronson told Axios.
The startup addresses a number of issues for job seekers, employers and cities aiming to cut back on recidivism by ensuring former inmates can find work:
Good job candidates might not pass background checks: 70MillionJobs can connect these candidates with employers that may hire them despite their background, says Bronson.
Bronson says that in some cases these candidates are even better suited for certain jobs because they're used to working hard and following directions.
In addition to helping employers find candidates (they're currently paying the company $250 when they hire a candidate), it's also in the best interest of municipalities for convicts to get jobs. 70MillionJobs ran a test program with the City of Los Angeles recently.
The backstory:
For Bronson, his company's mission is a personal one. Once living the high life on Wall Street (including some time working for the infamous Stratton Oakmont firm portrayed in
Wolf of Wall Street
), he found himself in prison for securities fraud after founding his own firm. Since getting out, he's spent time working with organizations that helps convicts get back on their feet, including as a director at Defy Ventures. A year ago he left to start working on 70MillionJobs.
Ellen Pao is the talk of Silicon Valley, again
Ellen Pao's lawsuit may have been ahead of its time, but her book could hardly come at a more critical time.
Pao made headlines a few years back with her groundbreaking, if unsuccessful, sexual discrimination suit against Kleiner Perkins. Issues of how women in Silicon Valley are treated were little talked about at the time, one of the reasons her case attracted so much attention.
In recent months, though, such issues have at last been getting discussed amid newly reported issues at Uber and a number of prominent venture capital firms.
And it is against that backdrop that Pao's book Reset is being released, with an excerpt published online and in the latest issue of New York magazine.
Social media was flooded with reactions to the excerpt from Ellen Pao's book. To me, the most poignant one summed it up in three words. Gartner's Augie Ray called it "painful, infuriating and necessary."
Other takes:
Google's Ravi Narasimhan said it was "taut and courageous" writing. "My daughter @natasharavinand and future techie girls owe you." he said.
Wired's Nitasha Tiku: "Even after covering the trial for weeks, I learned from & was taken aback by (Pao) telling her story in her own words," Tiku wrote. "It takes guts to address not just the facts, but all the whispers and ways people dismiss you."
Thomas Bukowski: "I will always have tremendous respect for (Pao) taking on what no one should ever have to, with a steadfast resolve."
Pao told Login the most meaningful response has been the support from those with similar experiences:
"Unfortunately, there is a set of people who don't understand and possibly will never understand or empathize with my and others' experiences as women or people of color, or, doubly removed, as women of color," she said. "I hope they change over time. I share my experiences for people who are looking for support and validation of their own experiences and for people who are looking to learn."
As production landscape shifts, theaters struggle to hang on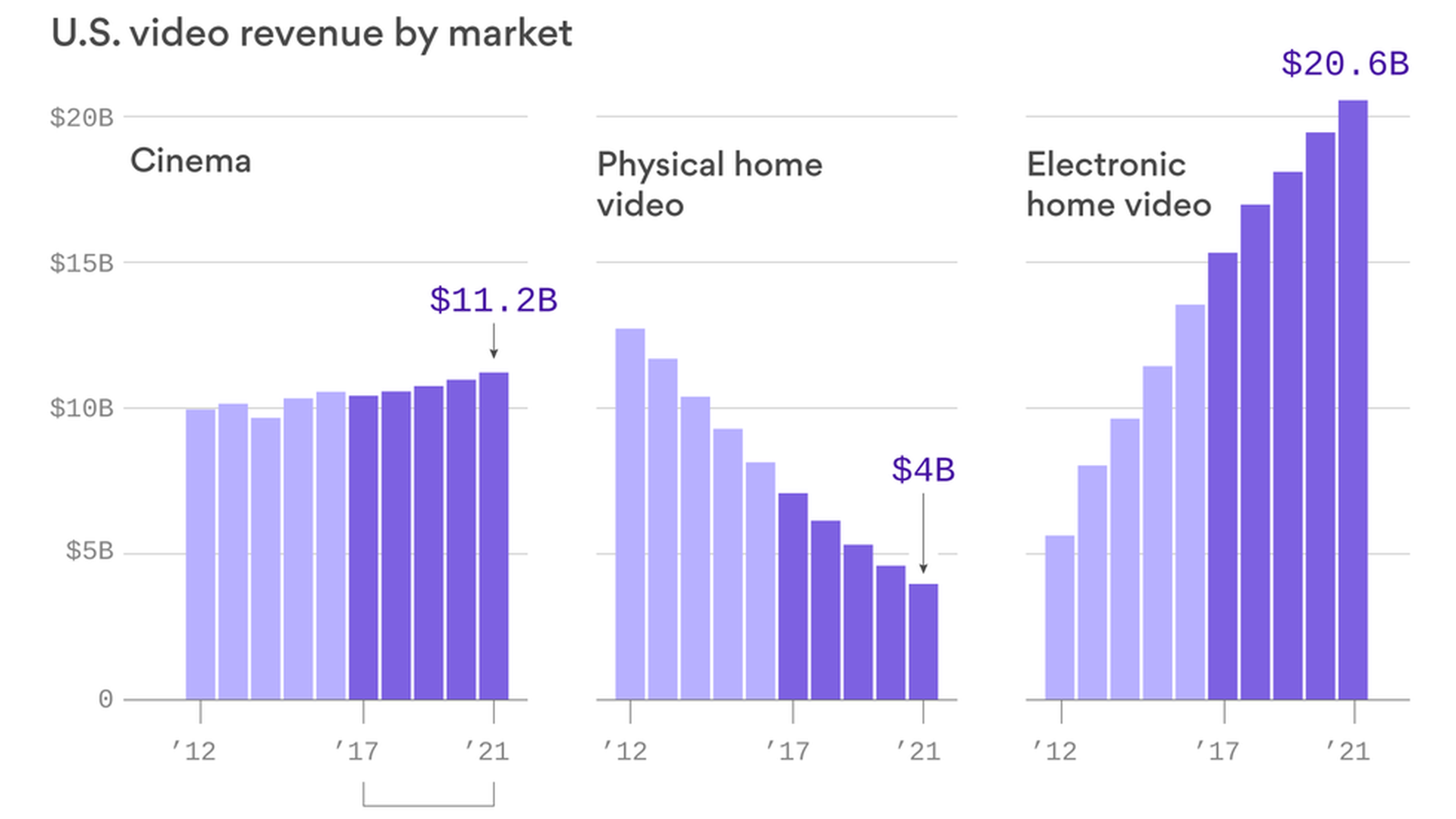 It's obvious the content landscape has shifted. Some of the biggest production budgets come from tech companies:
That leaves a lot of established players on shaky ground, even as the ground keeps shifting. Sara Fischer looks at a couple issues in her latest Axios Media Trends newsletter (As a reminder, you can sign up here.)
One of the most interesting questions is how theater chains will deal with the shift, which has seen roughly flat revenue for the last five years and is projected to grow only slightly in the next few years. The studios had been hoping to work with the theater chains on a deal that would allow in-home downloads during the traditional three-month window typically reserved for the big screen. Now, per Bloomberg, Warner Bros. and Universal are plowing ahead with talks with Apple and Comcast anyway.
Regardless of which way things shake out, theaters are going to have to continue to reinvent themselves. In-home options continue to grow as TVs get bigger and better. That means theaters are going to have to continue to experiment with things like draft beer, cozy chairs, virtual reality and more.
But: If the tech companies seem to have it all, think again. Another piece from Sara notes just how competitive things have gotten with so many video options. Netflix and Amazon have giant budgets, but so too do broadcast TV networks and cable channels like ESPN. Meanwhile, a host of new media companies like BuzzFeed, Mashable and Vice are also aiming to get some of those eyeballs.
The bottom line: It's not an easy time for anyone, except the consumer.
FTC may take a deeper look at AI
Acting FTC Chairwoman Maureen Ohlhausen said the agency hopes to take a closer look at artificial intelligence "because it has a consumer protection element to it but also has a competition element to it."
Why it matters: In a split from the Obama years, the federal government in the Trump era has done very little to look at the policy questions posed by AI, David reports. That's starting to change — at a time when Silicon Valley is pouring more money than ever into the technologies.
The bigger picture: Ohlhausen acknowledged there's promise in using artificial intelligence to process massive amounts of data. "They may say that you're at risk for cancer you didn't realize you were at risk for, or here's a product that would suit you really, really well," she said. "But it also could be used to harm consumers."
Ohlhausen argued that the FTC — which focuses on whether the consumer has been harmed — is equipped to address these challenges.
On a related note: The regulator was also asked about whether she would continue the efforts of the Obama administration to look at how algorithms can be biased. "We do enforce laws that are to protect consumers from discrimination, and I think that's appropriate for us to continue to think about and to continue to be vigilant for," she said.
After you Login
You'd have to be hiding under a rock to have missed hearing about yesterday's solar eclipse, but some of the photography is worth taking a look at. NASA has this collection of images, but my sentimental choice is this image, taken with the limited powers of a Nintendo Game Boy Camera (circa 1998).
If the sun comes up tomorrow, I am going to need content for another issue of Login. Send tips to ina@axios.com, or just hit reply.