Axios Login
September 16, 2021
I want to apologize to loyal "Lego Masters" watchers, several of whom emailed me to tell me they were still planning to watch the finale and would have liked at least a spoiler alert before I named the winners, as I did in the previous newsletter's After you Login.
Today's newsletter is 1,117 words, a 4.5-minute read.
1 big thing: 911's digital makeover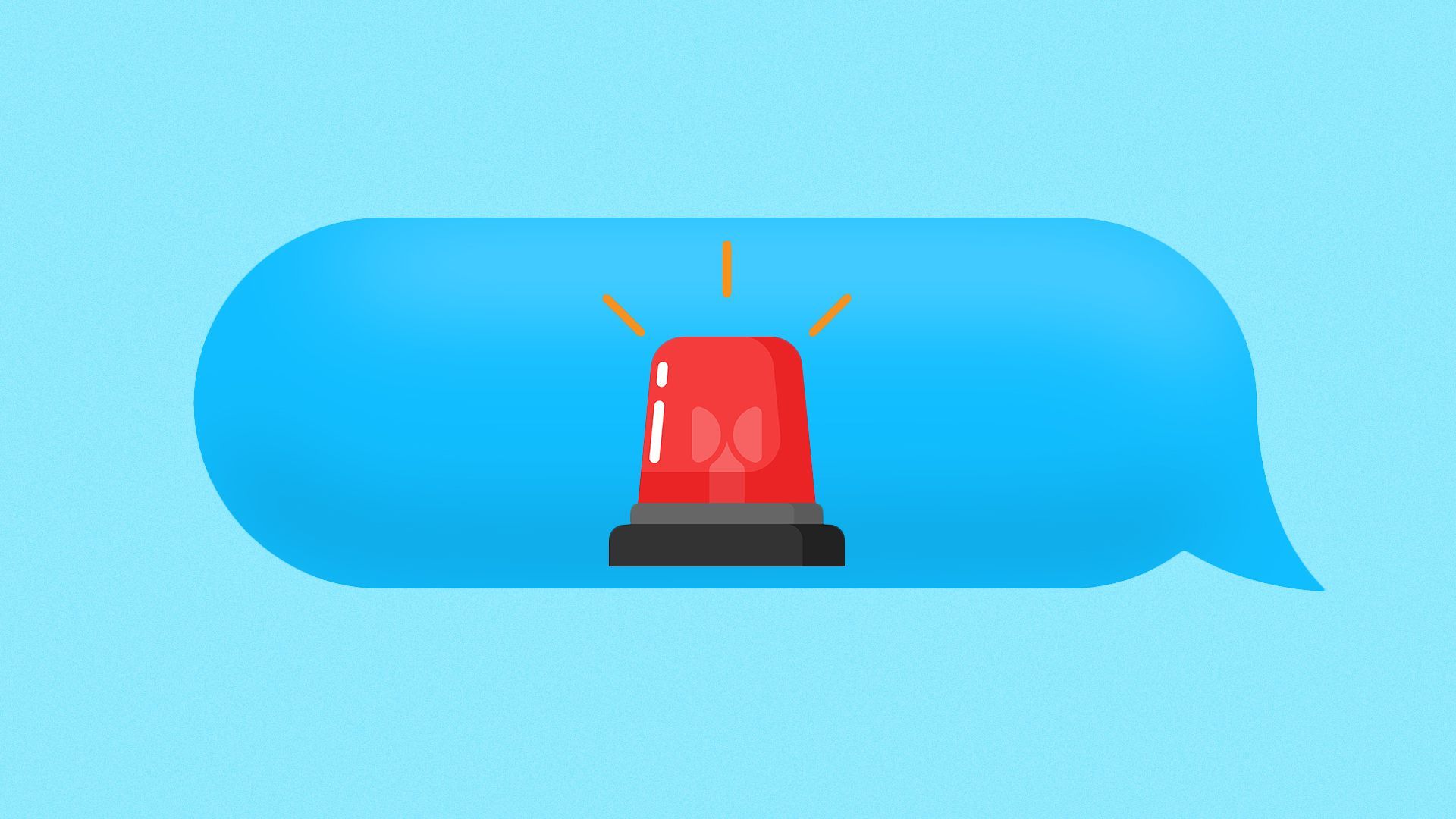 A next-generation 911 would allow the nation's 6,000 911 centers to accept texts, videos and photos.
The big picture: U.S. emergency communications have remained stubbornly analog, but Congress is about to take another run at dragging 911 into the digital age, Axios' Margaret Harding McGill reports.
Why it matters: Giving people ways to reach 911 beyond voice calls could save citizens' and first responders' lives.
Driving the news: Sen. Amy Klobuchar (D-Minn.), co-chair of the Senate Next Generation 9-1-1 Caucus, and Sen. Catherine Cortez Masto (D-Nev.) announced a bill Thursday that would create a $10 billion federal grant program for upgrades to the nation's 911 centers.
Similarly, the House Energy & Commerce Committee approved its own proposal this week for a $10 billion boost for next-generation 911 as part of the $3.5 trillion spending package.
How it works: Expanding 911 to accept more kinds of digital data would add more resiliency to a system that's still built around a copper-based telephone network.
According to the FCC, almost 3,000 911 centers are capable of receiving text messages. But none have full capabilities to take data from smartphones, said Harriet Rennie-Brown, executive director of the National Association of State 911 Administrators.
"You have this amazing device in your hand, and we can't use all of the information it's capable of sending us," Rennie-Brown told Axios.
The other side: Republicans opposed the House proposal during a marathon markup session Monday after Democrats voted against Republican amendments.
One amendment from Republicans would have prohibited the new funding from going to 911 centers in cities that voted on defunding their police departments.
The intrigue: The House proposal would not allow the funding to go to states that divert funds from the 911 fees on consumer phone bills to non-911 purposes.
The Federal Communications Commission, in an annual report spotlighting fee diverters, said five states used a portion of their 911 funds to support public safety programs unrelated to 911.
The FCC said Pallone's home state of New Jersey, and New York, home of Senate Majority Leader Chuck Schumer, also used a portion of their funds for either non-public safety or "unspecified" uses.
The FCC this year created a "strike force" to recommend ways to end 911 fee diversion, and that group is expected to vote on its report Friday.
2. Secondhand fashion and nonprofit fundraising rounds
Axios' Kia Kokalitcheva has exclusives on two big startup fundraising rounds:
Omaze, a company that helps nonprofits fundraise by organizing sweepstakes, raised $85 million in Series C funding led by Louis Bacon's Moore Strategic Ventures.
While Omaze's customers are nonprofits, the company is not only a for-profit but also taking in venture dollars — a financing model that's often criticized for pushing companies to prioritize growth and shareholder returns over their impact on society.
What they're saying: "We chose to start this as a business because we saw that we could have more impact as a business than a nonprofit," co-founder and CEO Matt Pohlson tells Axios.
"It's really to fight some of the forces in our society, so how do you harness them?" Pohlson added.
Tradesy, an online marketplace for secondhand high-end fashion goods, raised $67 million in Series D funding led by Foris Ventures.
With climate change (and, more broadly, social concerns) growing more prominent as investing issues, companies like Tradesy that help consumers cut down on their consumption and waste are seeing more interest.
"That's really what we're doing — to kill fast fashion," founder and CEO Tracy DiNunzio tells Axios, referring to the trend of apparel brands whose low-priced, quickly produced goods encourage consumers to constantly buy new items.
While Tradesy does sell Rolexes at $5,000 a pop, it also sells $70 sweaters, DiNunzio points out. The average clothing order value is only $85, she says. (It's $160 for shoes and $600 overall.)
3. Meet GoPro's latest camera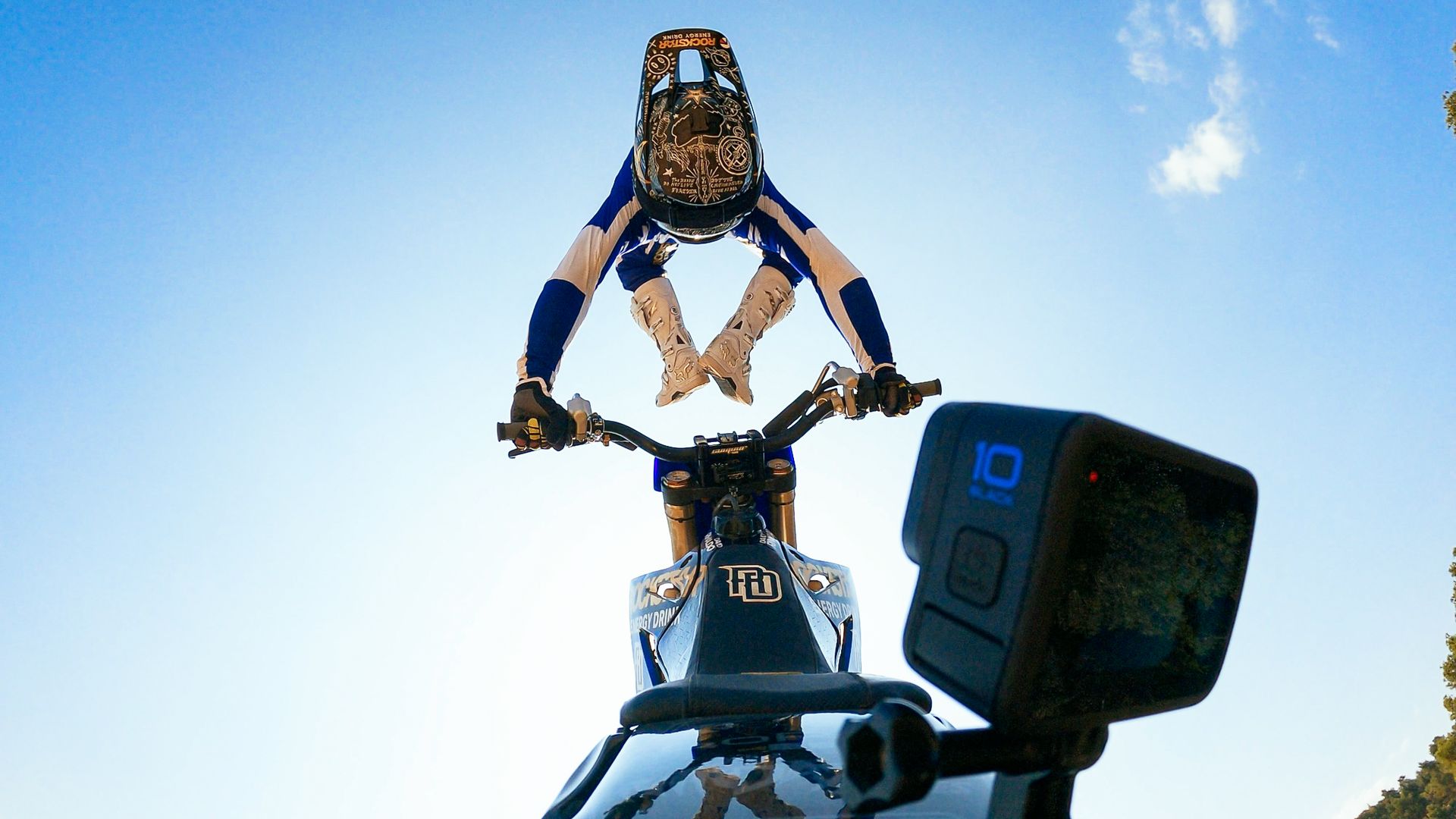 GoPro is launching the latest version of its flagship camera, the Hero10 Black, at an online event today.
Between the lines: At the onset of the pandemic, GoPro announced a plan to shift from a company whose products were sold overwhelmingly by retailers to one in which more sales are made directly to consumers.
At the same time, it faces the continued challenge of dealing with a world that has been far less adventurous in recent months, dampening the need for its product.
Details: The Hero10 Black works with the company's existing range of accessories but features an improved processor, enabling faster video frame rates and improved stabilization.
The camera also has better low-light performance, has an improved user interface and takes higher resolution images, capturing up to 23 megapixels of data.
It will sell for $399 with a one-year subscription to GoPro's paid service, or $499 without a subscription. Existing paid subscribers can upgrade their cameras and get several additional accessories for $399.
4. Microsoft lets users delete their passwords
Microsoft account users who want to forgo a password in favor of a stronger method of authentication can now do so, the company announced in a blog post on Wednesday.
Why it matters: Microsoft has been talking about the death of passwords for years. I remember Bill Gates talking about their coming demise back in 2004 (and declaring an end in sight two years later). But they've remained necessary, even for Microsoft's own services.
How it works: Over the coming weeks, customers will be able to rely solely on options such as the Microsoft Authenticator app, Windows Hello biometrics, a hardware security key, or a verification code sent to a phone number or email.
The passwordless option will be available for signing into services and apps including Microsoft Outlook, Microsoft OneDrive and Microsoft Family Safety.
Between the lines: Microsoft has offered business customers more sign-in options for a little while, but as of now customers can delete their passwords and rely solely on the other options.
The big picture: Experts have knocked passwords as a weak security method for years, but have remained widely used despite all their flaws.
5. Take note
On Tap
Today is Yom Kippur, the Jewish day of atonement. I'll be off today but the Axios tech team will make sure your inbox isn't empty tomorrow.
Trading Places
Longtime NPR veteran Nina Gregory announced on Twitter Wednesday that she is joining Clubhouse as its head of news.
ICYMI
Discord has raised $500 million in a deal that values the company at about $15 billion. (Bloomberg)
A Federal Trade Commission study listed hundreds of acquisition deals by Apple, Google, Facebook and Amazon that regulators failed to review thanks to companies' exploitation of "loopholes." (Bloomberg)
A union supporting workers at Activision Blizzard has filed an unfair labor practice complaint to the National Labor Relations Board. (Axios)
6. After you Login
If you need a little fun to tide you over until my return, I give you this.