DLD is over, but I am still in Munich for another day and a half. As a West Coast lifer, I do like being ahead of the East Coast for a change.
https://www.axios.com/newsletters/axios-login-1fc554a4-bdff-4d6b-8e39-c9b3a177572d.html?chunk=0#story0
Tesla Autopilot crashes reignite debate over limited autonomy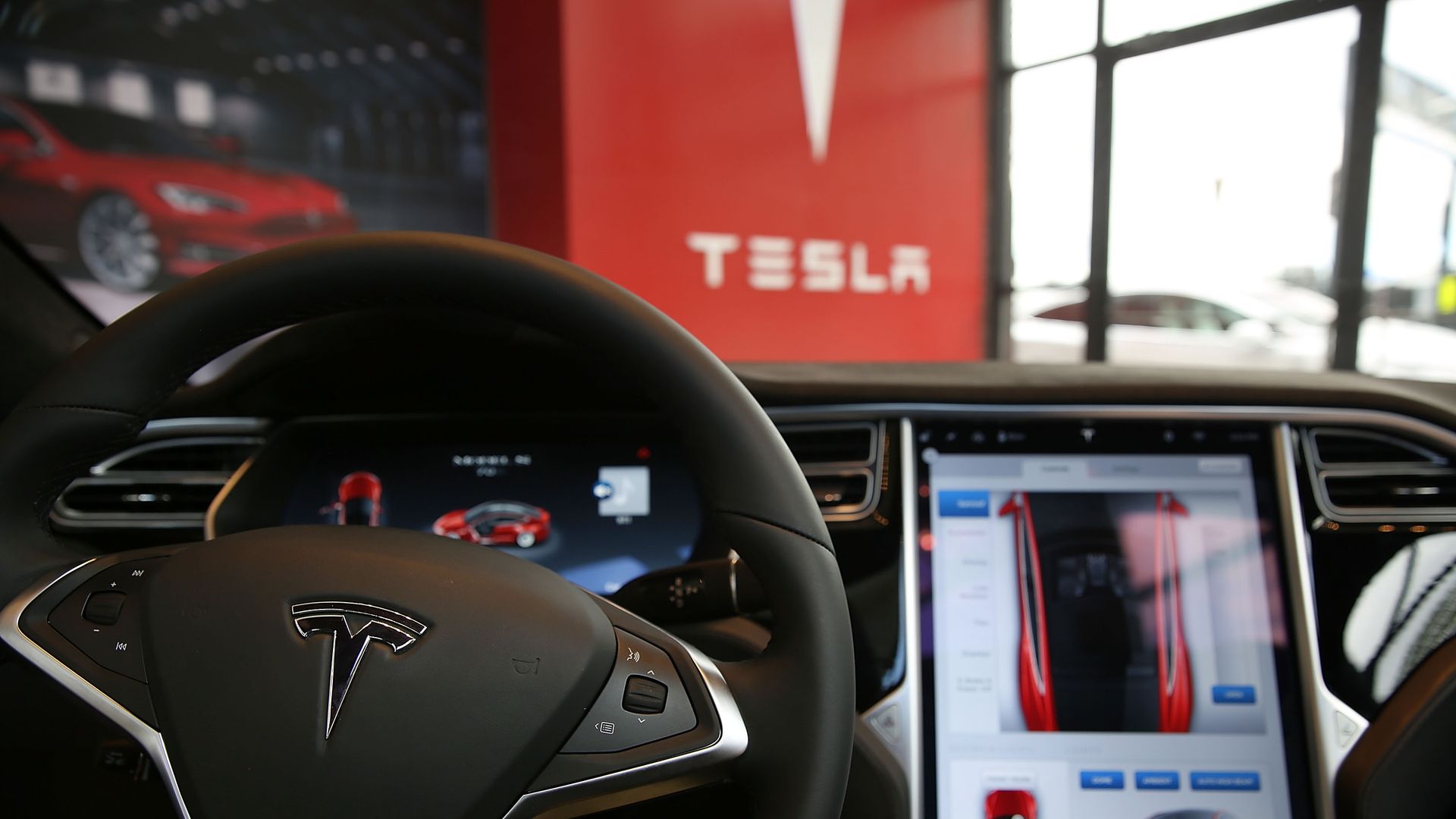 A string of Tesla crashes, where the drivers cited use of Autopilot as the culprit, is prompting renewed questions over whether humans can really be trusted with partially autonomous vehicles. In the most recent case, a Tesla slammed into a parked firetruck.
Driving the news: While many blamed the individual drivers for not paying attention, others have been making the case for some time that we need to go directly from driver control to full autonomy.
Bloomberg's Eric Newcomer put it smartly and succinctly in a Twitter post:
"The smart debate around Tesla's autopilot is whether humans can reasonably be expected to pay attention if they're offered something like autopilot. This is Google's whole position. Just yelling that the driver should have been paying attention glosses over the actual debate."
The other side: While features like "Autopilot" (especially with that name) are clearly problematic, elements of autonomy are already preventing crashes and saving lives. Some examples are features that keep cars from veering into another lane, those that prevent a front-end crash and assist with parking.
Meanwhile: If you are in Atlanta and want to try fully autonomous cars, you are in luck. Alphabet's Waymo is expanding its testing to another city, following a pilot program in Phoenix.
https://www.axios.com/newsletters/axios-login-1fc554a4-bdff-4d6b-8e39-c9b3a177572d.html?chunk=1#story1
Android can now tell you how fast Wi-Fi will be before you connect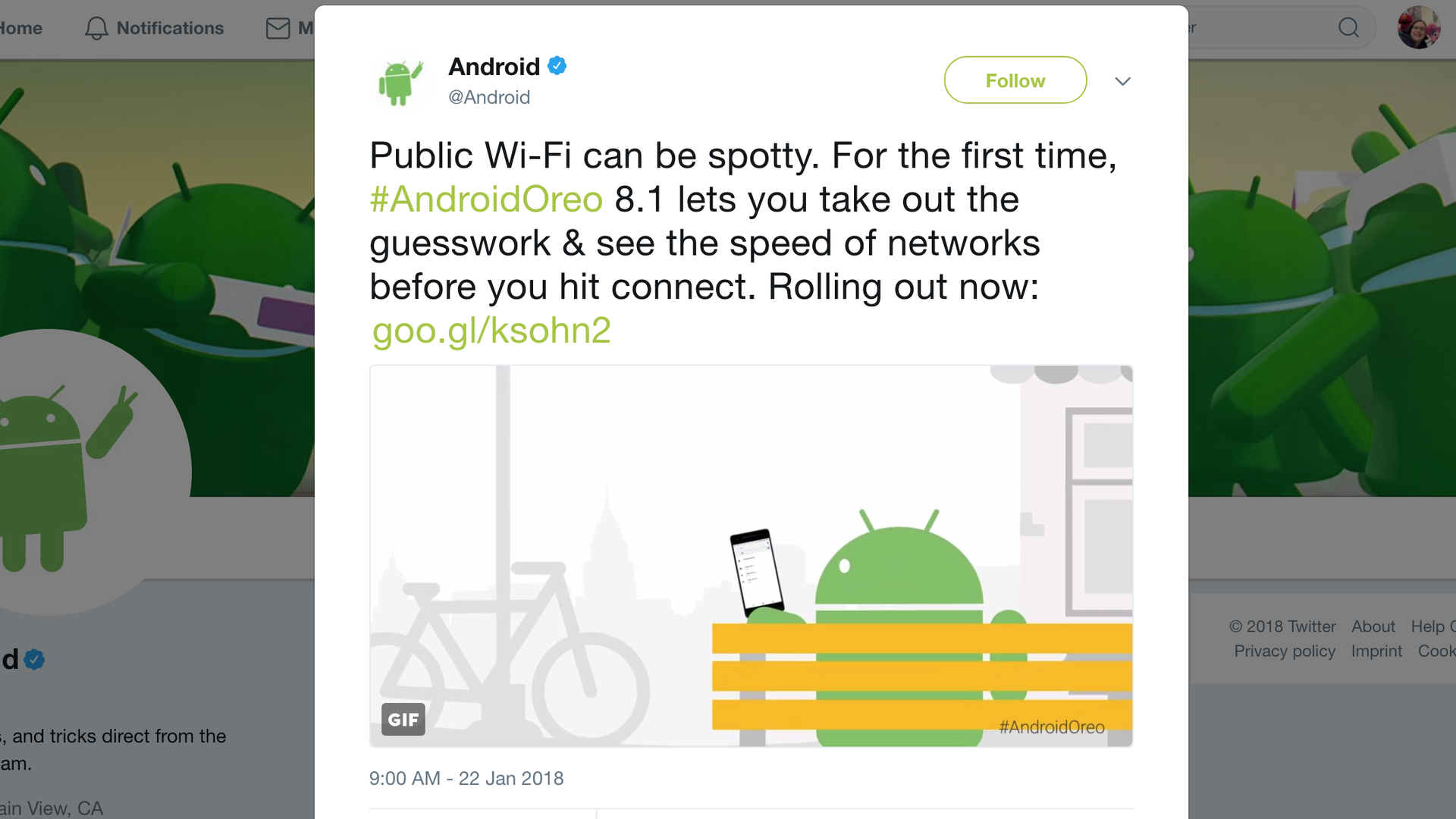 With the latest version of Android, people can now see how fast a Wi-Fi network is before they connect to it. Starting with Oreo 8.1, Android will describe each network as "Slow," "OK," "Fast" or "Very Fast."
Here's what those labels mean, per Google:
Slow: If you can use Wi-Fi calling, you can make phone calls and send texts.
OK: You can read webpages, use social media, and stream music.
Fast: You can stream most videos.
Very Fast: You can stream very high-quality videos.
My thought bubble: I'd like to see this feature on every mobile, computer and TV OS.
https://www.axios.com/newsletters/axios-login-1fc554a4-bdff-4d6b-8e39-c9b3a177572d.html?chunk=2#story2
Publishers want Facebook and Google to pay up
Digital publishers are fed up with Google and Facebook hosting their content without paying for it, Axios' Sara Fischer and Zachary Basu report. Several are calling for, or predicting, a relationship between web platforms and digital content providers that mimics the carriage relationships between TV networks and cable and satellite companies.
Why it matters: Platforms are looking to host more premium content, especially long-form video, as people migrate away from traditional TV. Their push for those ad dollars is empowering content creators with video expertise to demand premiums for the content they can provide.
Rupert Murdoch, CEO of News Corp and 21st Century Fox, says in a statement on Monday: "Carriage payments would have a minor impact on Facebook's profits but a major impact on the prospects for publishers and journalists."
Henry Blodget, CEO of Business Insider, tells Axios in an interview on Thursday: "The way [social media platforms] interact together I would suggest is the same way that cable TV companies and cable programmers interacted. You had to build the cable connections first, then you had to add the content on top of it. And ultimately, they are very symbiotic."
Ben Lerer, CEO of Group Nine Media, tells Axios on Monday: "The mechanism of having premium publishers participate in more meaningful way is absolutely coming. Inevitably, it will be in Facebook's best interest to support great content because it's a requirement for any kind of ad product they need to build around premium video."
My thought bubble: We've heard a lot of this before. The calls may be louder, but I'm not yet convinced they will be any more successful.
https://www.axios.com/newsletters/axios-login-1fc554a4-bdff-4d6b-8e39-c9b3a177572d.html?chunk=3#story3
Battelle's new task: Bringing political talk to Silicon Valley
As the conversation around technology shifts from gadgets and services to impact and policy, it's time for tech conferences to change too. At least that's the take of John Battelle, who has been a part of tech mainstays like Wired, The Industry Standard and the Web 2.0 Summit.
What's happening: Battelle's NewCo Shift Forum, which will hold its second annual conference next month in San Francisco, hopes to be a relevant force while tech is both under attack and seeping into every industry, dramatically impacting elections, policy, jobs, medicine and kids.
"The internet is now the oxygen of business, and it's the foundation of what's changing the actual social contracts between business and society," he tells Axios' Kim Hart. "It's tech that's been a significant factor — both positively and negatively — in getting us where we are. All these things are colliding and we have to have a conversation about it."
Topics driving the conversation:
Trust: Americans' trust in institutions — business, media, NGOs, government — has plummeted to record lows, according to Edelman's annual Trust Barometer survey. 
Techlash: Dominant tech firms — Google, Facebook, Amazon, Apple and Microsoft — are seeing an unprecedented backlash from their impact on the economy and society at large.
Political rift: There is the sharpest political divide in generations, and an uncertain regulatory environment for businesses.
Future of work: Significant changes can be seen in the nature of work and the expectations of employers, largely thanks to technology.
#MeToo: Silicon Valley needs to look at its culture and lack of gender equality.
Who'll be speaking:
Politics: Donna Brazile, Chris Christie, Eric Garcetti, Anthony Scaramucci
Tech: John Chambers, Facebook's Adam Mosseri, IBM's Michelle Peluso, Pinterest's Ben Silbermann, Reid Hoffman
Business: Starbucks' Kevin Johnson, Aetna's Karen Lynch, BlackRock's Debbie McCoy, P&G's Marc Pritchard, American Express' Susan Sobbott
Something you won't see at most conferences: 50% of onstage speakers are women.
https://www.axios.com/newsletters/axios-login-1fc554a4-bdff-4d6b-8e39-c9b3a177572d.html?chunk=4#story4
Big Tech sets lobbying records under Trump
Facebook and Apple spent more on federal lobbying in 2017 than ever before, per new disclosures.
By the numbers: Tech giants are fighting more fights than ever before, from tax reform to election integrity.
Facebook spent a record $11.51 million, up 34% from its spending in 2016.
Apple spent $7.07 million, a new record and up 51% from last year.
Google's spending rose 17% to $18.04 million — falling just short of the record $18.22 million it spent when under antitrust investigation in 2012.
Microsoft's lobbying fell 2% to $8.5 million.
https://www.axios.com/newsletters/axios-login-1fc554a4-bdff-4d6b-8e39-c9b3a177572d.html?chunk=5#story5
Take Note
On Tap
Texas Instruments reports earnings after the market closes.
Trading Places
ICYMI
https://www.axios.com/newsletters/axios-login-1fc554a4-bdff-4d6b-8e39-c9b3a177572d.html?chunk=6#story6