Don't let that juicy news tip burn a hole in your cranium. Hit reply or drop a note to ina@axios.com.
https://www.axios.com/newsletters/axios-login-1a422c94-a005-4d62-9af3-8c0544a499c3.html?chunk=0#story0
Google and Facebook's big weapon: all their apps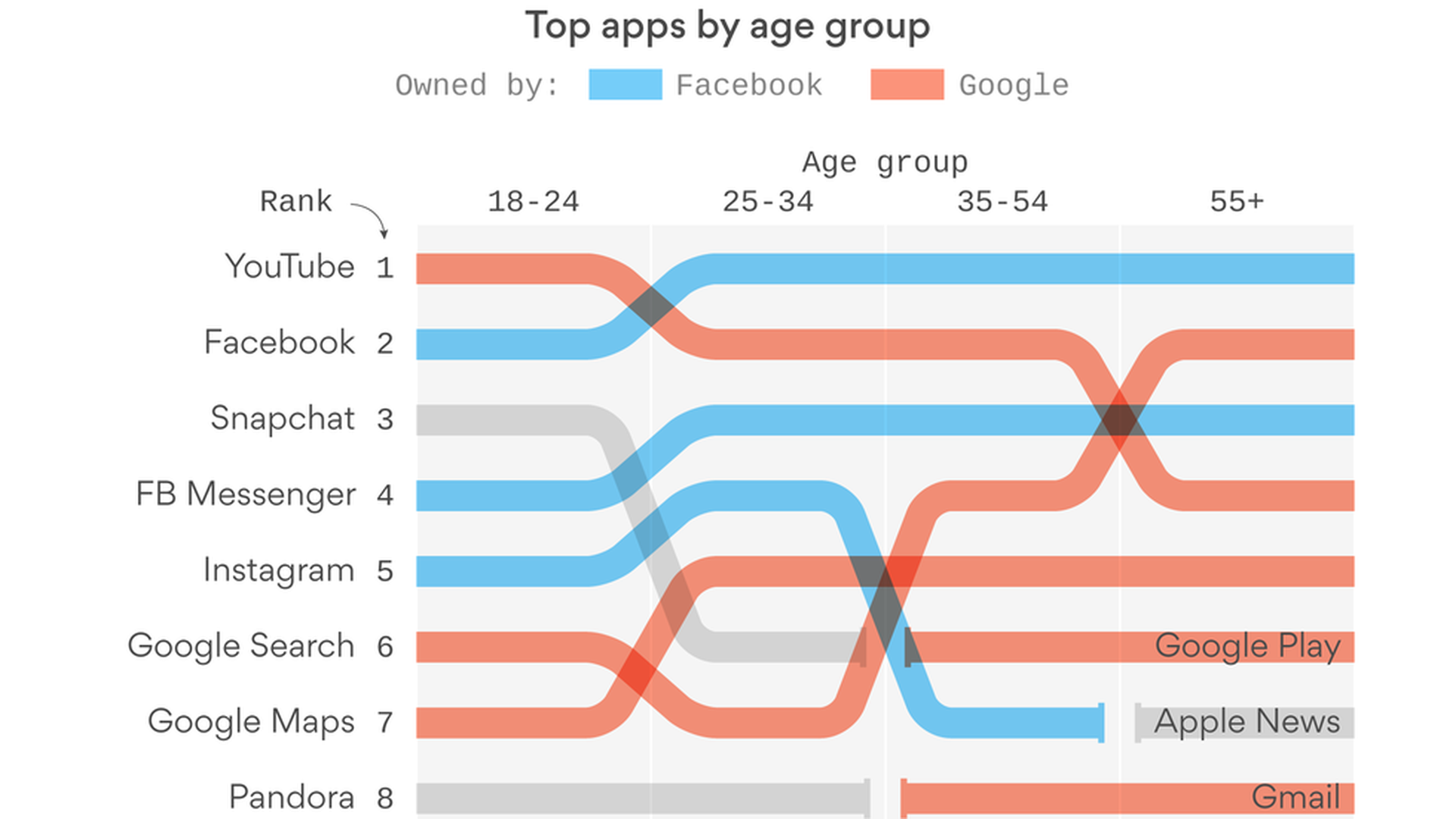 Two companies own nearly all of the top apps: Facebook and Google.
Why it matters: Smartphone apps account for half of all time spent with digital media, according to comScore's Mobile apps report. And when it comes to time spent on mobile, 87% of mobile time spent is on apps vs. 13% on mobile web, even though mobile web often receives higher traffic.
Plus: Smartphone users spend 96% of their app time within their Top 10 most used apps.
The exception: Snapchat, with 50% penetration among app users, is the top-ranked app not owned by Facebook or Google.
Follow the money: In-app advertising has become the fastest-growing mobile ad mediums, with revenue set to surpass $53 billion by 2020. App Annie estimates that by 2020, gross revenue across all app stores will exceed $101 billion globally.
Sara Fischer has more, including the top apps by category, in this post. Plus, to get all the latest, subscribe to her weekly Axios Media Trends newsletter.
https://www.axios.com/newsletters/axios-login-1a422c94-a005-4d62-9af3-8c0544a499c3.html?chunk=1#story1
Apple's big day: Sept. 12
Circle Sept. 12 on your calendar. That's when, according to the Wall Street Journal, Apple will have its big fall product launch.
And this year's event is shaping up to be a big one.
What's anticipated: The company is expected to announce three new iPhones, including incremental updates to last year's iPhone 7 and 7 Plus, along with a third top-of-the line model that includes new features like an edge-to-edge screen and face recognition capability.
But that's not all: Apple may also launch new models of the Apple Watch, including some with built-in cellular capabilities, as well as a version of the Apple TV that supports higher-resolution 4K content.
Busy month: Apple's launch date usually ruins the plans of some other tech event. Often it is TechCrunch Disrupt, but it looks like they dodged a bullet since their conference is the following week. Instead, Apple would appear to be stepping on Mobile World Congress Americas, which runs Sept. 12-14 in San Francisco.
https://www.axios.com/newsletters/axios-login-1a422c94-a005-4d62-9af3-8c0544a499c3.html?chunk=2#story2
Fitbit finally has a smart watch, but timing could be off
Fitbit finally launched its long-awaited smartwatch. The $299 Ionic has an array of sensors and supports digital payments and third-party apps, in addition to the usual step-tracking and other fitness measurements.
Yes, but: The debut of the Ionic comes just as Apple is expected to introduce an update to the Apple Watch, including models with built-in cellular abilities.
Potential breathing room: One feature not currently being fully utilized is an oxygen saturation sensor, which could eventually help track sleep apnea. CNBC reporter Christina Farr noted this on Twitter, prompting Fitbit CEO James Park to respond that the feature was "[u]ndergoing clinical trials right now," adding that a "lot of work has been done by our team to get this working on the wrist vs traditional finger location."
Critics' take: Reaction was mixed, though most were on the skeptical side. Gizmodo was the most optimistic, proclaiming "The Fitbit Ionic might be the smartwatch that unseats Apple." Daring Fireball's John Gruber, meanwhile, said the Ionic is "like an Apple Watch that got hit by the ugly stick."
https://www.axios.com/newsletters/axios-login-1a422c94-a005-4d62-9af3-8c0544a499c3.html?chunk=3#story3
What happens to billboards and radio when cars drive themselves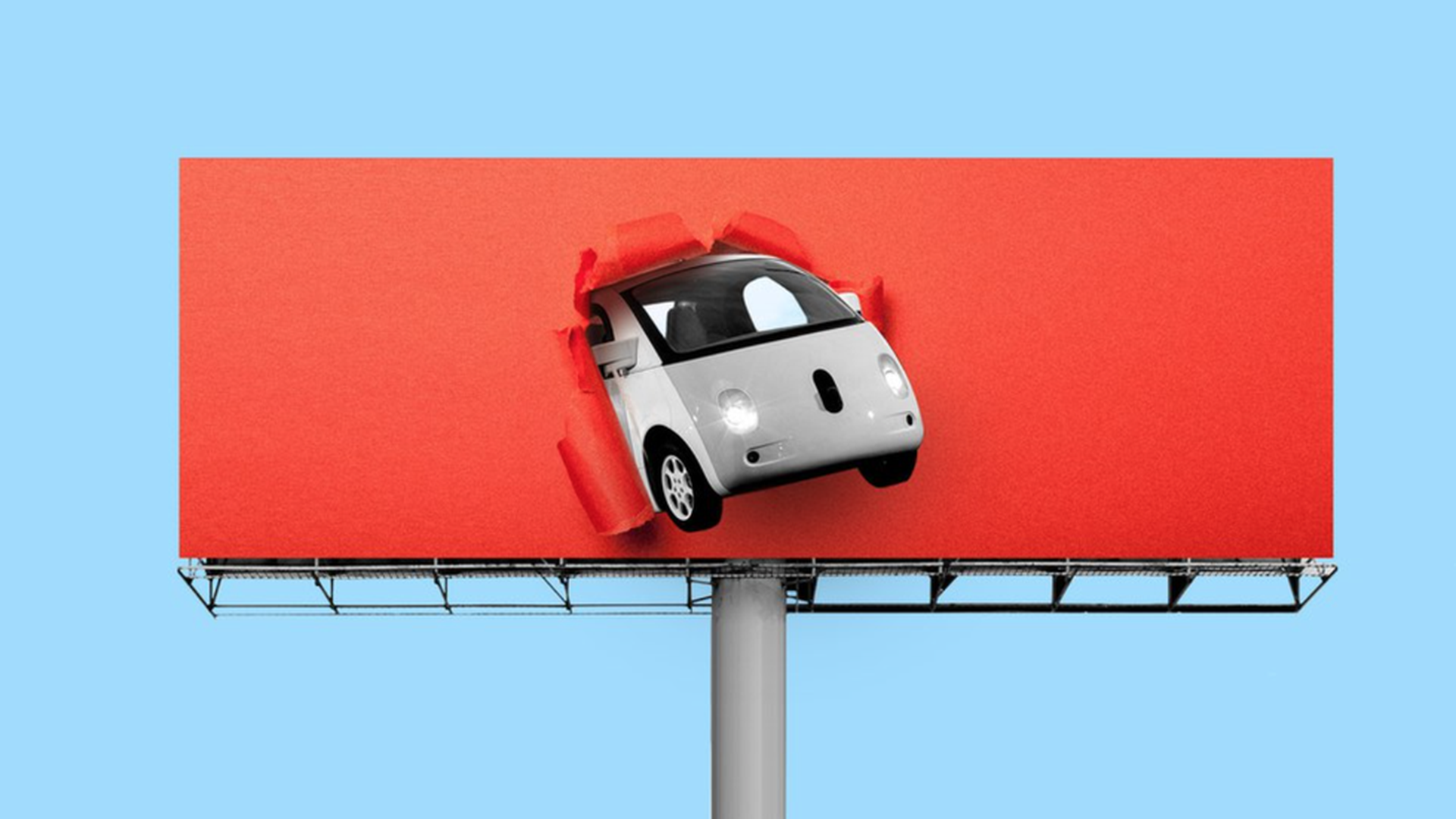 Billboards have long been fixtures on the sides of highways and the radio dial has been a permanent staple of the automobile dashboard to cater to the most captive audience in cars — the driver.
But what will happen to those advertising avenues when the driver no longer needs to keep their eyes on the road?
Sara and Kim have an interesting look at what the arrival of self-driving cars will mean for the future of billboards and radio.
https://www.axios.com/newsletters/axios-login-1a422c94-a005-4d62-9af3-8c0544a499c3.html?chunk=4#story4
Take note
On tap: VMware and Oktane continue in Las Vegas.
Trading places: Promising young Facebook engineer Michael Sayman is leaving to become a product manager on Google Assistant, Bloomberg reports. Sayman, who started at Facebook as a 17-year-old intern and was hired full-time at 18, will join Google in mid-September...Meanwhile, Google's top PR person, Jessica Powell, is leaving the company to attend grad school, per Recode.
ICYMI: New York City, which had given Windows phones to tens of thousands of cops, plans to switch over to iPhones by year's end, The Verge says...Uber says it will stop tracking riders after they complete their trips, Reuters reports...Getting an employment-related green card will take longer under new Trump administration rules...Mark Zuckerberg welcomed his second child to the world, penning an open letter (on Facebook, of course) to his new daughter, August. Gizmodo reporter Melanie Ehrenkranz quipped on Twitter that the Chan-Zuckerberg household now has more women than Facebook's board.
https://www.axios.com/newsletters/axios-login-1a422c94-a005-4d62-9af3-8c0544a499c3.html?chunk=5#story5