Get ready for a week of politics as the giants of tech descend on Capitol Hill. We'll set the scene in today's Login and have coverage throughout the week here and at Axios.com.
https://www.axios.com/newsletters/axios-login-19971bf0-ed1f-49c7-b578-b29d255da4c3.html?chunk=0#story0
Americans don't trust tech firms or feds to police Russian meddling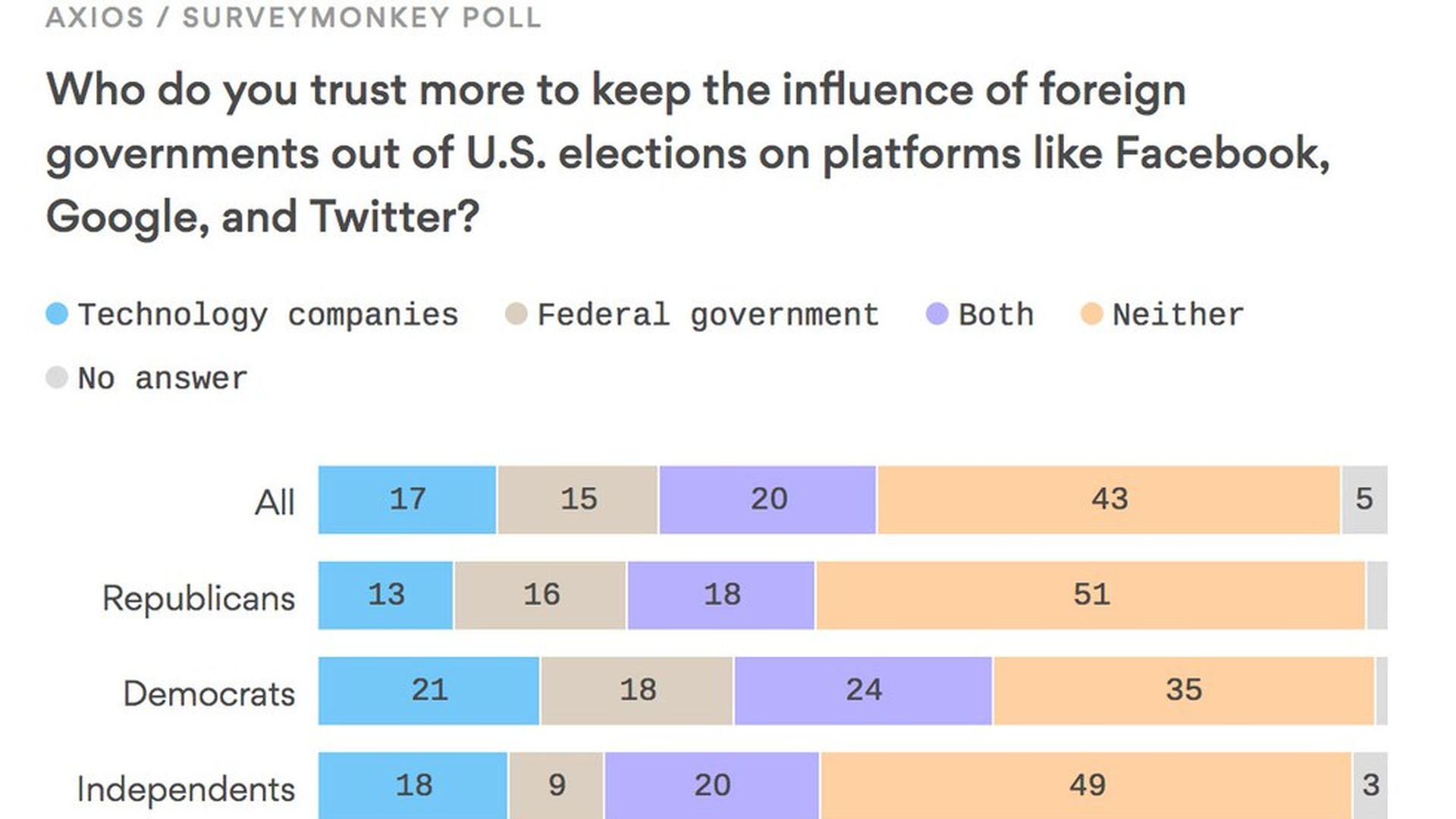 Ahead of this week's congressional testimony from Facebook, Google and Twitter, we worked with SurveyMonkey to figure out where people stand on election hacking, the tech companies and how to best handle attacks on the electoral system.
It turns out Americans don't trust tech companies or the government to prevent foreign manipulation of online platforms to influence elections, Axios' Kim Hart reports.
By the numbers: The Axios-SurveyMonkey poll conducted last week found the following views:
54% see Russians' use of technology platforms to meddle in U.S. politics as a serious issue that warrants investigation; 41% see it as a distraction.
51% say social media does more to harm than help democracy and free speech; overall 45% say social media does more to help.
When asked who has "a responsibility to identify and prevent foreign governments' interference in U.S. politics and elections" via tech platforms, 53% say both the federal government and the tech companies should share the burden.
Yet, 43% say "neither" when asked whom they trust more to keep such foreign influence off the platforms. Just 20% said they trust them both.
54% of those surveyed say they prefer human screening to monitor for inappropriate content, while 38% are fine with computer algorithms to do the job.
Why it matters: Congressional investigators are preparing to hammer tech execs on how Russian-bought political ads and content made its way onto their platforms to stoke chaos leading up to the 2016 presidential election.
Facebook and Twitter have spent the past few weeks scrambling to put in place new safeguards to prevent this sort of activity — all part of public relations strategies on both sides to show they are serious about cracking down on foreign interference in U.S. politics.
Go deeper: Read Kim's full piece here, which includes our findings and methodology. Meanwhile, check out this piece by Axios' David McCabe on just how concerned Americans are with meddling in the election in the first place.
https://www.axios.com/newsletters/axios-login-19971bf0-ed1f-49c7-b578-b29d255da4c3.html?chunk=1#story1
Q&A: Former Twitter election chief Adam Sharp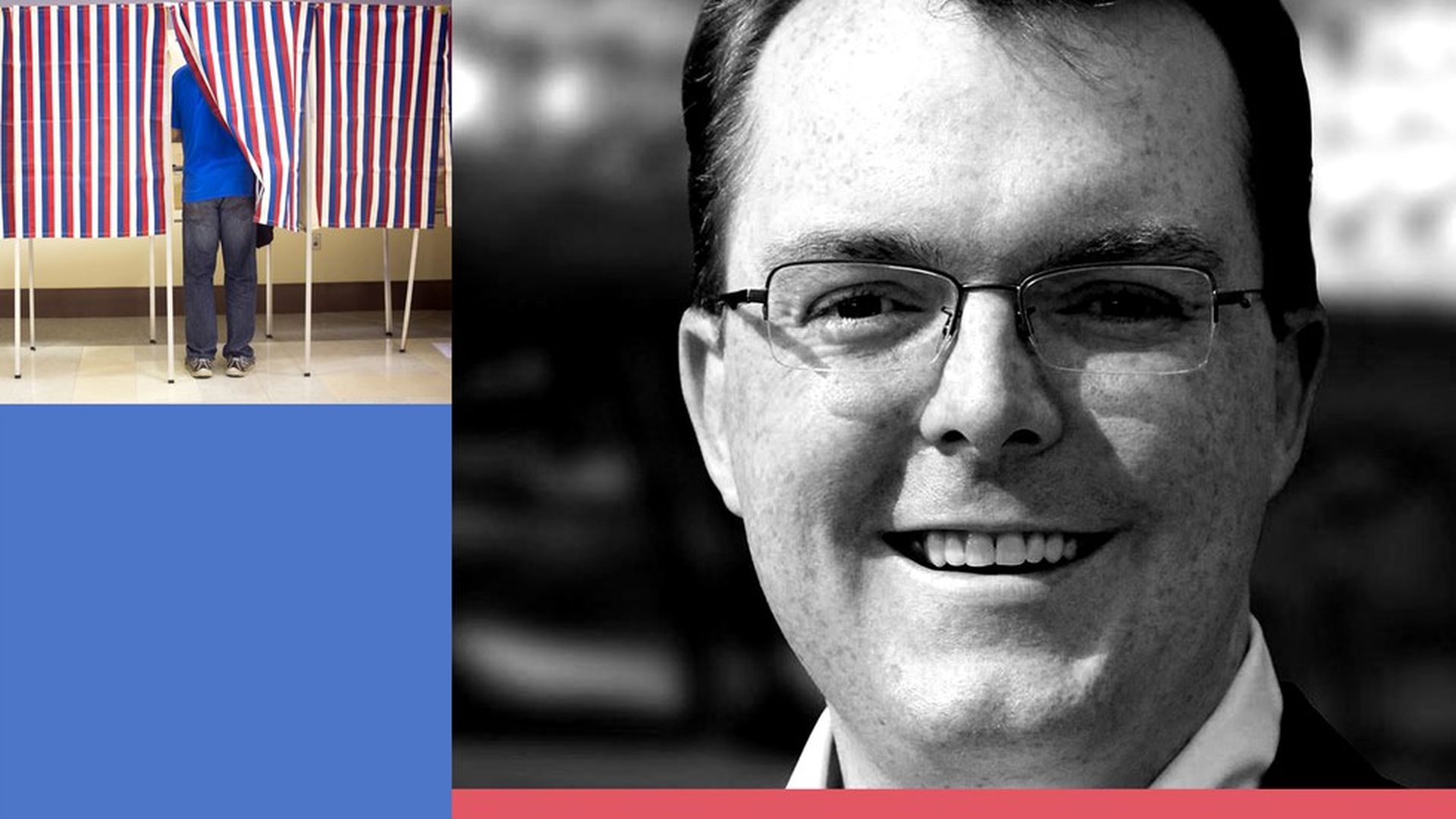 We also wanted to get an insider's take on things. Having led Twitter's strategy for the 2012 and 2016 elections, Adam Sharp has a unique perspective. Sharp, who left Twitter in December, weighed in during an email interview with Axios over the weekend. Here are some highlights:
You have been intimately involved in the questions around political disclosure on social media. How did we get to this point?
Neither the lawmakers, candidates, nor digital platforms ever really made transparency a priority. Campaigns and political groups tend not to want any more hurdles than they are absolutely required to have. Google and Facebook fought against disclosure. The FEC was paralyzed by partisan deadlock.
Why isn't it enough for the companies to come up with their own self-regulatory solution to this problem?
Two problems: consistency and enforcement. Allowing each platform to define their own standards would only make it harder for voters to have a consistent understanding of who is trying to influence them. Imagine the chaos if every TV station had different rules for how ads are disclosed and documented.
Second, their options for holding bad actors accountable are extremely limited. If someone is subverting the electoral process or committing any other crime, enforcement can't be limited to suspending a social media account. Regulators must set common standards, but shouldn't be overly prescriptive. The platforms should have room to find the creative implementations.
What else should internet platforms and social networks be doing going forward?
These companies represent the greatest concentration of talent on the planet for addressing complex, connective data challenges. If policymakers step up to set real-time, easy transparency as the expectation, these minds should respond with technical solutions as creative as those that have so changed our world in the last decade.
Here's more from Kim and David's interview with Sharp.
https://www.axios.com/newsletters/axios-login-19971bf0-ed1f-49c7-b578-b29d255da4c3.html?chunk=2#story2
Google CEO puts hamburger emoji question on his plate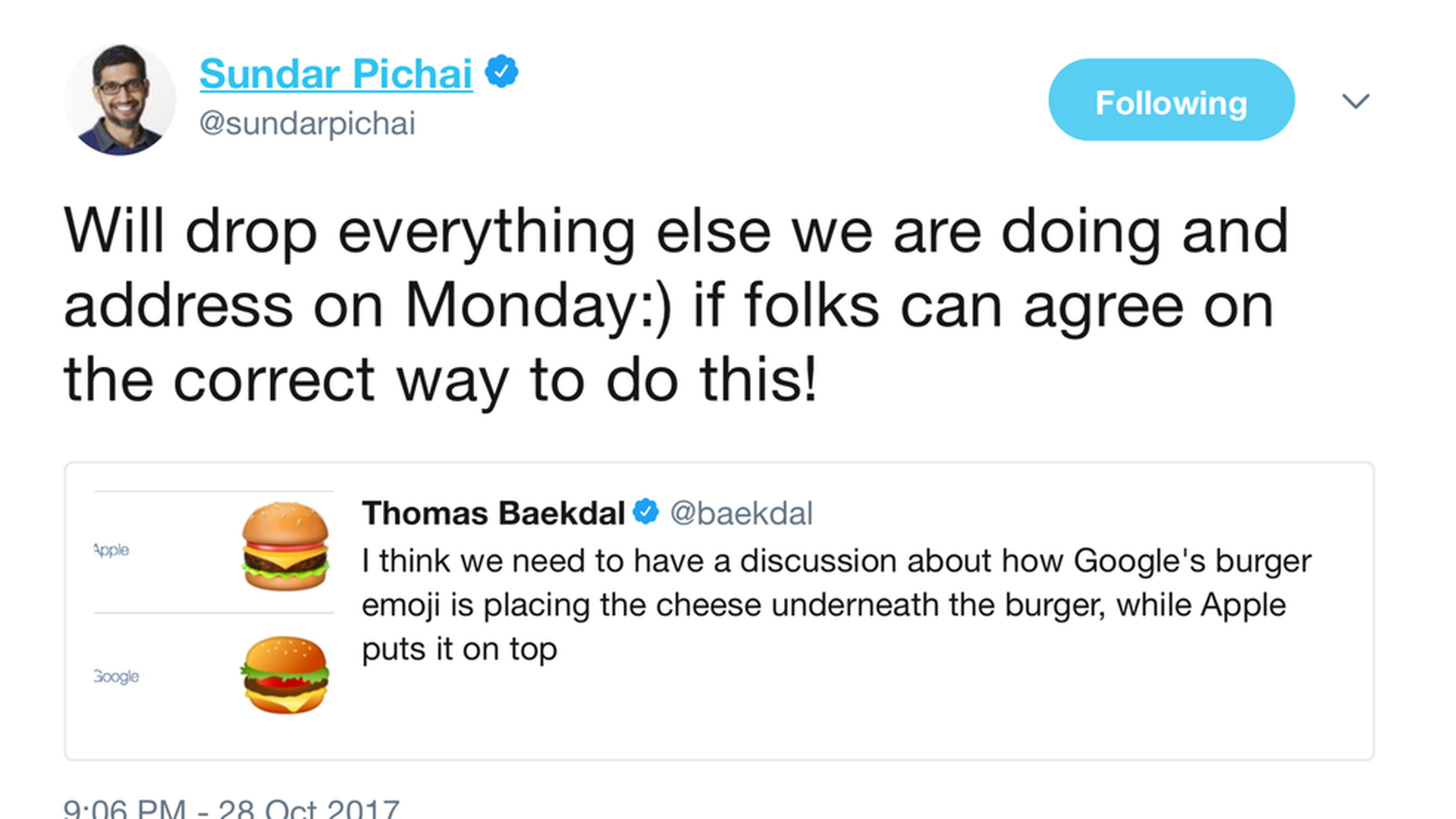 Google CEO Sundar Pichai waded into a meaty controversy over hamburger emoji over the weekend, promising he would make the issue a priority — if those upset with the Google version of the burger could agree on how it should appear. (Google's current burger has the cheese under the patty.)
"Will drop everything else we are doing and address on Monday:) if folks can agree on the correct way to do this!" Pichai said in a tweet Saturday.
The response: Lots of people waded in, including yours truly. By Sunday evening more than 1,500 people had replied to Pichai's tweet. There was discussion on everything from where the lettuce should go, to how other platforms have built their burgers.
Susan Fowler, whose memo helped shine a spotlight on Uber's sexual harassment issues, wasn't shy with her thoughts on #burgergate.
"There is only one way: the cheese must melt directly on top of the patty," Fowler wrote on Twitter.
Meanwhile, Microsoft's Scott Hanselman pointed out on Sunday that while Google and Apple both were criticized for their burger, Microsoft's seemed to have it right all along.
"Microsoft's leadership in this space is conveniently ignored," Hanselman tweeted. "Apple/Google will change to meat, cheese, tomato, lettuce and get credit ;)"
Facebook also took credit for having better burger know-how than either Google or Apple.
https://www.axios.com/newsletters/axios-login-19971bf0-ed1f-49c7-b578-b29d255da4c3.html?chunk=3#story3
Take note
On tap: Scheduled earnings reports include Apptio, Equifax, Level 3 Communications and RPX Corp.
Trading places: Uber named former Justice Department official and Pepsi general counsel Tony West as its chief legal officer.
ICYMI: Vox Media CEO Jim Bankoff talks about the shifting media landscape, at an Axios event presented by Charter Communications this morning...GameStop is turning its stores into a modern day Blockbuster, offering video game rentals, per Mashable...Elon Musk tweeted out the first photo of his Boring Co.'s LA tunnel...Adding fuel to the Sprint-T-Mobile fire, Reuters reports that Deutsche Telekom CEO Tim Hoettges made the case that a stronger No. 3 player would be good for the U.S. wireless market. (Deutsche Telekom is the largest shareholder in T-Mobile US)...Donald Trump ally Roger Stone Jr. was suspended by Twitter.
https://www.axios.com/newsletters/axios-login-19971bf0-ed1f-49c7-b578-b29d255da4c3.html?chunk=4#story4
After you Login
Forget "Stranger Things," checkout this Sesame Street parody "Sharing Things".