Axios Login
June 17, 2022
Hello there. Just a quick scheduling note that we will be off Monday in commemoration of Juneteenth, but back in your inbox on Tuesday.
Situational awareness: Elon Musk's SpaceX has fired several employees who organized an open letter protesting Musk's behavior, the New York Times reports. The firings occurred the same day Musk addressed Twitter employees (see below).
Today's newsletter is 1,225 words, a 5-minute read.
1 big thing: Slew of tech proposals stuck in Congress logjam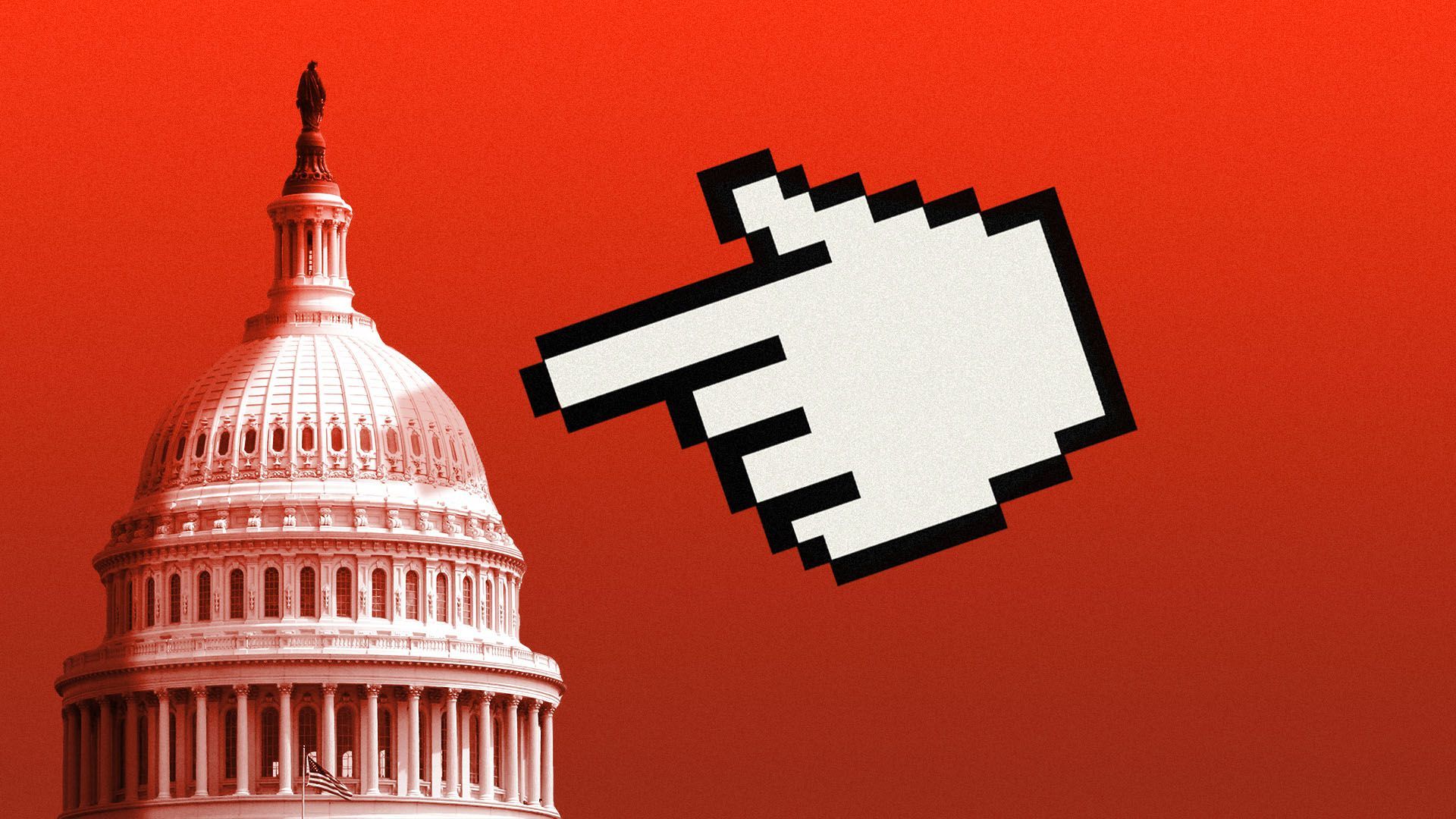 A glut of major tech policy bills await action as Congress' summer recess looms — and anything that doesn't pass by then is unlikely to pass at all in a midterm election season, Axios' Ashley Gold reports.
What's happening: The ambitious tech agenda this Congress started out with 18 months ago is getting squeezed out by other legislative priorities, including gun control, the Jan. 6 investigation, and the economy.
Here are the key tech bills in Congress' queue:
The United States Innovation and Competition Act: This measure to strengthen the U.S. chip industry was thought of originally as an easy win for both parties to boost American tech competitiveness, particularly with China, has been bogged down in negotiations.
Congressional leadership has told lawmakers negotiating the final text of USICA their time is almost up.
Per Punchbowl News, a version that may ultimately pass will be slimmed down significantly and mostly focus on chip manufacturing and research.
The American Innovation and Choice Online Act: The most-likely-to-pass of this Congress' spate of tech antitrust bills would significantly change how giants like Apple, Amazon, Google and Meta do business by not allowing them to preference their own products.
The American Data Privacy and Protection Act: Congress has been trying to pass a comprehensive personal data privacy bill for years now, with many stops and starts.
Filling the Federal Communications Commission's empty seat: Democratic FCC chair Jessica Rosenworcel's agenda is stymied without the confirmation of Gigi Sohn as a Democratic commissioner, as Axios previously reported.
That's stalling the Biden administration's effort to tackle digital equity and expand broadband access.
Curbing data brokers: After the leak of a U.S. Supreme Court draft decision overturning Roe v. Wade, a number of lawmakers said legislation would be needed to protect online data around reproductive care and abortion access.
Sen. Elizabeth Warren (D-Mass.) and others introduced a sweeping bill that would ban data brokers from selling location and health data this week, following another attempt to regulate data brokers for military personnel. But time looks too short for these efforts to advance.
Yes, but: Congress isn't the only player in the tech-regulation game.
What to watch: Bipartisan support was supposed to help move some of these proposals forward, and could keep some of the ideas alive even after midterms. But if Republicans take the gavel in January in the House, the Senate or both, they'll bring very different priorities to these issues.
2. Musk takes heat from Twitter workers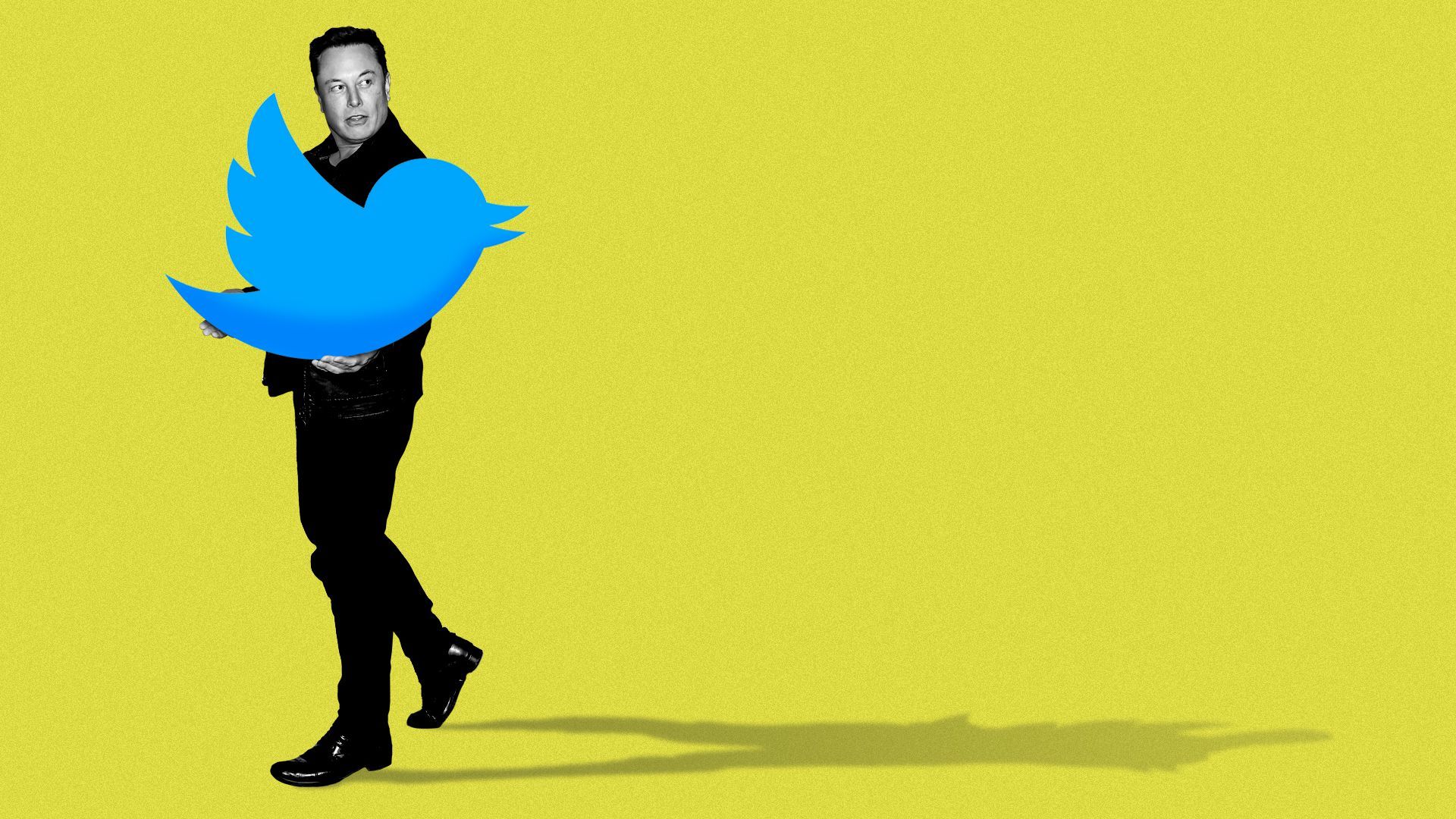 Elon Musk's first meeting with Twitter employees on Thursday trod largely familiar ground and was unlikely to win over workers who are skeptical of his plans for the company, Axios' Scott Rosenberg and I report.
Yes, but: True to form, Musk showed up late, rambled and seemed less interested in inspiring his future workforce than in expressing himself on everything from bots to aliens.
What's happening: During the hourlong meeting, Musk reiterated that he wants to boost the number of overall Twitter users to a billion, make the platform a haven for free speech, open-source the algorithm that determines what posts users see and use China's WeChat as a model for how Twitter could move to the center of users' lives.
Here are some highlights of what Musk said, per an Axios source on the call:
On remote work: Musk, who has told employees at Tesla that they should work 40 hours on-site or leave the company, left a little more wiggle room for Twitter workers. "Exceptional" employees could keep working remotely, he said, but he believes remote work harms morale.
On whether he will be Twitter's CEO: He said that's not the title he has at Tesla, and that he intends to focus on making product-related decisions at the company. (Fact check: Musk may have given himself alternate titles internally, but Tesla still lists him as CEO in its regulatory filings.)
On diversity and inclusion: Musk said his idea of inclusion is getting Twitter to a billion users. He said he believes the company itself should be a "meritocracy."
On his long-term goals: Musk said he will judge his success by whether Twitter is "advancing civilization and consciousness."
On Twitter as a business: He reiterated his interest in developing more for-pay services. "Right now, costs exceed revenue. That's not a great situation," he said, per live blogs at the New York Times and Bloomberg.
On aliens: "I have seen no actual evidence for aliens," he said, although that does not seem to have been one of the questions employees were asking.
The big picture: Musk's bid to purchase Twitter has been a rollercoaster ride, with the billionaire threatening to pull out unless the company provides more information about bots and fake accounts on the service.
Musk wasn't asked specifically whether he remains committed to the deal and didn't address the issue.
Our thought bubble: If Musk had anything new to tell the world about his plans, he didn't choose to share it with his future employees, and rather than wooing them, he threw down a gauntlet: "If someone is getting useful things done, great. if not, why are they at the company?"
3. Adobe won't slow hiring, says demand is strong
Adobe trimmed its financial outlook slightly as it reported second quarter earnings Thursday, blaming its pullout from Russia and the impact of a strong dollar.
Yes, but: A top executive tells Axios that the company has no plans to slow hiring and insists demand remains strong.
Why it matters: In pulling together its outlook, Adobe not only has insight into its own business, but lots of data on the broader economy, thanks to its widely adopted digital marketing tools.
"Not only does demand remain strong, it remains consistent," Adobe's David Wadhwani told me in an interview on Thursday.
Adobe hired 1,500 people last quarter and, unlike many other tech companies, isn't scaling back its hiring plans, Wadhwani said.
The other side: Investors weren't so sure, sending shares down more than 5% in after-hours trading following the earnings report.
Between the lines: Wadhwani, who is president of Adobe's creative cloud and document cloud businesses, credits new products, such as Adobe Express, for allowing the company to expand to new customers.
Express brings together features from products like Premiere, Acrobat and Photoshop in a project format designed to appeal to a broader audience.
"It's even made our legal and finance teams creative," Wadhwani said.
5. After you Login
With the death of Internet Explorer this week, fans and critics around the world have found clever ways to commemorate the long-lived, if not always loved, browser.