Axios Login
October 19, 2021
One final reminder to join Axios' Sara Kehaulani Goo and me today at 12:30pm ET for a virtual event examining the current inequities within hiring practices, product development and machine learning in the tech industry today.
Guests include Girls Who Code CEO Tarika Barrett and TechEquity Collaborative co-founder and CEO Catherine Bracy. Register here.
Today's newsletter is 1,109 words, a 4-minute read.
1 big thing: Amazon's small-business shield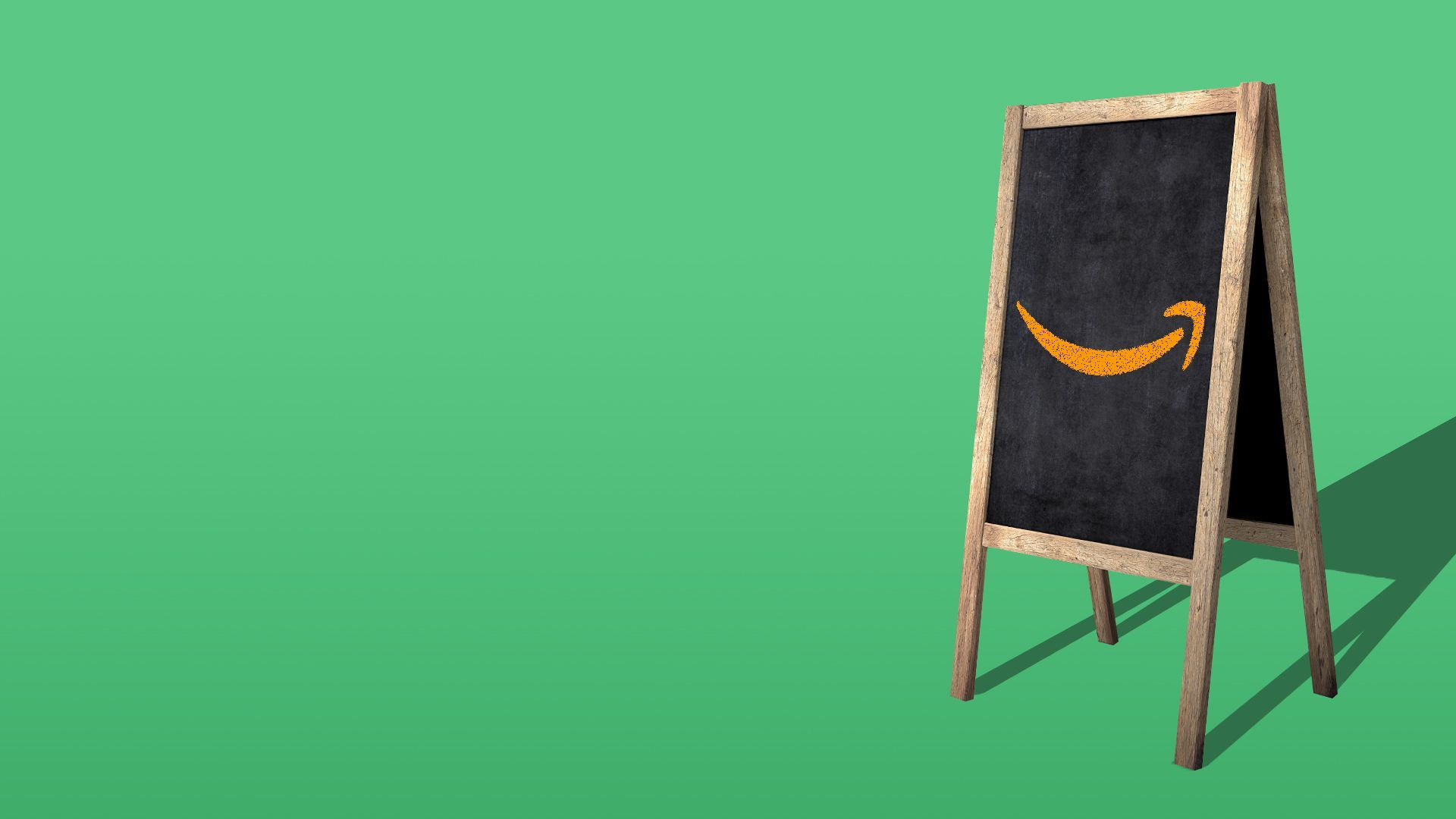 Amazon is touting the success of small sellers on its platform through the pandemic — and warning that antitrust legislation could jeopardize that success and blow up its open-marketplace model, Axios' Margaret Harding McGill reports.
Driving the news: In a new report Tuesday ahead of the company's annual seller conference, Amazon said more than 200,000 new sellers joined its U.S. store in 2020, a 45% increase over the previous year.
Nebraska, South Dakota and Iowa were among the top 10 states with the fastest-growing sales.
That's a sign that sellers in more rural areas are turning to the online marketplace during the pandemic, Dharmesh Mehta, Amazon's vice president of worldwide customer trust and partner support, told Axios.
The other side: As commerce moved from brick-and-mortar stores to online marketplaces, both Amazon and merchants who sell on the platform have benefited — but sellers operate at an unfair disadvantage, Ethan McAfee, founder and CEO of Amify, a company that helps brands sell on Amazon, told Axios.
Sellers on Amazon have seen the rules swiftly change, have had their accounts shut down without warning and have seen Amazon copy their products, said Stacy Mitchell, co-executive director of the Institute for Local Self-Reliance, an anti-monopoly think tank.
Amazon is facing renewed criticism after The Markup and Reuters reported last week on ways Amazon favors its own products over those of its third-party sellers.
Leaders in the House Judiciary Committee cited those news reports in a letter Monday questioning whether Amazon executives — including former CEO Jeff Bezos — lied or misled lawmakers during congressional testimony.
"Amazon and its executives did not mislead the committee, and we have denied and sought to correct the record on the inaccurate media articles in question," an Amazon spokesperson said in a statement in response to the lawmakers' letter.
What's next: Bipartisan legislation in the House and Senate would prohibit Amazon from favoring its own products in a way that harms competition.
Amazon warns that if some of those measures become law, it could jeopardize the ability of third parties to sell on its platform.
Reality check: Third-party sales account for 60% of sales on Amazon. McAfee said he's skeptical the company would abandon that line of business.
2. Treating tech giants as nation-states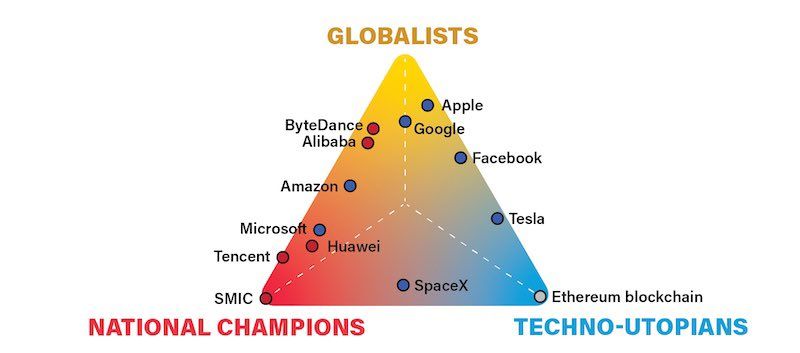 Tech companies are creating not just the products of the future, but also the future's infrastructure and rules, global analyst Ian Bremmer writes in an article for Foreign Affairs.
Why it matters: That means "it is time to start thinking of the biggest technology companies as similar to states," Bremmer argues.
"These companies exercise a form of sovereignty over a rapidly expanding realm that extends beyond the reach of regulators: digital space," he writes.
Between the lines: Bremmer makes the case that such companies are already establishing diplomatic relations — whether they choose to be closely tied to one country, such as many Chinese tech firms, or aim to be global players, such as Microsoft, Apple and others.
And, he notes, it was the tech companies that acted swiftly after Jan. 6 to preserve democracy in the U.S., with Facebook and Twitter suspending former President Trump's accounts; Amazon, Apple, and Google basically forcing Parler offline; and payments companies like PayPal and Stripe also suspending accounts tied to the insurrection.
Yes, but: Many critics argue Facebook bears significant responsibility for the events of Jan. 6, by providing the digital platform used by some to organize the insurrection and amplifying election-related misinformation.
3. The new U.S. information age, in numbers
The U.S. has reached a tipping point in its shift from an industrial economy to an information economy, according to a new study, Axios' Sara Fischer reports.
Why it matters: This shift towards a data- and information-based economy has allowed more businesses to establish themselves and scale quickly and at a very low cost. The number of jobs created by the commercial internet has more than tripled since 2012.
The new report is published every four years by the Interactive Advertising Bureau and written in conjunction with researchers.
The big picture: The report finds that the internet-supported economy over the past decade has shifted from jobs that related mostly to technical internet functions, like coding, to jobs that help deliver information and facilitate communication through data.
By the numbers: The number of people employed in news and information-related publishing tripled between 2008 and 2020 to more than 142,000 people.
The internet employs almost as many creators (200,000 full-time equivalent jobs) as the rest of the U.S. entertainment industry represented by the largest unions.
More than half of all U.S. advertising and media employment now comes from the internet, per the report.
4. Apple's latest MacBook Pros add new chips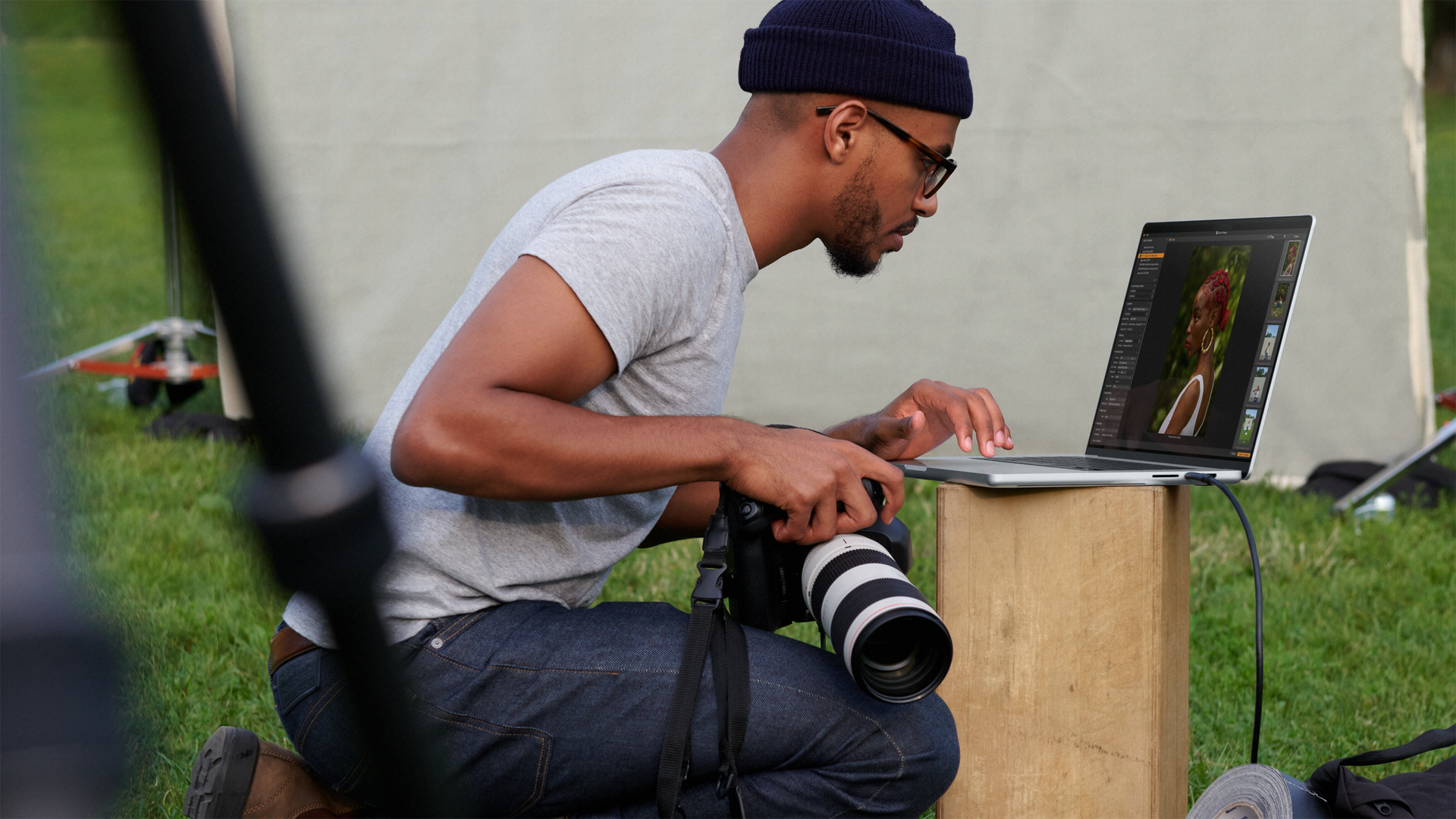 The new MacBook Pros unveiled Monday don't just feature all-new Apple-designed chips, but also bring back a bunch of much beloved features not found in recent years, including a card slot, MagSafe magnetic power cord and physical function keys.
Why it matters: The return of these features addresses shortcomings that were especially nagging on laptops costing $2,000 and up, though they weren't necessarily dealbreakers. Plus, it shows that Apple is willing to listen to customers — eventually.
Catch up quick: Apple's new MacBookPros, which will be available next week, come with one of two new Apple chips: The M1 Pro and M1 Max, both of which are designed to offer greater performance than a comparable Intel chip while using less power.
The new laptops also include several features found on other recent Apple gear, including mini-LED displays (iPad Pro) and ProMotion variable display rates (iPhone 13).
The 14-inch model starts at $1,999 and the 16-inch version at $2,499.
Between the lines: Apple has been willing to experiment with new features like the Touch Bar, a touchscreen strip that replaced the function keys.
One hard part of that approach is being able to admit it and reverse course when the experiment fails.
The new laptops also reverse a trend toward minimalism that had seen even machines aimed at professionals lacking heavily used expansion ports and other features.
5. Take note
On Tap
It's Google's turn to announce new gear today, though it has already shared some details on the Pixel 6, including the design and its Google-designed Tensor processor.
WSJ Tech Live continues online.
Trading Places
Wefox, a Berlin-based digital insurance company, has named former Samsung Electronics strategy chief Young Sohn as its board chairman, effective immediately.
ICYMI
Two top Microsoft executives warned founder Bill Gates back in 2008 that emails he had sent to a female subordinate were inappropriate. (WSJ)
6. After you Login
Once again, my interests are colliding in fabulous ways. Lego Ideas, which turns fans' creations into shipping products, announced that it has selected a recreation of Dunder-Mifflin's Scranton branch from "The Office" as one of its next sets.