Here in the Bay Area we're used to fog every summer morning — but this year, the fog is cut with a smoky haze that says "apocalypse."
1 big thing: How movie theaters are surviving big tech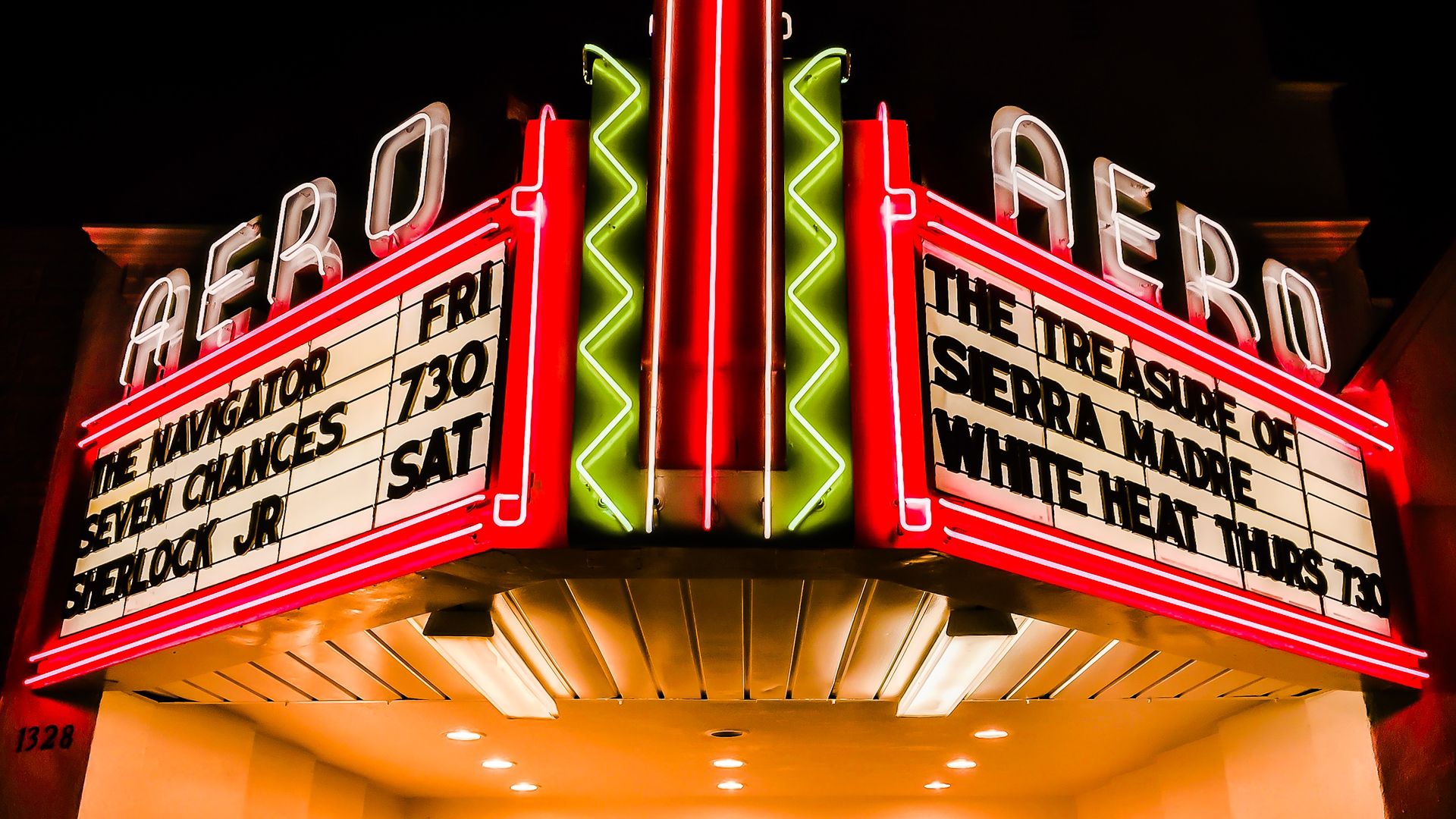 Technology companies are trying to disrupt the decades-old movie theater business, but unlike other industries, they haven't entirely been able to crack the code, Axios' Sara Fischer reports.
Why it matters: Movie theater admissions have been relatively stable for the past three decades, despite the explosion of options technology has afforded consumers in entertainment. Tech firms trying to break the ticketing supply chain aren't having much luck.
MoviePass, the monthly subscription theater ticketing service with a beloved unlimited-ticket plan, has gone through a rough few months trying to develop a sustainable business model. Many analysts think it will be difficult for the startup to figure it out.
MoviePass says it will survive. CEO Mitch Lowe said in an interview with Cheddar Wednesday the company will be profitable in 6-9 months, despite dragging shares for its parent company Helios and Matheson down by roughly 99% in the last year.
It recently introduced a new plan to limit monthly movie access to just three movies per month. Lowe says in one day "15% of our subscribers converted to 3-movie plan."
The problem for MoviePass, and other tech startups trying to disrupt the distribution landscape, like Sinemia, is that they will inevitably have higher costs than the theater companies themselves that are building competitive programs.
The big picture: Other big tech companies are investing in ticketing and theater ownership, but not for the purpose of competing directly with existing theaters.
Facebook brokered a partnership with AMC last month to help the theater chain sell tickets.
Netflix has considered buying movie theater chains in New York and Los Angeles, in an effort to gain an edge on Oscar nominations, per The Los Angeles Times. The company has said that it plans to release 80 original films this year.
Between the lines: One area where tech is causing some concern, according to analysts, is the release window between studios and streamers.
Streaming platforms like Netflix, which are quickly approaching saturation in U.S. homes, often have rights to these movies within less than a year of theatrical debut.
The window of release has caused a rift between studios and theaters for a while. Studios interested in cross-marketing want to get digital movies to viewers at home shortly after their release in theaters, but that makes theaters unhappy.
2. Jack Dorsey takes his act to TV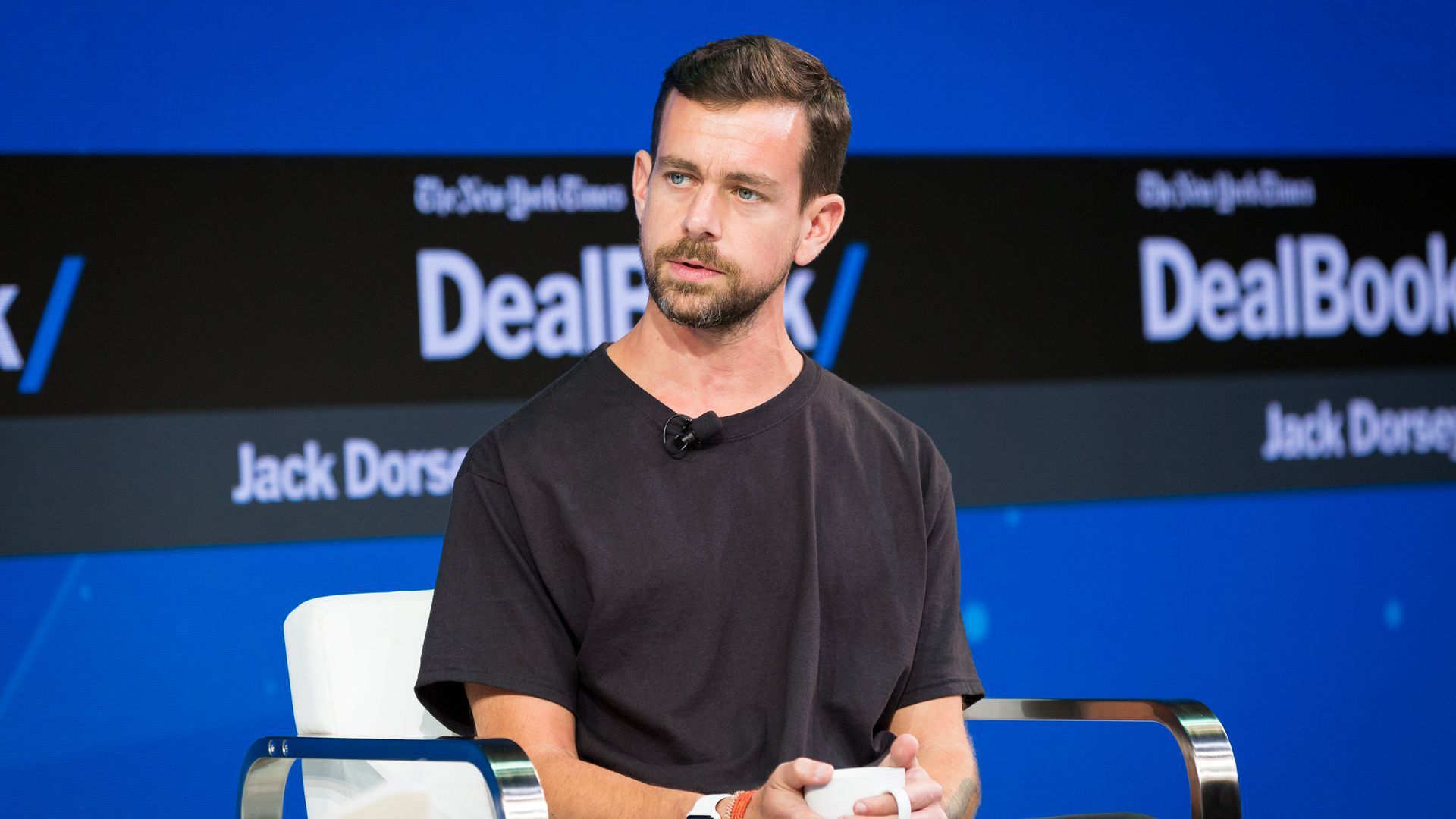 Twitter CEO Jack Dorsey will be making more stops on his media tour amid the Alex Jones controversy, Axios' Sara Fischer and David McCabe report.
Dorsey is planning to speak with NBC's Lester Holt on Nightly News next week and CNN's Brian Stelter on Reliable Sources next Sunday, according to sources familiar with the sit-downs.
Why it matters: Twitter is being criticized for appealing to the right by doing a radio interview with Fox News' Sean Hannity on Wednesday, but Dorsey's charm offensive is about to go wider.
The interviews, which sources say were in the works before Hannity's show, come as Dorsey defends his status as the last CEO of a major online platform company not to take down content associated with Jones and InfoWars.
Between the lines: The media tour comes amid controversy that while other tech platforms simultaneously banned Jones, Twitter stood behind its existing policies. A source familiar with the bookings says the purpose of this media tour is to be transparent and to have Dorsey be the face of the decision and explain it.
3. Uber, Lyft face new limits in New York City
The New York City Council voted on Wednesday to cap the number of ride-hailing cars in the city as part of a set of bills that will also set a minimum wage for drivers and halt new licenses while the city studies the impact of ride-hailing, Axios' Kia Kokalitcheva reports.
Why it matters: This is a blow to companies like Uber and Lyft, which have historically resisted such regulations. Mayor Bill de Blasio attempted to introduce a cap in 2015, but dropped the plan after pushback from ride-hailing companies.
The details:
New York's unusual system requiring ride-hailing vehicles to register with the city's taxi commission gives it a convenient tool to impose these caps.
Vehicle registrations for three main ride-hailing services (Uber, Lyft, and Via) will be paused for 12 months while the city studies the industry's impact. New drivers can still get new registrations via the Taxi & Limousine Commission.
The bills include some wiggle room for the companies. For example, the TLC will have the discretion to allow for more vehicles if there's a drop in availability in the city's outer boroughs. The companies are also allowed to add more wheelchair accessible vehicles to their services.
4. Big tech huddles with historically black colleges
Top tech firms are meeting this week with representatives of 24 historically black colleges and universities (HBCUs), in an effort the industry hopes will create partnerships to help diversify its technical workforce, Axios' David McCabe reports.
Why it matters: Tech has long struggled to increase hiring of black engineers, and while companies have previously worked with HBCUs, industry groups hope this new push will lead to deeper engagement.
The details: Representatives from companies including Google, Facebook, Amazon and Apple are meeting in North Carolina with the schools, along with elected officials like Rep. Alma Adams (D-NC) and nonprofit groups. Trade groups are also attending the gathering.
"Often times you have these convenings and it's mostly about the conversation," said Dean Garfield, president of the Information Technology Industry Council — but this time, he added, he's hopeful for a more systematic outcome.
5. Take Note
On Tap
The Black Hat security conclave concludes today — but the cyber-festivities in Las Vegas won't quit, as DEF CON opens for a long weekend of hacker fun.
Trading Places
Dropbox is adding two new VPs: Adam Nash, former CEO of Wealthfront, will be its new VP of product, and Naman Khan joins as VP of product marketing.
John Orta, formerly of Metromile, joins Nextdoor as its chief legal officer.
ICYMI
Have a great Thursday, and we'll see you again tomorrow morning. Hit "reply" for feedback and news tips.