I'm at TechCrunch Disrupt again today, so feel free to stop by and say hi.
https://www.axios.com/newsletters/axios-login-03d1b5a0-ba0d-4fc8-a08e-930abf2f512c.html?chunk=0#story0
Intel CEO ready for a break after several big deals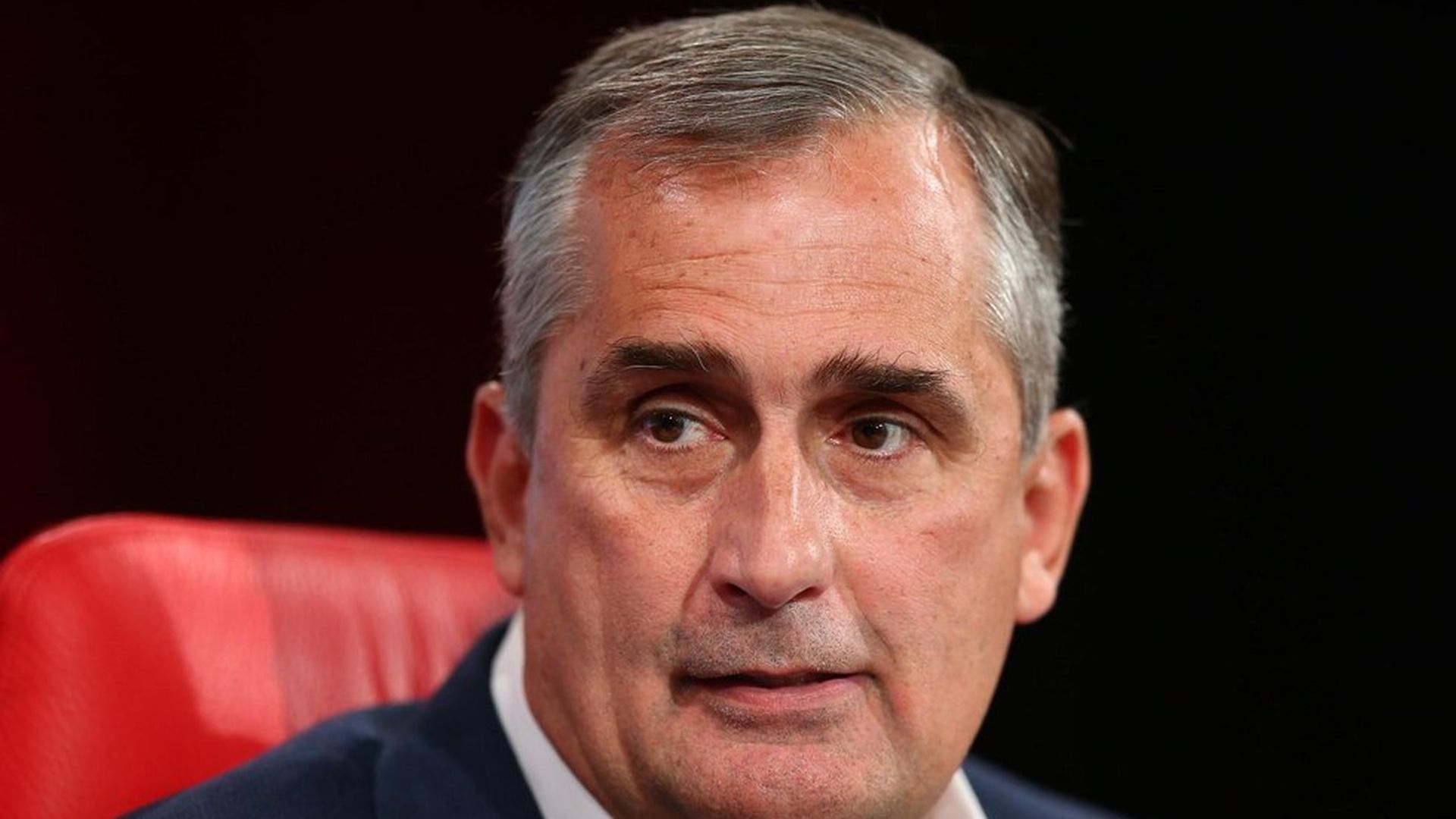 After spending $15 billion on Mobileye and unwinding efforts in wearables and other gadgets, Intel CEO Brian Krzanich says he is ready to take a break from making big changes at the chip giant.
"I think you can only take on so much at a time and you need to stop and breathe and let the organization breathe and re-form," Krzanich said in a brief interview after his appearance at TechCrunch Disrupt on Monday.
On track: Despite giving up on a few projects, Krzanich said Intel's biggest bets are paying off. "Our Altera investment has been great," he said, referring to another of Intel's 11-figure deals.
That said, Krzanich said he doesn't see another similar-size deal anytime soon. "I don't see a big gap right now," he said. "It's all about execution and getting some of this done and out the door...Make sure you execute on what you said you were going to do...It doesn't mean we won't do small things. But I don't have another big one."
On leaving Trump's manufacturing council: "My story there was really more about, look, I am the CEO of a tech company and one of the largest manufacturers in the U.S. If I can help raise U.S. manufacturing and U.S. technology, I am all in. If it starts to become a political argument, that's not my job and not my expertise and I am going to back away."
https://www.axios.com/newsletters/axios-login-03d1b5a0-ba0d-4fc8-a08e-930abf2f512c.html?chunk=1#story1
The firepower behind Facebook's Russia probe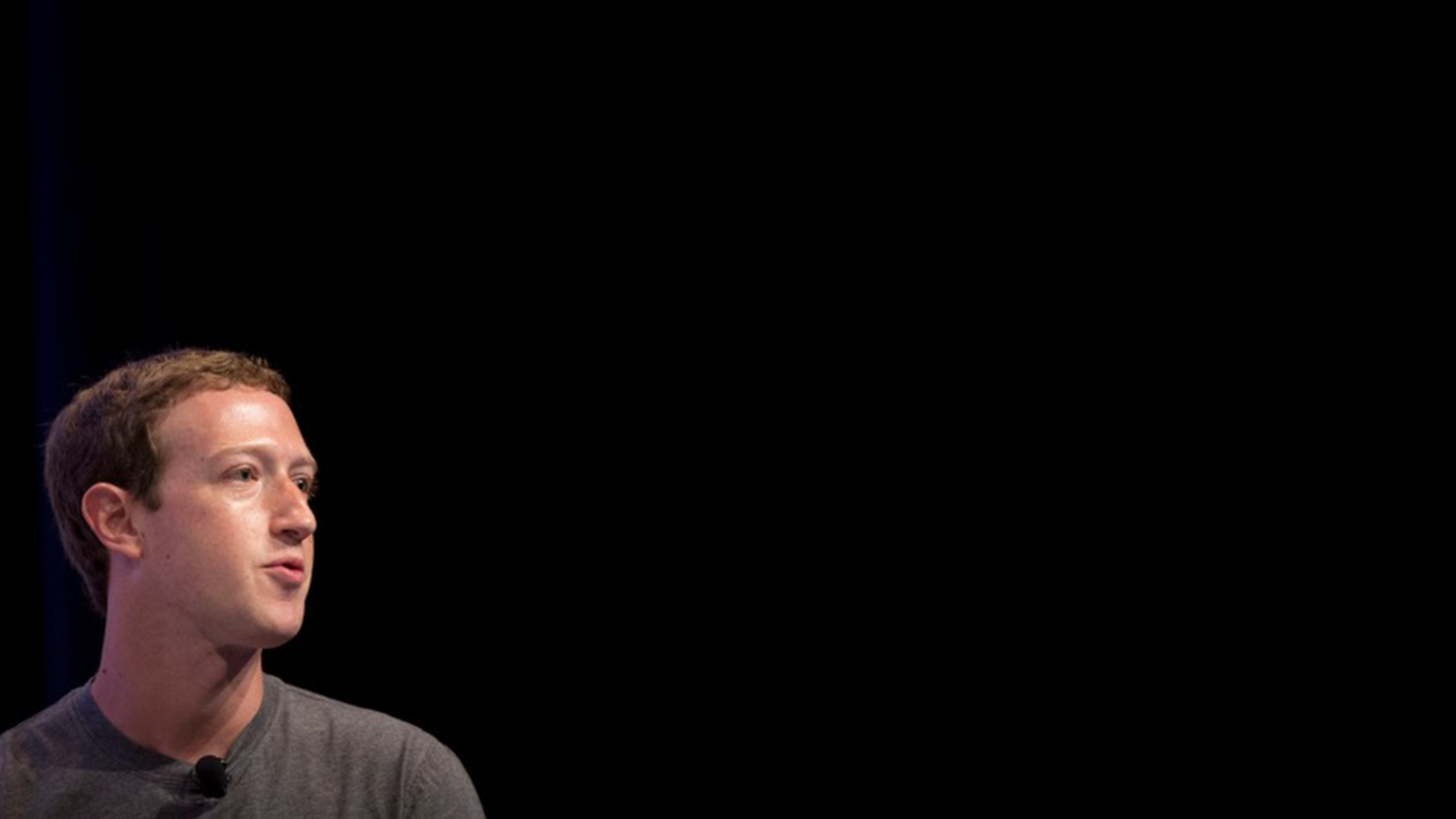 If you were wondering how seriously Facebook takes the probe into the site's possible role in Russian interference in the U.S. election, rest assured. Menlo Park is paying attention.
What's different: It's not uncommon for Silicon Valley giants to rely heavily on their Washington offices to play whack-a-mole on minor policy debates so execs can focus on what they view as weightier business challenges. Facebook is breaking from that pattern as questions about Russia heat up.
The full-court press on this issue shows how serious a situation this is for Facebook — and sends a message that this isn't just a huge moment for the company's political reputation, but its business one as well.
What's happening: Top executives in Menlo Park are taking an active role, chief among them Alex Stamos. Stamos, who used to work for Yahoo, is Facebook's key security executive and the man who has put his name to the company's ongoing investigation into Russian efforts. It was Stamos' name attached to the disclosure of $150,000 worth of ad buys that Russian-linked actors used to promote posts about divisive political issues before and after the election, and co-authored a paper that tackled the issue back in April.
Other staffers on the company's Threat Intelligence team have worked in high-up jobs at cybersecurity firms like iDefense, FireEye and Mandian.
Go deeper: Axios' David McCabe writes more on this story here. Plus, earlier in the week, Axios' Mike Allen took a look at the company's messaging plan as the Russia probe gets bigger.
Sign of the times: It's not just Facebook that's more closely watching policy from its headquarters these days. Google said Monday that Caroline Atkinson, a veteran from the Obama administration, would step down from her D.C.- based role managing Google's policy team because the company wanted those operations led from their Mountain View headquarters. Atkinson will remain a policy advisor at the company.
https://www.axios.com/newsletters/axios-login-03d1b5a0-ba0d-4fc8-a08e-930abf2f512c.html?chunk=2#story2
Interview: GGV's Hans Tung on e-commerce investing
Venture capitalist Hans Tung knows the conventional wisdom about how Amazon is eating retail, destroying legacy businesses, and scaring away new rivals. Despite this, his firm, GGV Capital, continues to back new e-commerce companies, including GrubMarket, OfferUp, Peloton, Poshmark, Slack, Wish, and Xiaomi.
In an interview with Axios' Dan Primack, Tung tells Axios how he approaches investing in a sector dominated by Amazon.
"How can you do something different from Amazon, like having professionally-generated content? Houzz is a perfect example, offering expert-curated products and help for people looking to remodel part of their home. Amazon just isn't geared to build that sort of community. Or a company like Poshmark, where you have lots of users sharing and selling what's in their closet. A lot of them have become influencers because other users like their style. It's what Pinterest should have done with commerce but didn't. Amazon sells clothes, but it sells them like it sells a PC or a phone. Fashion is about having different parts that go well together, which means curation." [Editor's note: Both Houzz and Poshmark are GGV portfolio companies]
https://www.axios.com/newsletters/axios-login-03d1b5a0-ba0d-4fc8-a08e-930abf2f512c.html?chunk=3#story3
Google's advice to startups: Focus on security early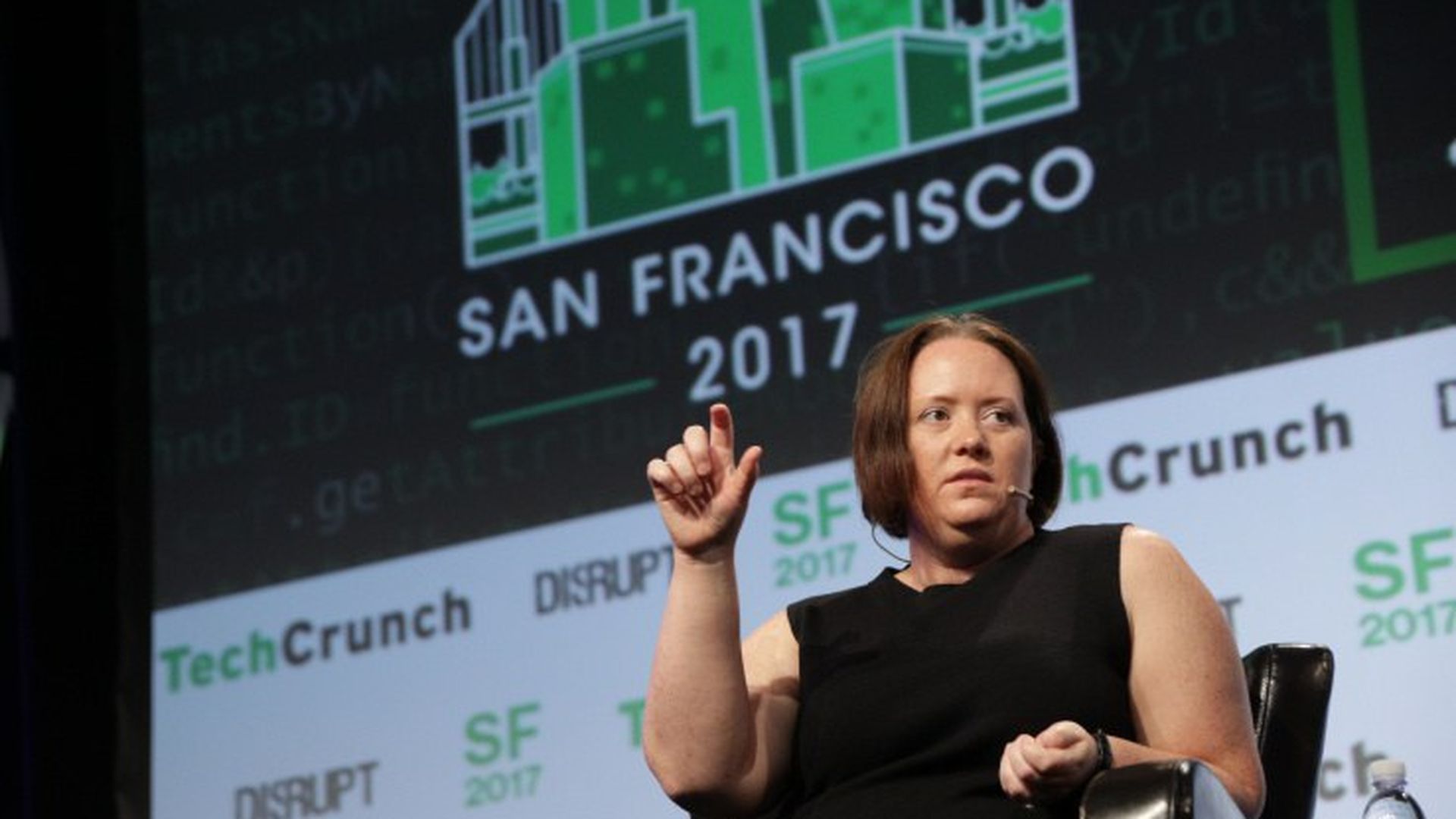 Although she now runs a big part of Google's security apparatus, Heather Adkins spent the early part of her career in IT at a startup. It was there that she got hacked for the first time.
Lesson learned: "Even if you are just two people in a garage, one of you must be in charge of security," Adkins said, speaking at TechCrunch Disrupt on Monday. "Even if it is just part time...somebody has to be paying attention."
Current role: Adkins also explained how she manages in her current position at Google in a world filled all manner of attacks, including a growing number coming from governments.
"It's time to get over being worried and actually doing something about it," she said. Rather than worry about who is doing the attacking, Adkins said she focuses on the techniques. "A technique the [National Security Agency] could use could easily be used by a Mexican drug cartel or Russian organized crime."
https://www.axios.com/newsletters/axios-login-03d1b5a0-ba0d-4fc8-a08e-930abf2f512c.html?chunk=4#story4
Google offers machine learning tech to newsrooms
Speaking of Google, the search giant plans later Tuesday to launch two new features to help newsrooms and other businesses classify information so that it's easier to sort later.
Automatically classify content: The new features will automatically sort content by 700 different categories, including Arts & Entertainment, Hobbies & Leisure, Law & Government, News, and Health.
Analyze sentiment in content: Sentiment analysis, one of the most widely-used features within Google's Cloud Natural Language API (shared software technology), will now offer more granularity with entity sentiment analysis. Users can now understand and separate the sentiment of places or things rather than analyze the sentiment of a sentence or block of text.
Why it matters: Google is seen as a mixed bag for publishers, offering a lot of traffic, but also sucking up a lot of the industry's ad revenue. Still, the features could be game-changers for newsrooms faced with the daunting task of classifying hundreds of articles per day and thousands of articles in their archives.
It will also make translating text from different languages much easier so that publishers can enter new markets more easily. Publications like Hearst, The Washington Post, and Vice have already been testing the new features that will be open to all newsrooms and businesses moving forward.
Go deeper: Axios' Sara Fischer has more of her scoop here. And, for more smart takes on the latest goings-on in the media business, be sure to subscribe to her weekly Axios Media Trends newsletter.
https://www.axios.com/newsletters/axios-login-03d1b5a0-ba0d-4fc8-a08e-930abf2f512c.html?chunk=5#story5
Take note
https://www.axios.com/newsletters/axios-login-03d1b5a0-ba0d-4fc8-a08e-930abf2f512c.html?chunk=6#story6
After you Login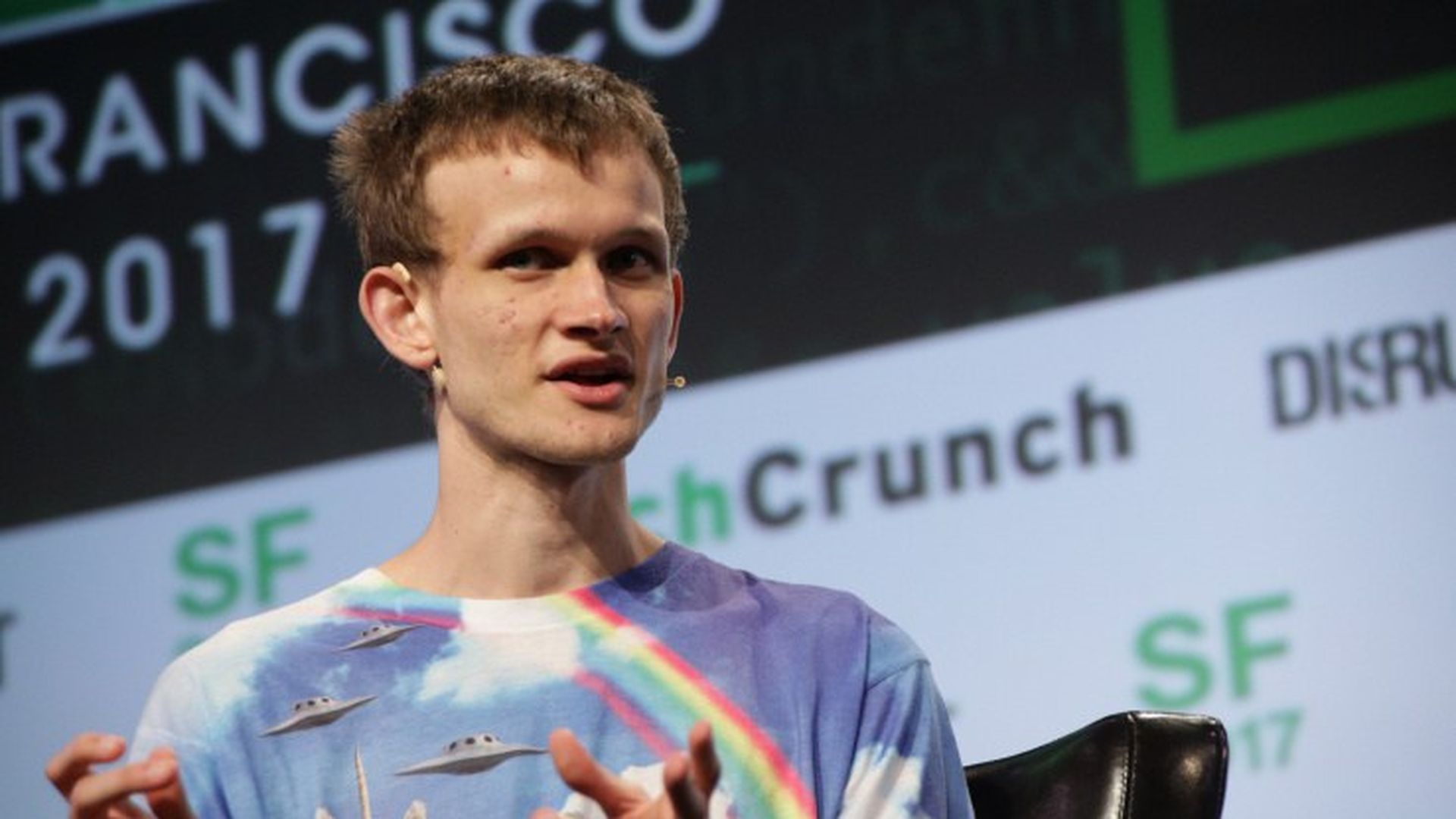 Apparently the dress code at this year's TechCrunch Disrupt is "business ridiculous."