https://www.axios.com/newsletters/axios-login-01cb60ae-c050-415f-9def-65b4da672703.html?chunk=0#story0
Q&A: Why 4-H is focusing on tech along with tractors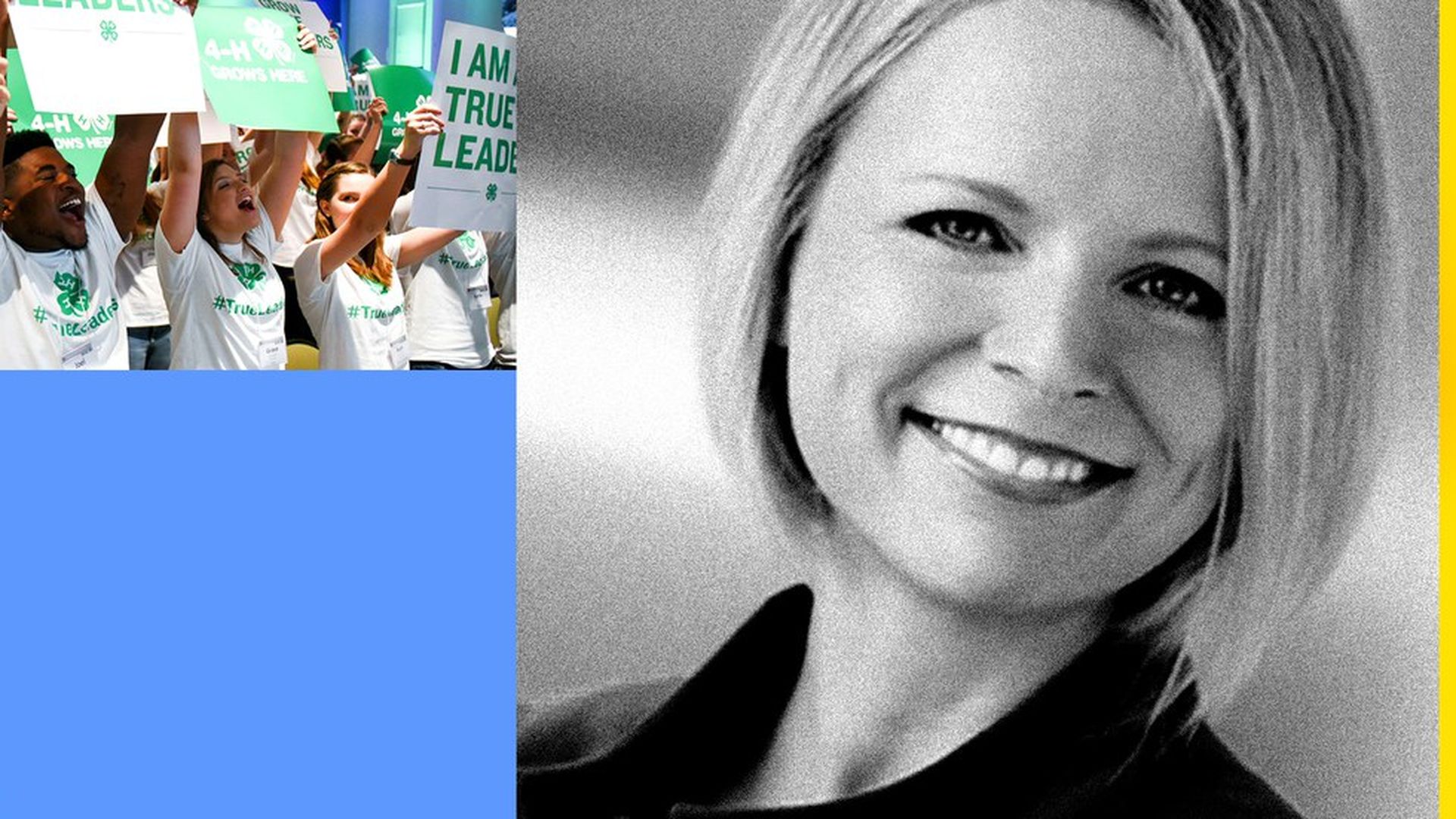 Though best known for teaching about plows and cows, 4-H is increasingly playing a role in cities and focusing on teaching skills like science, technology, engineering and math (STEM).
4-H plans: In our Monday interview, 4-H CEO Jennifer Sirangelo discusses her group's shifting role in both rural and urban areas, how it hopes to help close the gender gap in tech, and how technology is changing the agriculture industry.
Why it matters: "Estimates show that 65% of today's students entering grade school this year will be employed in jobs that don't exist yet, and 60% of new jobs created this century will require skills in STEM-related fields," Sirangelo told Axios.
https://www.axios.com/newsletters/axios-login-01cb60ae-c050-415f-9def-65b4da672703.html?chunk=1#story1
Google and Microsoft to unveil new hardware this week
The fall is such a beautiful time. Cool weather returns, the leaves start to change color, and the tech industry starts serving up its latest gear.
What's happened: Already Apple has introduced the iPhone 8 and iPhone X and Amazon unveiled a whole array of Alexa-powered devices. Fitbit, GoPro, and Nest also have shown off their latest.
But, there's more: This week, two more tech giants will hold events in San Francisco.
Microsoft is showing off its work in virtual reality on Tuesday. The company hopes to rival Oculus Rift and HTC Vive with Windows 10-based "mixed reality" headsets from PC makers that it says will be cheaper and more versatile than the dedicated VR devices.
Google is expected to show an array of new hardware on Wednesday, including the second-generation Pixel smartphone. They may also show some other gear, such as possibly a new Chrome OS-based laptop and updates to the Google Home line (which rivals Amazon's Echo family.)
Why it matters: In consumer hardware, it is all about the holiday shopping season and, even in the cases where the products don't compete head-to-head, they are all vying for the same pocketbook.
https://www.axios.com/newsletters/axios-login-01cb60ae-c050-415f-9def-65b4da672703.html?chunk=2#story2
Facebook and Twitter offer apologies as pressure mounts
Executives from the two big social networks found themselves offering up apologies this weekend, reports Axios' David McCabe.
What happened: First, Facebook CEO Mark Zuckerberg begged forgiveness for "the ways my work was used to divide people rather than bring us together" as the Jewish holiday of Yom Kippur came to a close.
And then, on Sunday night, Twitter co-founder Biz Stone said he was sorry for lashing out at a user who said executives were being dismissive of calls to kick President Trump off of the platform.
"I really appreciate all the responses," he said. "(Apologies—my words didn't come out right.) We're listening. Thank you for all this feedback."
He'd previously told the user: "Y'all pile on us. You really think the issue doesn't weigh on us?"
Be smart: This is, of course, another sign of the intense political pressure on major tech platforms over how they moderate content. Trump and Russia, however, are just the tip of the spear.
https://www.axios.com/newsletters/axios-login-01cb60ae-c050-415f-9def-65b4da672703.html?chunk=3#story3
Facebook to give Congress those 3,000 Russian ads
On Monday, Congressional investigators will receive Facebook ads bought during the 2016 presidential campaign by Russian operatives, the company said late Sunday. Lawmakers will get roughly 3,000 ads purchased by a Russian troll farm that focused, in part, on divisive political issues. The company is also providing data on how the ads were paid for and targeted to users on Facebook, David reports.
The bigger picture: Facebook initially said it wouldn't hand over the ads, but it's under intense political pressure to provide as much information as possible as part of the probe into Russian election interference. Twitter also briefed investigators last week and is facing similar pressure. Lawmakers could choose to make details about the ads public.
Go deeper: Read more on what we've learned so far about how Russian operatives allegedly used social media to divide Americans.
https://www.axios.com/newsletters/axios-login-01cb60ae-c050-415f-9def-65b4da672703.html?chunk=4#story4
https://www.axios.com/newsletters/axios-login-01cb60ae-c050-415f-9def-65b4da672703.html?chunk=5#story5