Axios Login
April 08, 2020
Remember when I used to start off these newsletters by gloating about whatever exotic locale I was in that day? Well, I'm not going to let coronavirus stop me.
Greetings from the kitchen, where I am slated to give a lecture at my son's home school.
Today's Login is 1,298 words, a 5-minute read.
1 big thing: Tech's summer internships go digital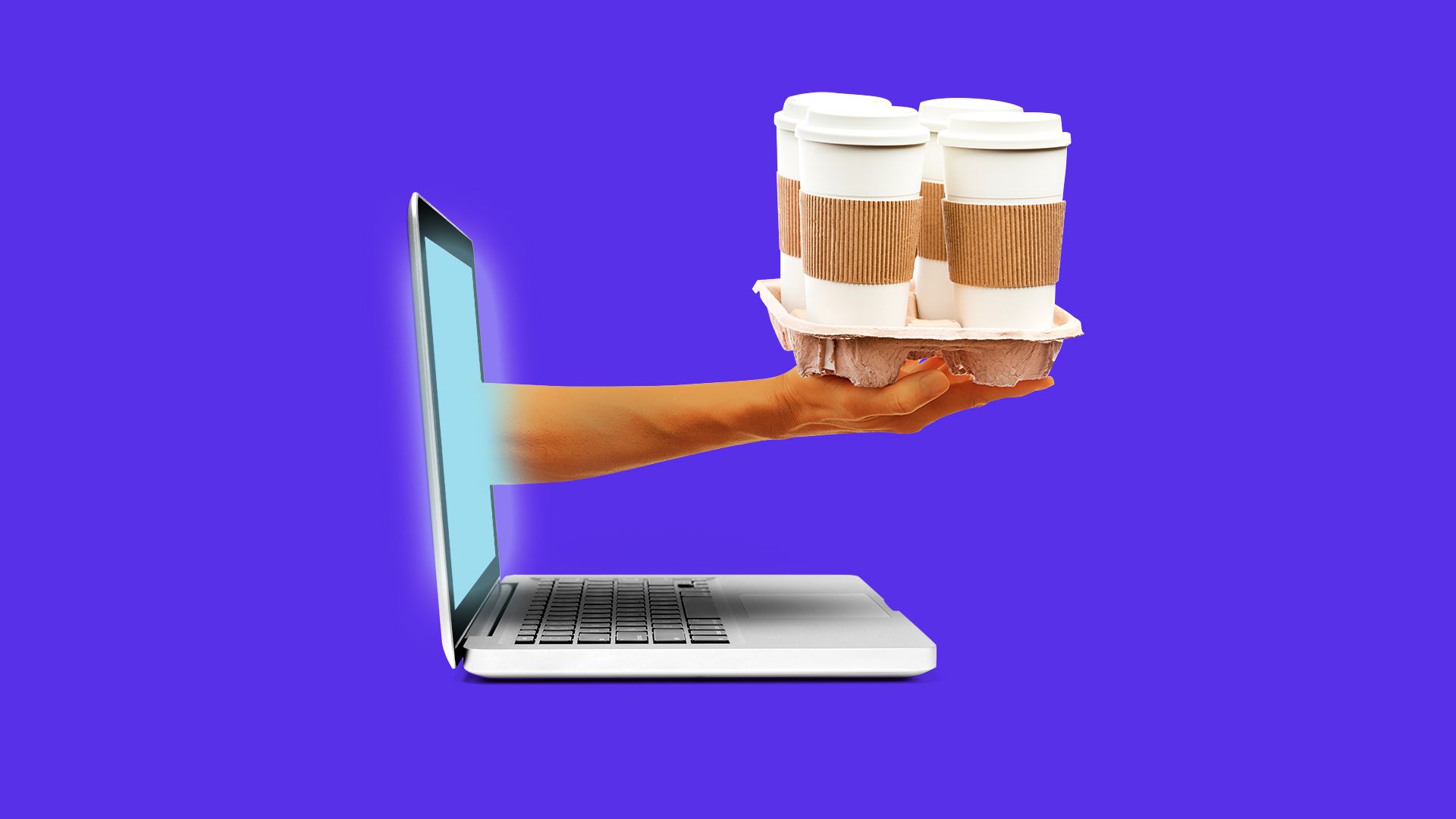 The major tech companies are scrambling to craft digital options for this year's summer intern class, as businesses remain shuttered due to the coronavirus pandemic.
Why it matters: Internships serve as key learning opportunities for students, but are also critical for the recruiting and diversity efforts of the big tech companies who compete fiercely for college talent.
Driving the news: These companies said they're moving their programs online:

Google, which told Axios it will pay its interns the full rate.
Twitter, which told Axios its intern class may shrink this year.
IBM.
Microsoft, which said in a blog post this week that it will have its biggest ever intern class — more than 4,000.
Lyft, which will have the same number of interns as originally planned, but limit them to just two start dates to provide students with more of a common experience.
Salesforce, which also plans a similar size intern class as intended.
These companies are still hoping have at least some interns on-site for at least part of the summer:
Apple, which told Axios it plans to hire more than 1,000 people for a mix of online and in-person internships and pledged in a statement to "extend to our interns the same precautions and care that we're extending to all our other personnel as a part of the ongoing COVID-19 response."
Amazon, which told Axios it expects its biggest-ever class of interns globally, though it said the vast majority of internships will be virtual.
Intel, which does plan to have its interns work remotely but hopes to move them on-site should the situation and health authority guidelines make that possible.
Uber, which has made plans for online on-boarding and will keep the program online if their offices remain closed, but will aim to have its interns work in the office if that is possible.
Doordash, which told Axios that, for now, it "plans to stay the course" with its summer internship program, but is exploring options for conducting the program remotely and will "continue to re-evaluate as the situation progresses."
And Facebook's plans are still up in the air.
"These are unprecedented times as you can imagine. We are considering all of our options for the summer internship program as we continue to put the health and safety of our employees and interns first," a Facebook spokesperson told Axios.
The big picture: All of the companies that commented on pay said they are planning to pay their virtual interns the same rate they would have received for in-person work.
A key question is how meaningful the online experience proves to be, both as a learning experience and a recruiting tool. Employers understand they need to try to find effective remote substitutes for in-person networking and social events, in addition to finding work tasks that can be done fully online.
Between the lines: Despite sincere efforts to go digital, some tech folks privately acknowledged that a virtual internship is unlikely to have the same meaning and impact for participants as an in-person experience.
2. Exclusive: Campaign aims to connect students
Common Sense Media is urging Congress to use the next round of coronavirus relief legislation to make sure all U.S. students can connect to the internet, Axios' Kyle Daly reports.
The big picture: The campaign, dubbed "Connect All Students," comes as a poll from the group and SurveyMonkey finds that teens are worried they'll fall behind in school due to the pandemic. The campaign launch and poll results were shared exclusively with Axios.
What they're saying: Jim Steyer, CEO of Common Sense, which focuses on the impact of tech and media on kids, said in a statement: "With the majority of kids now learning from home instead of school and, as this poll indicates, struggling to keep connections with teachers, the nation is confronting a huge equity challenge."
"That's why Common Sense is calling on Congress to connect all students by providing emergency funds to close the digital divide once and for all," he added.
By the numbers: The survey, which polled 849 U.S. teenagers between March 24 and April 1, found that more than half of students whose in-person classes have been canceled — and some 95% of respondents reported canceled classes — worried about not being able to keep up with schoolwork and extracurricular activities.
Black and Hispanic teens were significantly more likely than white teens to report concern, and girls were more likely than boys to do so.
The survey also found that 65% of teens reported texting or talking on social media with friends or family more than usual during the pandemic. Texting, phone calls, social media and video chats were the top ways students reported staying connected.
3. Samsung adds 5G to mid-range phones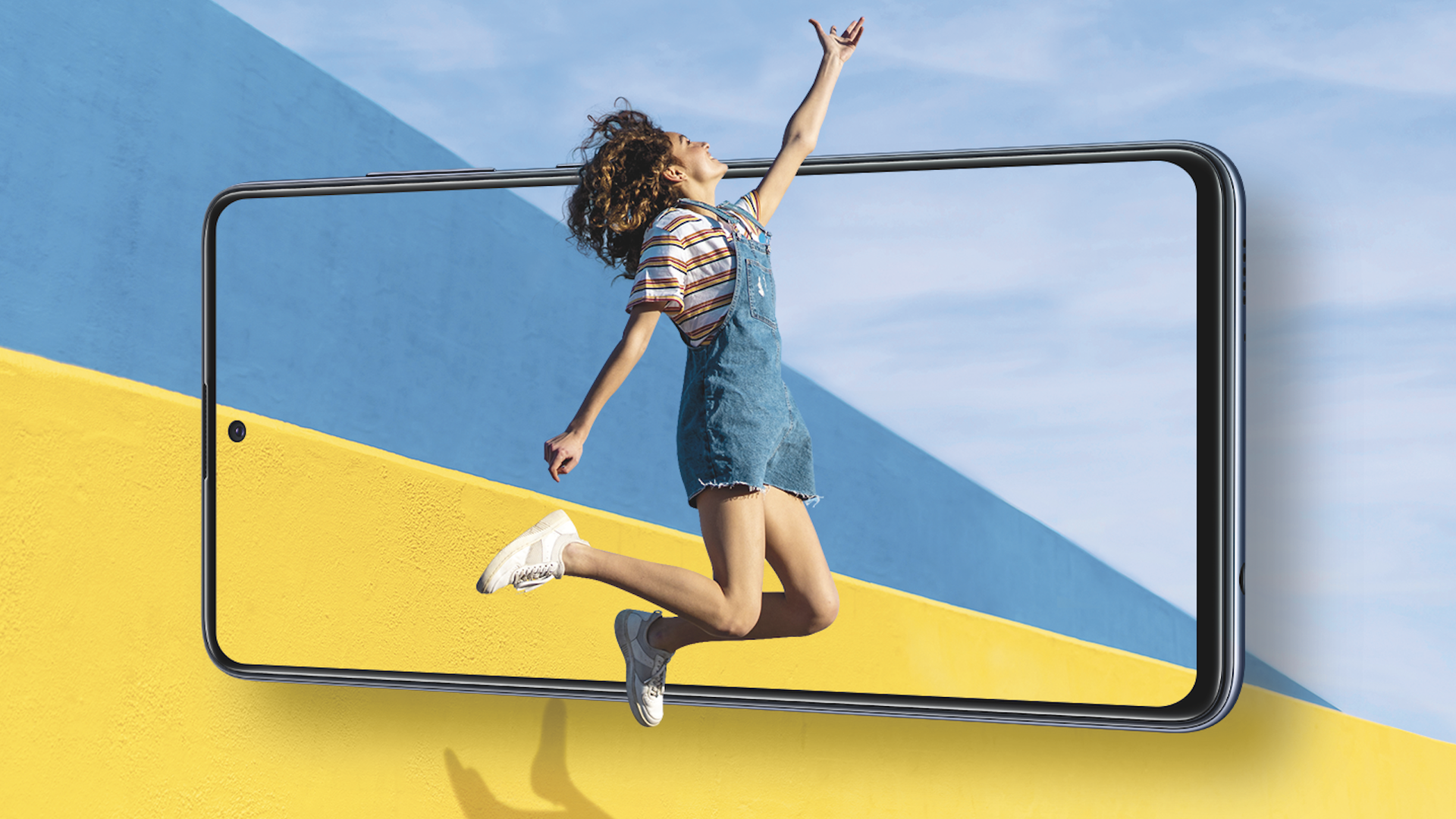 Samsung is announcing a host of new smartphones in its mid-tier "A" series, including two models that support 5G cellular networks.
Why it matters: Adding 5G into mid-tier devices ensures that more people who buy a new smartphone this year will be ready to access such networks. As we reported in yesterday's Login, AT&T, Verizon and T-Mobile say they are moving full speed ahead on 5G deployment.
Specifically, Samsung is introducing:
The Galaxy A01, which starts at $110 and comes with dual rear cameras and a 5.7-inch display.
The Galaxy A11, which starts at $180 and has a triple lens and 6.4-inch display.
The Galaxy A21, which starts at $250 and has a quad rear camera and a 6.5-inch display.
The Galaxy A51, which starts at $400, has a fingerprint reader, quad-rear camera and a higher-end 6.5-inch super-AMOLED display. A 5G-capable model will sell for $100 more.
The Galaxy A71, which only comes in a 5G model, starts at $600 and packs a 6.7-inch Super AMOLED+ display and a quad rear camera setup, including a 64-megapixel main camera.
Details: Verizon will be the first to launch the A51 and A01 on Thursday, with Sprint to follow with the A51 on Friday. The models will be available online from Samsung itself and from retailers and carriers, as well as for in-store pickup, where available.
The 5G models will be coming to the U.S. this summer, Samsung said.
The big picture: The Galaxy A-Series has been a mainstream part of Samsung's global phone lineup, but in the U.S. the focus has been largely on the high-end Galaxy S and Galaxy Note lines.
Yes, but: It remains unclear how many people actually want to buy a new smartphone this year, and whether more affordable mid-tier models can gain share.
4. Jack Dorsey pledges $1B for coronavirus relief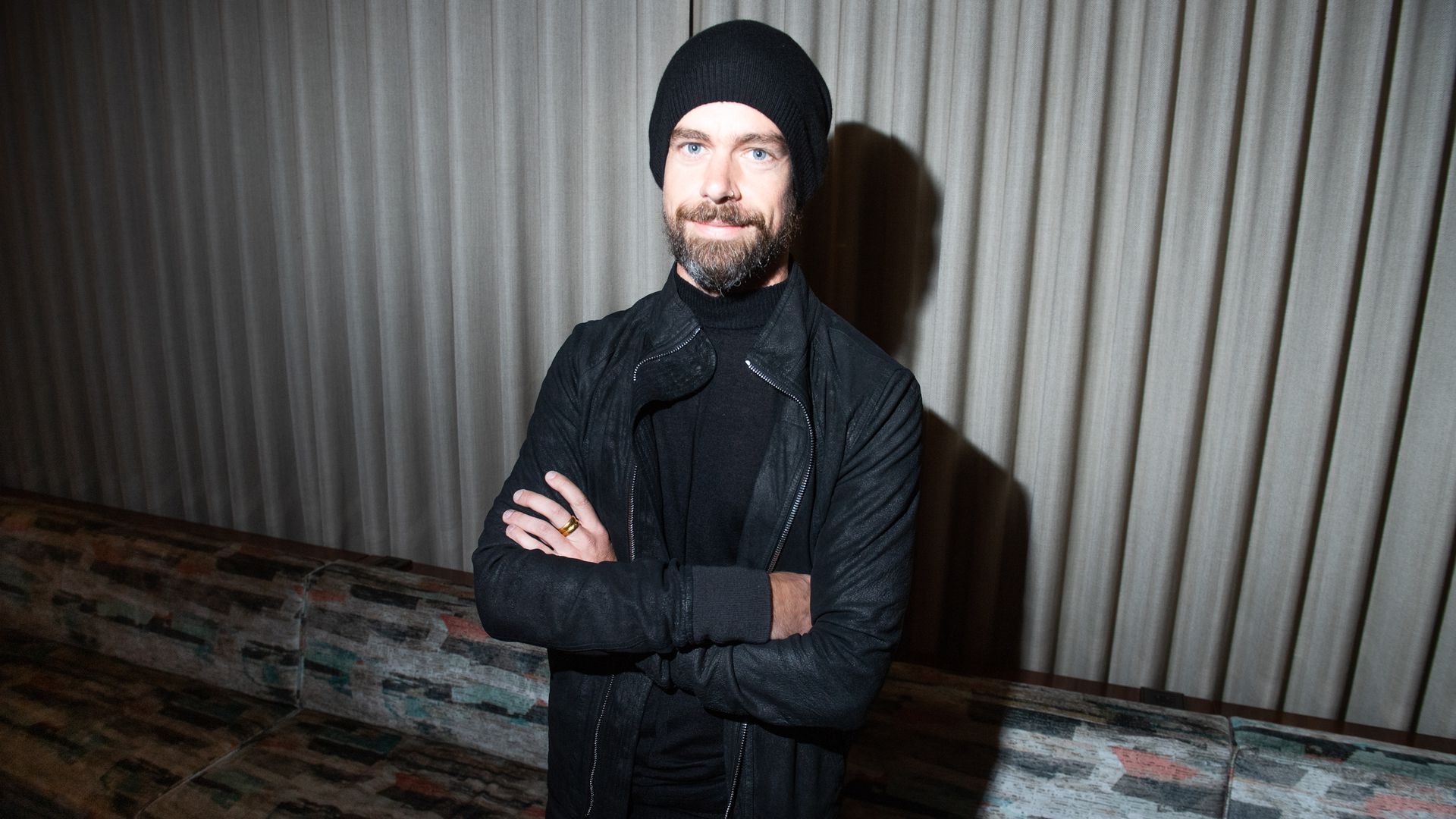 Twitter and Square CEO Jack Dorsey is taking $1 billion of his Square holdings and putting it toward relief for the coronavirus pandemic, Axios' Orion Rummler reports.
Details: Dorsey's "Start Small" fund donated $100,000 on April 2 to a GoFundMe working with Feeding America and World Central Kitchen to address food insecurity caused by COVID-19.
What he's saying: "After we disarm this pandemic, the focus will shift to girl's health and education, and UBI," or universal basic income, Dorsey tweeted Tuesday.
Meanwhile: Teddy Schleifer at Vox/Recode has a look at what it means to be reliant on billionaires to make it through a crisis. And speaking of those billionaires, Forbes is out with its latest list.
5. Take Note
On Tap
Trading Places
Marco Santori, formerly legal chief at Blockchain, is joining Kraken Exchange as chief legal officer.
AI and automation firm AntWorks promoted Mike Hobday to chief revenue officer. Hobday joined AntWorks as senior VP of European sales last year, coming from IBM where he spent a decade, most recently as general manager of IBM Automation.
ICYMI
6. After you Login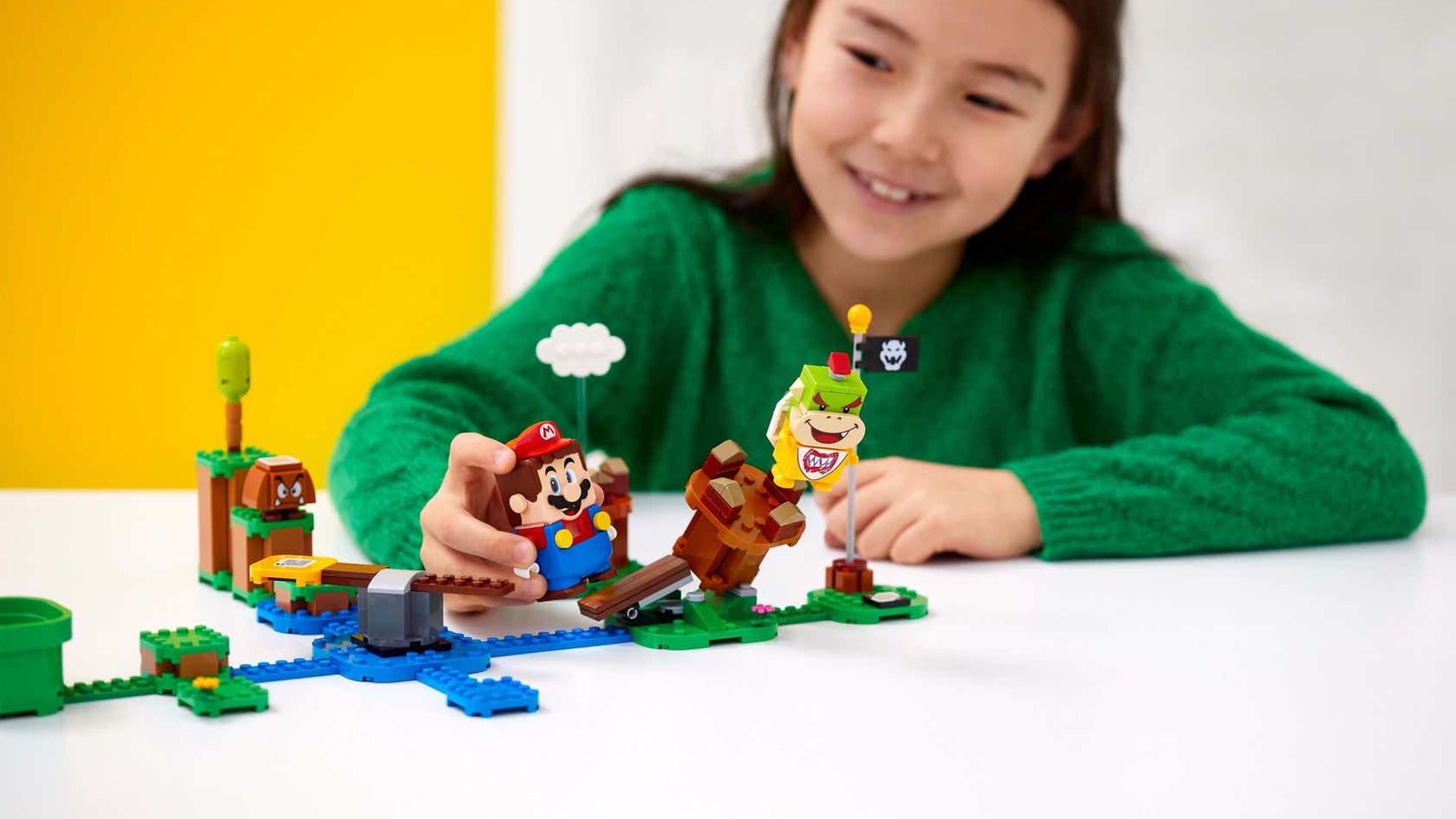 Nintendo and Lego revealed more details on their Super Mario collaboration which will mix the digital and physical worlds with bluetooth-equipped bricks and a digital companion game. There will be a $60 starter set and add-on kits ranging from $30 for the Piranha Plant Power Slide Expansion Set to $100 for the Bowser's Castle Boss Battle Expansion Set. Lego is taking pre-orders for those sets now, with the full collection slated to be available in Aug. 1.
Lead designer Jonathan Bennick shared more in a video.