Hello from Amsterdam's Schiphol Airport, where I am making my way to Finland for Slush. Sorry, my ears just popped
https://www.axios.com/newsletters/axios-login-004c2f91-f8a7-40fd-9593-cb999cd6bf79.html?chunk=0#story0
Why "Cyber Monday" no longer makes sense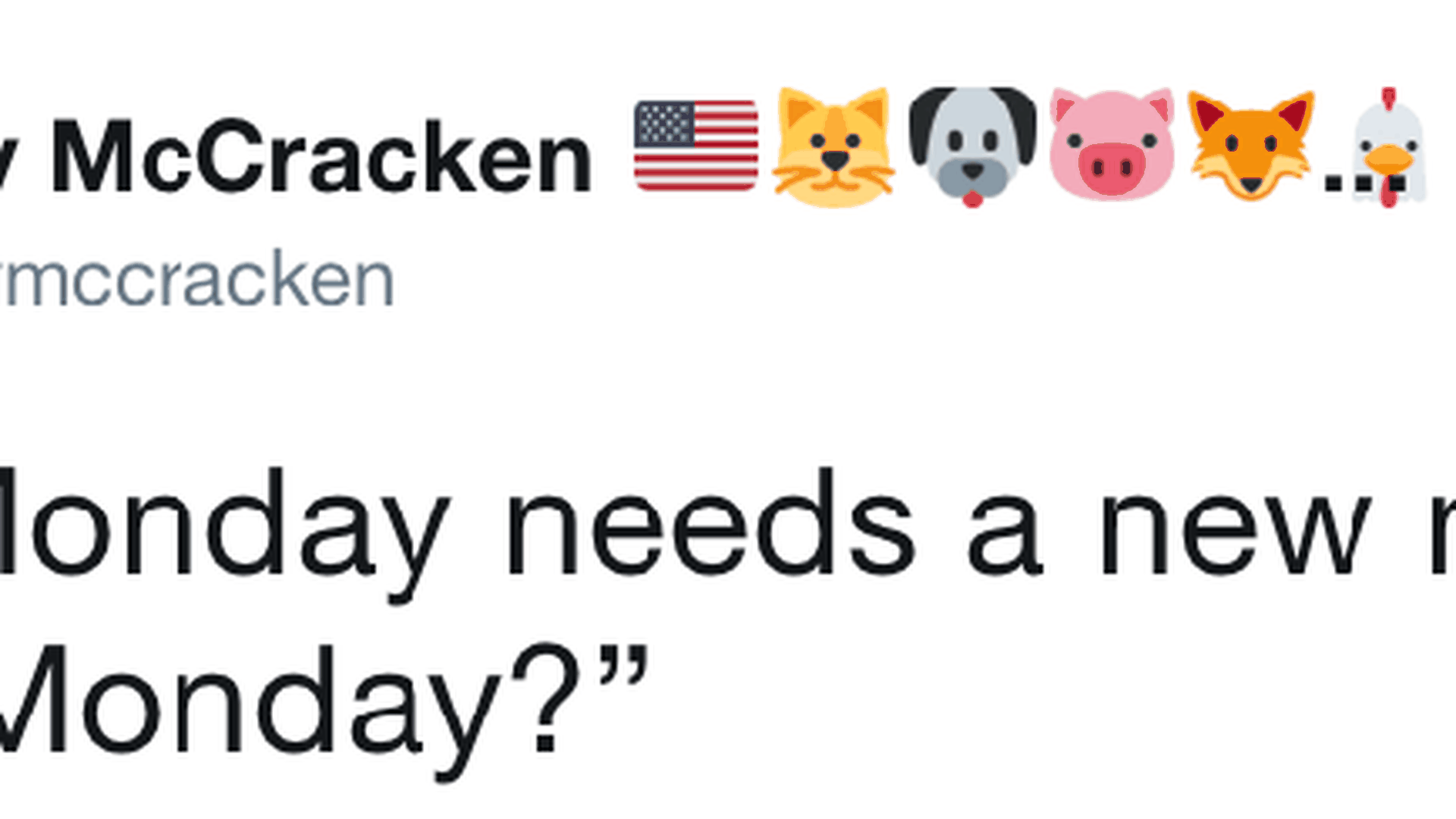 Inexplicably, Cyber Monday is still a thing. And bigger than ever.
Flashback: The invented holiday began in 2005 as a way to cater to online shoppers who used their work computers to order holiday presents.
Our thought bubble: That made some sense in the era where not everyone had a PC at home and many were on dial-up connections. The need for a separate shopping day in an era of ubiquitous smartphones and broadband access is far less clear.
That's all the more true in a world where online pioneers like Amazon have physical stores and traditional retailers have Cyber Monday promotions via their online operations.
The numbers: Nonetheless, this year's Cyber Monday was shaping up to be the biggest ever, according to Adobe. The company expects it to be the biggest sales day in history, with an estimated $6.6 billion in spending, up nearly 17% from last year. Of that, smartphones will have accounted for more than $1.6 billion, Adobe estimates.
But, according to Loup Ventures' Gene Munster, many big brands cut down on the discounts they offered.
https://www.axios.com/newsletters/axios-login-004c2f91-f8a7-40fd-9593-cb999cd6bf79.html?chunk=1#story1
Congress probing more aspects of Big Tech
The investigation into how Russian ads and content spread on Google, Twitter and Facebook was just the beginning of Congress digging into how tech does business.
What's happening now: Lawmakers want to know everything from how algorithms filter and distribute information behind the scenes to how platforms handle consumer data to the ways extremist content spreads over social media.
Going deep on algorithms: On Wednesday, lawmakers will probe the algorithms used by companies like Google and Facebook, Axios' David McCabe reports.
A House subcommittees on technology and consumer protection will ask about consumer data collection and how "companies make decisions about content that consumers see online."
Privacy hawk Laura Moy and Frank Pasquale, a professor and Big Tech skeptic, will testify.
The subcommittee chairs, Reps. Marsha Blackburn and Bob Latta, say they "intend to shine a light on how technology companies and online platforms use Americans' data and filter information."
What's next: We hear that prominent Amazon critic Lina Khan and "The Googlization of Everything" author Siva Vaidhyanathan are part of a Capitol Hill briefing on platform competition issues this Friday that will involve several progressive lawmakers. And the powerful Senate Commerce Committee is interested in how the social media platforms handle extremist content.
Meanwhile: Senators on both sides of the aisle want Uber to explain more about its recently disclosed data breach, Recode writes.
https://www.axios.com/newsletters/axios-login-004c2f91-f8a7-40fd-9593-cb999cd6bf79.html?chunk=2#story2
What to expect when Waymo and Uber finally face off in court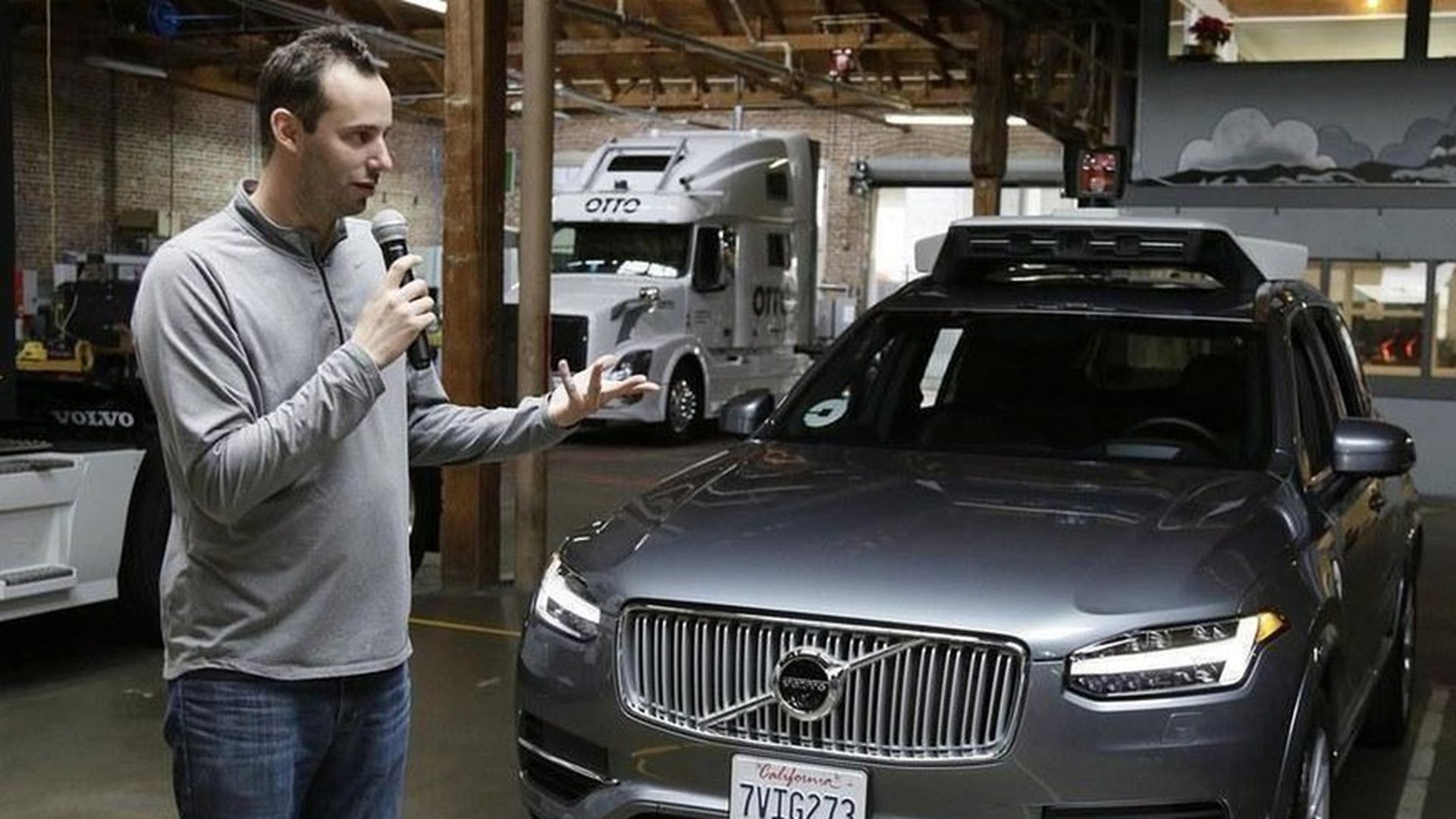 The drawn-out legal battle between Waymo and Uber will finally begin the trial process this week, with jury selection scheduled for Wednesday and the actual trial to begin next Monday.
Last-minute twist: Last week, the presiding judge received a letter from the Department of Justice. Though he hasn't revealed its contents, the judge ordered Uber to bring in three witnesses, including a former security analyst, to a pre-trial hearing today. Yesterday Waymo asked for more time so it can adequately prepare after Uber turned over a critical letter from the former security analyst.
What to expect at the trial:
Waymo will have to persuade a jury that former employee Anthony Levandowski plotted to recruit some former colleagues, steal proprietary information and use it to build Uber's self-driving car technology. It will also attempt to show that its proprietary technology was actually being used by Uber to develop its self-driving cars. Waymo hopes to get both a permanent injunction to bar Uber from using its tech, as well as monetary damages.
Uber will have to show that it successfully did everything it could to keep any of Waymo's proprietary information outside of the company and its technology. It will also try to show that none of its self-driving cars or tech uses Waymo's trade secrets.
https://www.axios.com/newsletters/axios-login-004c2f91-f8a7-40fd-9593-cb999cd6bf79.html?chunk=3#story3
Federal bill takes aim at revenge porn
A bipartisan group of Congress members are introducing a bill today that would target revenge porn and extortion using explicit online material.
The details: The Ending Nonconsensual Online User Graphic Harassment (ENOUGH) Act would prohibit sharing private, explicit images without consent. It's sponsored by Sens. Kamala D. Harris (D-Calif.), Richard Burr (R-NC), and Amy Klobuchar (D-Minn.) and Rep. Jackie Speier (D-Calif.). Speier had introduced a similar bill last year.
"Perpetrators of exploitation who seek to humiliate and shame their victims must be held accountable," Harris said in a statement. "It is long past time for the federal government to take action to give law enforcement the tools they need to crack down on these crime."
The goal: The bill aims to strike the balance between preventing nonconsensual sharing of images while preserving free speech.
Our thought bubble: Revenge porn and extortion are sometimes a part of sexual harassment and other misconduct. Even if the bill doesn't ultimately pass, the fact that Congress members have signed on shows increased awareness around the issue after numerous sexual harassment scandals have been exposed.
https://www.axios.com/newsletters/axios-login-004c2f91-f8a7-40fd-9593-cb999cd6bf79.html?chunk=4#story4
Airbnb will now let you split the bill
Airbnb has finally revealed how it plans to make use of Tilt, the crowdfunding service it acquired earlier this year – Airbnb will now let customers split the cost of a booking.
Twitter feedback: This feature was among the top requests when Airbnb CEO Brian Chesky asked for customer wishes via Twitter last year. Splitting and collecting travel payments within a group are reportedly a big source of disagreement and loss of money, Airbnb says.
Why it matters: Aside from making its customers happy, Airbnb also stands to gain a lot of business growth from this new feature. According to the company's test of the service, 30% of reservations booked led to one or more new Airbnb users.
https://www.axios.com/newsletters/axios-login-004c2f91-f8a7-40fd-9593-cb999cd6bf79.html?chunk=5#story5
https://www.axios.com/newsletters/axios-login-004c2f91-f8a7-40fd-9593-cb999cd6bf79.html?chunk=6#story6
After you Login