September 21, 2021
¡Muy buen martes! Today we discuss a report on the lack of Latinos in the media industry, abortion in the hemisphere, and Mexican engineering. Send us any feedback (quejas, sugerencias, chismes) by replying to this email. Sign up here if you aren't yet subscribed, and remember you can read the Spanish version here.
📅 Axios Latino is proud to partner with the Atlantic Council's Adrienne Arsht Latin America Center for a high-level discussion on Latin America's COVID recovery and why it matters to the global community, on Sept. 22 at noon EDT. Register here.
This newsletter — edited by Michele Salcedo— is 1,388 words, about a 5.5-minute read.
1 big thing: Latinos are missing from the media industry
The first study of Latinos in the media industry to come from the Government Accountability Office finds they are severely underrepresented in the industry and have made few gains in film, television, or newsrooms since 2014.
The big picture: The study by Congress's watchdog followed a request from Rep. Joaquin Castro (D-Texas), who has been vocal about the lack of Hispanic staffers in media outlets and the stereotypes that arise from that exclusion.
Castro, a former chair of the Congressional Hispanic Caucus, outlined key findings from the report today in a speech to the National Press Club.
Another study released this month, from the USC Annenberg Inclusion Initiative, found popular movies continue to marginalize Latinos although they are the most frequent moviegoers.
Only 7% of the leading roles in 2019 had Hispanic or Latino actors, and the number of directors and producers from the community remained as low as in the past years, according to the Annenberg analysis.
What they're saying: "For far too long, Latinos have been systematically excluded from the media industry and too often portrayed as negative stereotypes, which is dangerous for the American people when combined with scapegoating politicians and widespread disinformation," Castro tells Axios.
By the numbers: Latinos made up between 11% and 12% of the media industry workforce from 2014 to 2019, according to the GAO audit.
That percentage has remained unchanged even while they are now nearly 19% of the total U.S. population.
In recent years, Latino journalists, writers, and artists have demanded more opportunities and challenged stereotypical coverage and portrayals.
In 2019, about 8% of newspaper and publishing staff were of Hispanic origins.
Meanwhile, Latinos represented 18% of workers in all other industries combined over the same time, the GAO said.
What's next: The GAO is currently conducting a broader review of Hispanic employment in the media and expects to issue a report on those results in the spring.
2. Heritage imprint: Engineering feats. Thanks, Mexico
Credit Mexican engineering and entrepreneurship for developments that led to the color television, oral contraception and helped mend the hole in the ozone layer, among others.
Details: In 1940, 23-year-old Guillermo González Camarena patented a chromoscopic adapter that allowed black and white televisions to show color.
Of note: Another Mexican engineer pioneered a synthetic hormone used in oral contraceptives, which not only help prevent pregnancy, but also alleviate the pain of menstruation, reduce the risk of ovarian cancer and treat acne and endometriosis.
In 1951, chemical engineer Luis Miramontes and two colleagues created the first synthesized progesterone, which they named norethindrone, in a Mexico City lab.
Also of note: Chemist Mario Molina led some of the earliest research on climate change, as co-author of a groundbreaking 1974 paper that linked gas emissions from spray cans and refrigerators to the depletion of the ozone layer.
3. Latino groups fight for immigration reform
The U.S. Senate parliamentarian's decision to block a provision in the budget reconciliation bill that would have provided a pathway to citizenship for millions of immigrants was criticized by Latino members of Congress and immigration advocacy organizations, who promised to keep pushing for changes to the immigration system.
What's happening: Senate Democrats had hoped to include language that would have let Dreamers and Temporary Protected Status holders who already have limited work or study authorization to apply for green cards and eventually gain citizenship.
Undocumented farmworkers and other essential workers would have also benefitted with a pathway to legal status.
Past proposals have repeatedly stalled in Congress despite a bipartisan majority of Americans favoring changes to the U.S. immigration system.
Including the immigration measure in the budget discussions would have allowed it to advance through a simple majority vote and avoid a possible filibuster.
What's next: Senate Majority Leader Chuck Schumer (D-N.Y.) said the Democrats will "continue fighting to pursue the best path forward to grant [immigrants] the ability to obtain lawful status."
An additional immigration proposal from the White House, the U.S. Citizenship Act of 2021, remains stalled in House subcommittees.
Between the lines: The parliamentarian's decision was announced as the Border Patrol in Texas has been using whips and express deportation flights to disperse thousands of Haitian people from under a bridge in Del Rio.
4. A changing outlook on abortion in Latin America
Support for abortion rights in some Latin American countries has jumped considerably since 2014, with Argentina seeing the biggest spike, an Ipsos poll finds.
Context: The shifts highlight the growth of pro-choice and feminist movements across the region, making judges and lawmakers react accordingly.
Women waving green handkerchiefs in Argentina for years pushed Congress to overturn a 1921 law criminalizing abortion. Last December abortion was legalized across the South American country.
After massive protests in favor of abortion in Mexico, the Supreme Court in two cases found state measures restricting abortion based on the view that life begins at conception were unconstitutional, as were laws criminalizing the procedure.
By the numbers: A majority of adults surveyed in Argentina, Brazil, Chile, Colombia, Mexico, and Peru said abortion should be permitted at least under certain circumstances.
The Ipsos poll found 79% of Argentines surveyed think terminating a pregnancy should be permitted for any reason, or under certain circumstances like rape or incest, compared to 2014.
Around 64% of those surveyed in Brazil said they supported abortion under certain instances — an 11-point spike from the same time period.
Chile (73%) and Mexico (59%) both saw 8-point increases from 2014.
Yes, but: Several Latin American countries that were not surveyed still have some of the most restrictive anti-abortion measures in the world, such as El Salvador, Nicaragua, Dominican Republic and Honduras.
5. Stories we're watching
1. Mexican criminal organizations are starting to use improvised explosive devices hidden in boxes or disguised as gifts, such as in an attack that killed two people in a restaurant in Guanajuato this Sunday.
President Andrés Manuel López Obrador said the use of explosives is meant to sow fear, where previously cartels and criminal groups used weapons in more targeted killings.
2. A new law in Peru that allows the cremation of anyone convicted of terrorism will permit the state to cremate the remains of Abimael Guzmán, the former leader of the Sendero Luminoso guerillas who were responsible for around 69,000 deaths and disappearances.
3. Guatemala's attorney general and El Salvador's Constitutional Chamber members were added yesterday to the U.S. Department of State's Undemocratic and Corrupt Actors report, known as the Engel list.
Guatemalan Consuelo Porras was accused of obstructing investigations with the removal of anti-corruption prosecutor Juan Sandoval, while the Salvadoran magistrates were accused of undermining democratic processes by allowing immediate re-election despite a constitutional ban.
6. 1 smile to go: Body bead art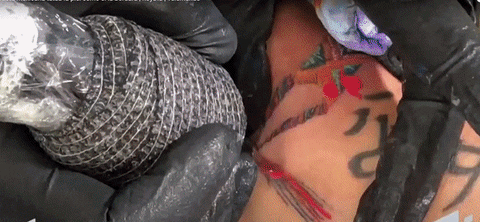 Traditional weaving and art motifs of Mexican Indigenous communities can now be worn as tattoos that look like traditional embroidery or chaquira beadwork.
Details: Paulina Olivar is among the tattoo artists who've developed an inking technique that can look like ironed-on patches or 3D crafts.
The designs include hummingbirds in Otomí style, skulls that resemble Huichol beaded art, or the velvety blue flowers of clothing worn in the Istmo area of Oaxaca.
Hasta el jueves, have a safe one.