June 21, 2022
🙋🏽‍♀️ Welcome, readers! We hope you had a great weekend.
We'd love it if you told a friend about this newsletter. Newbies can sign up here!
Puede leer la versión en español aquí.
This newsletter, edited by Astrid Galván and Laurin-Whitney Gottbrath, is 1,499 words — a 5.5-minute read.
1 big thing: What Colombia's swing left means for the U.S.
Sunday's election of leftist Gustavo Petro as Colombia's next president could change the course of the country's relationship with the United States, Marina writes.
Why it matters: Colombia has long been one of Washington's closest allies in Latin America.
The two countries have especially strong ties on trade issues and security measures, including close cooperation on the Venezuelan migrant crisis and the fight against the illegal drug trade.
Catch up quick: Petro, who will become Colombia's first leftist leader, campaigned on several promises that run counter to years of U.S.-Colombia relations.
"The two nations will struggle on security cooperation, trade, and potentially energy," says Shannon K. O'Neil, senior fellow for Latin America Studies at the Council on Foreign Relations. Petro wants to do away with oil exploration at the same time President Biden is asking nations to produce more given prices at the pump.
On the illegal drug trade, Petro has said the U.S. policy in Latin America, which has focused on the eradication of crops and the extradition of cartel leaders, has "categorically failed."
He instead wants to legalize medicinal marijuana and create more economic incentives so impoverished farmworkers don't see the coca plant as their only choice for livelihood.
Petro, a former guerrilla fighter with the now defunct M-19 movement, has also proposed reopening peace talks with the ELN rebel group as another step in "peacefully dismantling drug-trafficking." The U.S. considers the ELN a terrorist organization.
On migration, the future of a deal that allows the Biden administration to send some Venezuelan migrants to Colombia is unclear.
Petro has not commented specifically on the agreement, but during the campaign focused more on reestablishing Bogotá's direct relationship with Caracas.
What they're saying: Those policy differences will "likely end a two-decade-long bipartisan consensus behind support for Colombia in the U.S. Congress," O'Neil tells Axios Latino.
Yes, but: "The Biden administration will find common ground on environmental and human rights issues in particular," O'Neil says. Mitigating the effects of climate change is a cornerstone of Petro's promised policies.
U.S. Secretary of State Antony Blinken said in a statement Sunday that the Biden administration looks forward to working with Petro "to further strengthen the U.S.-Colombia relationship and move our nations toward a better future."
The big picture: Legislative support will be key for Petro, who O'Neil says will struggle "without a majority in Congress and facing mounting global tailwinds of inflation and rising interest rates."
His Pacto Histórico progressive coalition currently only has 40 of the nearly 300 votes in Congress.
2. 🏠 Exceptional homeownership rates
Financial literacy programs and the employment of diverse bankers have helped Latinos in cities like El Paso, Texas, and Albuquerque, New Mexico, achieve much higher homeownership rates than in most places despite systemic barriers, experts tell Russell.
The big picture: Latinos and other people of color have traditionally had higher mortgage denial rates and decades of unequal access to financing.
By the numbers: Nationally, 49% of Hispanic Americans owned a home in the first quarter of 2022, compared to 74% of white Americans, per the Census Bureau.
But in El Paso, the homeownership rate for Latinos is just shy of 60%.
El Paso ranks as the top large city for Latino homeownership, with more than 350,000 Hispanics owning homes in 2019, according to an Axios analysis that used the Census Bureau's American Community Survey five-year estimates and a study by Constructioncoverage.com.
Albuquerque ranked second, with a homeownership rate over 58%.
Fort Worth, Texas, also had a rate of nearly 58%, followed by San Antonio, Texas, with close to 54%.
What they're saying: "We've had diversity, inclusion, and equity weaved into our DNA here" for years, Max Villaronga, president and CEO of the El Paso Area Teachers Federal Credit Union, told Axios.
Villaronga said TFCU, one of the largest mortgage lenders in El Paso, has long worked on creating a diverse staff to help potential homebuyers navigate the process.
"We have to ensure that we have a level of representation. The majority of our team members here are bilingual in English and Spanish."
Michelle Melendez, director of Albuquerque's Office of Equity and Inclusion, told Axios the city's investments in low-income housing have helped Latinos, who can then go through financial literacy classes and buy a home.
3. Cartels use video games to recruit teens
Mexican cartels are using violent video games to recruit kids and teens into their ranks, Noticias Telemundo Investiga's Aldo Meza reports.
Driving the news: Cartel members using generic nicknames make contact with kids through the messaging services of online mobile games like Free Fire, which authorities say is harder for parents to monitor.
The cartel "gamers" ask the young players to exchange phone numbers so they can coordinate playing times and message more frequently, a 14-year-old who escaped a recruitment attempt in October told Telemundo.
The cartel members eventually offer the children up to $800 a month to travel to the U.S.-Mexico border and act as lookouts to check for nearby government patrols or vehicles from enemy cartels, Telemundo found.
Authorities in Oaxaca, where one victim lives, say there have been more than 30 reports of attempted cartel recruitment through video games in the past year.
Cybersecurity police say the real number in Oaxaca and other parts of Mexico could be much higher because it's likely kids are afraid to report any recruitment attempts.
What they're saying: Garena, the company behind Free Fire, said the situation was "deplorable" and that it would take stringent action to better monitor dangerous activity.
The Mexican government urges parents to use parental controls and create email addresses their kids can use strictly for video games to avoid exposing private data and unwanted contacts.
4. A long road for Latino doctors
A recent study found that even if the pace at which Hispanics are becoming doctors doubled, it would take 92 years for their number to match the proportion of the U.S. Hispanic population, Marina writes.
Why it matters: The dearth of Black and Hispanic physicians "could worsen the already dire racial and ethnic disparities" in health matters like maternal mortality and obesity rates, the study's authors write.
State of play: It would take 66 years to remedy the deficits in Black doctors, according to the research published in the Journal of the American Medical Association.
Of note: The study used population and medical school data from 2015 and did not account for future trends in national demographics and immigration.
Where it stands: Latinos, who are almost 19% of the U.S. population, made up 7.8% of medical residents of all specialties between 2020 and 2021, data from the Association for American Medical Colleges shows.
In that time, 6.7% of all medical students were Latino.
The big picture: Better recruitment in medical schools and an expansion of programs that put a greater focus on underrepresented students could help alleviate the expected shortage of physicians needed to cover more of the country's population, which is getting more diverse.
Studies show there could be a general shortage of up to 124,000 doctors in the U.S. by 2034.
5. Stories we're watching
1. Indigenous demonstrators reached Ecuador's capital, Quito, yesterday after marching for over a week to protest President Guillermo Lasso's policies and worsening inflation.
Protesters, some of whom mounted roadblocks, are demanding support for struggling farmworkers and an end to mining developments.
Lasso has declared a state of emergency in three provinces in a bid quell the protests, which were called by the Confederation of Indigenous Nationalities of Ecuador.
2. In Honduras, the man convicted of planning the 2016 assassination of environmental activist Berta Cáceres was sentenced yesterday to more than 22 years in prison.
Cáceres, a member of the Lenca Indigenous group, was killed after facing threats over her protests against a planned dam.
Cáceres' daughter said the family was outraged that Roberto David Castillo, the former head of the company that was building the dam, did not receive a heavier sentence.
6. 📸 Smile to go: Strike a pose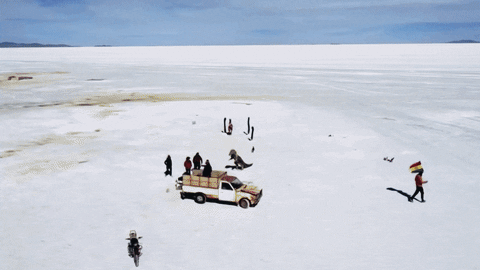 Three boys from a small town in Bolivia are helping tourists at the world's largest salt flats take the most Instagram-worthy photos, Marina writes.
Details: Kevin Mamahi, 14, and Piter Condori and Ismael Chambi, who are both 11, practice their photo skills — while earning some cash — on weekends at the Salar de Uyuni in Bolivia.
They take a series of props to the tourist site and guide visitors on how to hit their best pose.
All the money they make — about $12 dollars a day — is put aside so they can stay in school and help their families pay for home repairs.
They said they hope to eventually buy their own cameras.
Thanks for joining today! Got any thoughts on this newsletter? We love to hear from readers. Email [email protected]