Axios Latino
March 09, 2023
🙋🏽‍♀️Welcome back! Make sure you're signed up for our newsletter if you're not already!
Puede leer este boletín en español aquí.
This newsletter, edited by Astrid Galván, is 1,376 words, a 5-minute read.
1 big thing: Troubled nations in the World Baseball Classic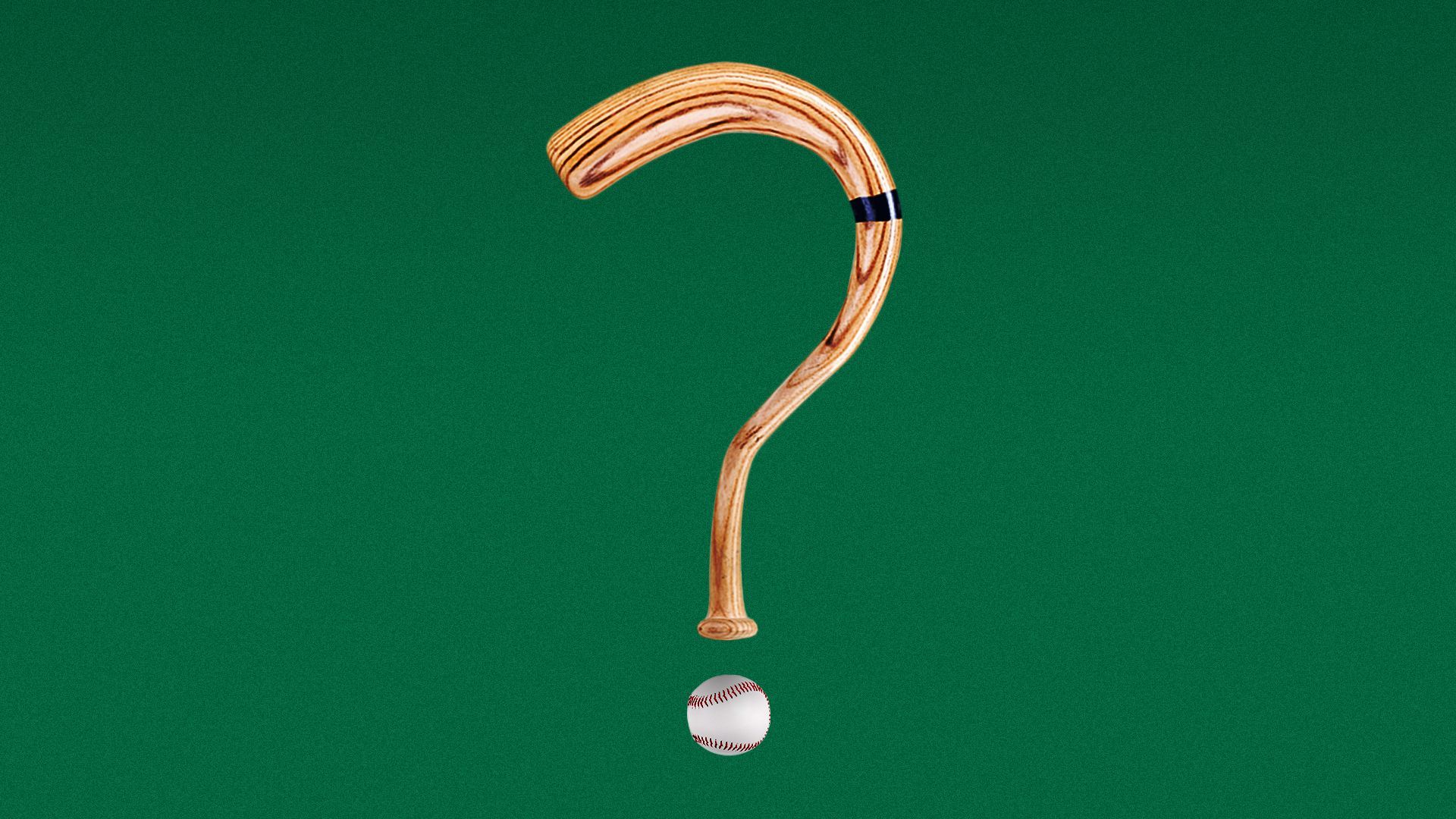 As the World Baseball Classic began this week, some fans say they have conflicting feelings about cheering for Caribbean and Latin American nations where people are experiencing turmoil, Axios' Keldy Ortiz writes.
The big picture: Eight of the 20 countries competing in the World Baseball Classic are from Latin America and the Caribbean, and some are among the favorites to win the title — despite instability at home.
While the Dominican Republic "plays with swag," it's hard to ignore the realities the country faces, including colorism, says Axios Latino reader Karianna Torres, who is Dominican American.
The country is facing international criticism for deporting over 100,000 Haitians fleeing political instability last year, fueling long-standing tension between the two countries.
Fans often want to avoid those conversations in sports, "but I'm definitely a proponent of talking about these issues, because, yes, you're representing your country but you're also tied to your identity that can be affected by this," says Torres, who is rooting for the Dominican Republic despite her concerns.
Venezuela, another contender, is in a dire economic crisis that's forced tens of thousands of people who have little access to food to leave.
At the same time, Cuba is experiencing extreme food and medicine shortages and political turmoil, forcing a record number of people to flee the island.
Between the lines: People have a strong sense of identity with their country when it comes to sports, Kirk Bowman, professor and regents chair in global development and identity at Georgia Institute of Technology, tells Axios.
Yes, but: The World Baseball Classic is newer and less popular than other worldwide contests such as the Olympics and World Cup, so fans might not be as devoted to the nation they usually cheer for, says Alan Klein, professor emeritus of anthropology at Northeastern University.
"It's easier for [fans] to step outside and to be politically critical" for that reason, Klein says.
It'd be much harder, for example, for a lifelong Venezuela soccer fan to not root for the team in World Cup, a massive global event.
What they're saying: Other Axios Latino readers expressed additional reasons they're cheering for their preferred teams this year. José D. Alvarez, who is rooting for Venezuela (his nephew, Miami Marlins pitcher Jesús Luzardo, is playing for the team), says he's going to watch the final game even if the South American nation is not in it "because I just love the game."
"I will be rooting for Puerto Rico because that is my island-nation," reader Enilda Abreu wrote.
2. Why it's hard to track Latinos in the justice system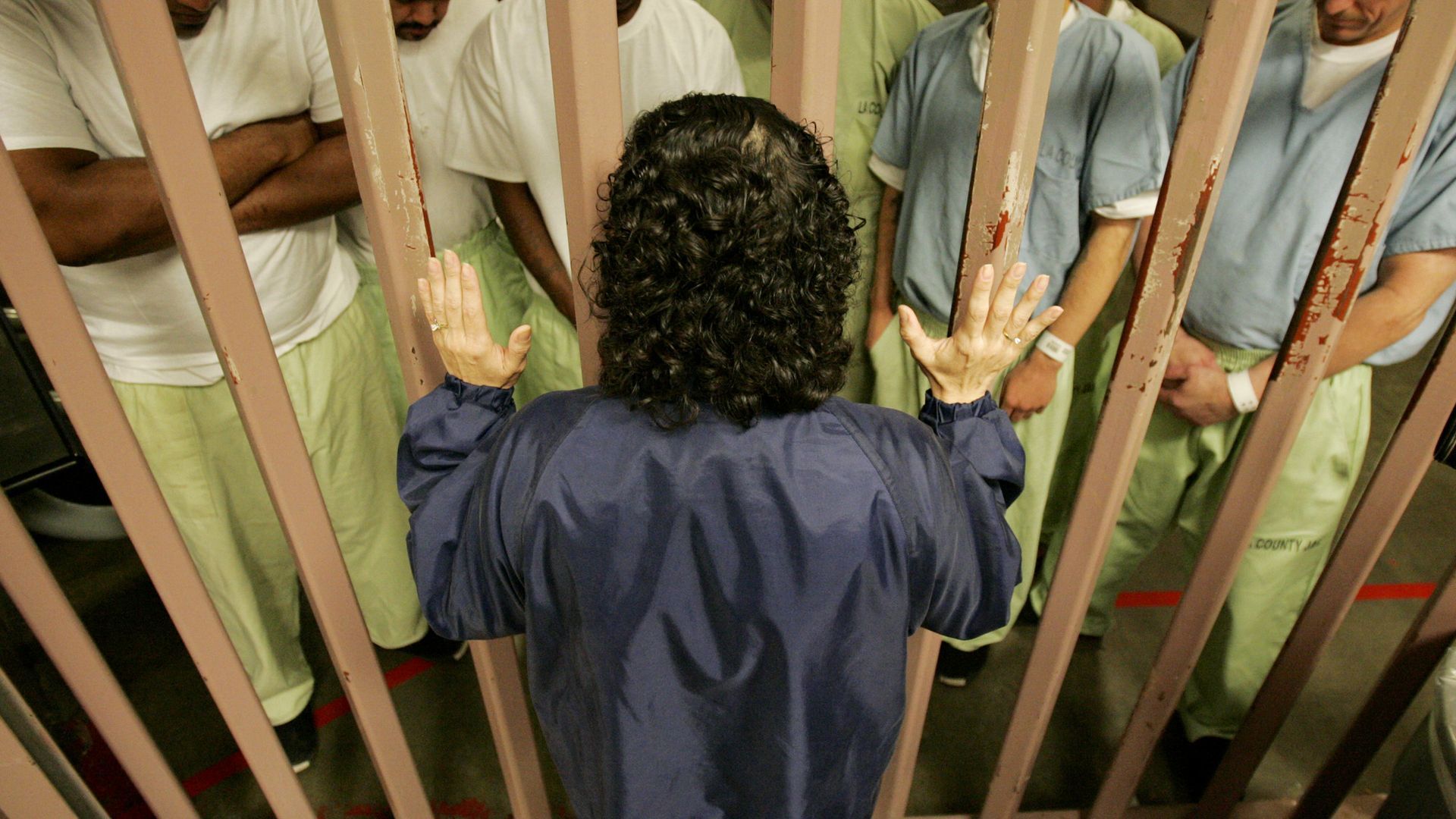 A new report examining how Latinos interact with the criminal justice system found police and jails rarely track their racial and ethnic data, complicating how researchers track potential disparities, Russell and Astrid write.
The big picture: An estimated 1.2 million people are incarcerated in the nation's state and federal prisons today, and close to 550,000 are in jail, but there's little research into how Latinos fit into this picture, according to the report, published Wednesday by the University of California, Irvine, School of Social Ecology.
Author Nancy Rodriguez says she hopes the study will be the first of many to look at how Latinos interact with the criminal justice system because having accurate data will lead to reforms and more racial equity.
Details: Rodriguez and co-author Rebecca Tublitz collected arrest and detention data by race and ethnicity from 14 cities and zeroed in on four counties: Charleston County, South Carolina; Harris County, Texas; Multnomah County, Oregon; and Palm Beach County, Florida.
They found just 30% of record management systems capture Latino or Hispanic ethnicity data separately from racial characteristics, while the rest capture Latino ethnicity as a single race.
They also found that someone's race or ethnicity is most often simply determined by a police officer.
What they're saying: Rodriguez, a criminology professor at the University of California Irvine, says institutions should be cautious in creating ethnic and racial categories and should acknowledge the "tremendous diversity" among Latinos.
The authors recommend that all criminal justice agencies standardize how they collect race and ethnicity data.
Between the lines: Every state is different in how their police departments define who is Hispanic, and many don't consider that Latinos can be of any race, says Alex del Carmen, a Tarleton State University criminologist.
"Instead, (police) default to white. It's almost like the racial category supersedes the ethnic category," del Carmen tells Axios.
What to watch: Justice Counts, a federal initiative, is seeking to standardize metrics in the country's criminal justice system.
3. Colombia, Ecuador agree to protect activists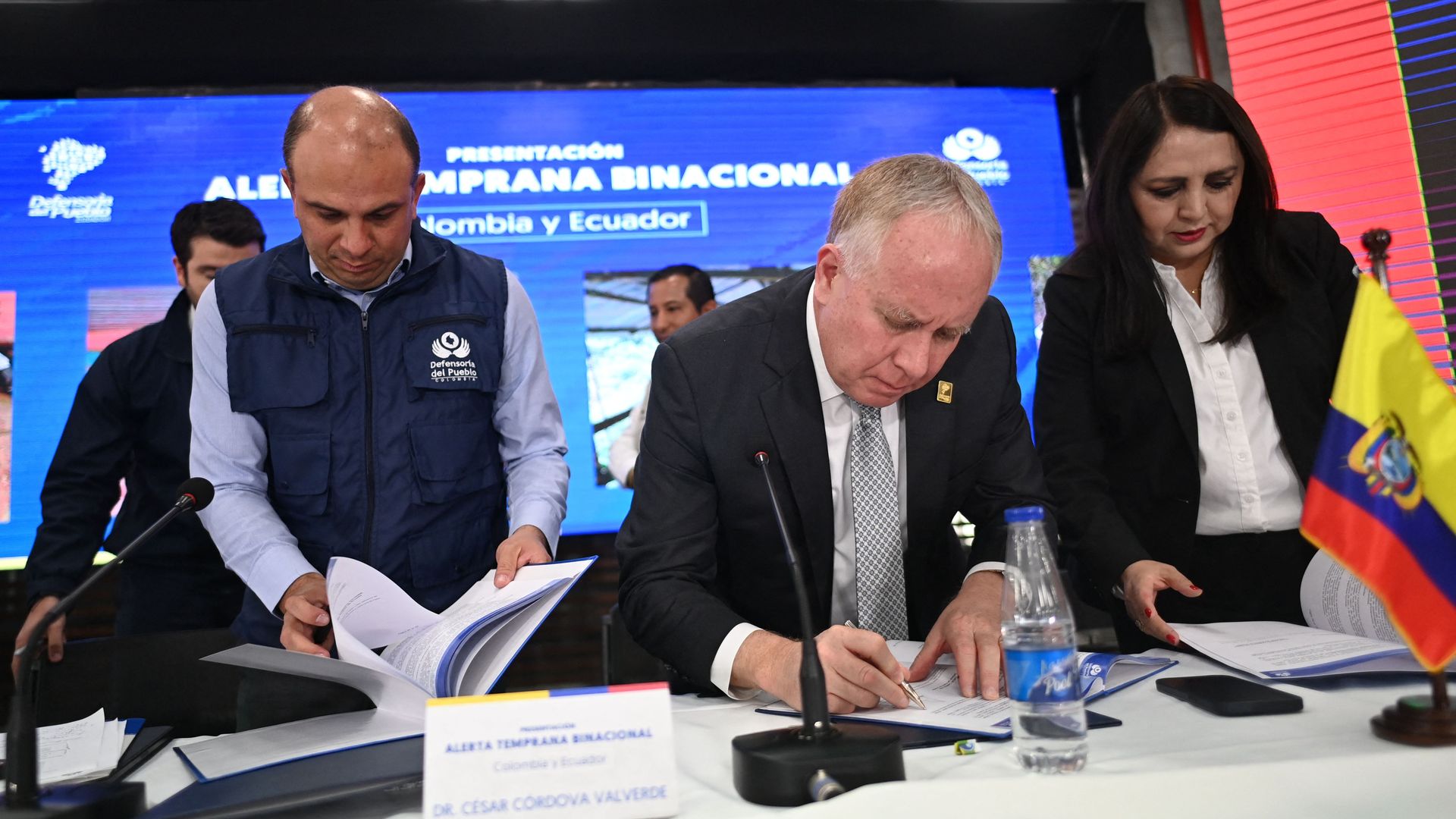 Colombia and Ecuador this week launched a first-of-its-kind joint security alert system in an attempt to prevent attacks by armed groups against Indigenous and environmental activists near the nations' shared border, Marina writes.
Why it matters: At least 116 activists were killed last year, up from 100 in 2021, according to new data from the UN's Colombian office.
Killings of at least three or more people at once — which the UN defines as a massacre — also rose from 78 in 2021 to 92 last year, according to a UN report presented Tuesday in Geneva.
Those killed last year include José Albeiro Camayo Güetio, a co-founder of an Indigenous-led lands rights guard in the Cauca region.
Some of that violence happened in the Amazonian region, part of which is shared with Ecuador.
Details: As part of the binational alert system launched Tuesday, each country's ombudsman offices, which serve as quasi-civil rights enforcers, will monitor activity near the border closely and share information.
They'll look to spotlight crime trends to protect Indigenous groups that also face extortion, displacement and forced recruitment of children.
Authorities haven't released more details about how the initiative will work.
The big picture: Violence continues to devastate parts of Colombia despite the 2016 peace agreement between the government and the largest guerrilla force, the Revolutionary Armed Forces (FARC).
NGOs and UN experts attribute most assassinations to armed criminal groups that aim to take control of remote jungle areas, where there's long been little security, for drug trafficking and other illegal activities.
What to watch: The government of Colombian President Gustavo Petro came to power last August with promises of "total peace," seeking to establish ceasefires with armed groups and curb violence in rural areas.
A second round of peace negotiations between the National Liberation Army (ELN) and the Colombian government is scheduled to end Friday and a third round start in April.
4. In photos: International Women's Day protests
Women across Latin America and the Caribbean marked International Women's Day yesterday with protests, seeking to bring attention to enduring issues such as gender-based violence and pay disparities, Marina writes.
The big picture: Latin America and the Caribbean has some of the worst rates of gender-based violence in the world, according to UN data. Check out the rest of the photos here.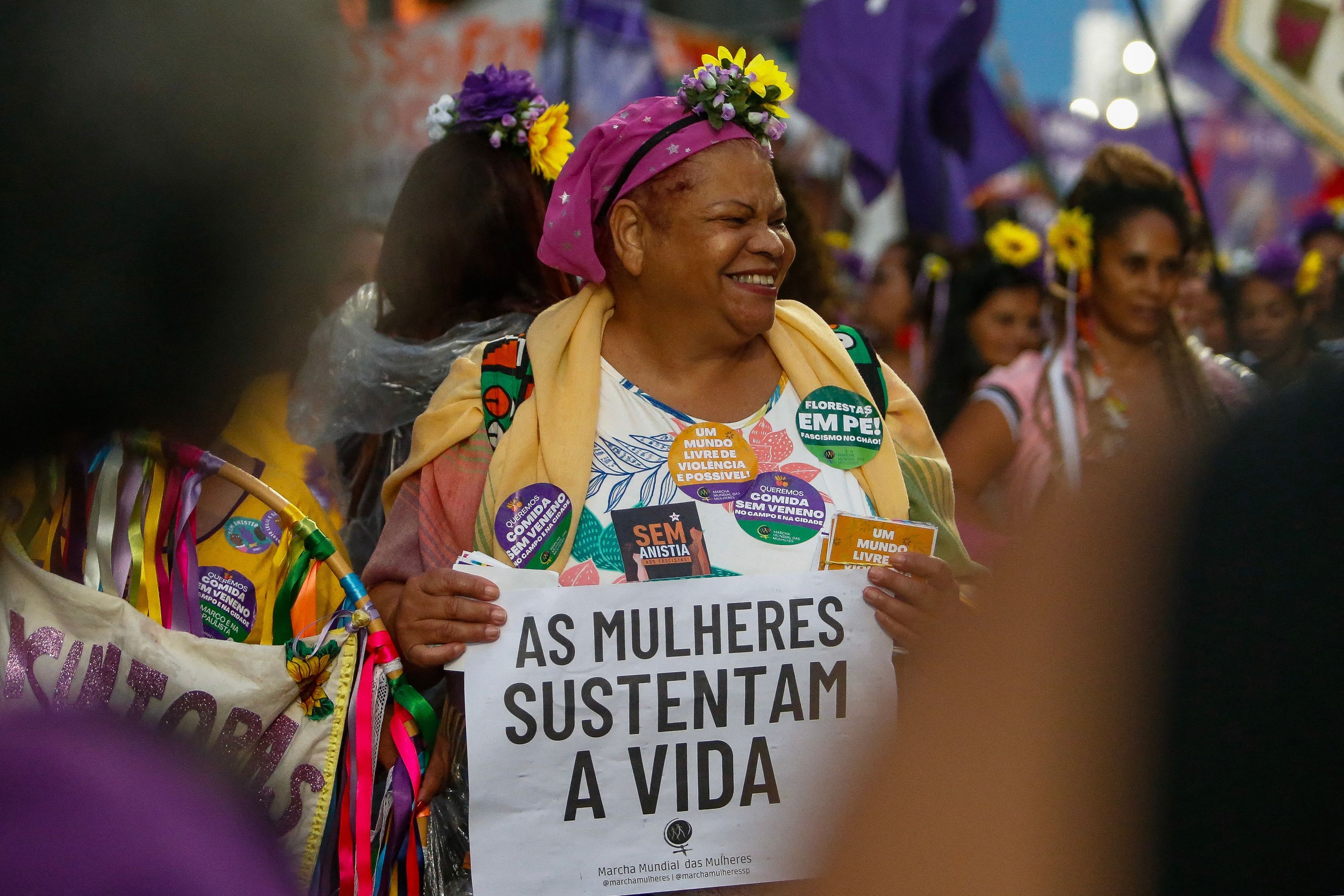 5. Stories we're watching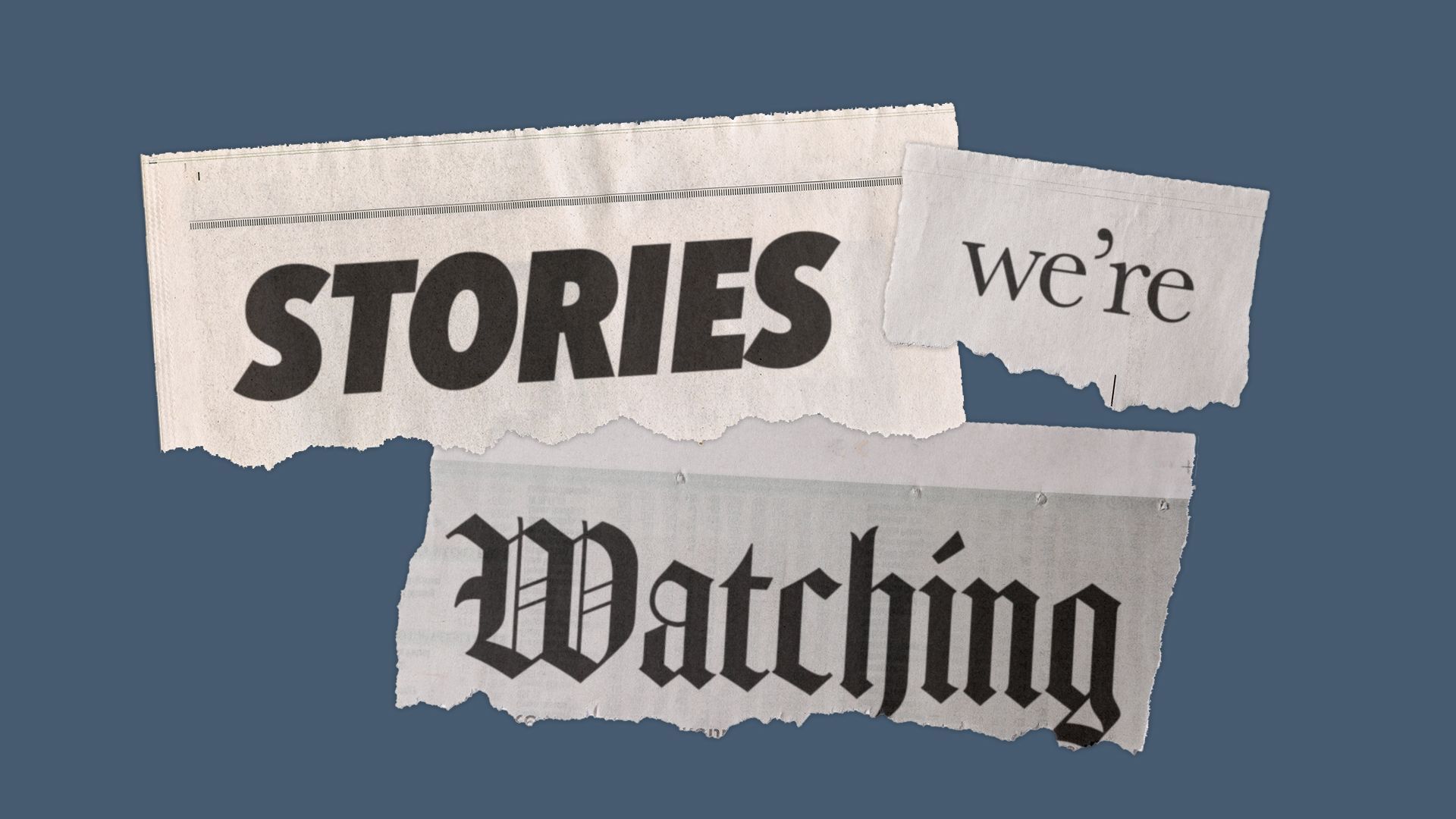 1. Four former Nicaraguan political prisoners have been invited to speak before the U.S. House Subcommittee on the Western Hemisphere later this month, according to opposition leader Félix Maradiaga.
Maradiaga was among more than 220 people who were released from prison in Managua last month and sent by plane to Washington, D.C., after being stripped of their Nicaraguan citizenship.
Around 35 dissidents remain detained in Nicaragua.
2. Juan Guaidó announced this week he's running to be the opposition coalition's nominee to go up against Venezuelan President Nicolás Maduro next year.
Guaidó was, from 2019 until late last year, recognized by the U.S. and other countries as the legitimate interim Venezuelan president, in repudiation of Maduro's government.
The opposition coalition primaries will be held in October.
6.🪅Pachanga: Yolanda Ramos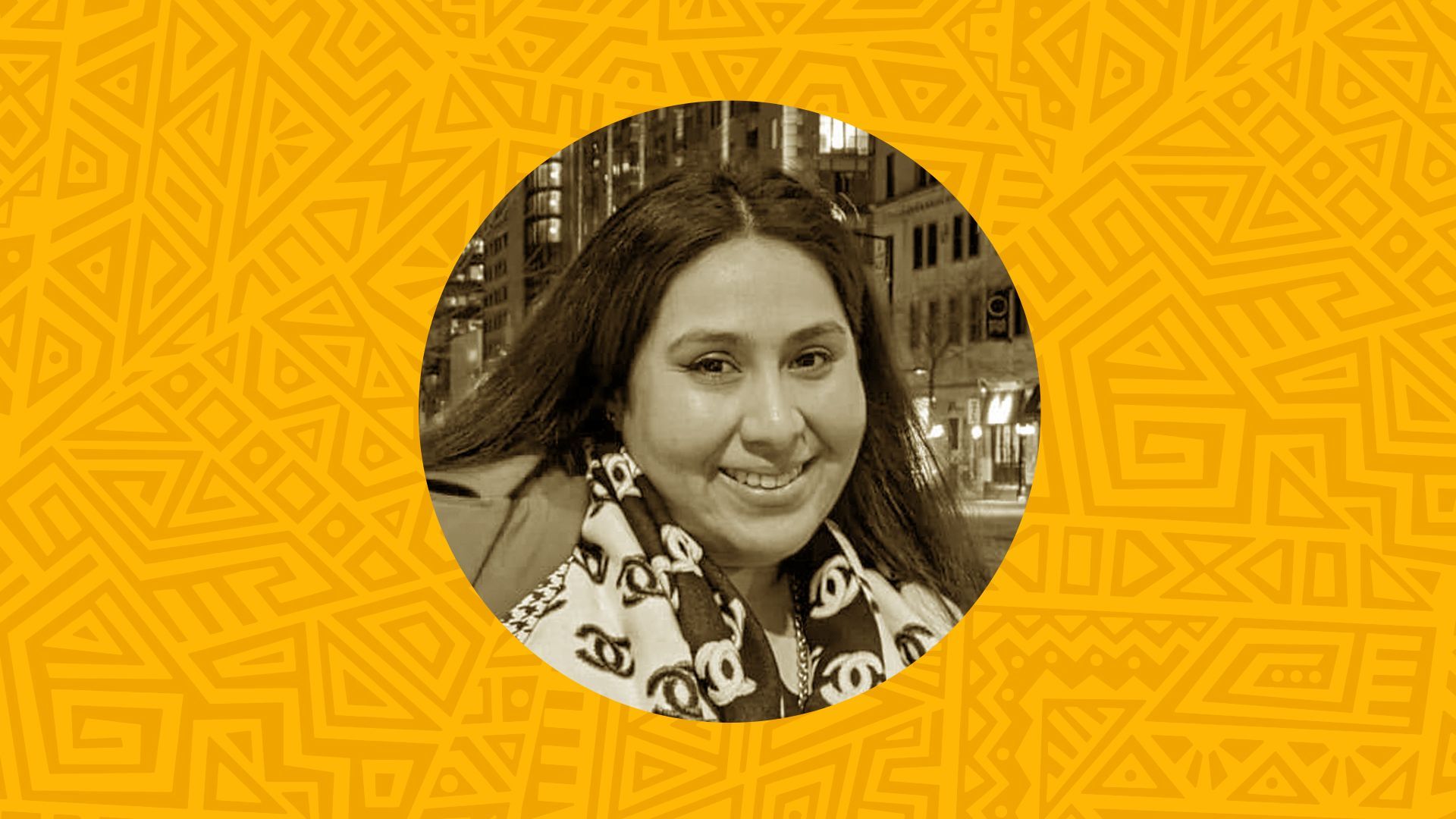 We were so touched by the submission Yolanda Ramos' sister made for today's pachanga.
Yolanda is practicing clinician who works with Latinos on navigating grief.
Her website, Clinical Comadre, offers resources, and she recently launched a bilingual grief journal on Amazon.
The work you do is so important and needed. Congrats, Yolanda!
Have you recently accomplished something you're proud of? Let us know by replying to this email!
Thanks for reading, please see us again next week! Thanks to Carlos Cunha for the copy edits.