Axios Latino
September 07, 2021
¡Muy buen martes! Today we look at workers dying from the heat, the California recall, and bitcoin beaches. Send us any feedback (quejas, sugerencias, chismes) by replying to this email. Read the Spanish version here.
🚨 Situational awareness: Starting today, Axios Latino will publish twice a week, on Tuesdays and Thursdays. Sign up here if you aren't yet subscribed.
Breaking: José Díaz-Balart is returning to MSNBC. Read about his new show here.
This newsletter — edited by Michele Salcedo — is 1,419 words, about a 5.5-minute read.
1 big thing: Cancer strikes Latinos earlier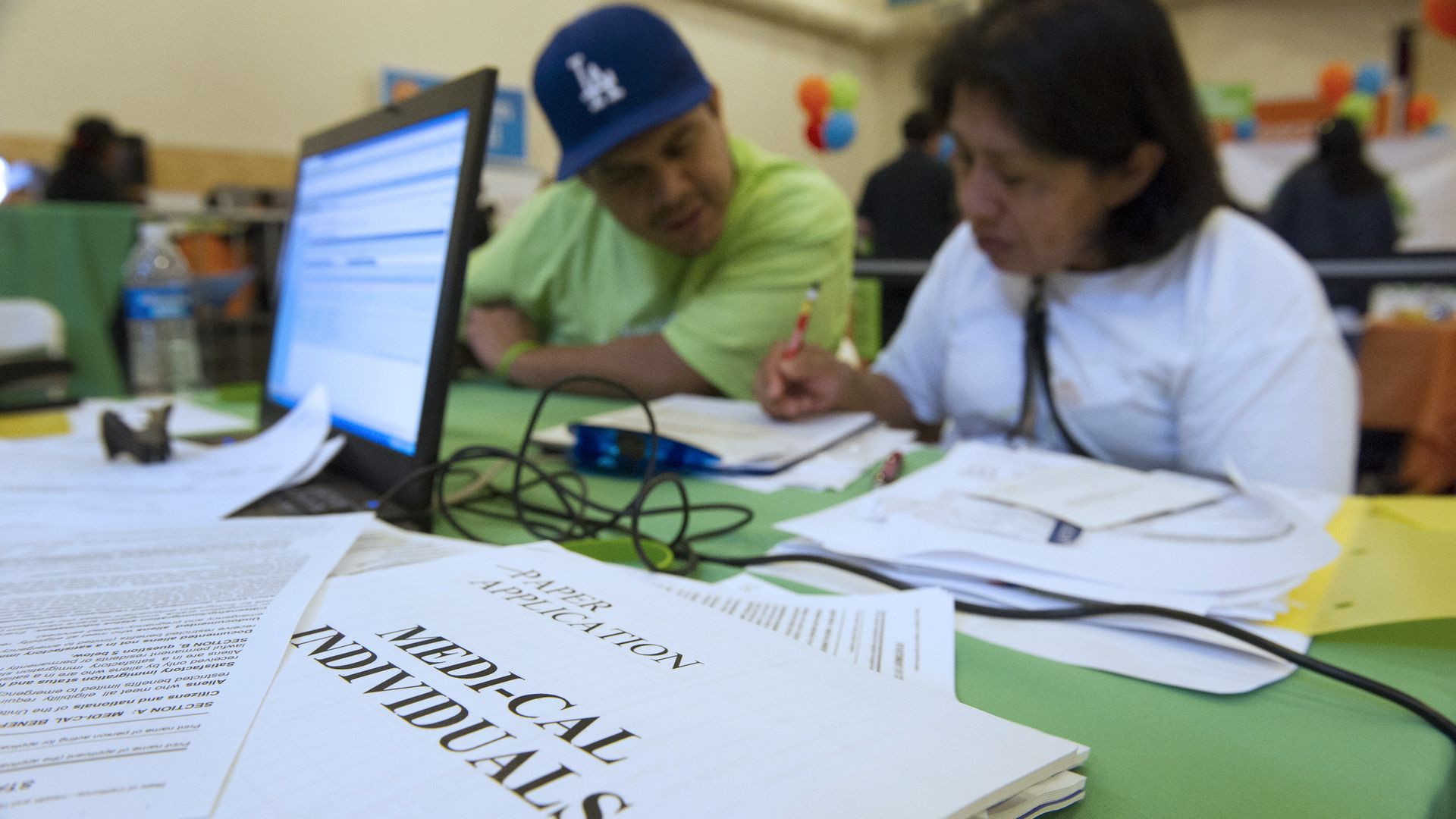 Latino men and women in the U.S. are diagnosed at younger ages than white non-Hispanics with forms of cancer like leukemia, Kaposi sarcoma, gallbladder, and Hodgkin's lymphoma, a peer-reviewed study found.
Where it stands: Cancer is the leading cause of death for Latinas in the U.S., and the second leading cause for Latino men.
Hispanics aged 16 to 64 are more than twice as likely as white non-Hispanics to be uninsured, creating barriers to their treatment in case of catastrophic illnesses like cancer.
Lack of insurance also makes access more difficult for timely screening or preventive services for diseases such as breast cancer, the most common cancer diagnosis among Latinas in the U.S.
Latinos, on average, have a higher prevalence of cancer risk factors like diabetes or obesity.
What they're saying: "Latinos who are cancer survivors may have a reduced quality of life for longer, with huge financial impacts and long-term effects, such as increased risk of cancer recurrence, second cancers, and increased risk of heart disease," Humberto Parada, lead researcher on the study, told Axios Latino.
He called for "more targeted messaging and recommendations that are relevant to Latinos from different backgrounds and with different cultures" to encourage testing and preventive measures.
By the numbers: Cancer cases among Hispanics are projected to rise by 142% by 2030.
The bottom line: While Latinos have a lower incidence of most cancers than non-Hispanic whites, their survival rates are generally worse.
Survivors end up with a poorer comparative quality of life, health problems such as anxiety, and socioeconomic hurdles like housing instability.
The financial hardship faced by older Latinos who live with chronic diseases, including cancer, in turn worsens their health.
What's next: An upcoming six-year study will examine how issues like discrimination, depression or ancestry can affect the severity of cancer-related symptoms and the emotional responses in patients.
Go deeper: Racism may be breaking Latinos' hearts
2. Latinos oppose California's recall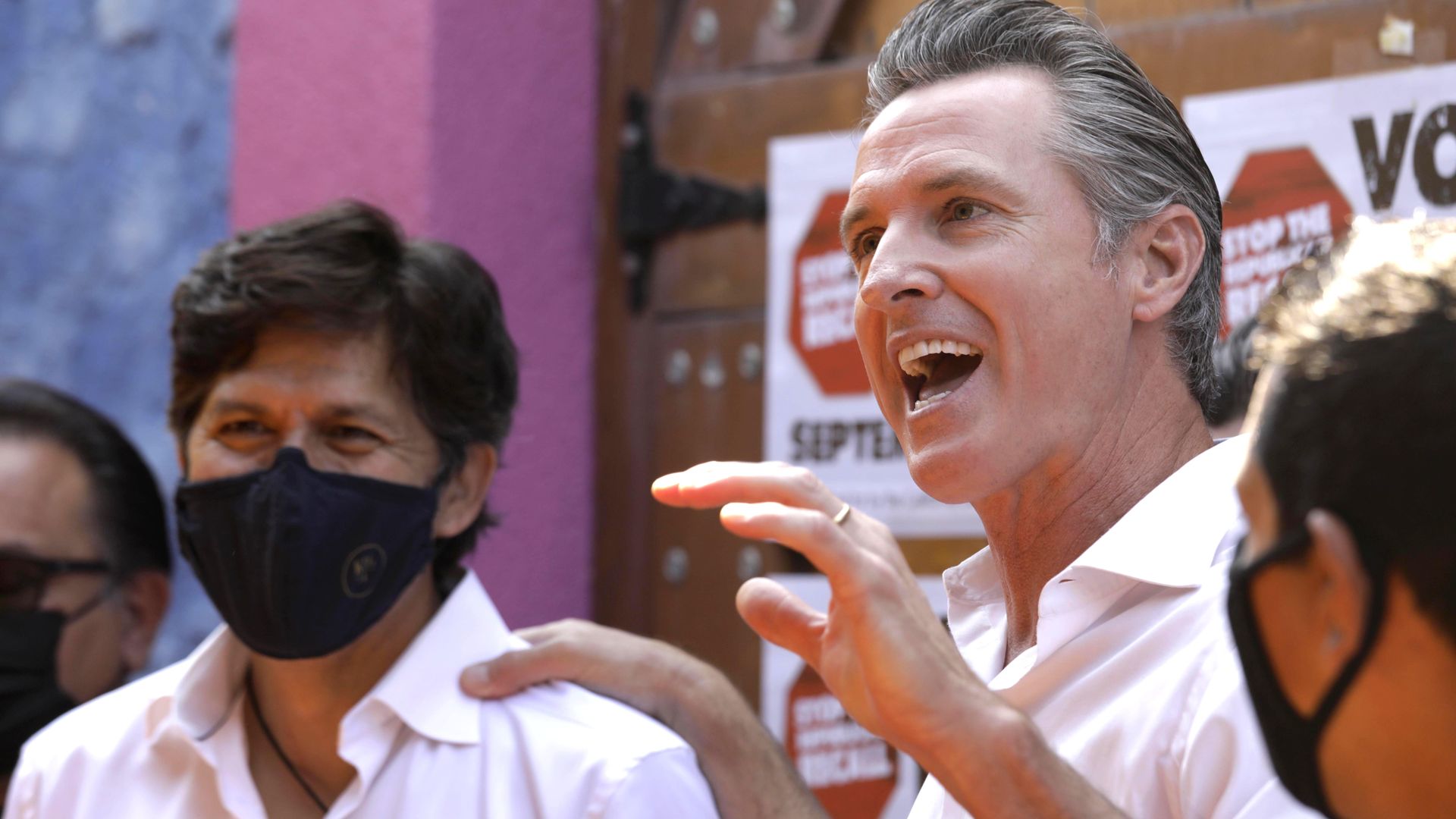 A sizable majority of likely California voters oppose recalling Democratic California Gov. Gavin Newsom, and he's getting a boost from Latinos days before the Sept. 14 election, according to a poll.
State of play: The Public Policy Institute of California poll released last week found 66% of likely Latino voters said they would not support the recall compared to 27% who do —a stark reversal from previous polls showing a tight race.
A month ago, another poll from Emerson College/Nexstar had found 54% of Latinos favored recalling Newsom and all voters evenly split.
Mike Madrid, a California Republican strategist and Latino voting trends expert, said early polls on Latino voters tend to be off because surveys don't include enough Latino data.
But, but, but: Democratic strategist Chuck Rocha said Newsom's team should target nonparty preference and infrequent Latino voters to make sure they cast ballots, thus avoiding a mistake both Democrats and Republicans make of not engaging Latinos.
Newsom has been visiting heavily Latino enclaves in recent days near Dodger Stadium, the Coachella Valley and at schools with a large number of Hispanic students.
The bottom line: Hispanics are the largest ethnic group in California, making up 39% of the state's population. They represent about 28% of registered voters.
About 66% of Latinos voted for Newsom when he was elected governor three years ago, highlighting the reliability of California Hispanics as Democratic voters.
3. Farmworkers face deadly heat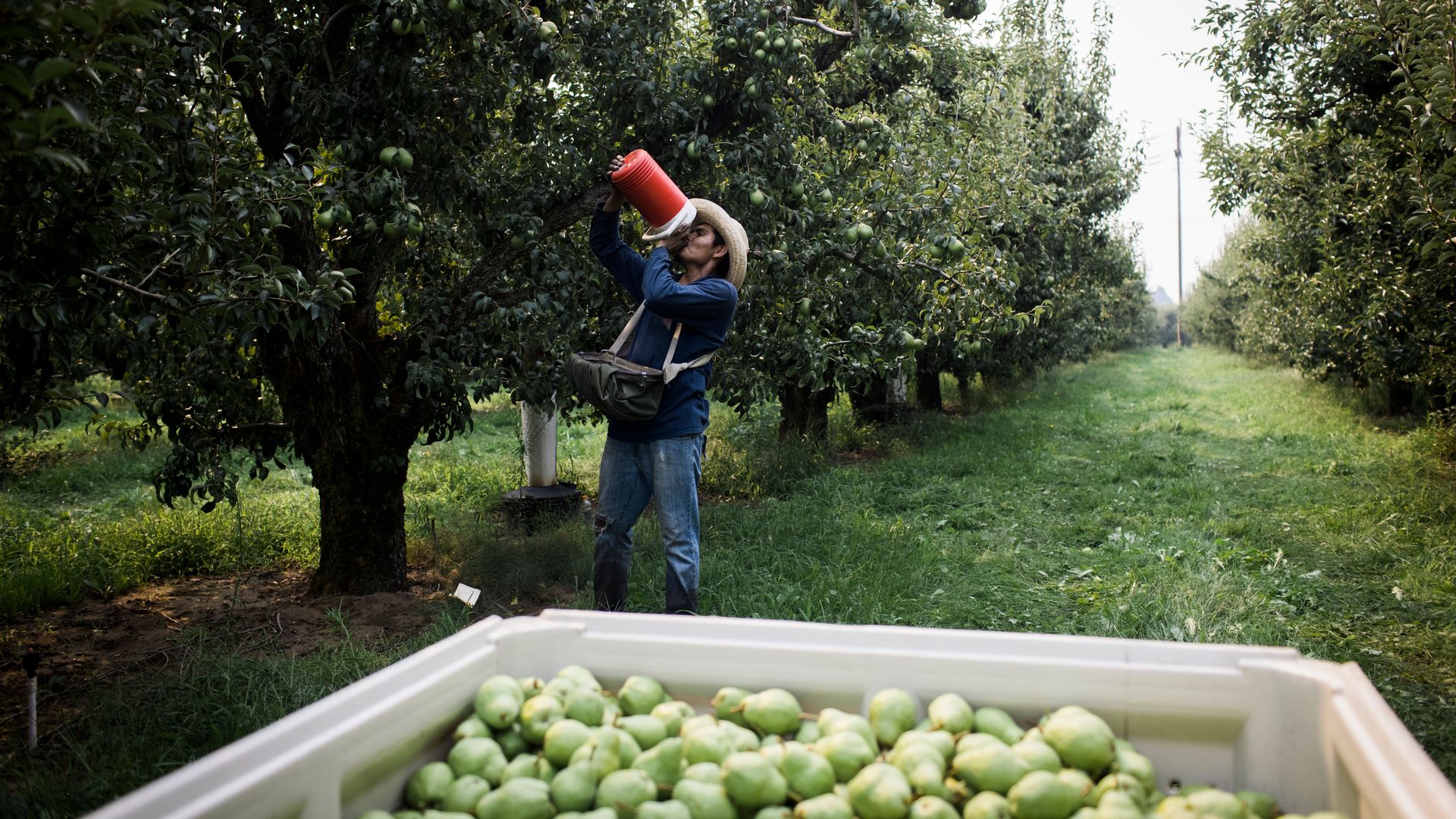 Farmworkers are 20 times more likely than other outdoor workers to die from the extreme heat that has gripped much of the U.S., and Latinos make up around 75% of farmworkers.
Why it matters: In the U.S., extreme heat kills more people each year than floods, hurricanes and tornadoes, per the National Weather Service.
On average, a Latino worker is likely to experience about 40 to 45 days with maximum temperatures above 90° F, according to research from the Adrienne-Arsht Rockefeller Foundation Resilience Center.
White workers are exposed to high temperatures for approximately 25 to 30 days per year.
The federal government currently does not have any heat-safety standards to protect outdoor workers.
Between the lines: Farmworkers are less likely to take breaks during their shifts because they get paid a piece-rate wage for the number of units they gather, attorneys at the Heit Law Group said.
The labor of undocumented farmworkers contributes $9 billion yearly to the fruit and vegetable industry, the National Immigration Forum reports.
4. El Salvador's bitcoin experiment begins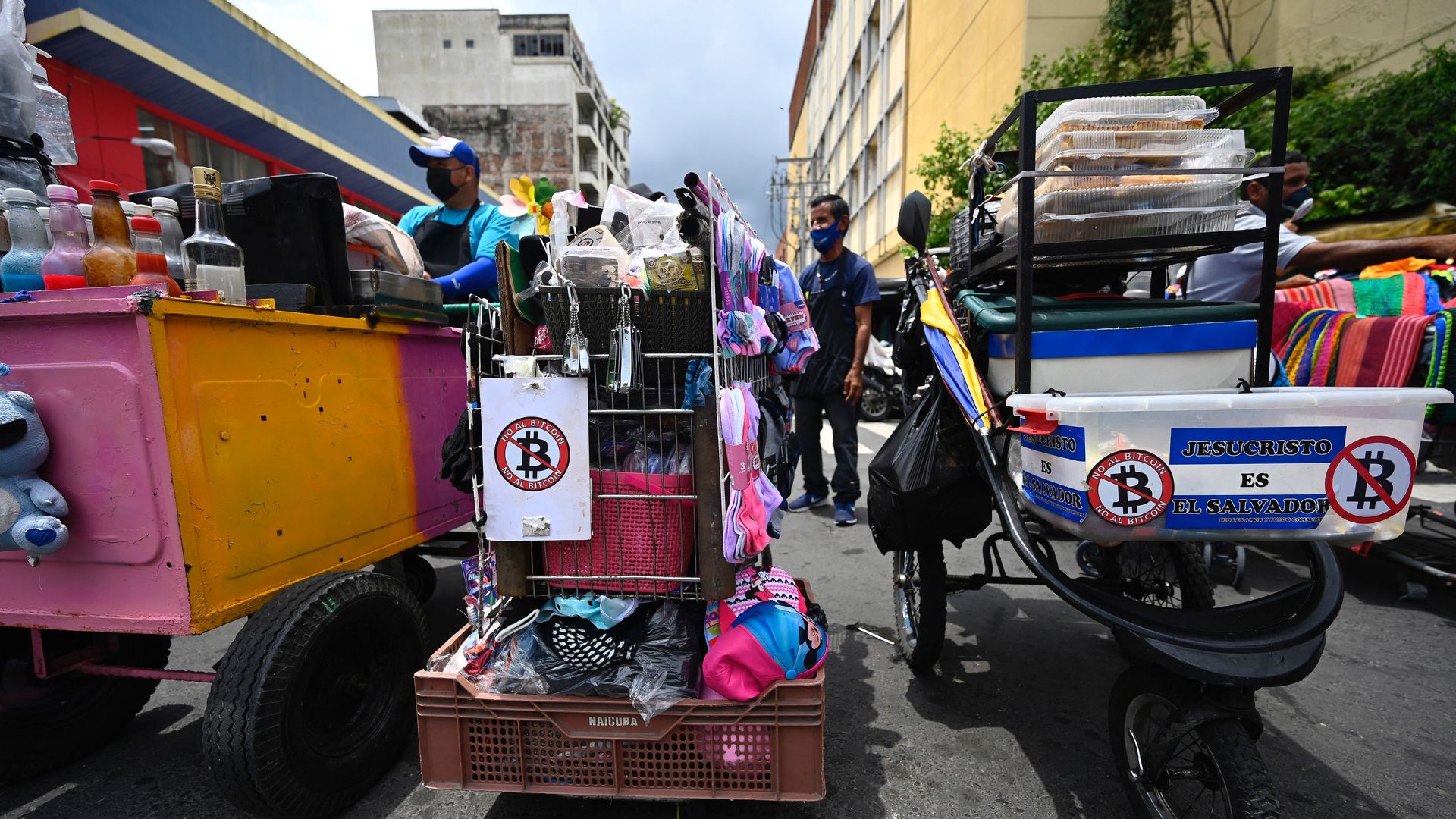 El Salvador's law making bitcoin legal tender goes into effect today, despite skepticism that the decentralized digital coin can actually work as a country's currency.
Why it matters: The Central American nation is the first to establish bitcoin as a formal currency.
President Nayib Bukele has said the move will build financial inclusion as a banking alternative, given that 70% of Salvadorans don't have a bank account, and people will benefit from avoiding fees to get their remittances from U.S.-based family.
Driving the news: The Salvadoran Supreme Court, packed with Bukele loyalists since May, determined this weekend that presidents can seek immediate reelection despite a years-old constitutional requirement they wait 10 years, opening the door for a Bukele 2024 run and drawing criticism from the U.S. State Department.
Of note: El Zonte, a coastal community that attracts international tourists for its surf, has been accepting bitcoin as payment since 2018 after an anonymous California donor gave all his cryptocurrency to the town.
The intrigue: The use of bitcoin will be voluntary for people but mandatory for businesses of all kinds, unless they can prove they are technologically unable to accept it.
El Salvador has the second worst internet connectivity in Latin America and the Caribbean.
Bukele's government announced plans to offer $30 worth of the digital currency to as many as 4 million Salvadorans who elect to create a digital wallet called Chivo, as an incentive for the currency's use.
5. Stories we're watching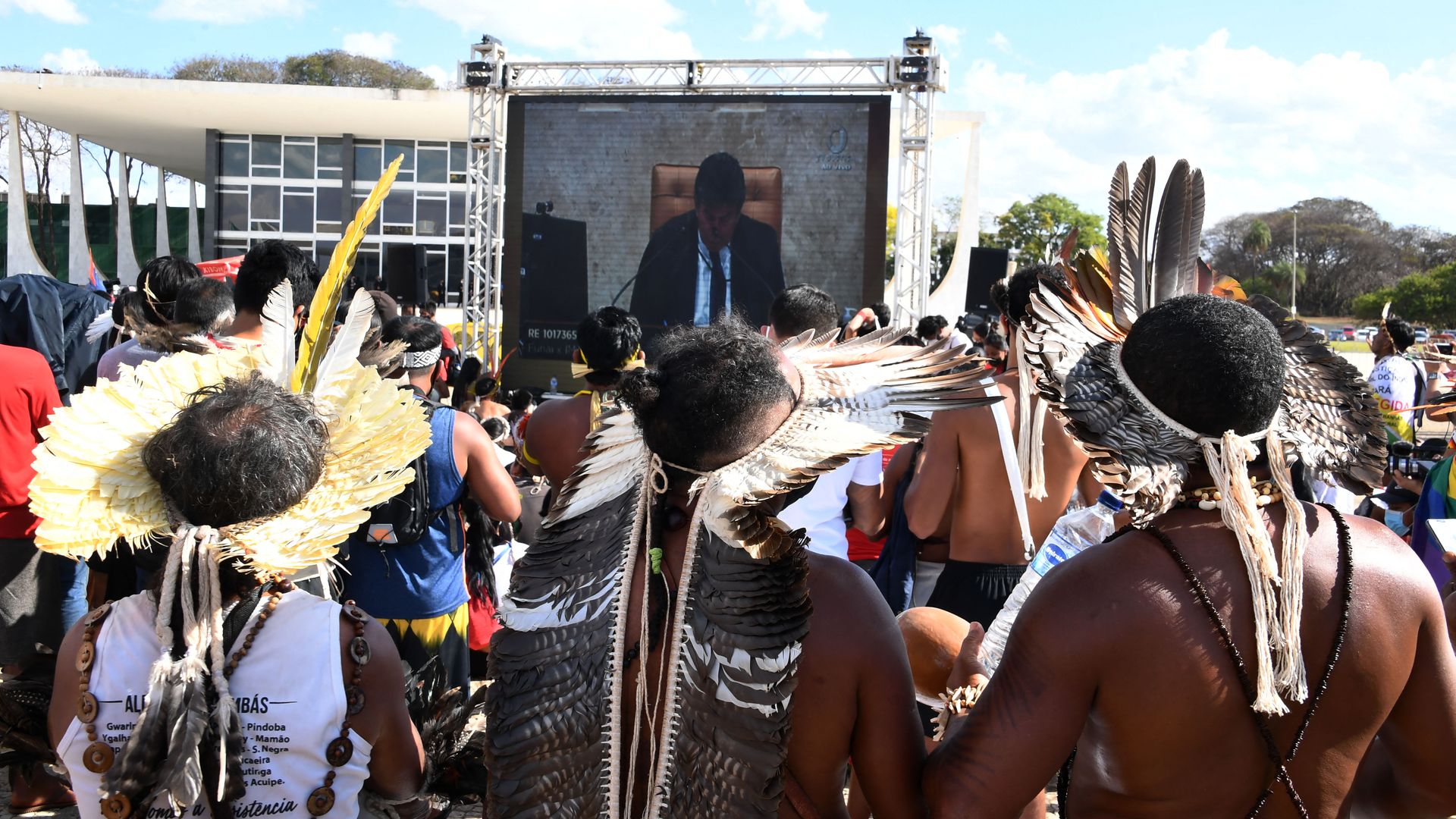 1. Brazil's Supreme Court is set to decide whether many of the ancestral lands where Indigenous peoples live can still be recognized as such or opened to legal industrial logging and mining, per a law pushed by President Jair Bolsonaro.
Deforestation rates in the Amazon, where many of the Indigenous groups reside, hit their highest level in a decade. Mass protests supporting and opposing the changes are also planned for today, raising fears of violence.
2. A Colombian court has blocked an indictment against Gen. Mario Montoya for extrajudicial killings known as "false positives," which would have made him the highest-ranking officer to face prison over the homicides of farmers who were passed off as guerrilla members.
3. Mexico and the U.S. will resume their high-level economic talks for the first time in four years on Thursday.
The focus will be joint investments in Central America to try and reduce migration and the implementation of the new North American free trade treaty.
6. 1 smile to go: Searching for Cleopatra
The search for the tomb of Cleopatra, the last queen of Egypt, is in the hands of a Dominican woman who went from studying law at a small Santo Domingo college to becoming the first Latin American to get a dig permit in Mediterranean ancient sites.
Details: Martínez calls herself "a lawyer by training and archeologist by vocation" and since 2005 has led a team on the outskirts of Alexandria, in a complex called Taposiris Magna.
Martínez has made "sensational" discoveries, like the statue of a pharaoh thought to be Cleopatra's ancestor, 200 coins bearing Cleopatra's face and two intact tombs where their golden shrouds and tongues indicate those buried belonged to the upper echelons of Ptolemaic society.
But Cleopatra's last resting place after her suicide still remains a mystery.
Hasta el jueves, have a safe one.