Axios Latino
August 05, 2021
¡Muy buen jueves! Today we dive into Latinos and gun violence, fishing off the Galápagos, baseball history and extrajudicial killings.
Send us any feedback (quejas, sugerencias, chismes) by replying to this email. And if you are not already subscribed, sign up here. Read the Spanish version here.
This week's newsletter — edited by Michele Salcedo — is 1,075 words, a 4-minute read.
1 big thing: Lethal gunfire and Latinos
Nearly 3,000 Latinos have died from gunfire in the United States each year over the last two decades, making them twice as likely to be shot to death than white non-Hispanics, according to a study from the Violence Policy Center.
By the numbers: Almost 70,000 Latinos were killed with firearms between 1999 and 2019, 66% of them in homicides, according to the center's data analysis.
The nonprofit found that in 2019 there were 5.15 Latino victims of homicides per 100,000 people, nearly double the rate of 2.62 per 100,000 for non-Hispanic white people.
Latinos are also more likely to be killed by strangers than other groups, per the analysis.
Between the lines: The rise in reported firearm incidents involving Latinos partly stems from growing gun ownership after campaigns geared to communities of color, according to a separate report from the center.
Some Latinos turned to buying arms for self-protection after the 2019 shooting at an El Paso Walmart, where a man killed 23 people and wounded more than two dozen others with the express intention of killing "Mexicans."
Driving the news: A day after the second anniversary of that mass shooting, Mexico filed a lawsuit yesterday against 11 gun manufacturers in the U.S.
Listen to Marina discuss the lawsuit on Axios Today.
2. Colombia takes action on extrajudicial killings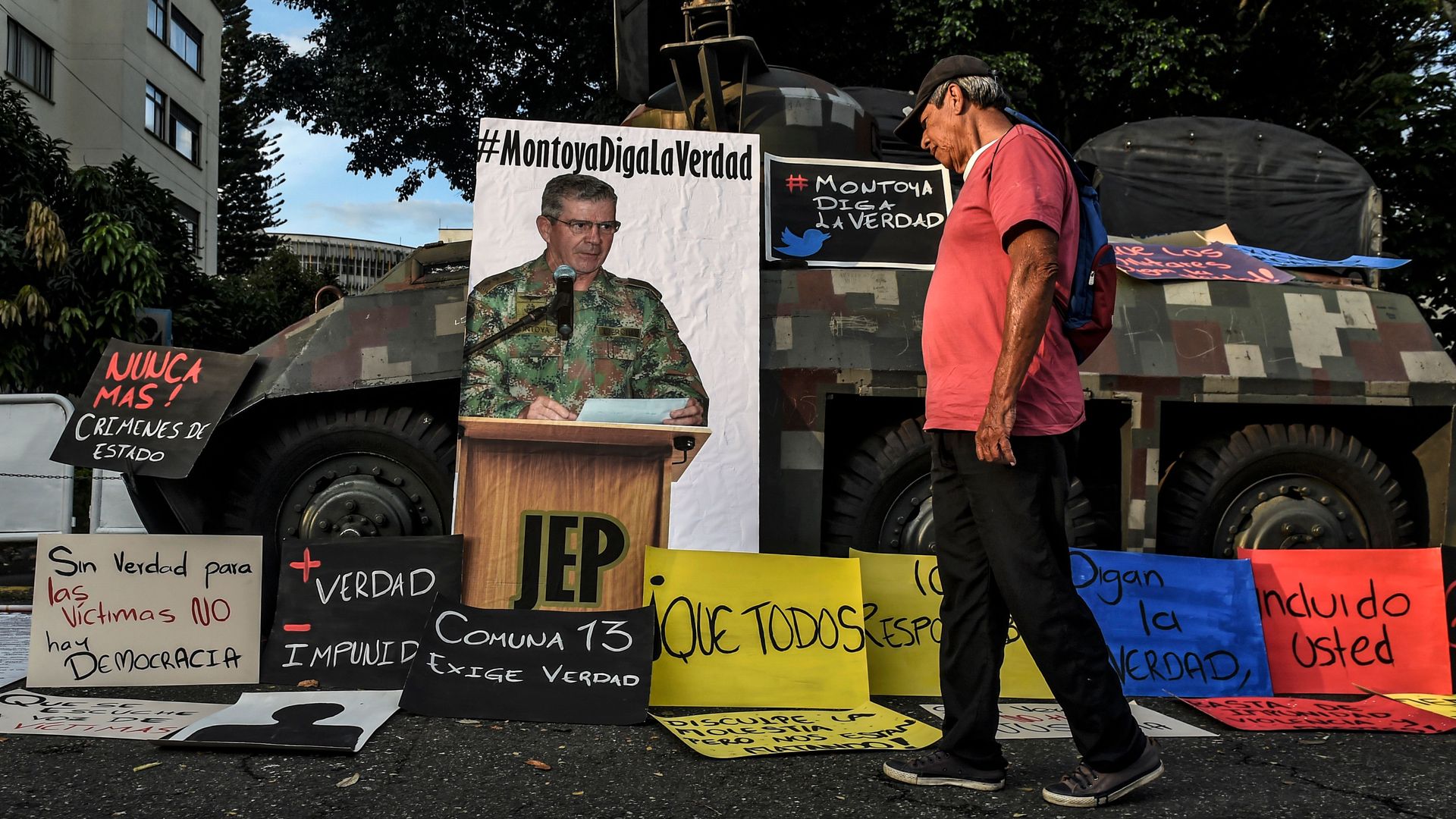 The former commander of the Colombian army will be charged with murder this week, per prosecutors, making him the highest-ranking military officer to face a possible prison sentence over extrajudicial killings.
Details: U.S.-trained Gen. Mario Montoya is accused of overseeing 104 cases in which civilians, five of them children, were kidnapped, killed and disguised as "guerrilla casualties" by armed forces between 2007 and 2008.
Montoya was already under investigation by the Special Jurisdiction for Peace, a transitional justice court for reparations that offers lower prison times if the accused pleads guilty.
The special court charged 26 lower-ranking soldiers in July with an additional 227 cases of extrajudicial killings.
Context: Over 6,400 Colombians were killed and passed off as rebel fighters in what's known as the "false positives" scandal, per initial findings from the Special Jurisdiction for Peace.
Between 2002 and 2008, those civilians were murdered by soldiers or allied paramilitary forces as part of a "large-scale criminal organization within military units."
The bodies were recorded as "combat casualties" to fill a quota in the government's fight against armed guerrillas.
Documents show that as recently as 2019 soldiers were still being rewarded with bonuses, vacation time or promotions for fulfilling similar quotas.
3. Exhibit features Latinos' role in baseball history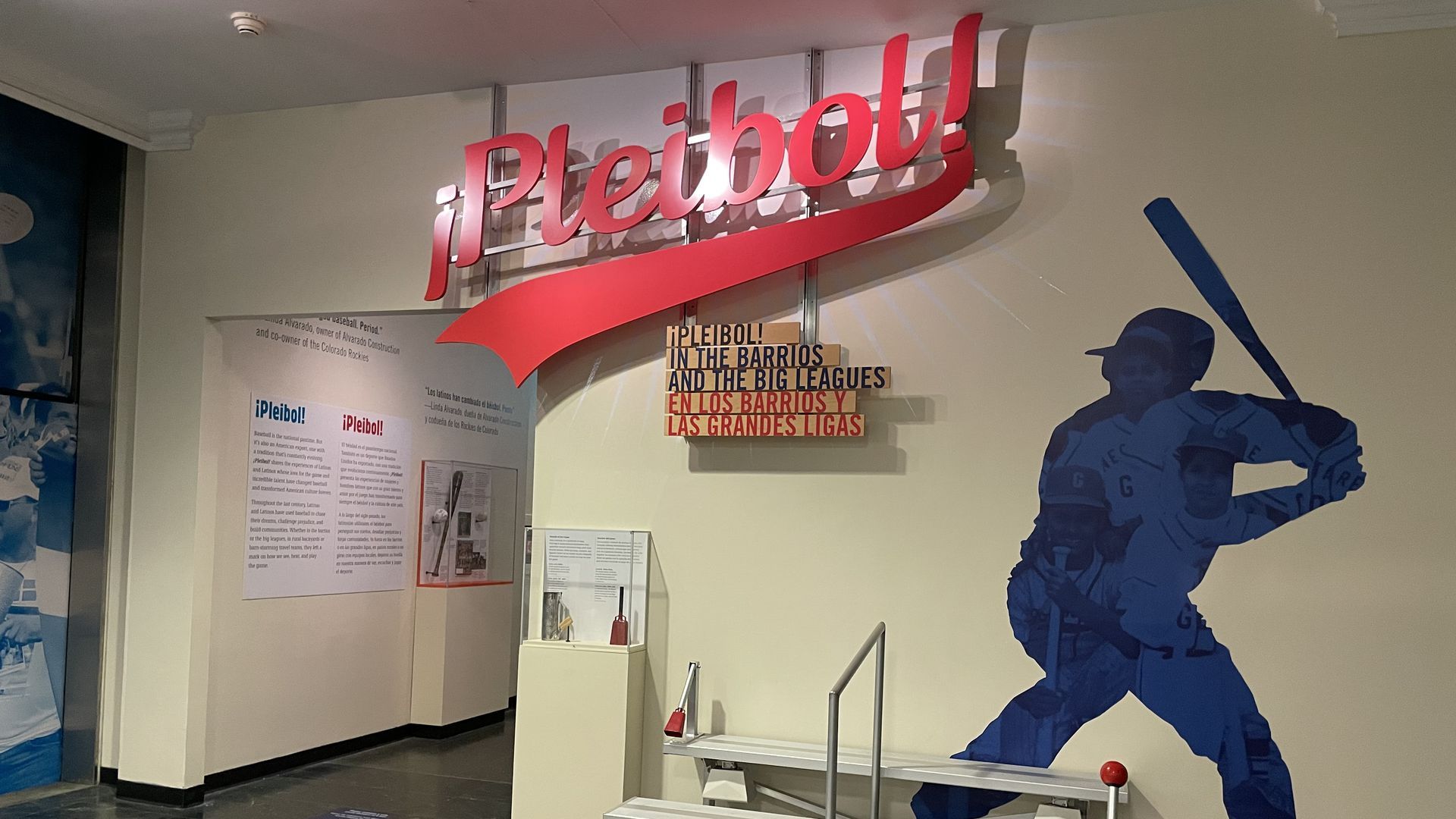 A new bilingual exhibit in Washington, D.C., focuses on how Latinos and Latinas have transformed baseball in the U.S. and how the game allowed them to fight for inclusion.
The big picture: Currently over 30% of Major League players are Latino, and the nation's pastime has become more diverse.
The showcase "¡Pleibol! In the Barrios and the Big Leagues" is at the Smithsonian National Museum of American History until next summer.
4. Stories we're watching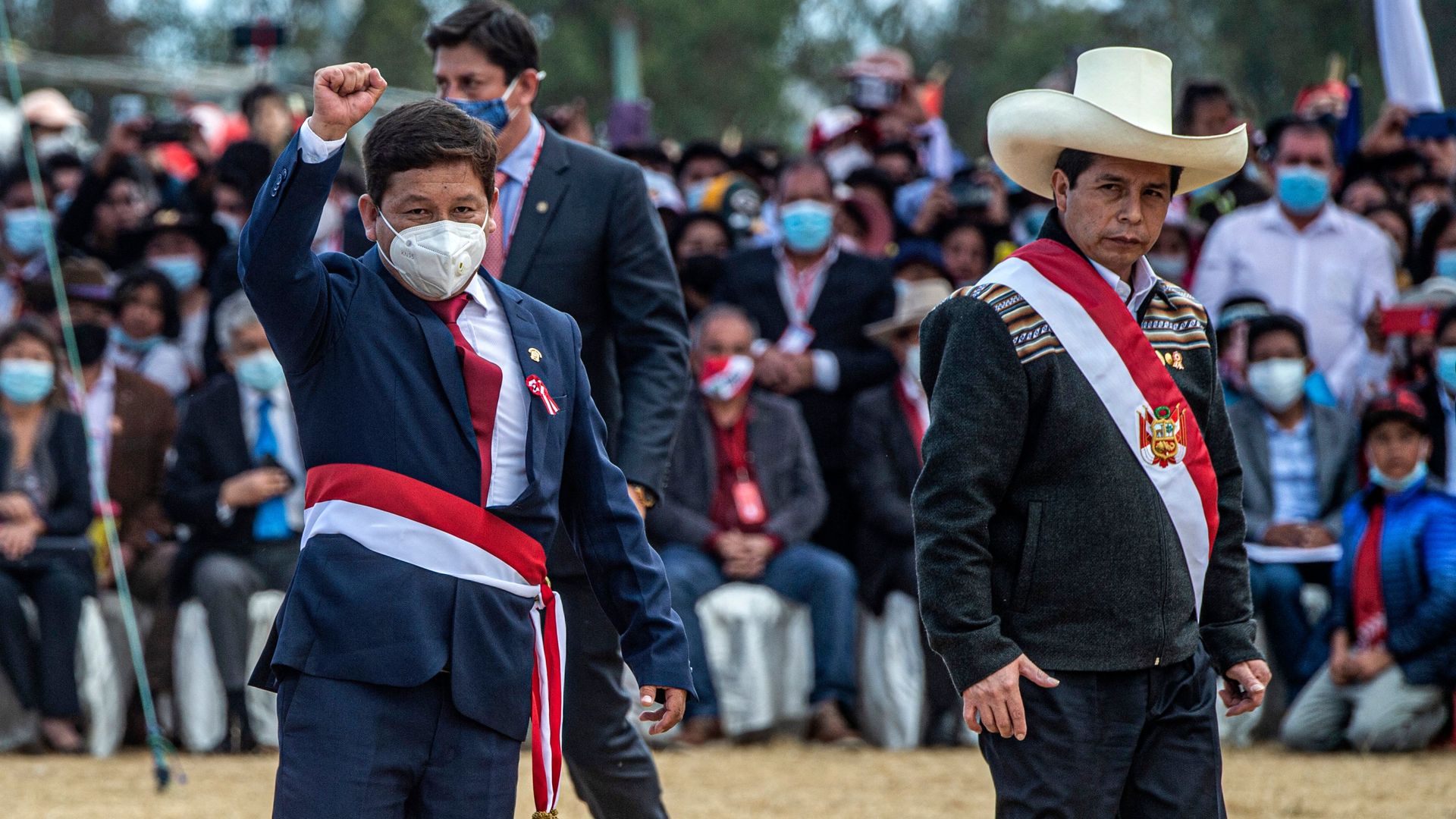 1. Peru's newly inaugurated president is already provoking an uproar for his Cabinet choices.
Legislators say they will reject all ministers since they would be led by controversial Prime Minister-designate Guido Bellido, who is under investigation for saying some members of the former terrorist group Sendero Luminoso were "people who'd just made mistakes."
2. Guatemala has named Rafael Curruchiche as the new head of its anti-corruption and anti-impunity office. Curruchiche is the third person to lead the office in two weeks and is himself accused of protecting former President Jimmy Morales from charges of corruption.
3. The electoral court of Brazil has launched an investigation into the country's president over the "potentially criminal dissemination" of baseless fraud claims.
Jair Bolsonaro claims the electronic voting system in use for decades will be manipulated and even has suggested he will not allow next year's elections to be held unless paper ballots are used.
5. Ecuador faces fishing crisis near Galápagos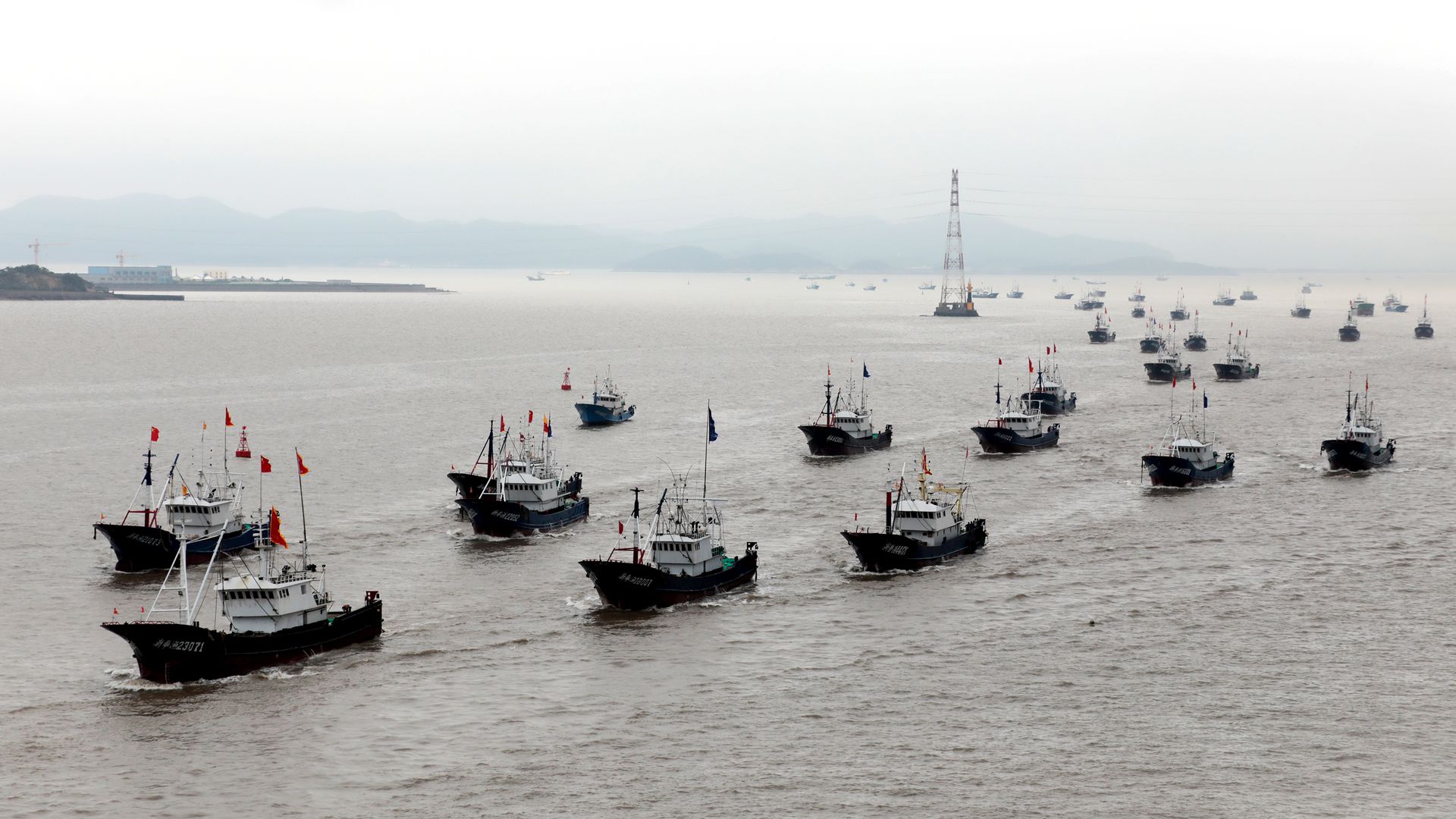 A fishing fleet of around 300 boats is fast approaching the World Heritage Site off the Ecuadorian coast where biodiversity inspired Darwin's theory of evolution.
Why it matters: Over 20% of the marine species in the Galápagos archipelago's reserve are found only there.
The illegal and unregulated vessels mostly fish squid, which many animals unique to the Galápagos depend on for food, as well as commercial species like tuna.
But local NGOs warn that many other species end up caught in the fishing nets.
Chinese ships have been detained carrying endangered shark fins in past years.
Details: Most of the detected fishing occurs just outside the protected reserve off the islands, in international waters.
Many of the Galápagos' marine animals are migratory, like sea turtles or the hammerhead shark, so activists say the fishers wait for them to leave the protected area to trap them.
The Ecuadorian navy monitors the waters with U.S. assistance, but many of the vessels evade detection by turning off their satellite tracking systems.
The big picture: Chinese, Korean and sometimes Spanish vessels have also been caught and tried in recent years for fishing illegally off the nearby coasts of Peru, Chile, Argentina and Uruguay.
Yes, but: The unregulated fishing does not come only from foreign vessels. Studies indicate 20% of shark fin exports originate from Peruvian and Ecuadorian ships.
6. 📖 1 smile to go: A new type of home library
The Peruvian National Library is reaching "readers" right at home, with a program that allows them to listen to fiction and nonfiction read over the phone by librarians and volunteers.
Details: The program was started in June 2020 with just one librarian reading aloud. It became so popular it expanded to dozens of volunteers, including some reading in Quechua, one of the country's 90 Indigenous languages.
Initially meant for older Peruvians who called in regularly for book club style discussions, the library now invites people to sign up their loved ones of all ages for the service, as a gift.
The library also has an online borrowing system and does motorcycle deliveries in Lima. The books are lent out for 15-day periods.
Hasta la próxima semana, have a safe one.