Axios Latino
January 10, 2023
Welcome back to Axios Latino!
Did you finally get that promotion? Propose to your longtime love? Tell us about the latest big moment in your life, and we might feature you in our weekly pachanga series, where we celebrate our readers! Reply to this email.
Puede leer este boletín en español aquí.
This newsletter, edited by Astrid Galván and Laurin-Whitney Gottbrath, is 1,451 words, a 5.5-minute read.
1 big thing: Riots upset Lula's plans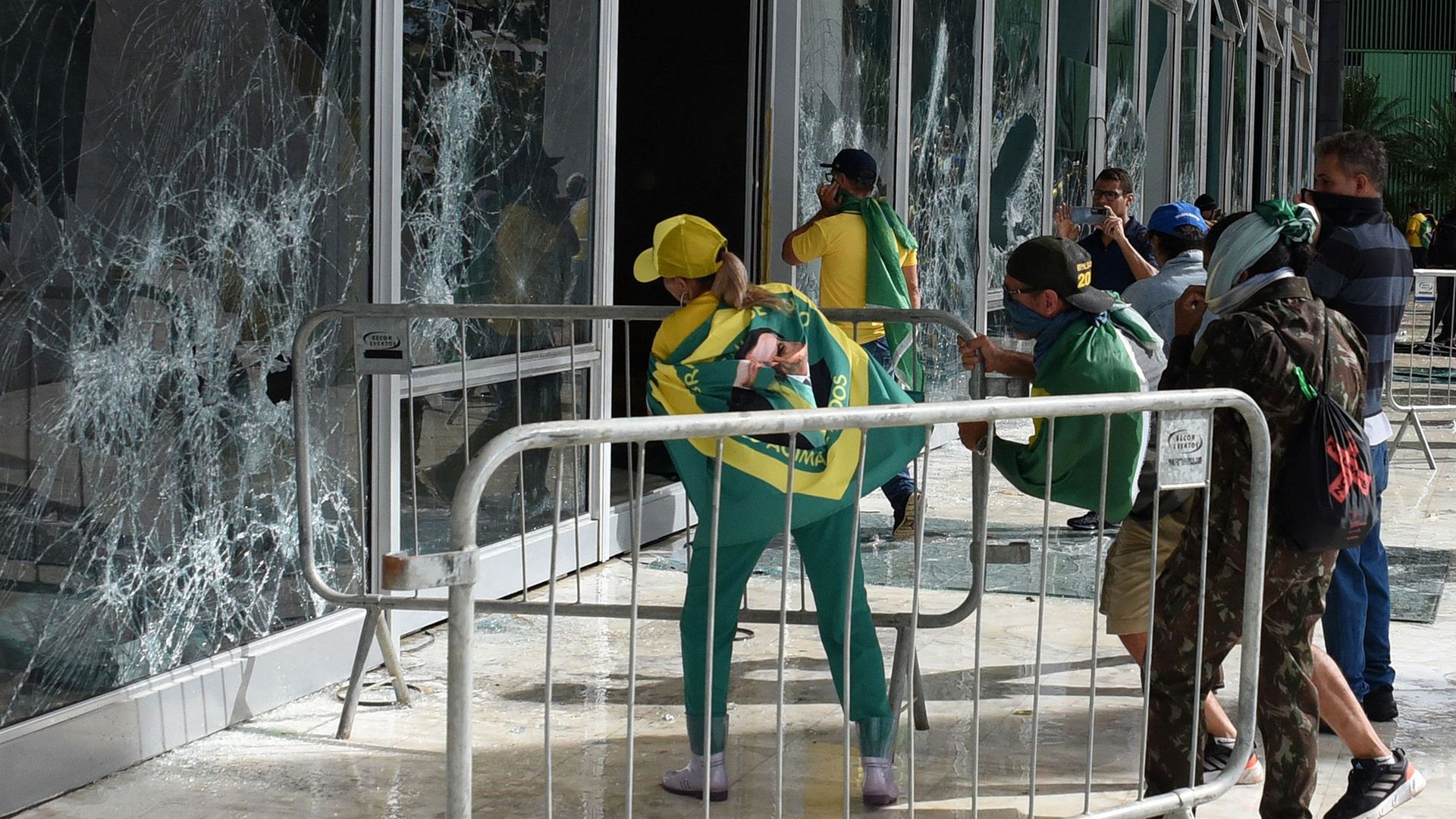 The riots by Jair Bolsonaro supporters at Brazil's major political institutions may slow President Luiz Inácio Lula da Silva's agenda, experts tell Marina.
To restore order, Lula signed a decree for a federal intervention in Brasília until Jan. 31 — but constitutional amendments cannot be carried out during a federal intervention, meaning his planned tax and environmental overhauls will have to wait.
State of play: The swearing-in of Congress, scheduled for Feb. 1, could also be delayed if the intervention is extended, says Gustavo Ribeiro, editor-in-chief at the Brazilian Report, an English-language news and analysis site.
Even when they're in office, members of Congress will have to deal with the fallout of the attacks — from the damaged buildings to the prosecution of the would-be insurrectionists — which could further set their agenda behind.
Catch up quick: Authorities said yesterday over 1,200 people were detained for questioning after the attacks on the Presidential Palace, Supreme Court and Congress on Sunday.
Hardline supporters of former President Jair Bolsonaro had spent months camped outside the army headquarters in Brasília, asking for a military intervention to depose Lula, who they claimed without evidence won last year's election fraudulently.
The unclear loyalties of members of the police and the armed forces — some of whom were captured on camera taking selfies with the rioters or just standing by — could also put a wrench on Lula's priorities.
Off-duty military members were reportedly among the attackers. High-ranking military figures were publicly supportive of Bolsonaro, a former army captain, when he initially made his false claims of fraud.
The big picture: Lula, who took office Jan. 1, already faced major challenges, including deep political polarization, slow economic growth, increased poverty and rampant Amazon deforestation.
"It was already going to be a difficult presidency, and this takes that up several notches," Cecilia Tornaghi, senior director for policy at Americas Society/Council of the Americas, tells Axios Latino.
Tornaghi says that was probably at least partly the point — the rioters wanted to send the message that they can disrupt government operations and create chaos if they want to.
2. Biden, López Obrador talk better cooperation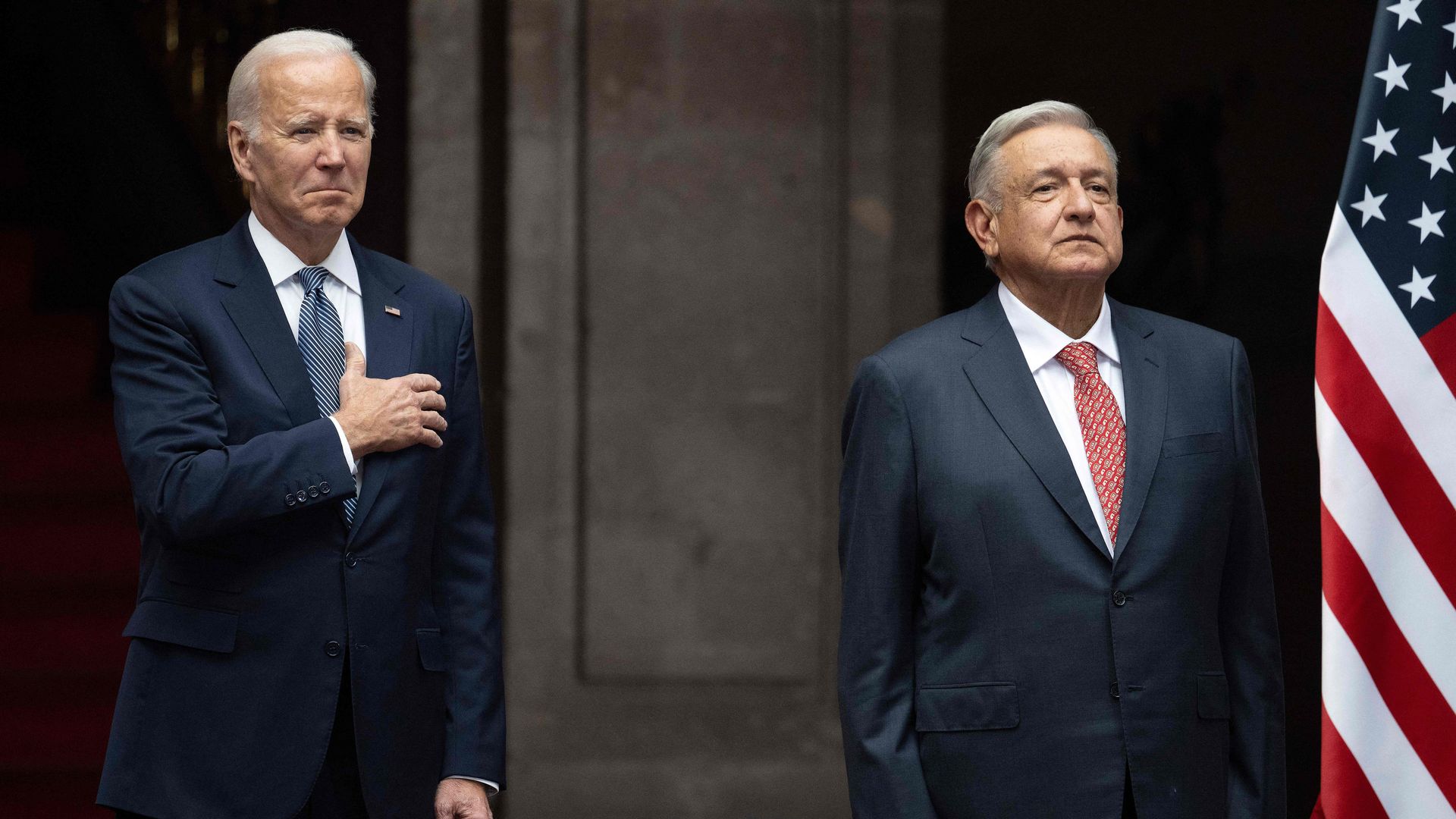 President Biden and Mexican President Andrés Manuel López Obrador yesterday spoke about cooperating on migration, commerce and other areas and discussed the growing fentanyl problem, Astrid writes.
Driving the news: Biden is in Mexico for meetings with López Obrador and Canadian Prime Minister Justin Trudeau.
Biden and López Obrador met first, and Trudeau joined them for a trilateral summit today.
The big picture: López Obrador has been critical of Biden and refused to attend the first Summit of the Americas to be held in the U.S. in nearly 20 years because Venezuelan, Nicaraguan and Cuban leaders weren't invited.
But Biden needs his help in stemming migration, a source of much trouble for the president, who has been criticized by all sides for his actions — or lack thereof — on record numbers of migrants coming through the southern border.
What they're saying: "Mexico is a true partner and when we work together in common values and mutual respect, nothing much is beyond our reach," Biden said.
Biden also said he'd hope to improve supply chains, curb irregular migration, and address "the plague of fentanyl."
Catch up quick: Biden last week unveiled a policy to curb border crossings, telling migrants from Cuba, Nicaragua and Haiti to "not just show up at the border," Axios' Stef Kight reports.
The Department of Homeland Security and Department of Justice are proposing a rule to disqualify from asylum migrants who attempt to enter the U.S. without first pursuing legal pathways such as the parole program or seeking protection in a country they traveled through to get to the U.S.
3. Doctors with cleats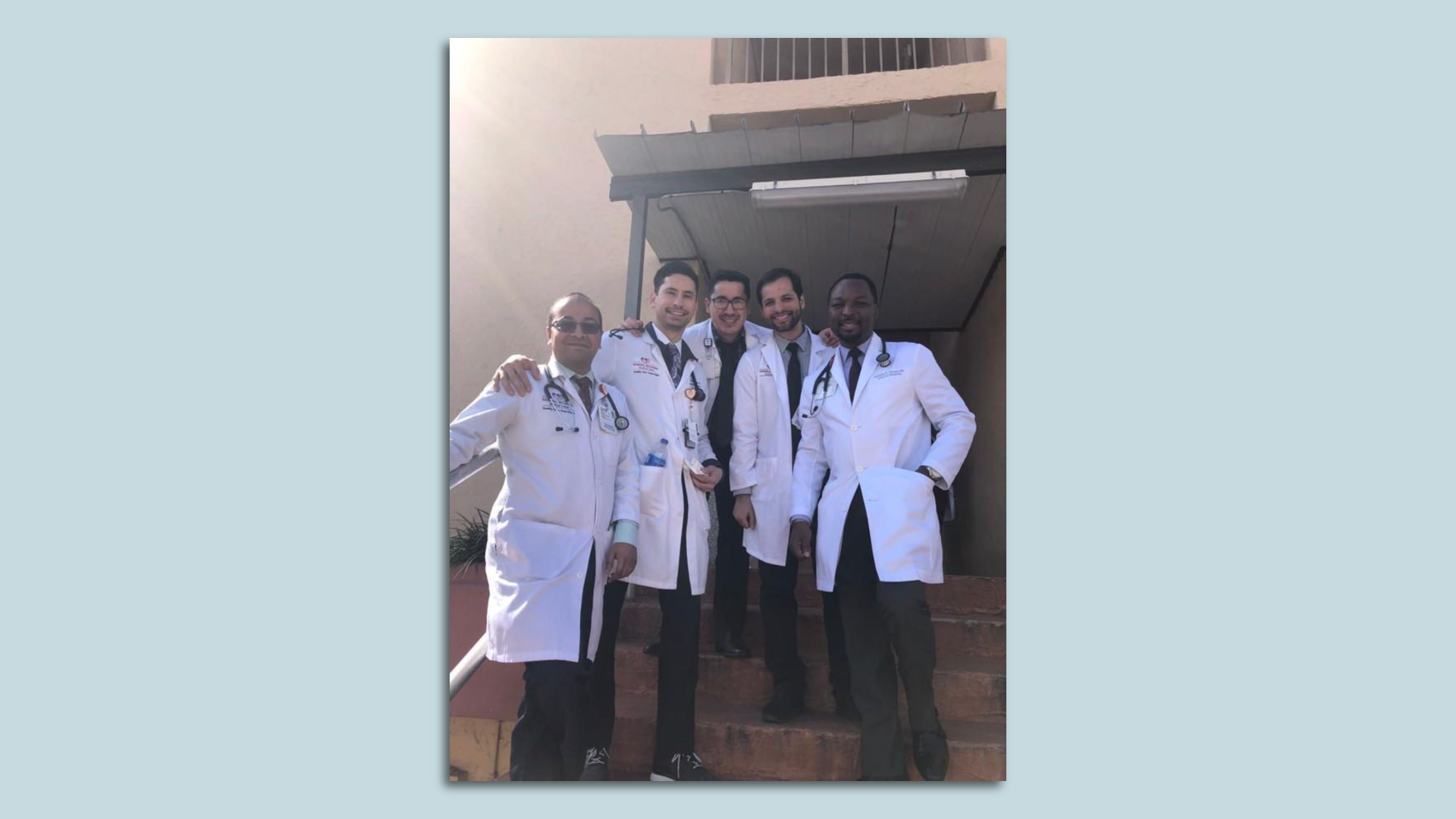 Doctors' lives are hectic, leaving little time for activities like exercise.
In South Florida, a group of doctors is trying to change those habits by playing soccer together twice a week, and the team's leader is hoping physicians nationwide take note, Astrid writes.
Details: The team started as a Whatsapp chat group in 2014, took a break during the pandemic when doctors were working ungodly hours, and came back under the leadership of a hospital internist named Gustavo Vargas.
Vargas found a field to play in, made uniforms out of old scrubs and rallied doctors from seven hospitals to play together twice a week.
Over 200 doctors are in the chat group, but only 18 are allowed to play each game, Vargas said.
The goal is to help doctors become healthier, create bonds between them and set a positive example for their community, Vargas says.
The team has been playing so consistently that it now has a sponsor — the cleaning company that Vargas' brother owns.
Vargas, who developed high cholesterol when he was still in physician training, says he and many others have noticed major health improvements.
Doctors tend to bump heads in the hospital but are now are building good relationships, Vargas says.
And patients are getting better care from doctors who are happier because they're exercising and having fun, he adds.
What they're saying: "I tell patients to exercise because I know the difference it makes in my life," Vargas says.
"It's extremely important for us to be, like, role models ... to set an example."
4. Immigrant pride flies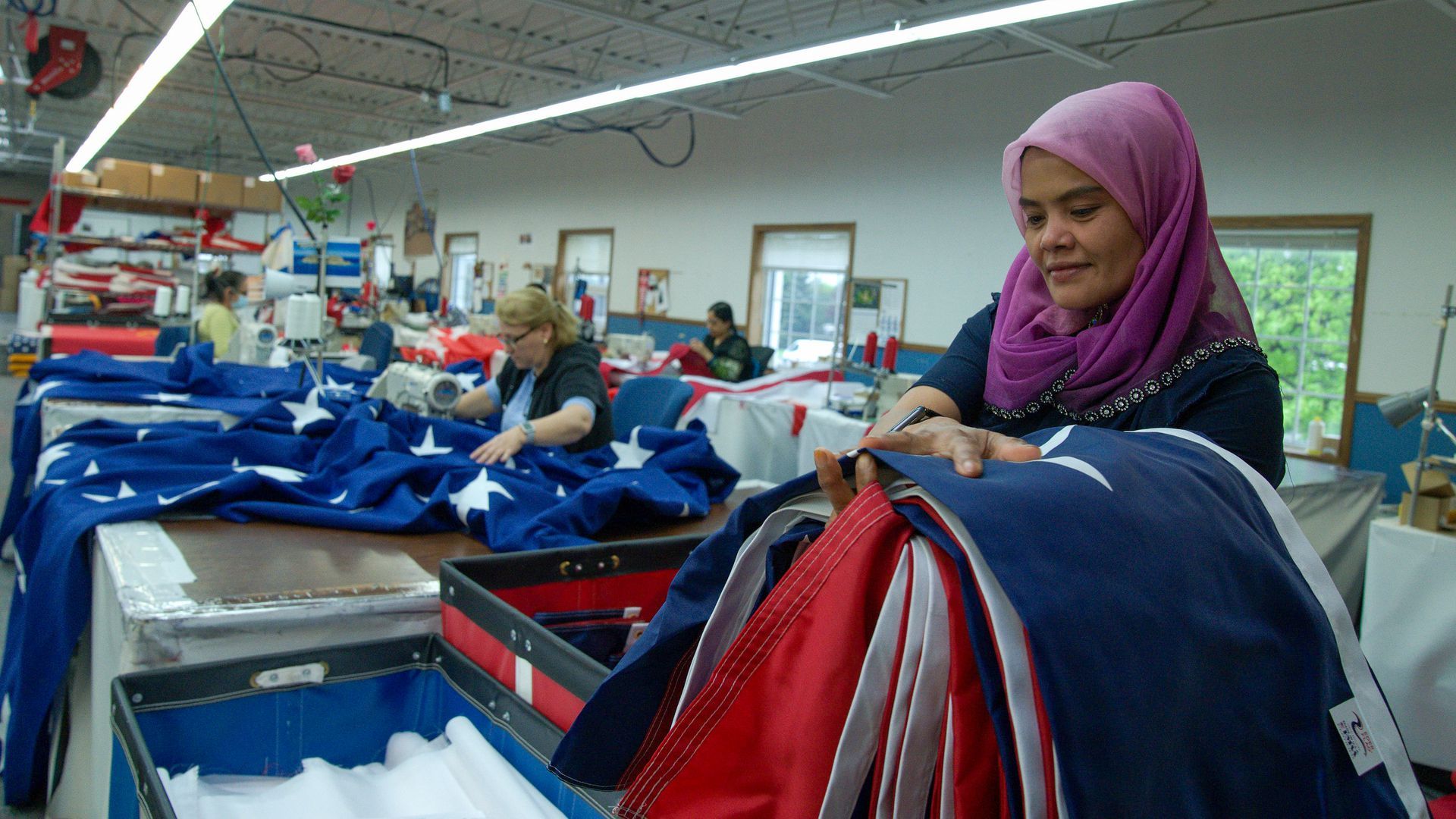 A new National Geographic documentary examines life in a factory that makes American flags and whose employees are primarily refugees and immigrants, Russell writes.
Why it matters: The American far right has adopted the U.S. flag as one of its main symbols and waved it during the Jan. 6 insurrection. Others say the American flag has been co-opted and holds more uniting values, especially for immigrants.
Details: "The Flagmakers," currently airing on Disney Plus, debuted Friday on Hulu.
The film follows refugees and immigrants from Latin America, the Middle East, Africa, Eastern Europe, and Asia who work at the Eder Flag factory in Oak Creek, Wisconsin.
They speak of what the American flag means to them and how it gave them hope as they fled violence, poverty, and uncertainty in their former countries.
What they're saying: "The people that literally sew the Stars and Stripes of our nation are very much representational of our nation," filmmaker Cynthia Wade tells Axios.
Wade says Eder Flag is one of the largest flag factories in the U.S. and has more than 200 employees, most of whom are immigrants and refugees.
Between the lines: Wade said she and co-director Sharon Liese had become uncomfortable with how the extreme right used the American flag.
Of note: The American flag was used by Civil Rights marchers from Selma to Montgomery, Alabama, in 1964 to press segregationists to honor the nation's promise of equality.
War World II veteran Dr. Hector P. Garcia urged fellow Mexican American veterans to use the U.S. flag in marches and rallies to fight discrimination.
Native Americans also wave the American flag at powwows while honoring Indigenous veterans.
5. Stories we're watching
1. In clashes with Peruvian security forces this past week, 17 people protesting against Peru's President Dina Boluarte died and dozens were injured.
Protesters are demanding early elections and the resignation of Boluarte, who yesterday met with political party leaders, businesspeople and NGOs to discuss next steps.
2. Puerto Rico, where 70 women were slain last year and attempts were made on the lives of another 69, named a special investigator for gender-targeted violence this past weekend, five months after the position became vacant.
6. Smile to go: 🎨 Rooftop art
Murals in a shanty town in Mexico City are beautifying its aerial view in a bid to help make it safer, Marina writes.
Details: The hundreds of murals on Iztapalapa's rooftops were commissioned by the government, which has also placed more street lights, crosswalks signs and panic buttons on lampposts.
The artwork is mostly visible from the Cablebús, an aerial lift system inaugurated in 2021 and used by over 50,000 people daily.
The murals have motifs ranging from Mexican flora and fauna to renowned women and fictional characters like Marvel's Namor.
Artists who participated say they wanted to give Iztapalapa, known for high levels of violence, a "stroke of other colors."
Thanks for joining us, and thanks to Carlos Cunha for the copy edits! Make sure you're signed up for this newsletter!