Axios Latino
October 28, 2021
¡Muy buen jueves! Today we discuss book deserts, Latinos prioritizing climate change, and violent crime at the border.
🗳️ Situational awareness: Activist Dolores Huerta will be campaigning today in Virginia on behalf of Democrat Terry McAuliffe, who is vying for the Latino vote against Republican opponent Glenn Youngkin before Tuesday's gubernatorial election.
🚨 Job alert: Axios Latino is looking for a senior editor to lead the newsletter to its next milestone. If you have ideas to make what you read here even better, apply here.
Send us any feedback (quejas, sugerencias, chismes) by replying to this email. Sign up here if you aren't yet subscribed, and remember you can read the Spanish version here.
This newsletter — edited by Michele Salcedo — is 1,353 words, about a 5-minute read.
1 big thing: U.S. border cities elude violent crime
Reported violent crime in the United States rose in 2020 for the first time in four years, but violent crime rates in 11 of the largest communities along the U.S.-Mexico border stayed below the national average, an Axios analysis found.
Why it matters: Data showing low violent crime rates in majority-Mexican American and Mexican immigrant border communities dispels, year after year, myths of the U.S.-Mexico border as a region filled with crime and chaos.
Between the lines: Alex Nowrasteh, director of immigration studies at the Cato Institute, told Axios the presence of the Border Patrol probably contributes to lower violent crime numbers in the region.
By the numbers: The Axios analysis using FBI data and the 2020 census found 11 border communities had an average violent crime rate of 340.2 per 100,000 residents, around 15% lower than the national average of 398.5.
Also, in the 11 communities from San Diego to Brownsville, Texas, taken together, the average murder rate was 4.1 per 100,000 residents — well below the FBI's reported national average of 6.5.
Yes, but: The U.S. State Department last week issued an advisory cautioning U.S. citizens against travel to the Mexican border state of Tamaulipas due to high crime and kidnapping.
Other border states on the Mexican side, like Chihuahua and Coahuila, are on "reconsider travel" alerts for the same reason.
Bottom line: Crime and the migrant crisis along the border is likely to be among the issues defining the 2022 midterm elections. But data show the two are not linked, as some candidates might claim.
2. Climate change is at the forefront for Latinos
Eight in 10 Latinos in the U.S. consider addressing global climate change a priority, more so than non-Hispanics, per a Pew Research Center poll.
Why it matters: The changing climate has been shown to have a disproportionate effect on people of color in the U.S., according to the U.S. Environmental Protection Agency.
More than half of Latinos who live in the U.S. reside in states most affected by global warming's effects — such as severe drought and fires in California, higher temperatures in Texas and Arizona, or flooding in Florida.
Those who live in Latin America and the Caribbean will face some of the worst socio-economic crises from oncoming global warming, a UN report states. Temperatures in the region have increased more than the global average in the past two decades.
Of note: A recent White House report stresses rising temperatures and meteorological phenomena in Latin America and the Caribbean will create more climate migration, as happened after hurricanes Eta and Iota struck Guatemala and Honduras in November, 2020.
By the numbers: 81% of U.S. Latinos consider climate change an important concern, in contrast to 67% of non-Hispanics polled by Pew.
Latinos who now live in the continental U.S. but were born elsewhere are more worried about the effects of global warming: 79% fear its impact on their communities compared to 64% of those born in the U.S.
Go deeper: Latino farmworkers more likely to die from extreme heat
3. A Latino oasis in a book desert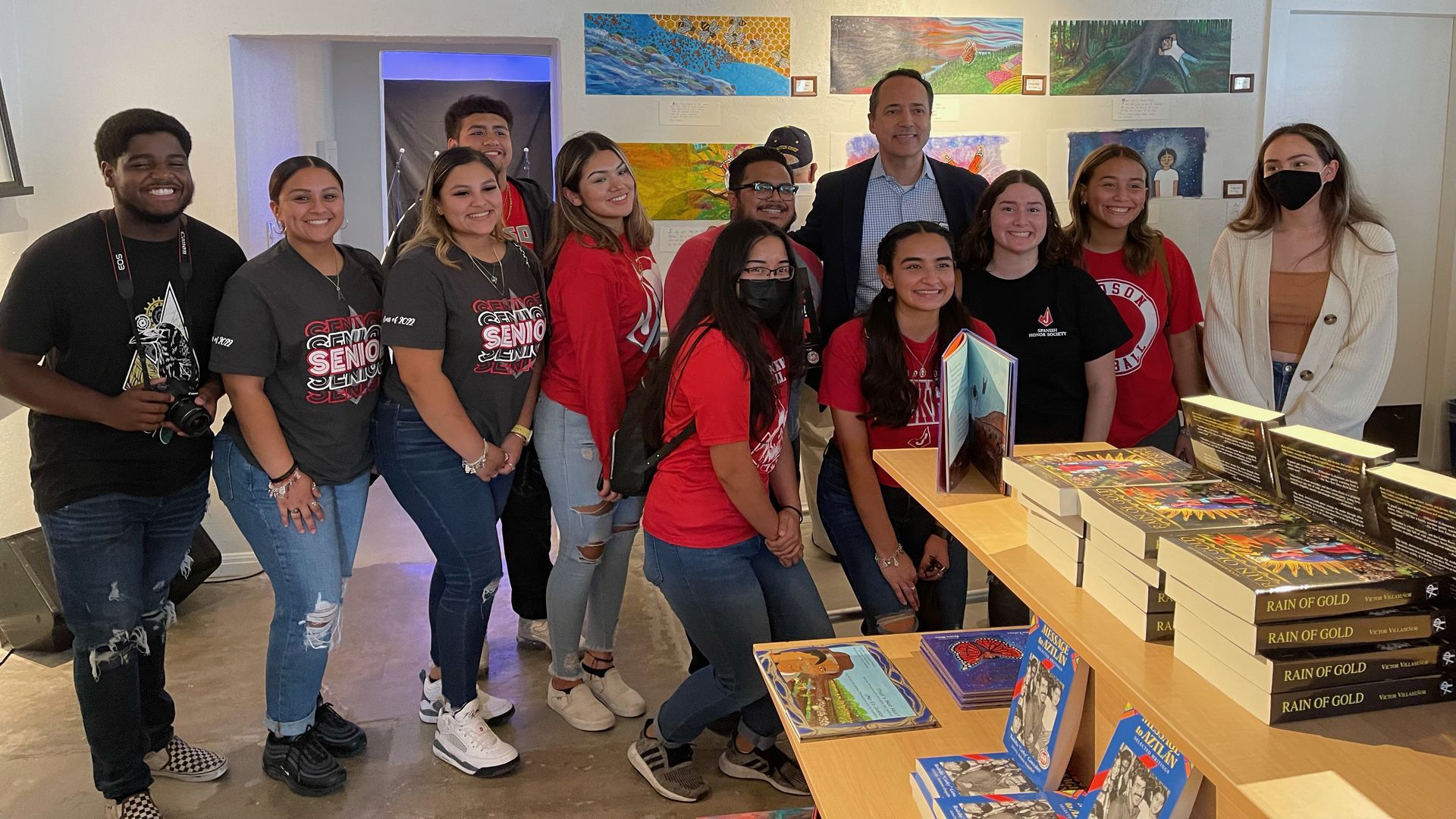 Novelist Tony Diaz and the Guadalupe Cultural Arts Center launched a bookstore in one of the poorest zip codes in San Antonio, and where reading materials are hard to obtain, Axios' Yacob Reyes writes.
Why it matters: The bookstore is meant to begin to address book deserts in low-income, Latino neighborhoods and the lack of representation of Latino authors in most stores around the country.
Aside from the newly opened Guadalupe Latino Bookstore, southwest San Antonio has no bookstores.
"We want children to just grow up thinking it rains Latinx poets and writers," Diaz told Axios.
The big picture: A 2016 study found substantial disparities in access to print material among people living in low-income neighborhoods in the United States.
The general lack of reading materials, coupled with high poverty rates in these communities, held "profound" academic consequences for their children, according to the researchers.
4. Nicaragua braces for presidential election outcome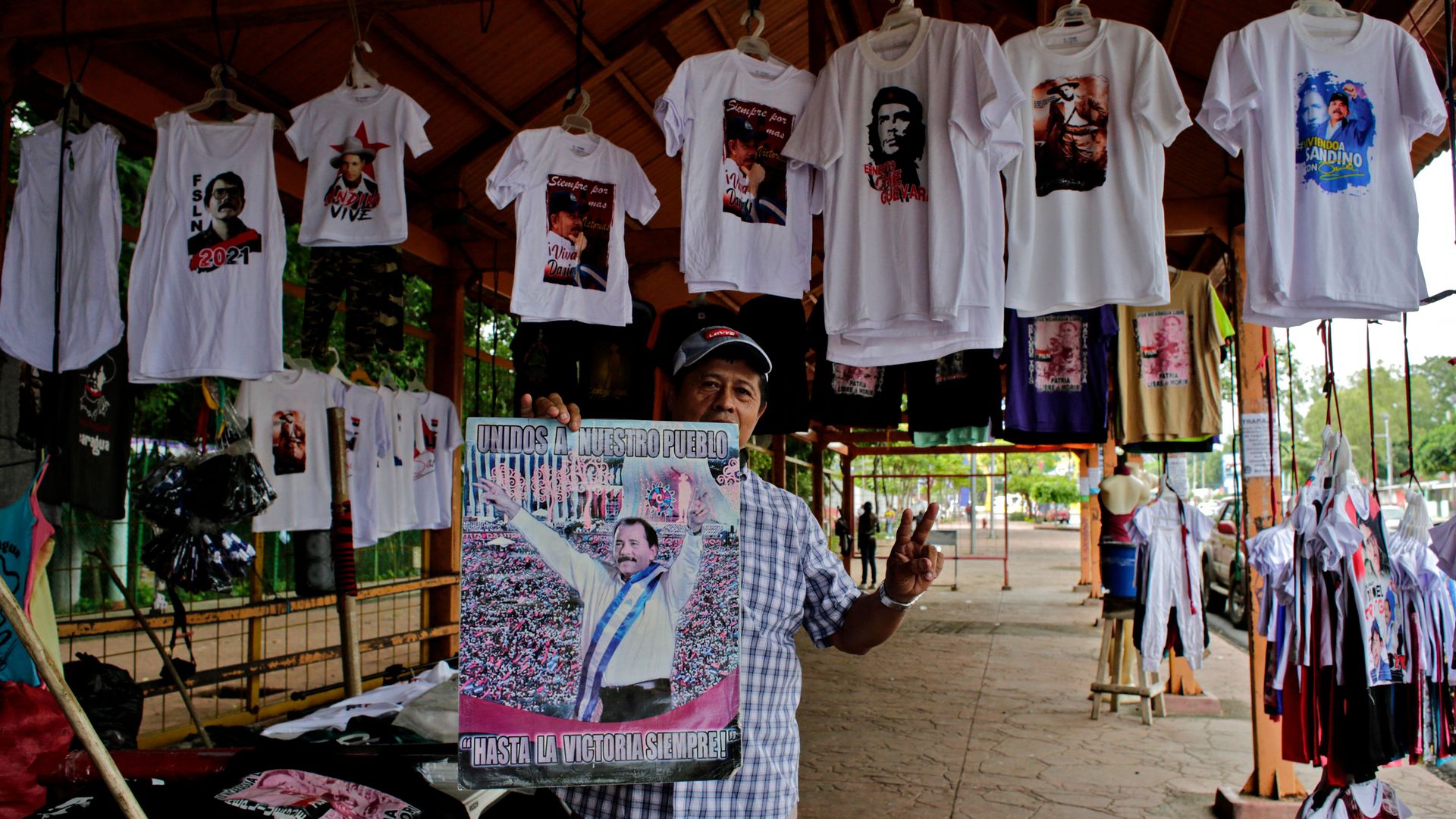 Over 1,530 acts of political violence have been committed by forces linked to President Daniel Ortega in Nicaragua in the lead up to next week's presidential elections, and the vote will deepen that repression, according to a report by the nonprofit group IDEA .
State of play: The U.S. Department of State, European Parliament and Organization of American States have said the Nov. 7 vote will "lack all credibility."
More than 130 high-profile dissidents — including eight opposition candidates, Ortega's former comrades-in-arms, student activists and newspaper editors — have been imprisoned or forced into exile since this summer.
Ortega's ongoing crackdown has made thousands of others flee the Central American country in the past few months.
The IDEA report also found that a million people have been purged from voter rolls, about 20%, and that the number of polling stations was cut by 25% in the most populated areas.
For reference: Ortega's likely win would be his third consecutive re-election to a five-year term. That would keep him in power for 20 straight years, longer than the dictator he originally fought to overthrow, Anastasio Somoza.
5. Stories we're watching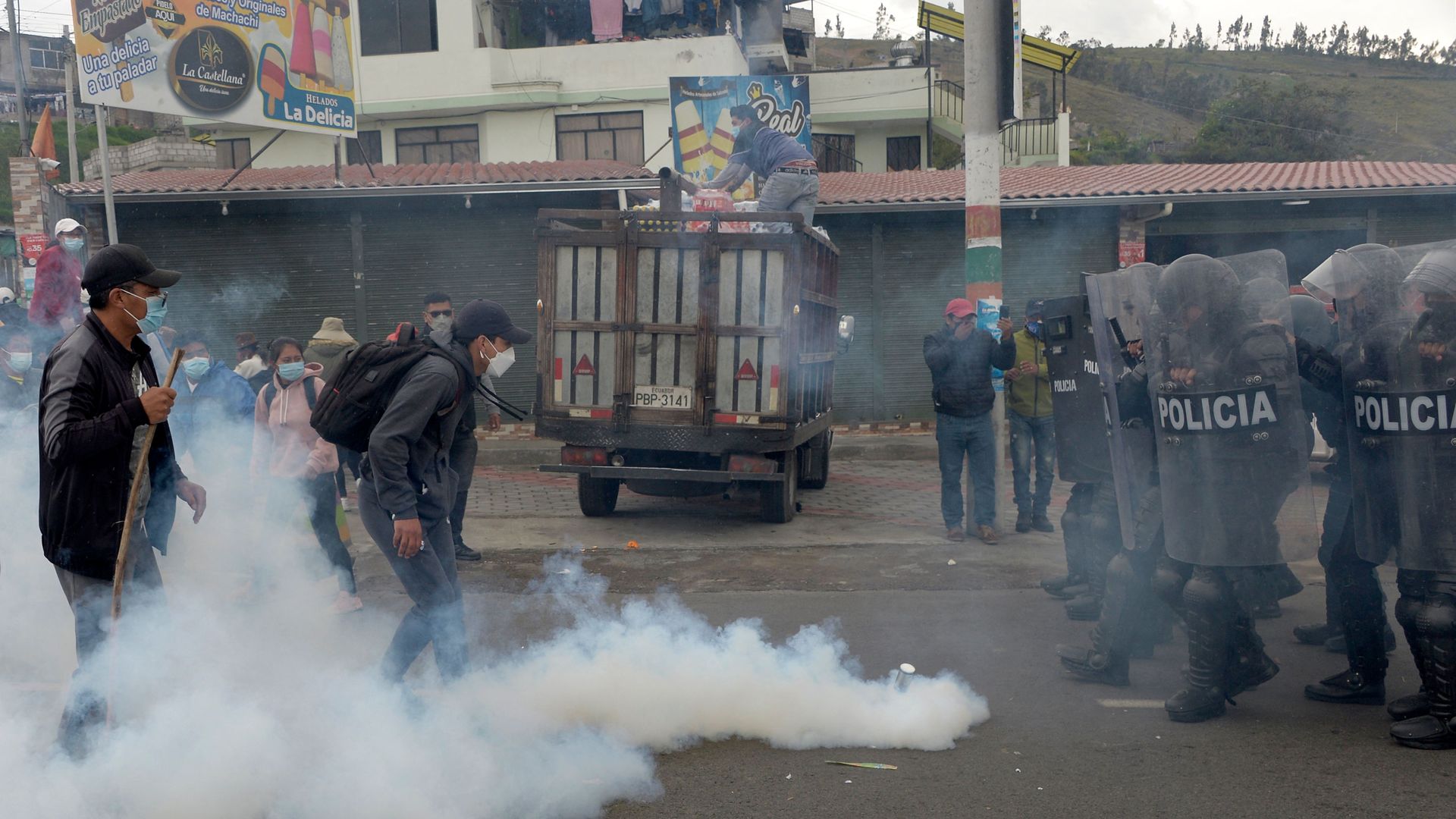 1. Protests are shaking up Ecuador in the middle of the state of emergency declared Oct. 19 in response to growing violence from drug-trafficking groups.
Protesters started a mass strike on Tuesday in reaction to an announcement that fuel subsidies will be slashed and prices will go up.
The state of exception was partly declared after a prison riot in early October left 118 dead. But, even with the new security measures, seven prisoners in the same jail were found hanged this past weekend.
2. Puerto Rico's Congress and governor voted to cut the island's public debt by more than $30 billion, which would reduce it in half, partly by slashing public pensions.
The proposal is an attempt to get Puerto Rico out of the bankruptcy declared in 2017 and depends on the unlikely support of the territory's financial oversight board appointed by the White House and U.S. Congress.
The oversight board, nicknamed la Junta, and Puerto Rico's government are set to meet for bankruptcy mediation on Nov. 8.
6. 👚1 smile to go: Stores for migrants
Migrants who make their way to Ciudad Juárez can take a shopping break from waiting for word on their asylum applications in overrun shelters and improvised camps. And they can do so in stores where everything is free.
Details: The group Gratis Tienda has opened 28 warehouses since January in the city across the border from El Paso, Texas.
The stores run on donations and are open to anyone else who might need their merchandise. Each person can walk out with five items per day.
Why it matters: Many of the people who've made the trek north did so carrying only what they could fit in small backpacks. By the time they get to the border town, their clothes are tattered or unusable and many are even shoeless.
Most cannot otherwise afford to change those clothes, having spent almost all the money they had on the trip itself, whether on meals or on extortion by criminal groups along the way.
Hasta el jueves, have a safe one.