Axios Latino
March 07, 2023
Hey, hey, hey. Thanks for reading Axios Latino today!
🚨Join Axios' Courtenay Brown, Sophia Cai, and Eleanor Hawkins on International Women's Day tomorrow at 8am ET in Washington, D.C., for a News Shapers event focused on progress made and next steps to achieving greater gender equality. Register here to attend in person.
Puede leer este boletín en español aquí.
This newsletter, edited by Astrid Galván, is 1,183 words, a 5-minute read.
1 big thing: The state of the Latina
Latinas are outpacing Latino men in college enrollment and making other inroads but still face pay disparities and barriers to economic prosperity, Astrid and Russell write.
The big picture: It's Women's History Month, and we're exploring the lives of Latinas in the U.S.
By the numbers: Latinas are still paid around 57 cents for every dollar paid to white, non-Hispanic men even as they enter the workforce in record numbers, says an analysis of census data by UnidosUS.
Median wages for Latinas are $30,551 per year, compared to the median wage of $57,005 for white, non-Hispanic men, the analysis calculated.
Nearly 30% of Latina-led households live below the poverty level, according to the U.S. Census.
The stark differences are in part due to the fact that Latinas tend to take on more caregiving, says Silvia R. González, director of research for climate, environmental justice, and health projects at the UCLA Latino Policy and Politics Institute.
González says labor participation during the pandemic — when Latinas left the workforce at the highest rate of any demographic — was driven by family responsibilities and the types of jobs Latinas are most commonly in, such as retail and food services, which saw huge job losses in 2020.
"We're not still fully recovered — we do need resources to ensure that Latinas are able to fully participate in our economy."
That includes better access to child care, González adds.
The intrigue: Around 35% of Latinas ages 18 to 24 were enrolled at least part time in college in 2021, compared with 28% of Latinos of the same age group, according to a Pew Research Center analysis of census data.
The bottom line: "Before the pandemic, Latinas were already struggling, and then the pandemic made it much worse," says MamásConPoder vice president Xochitl Oseguera. The organization mobilizes and advocates for moms.
Oseguera says it will take generations to undo the setbacks, but she's hopeful.
She notes more Latinas are starting businesses and organizing for their rights, especially younger generations.
"We're gonna make a big change in the overall future of this country," Oseguera adds.
2. A Mexican fighter makes history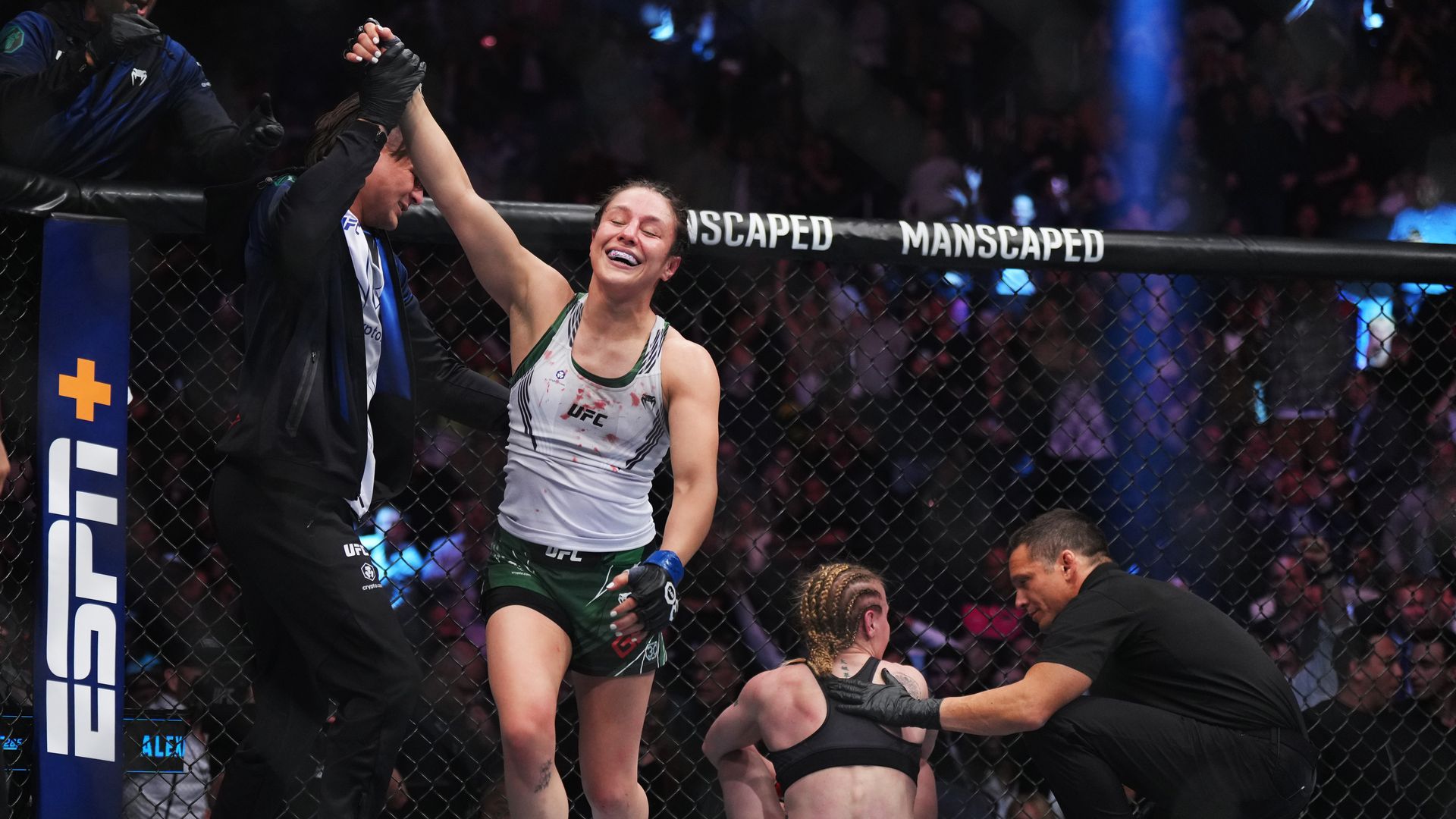 Mexican-born mixed martial arts fighter Alexa Grasso stunned the MMA world Saturday after beating the heavy favorite Valentina Shevchenko of Kyrgyzstan to capture the UFC women's flyweight championship.
The big picture: Grasso's victory, which made her the UFC's first Mexican women's champion, illustrates how much MMA is growing south of the border, Russell writes.
MMA gyms are opening across Mexico, and popular gyms in the U.S., like Jackson Wink MMA Academy in Albuquerque, New Mexico, are attracting Mexican fighters to train.
UFC men's flyweight champion Brandon Moreno and interim featherweight champion Yair Rodríguez, both Mexicans, also won championships this year.
Brazilian women have long led the sport.
Details: Shevchenko, one of the most dominant UFC women's fighters of all time, appeared to be ahead in a close contest until Grasso used a fourth-round rear-naked choke finish to force the champ to submit.
An emotional Grasso, who is from Guadalajara, raised her hands in victory while on the mat until a trainer lifted her.
"Please punch me. I feel like I'm dreaming," Grasso said in an interview right after her win. "I've been dreaming for this moment for so long."
3. Ex-Argentine prosecutor on lessons from 1985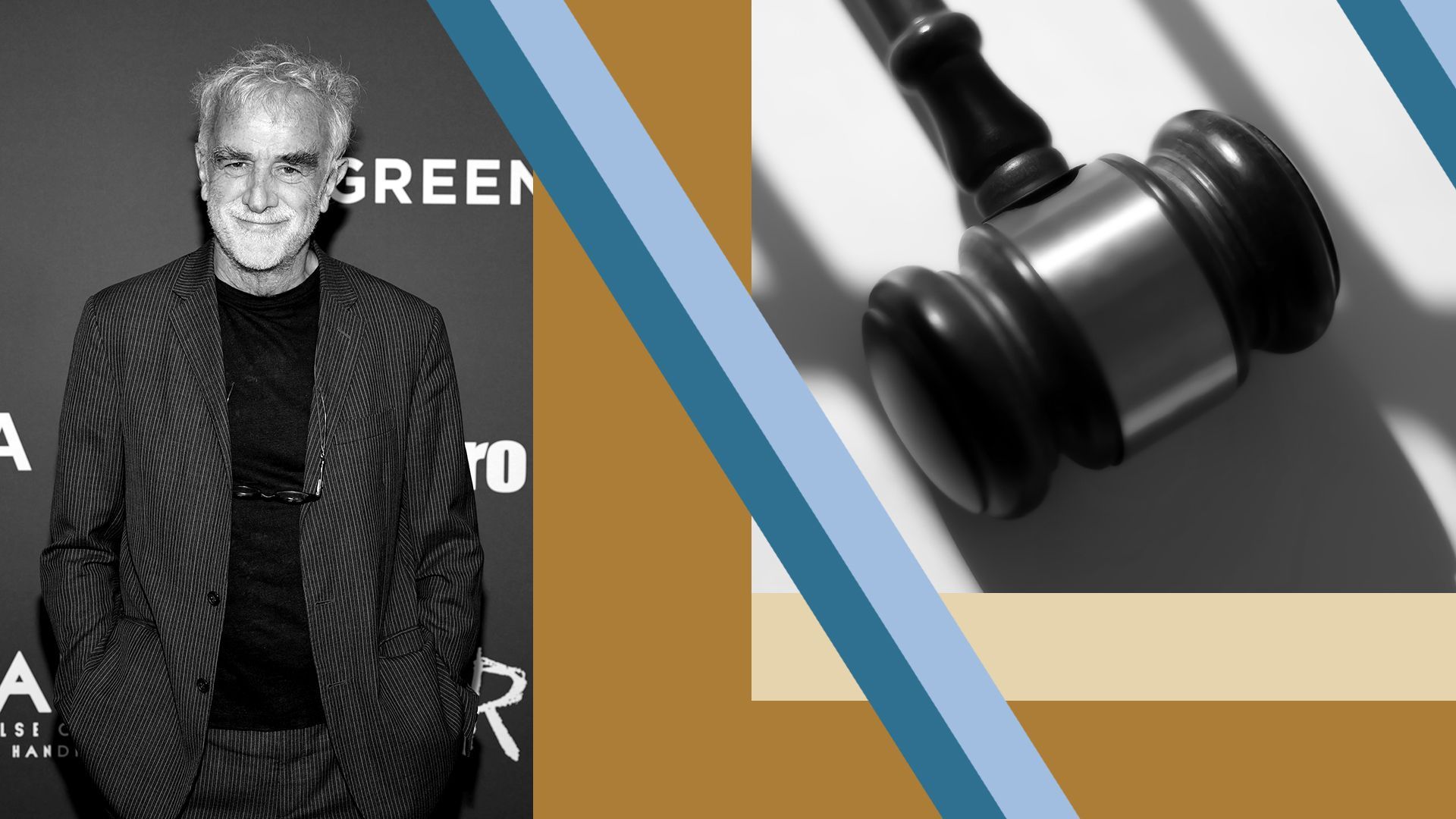 A real-life prosecutor in a groundbreaking Argentine criminal case that's now the plot of an Oscar-nominated film tells Marina the trial is an example of how justice should be carried out worldwide today.
Driving the news: "Argentina, 1985," which is up for Best International Feature Film at the Academy Awards this Sunday, portrays the trial of the leaders of the military juntas that detained, tortured, and disappeared an estimated 30,000 people in the South American nation during the 1976-1983 dictatorship.
The film has already won a Golden Globe, as well as the Goya award for best Ibero-American film.
What he's saying: "It seems to me that Argentina in 1985 echoes democracy in the world during 2023, because [the prosecution] at its heart dealt with issues of power, legality, and justice that we still see today," Luis Moreno Ocampo, who was an assistant prosecutor of the junta trial, tells Marina.
Those calls for justice, no matter how powerful the people put on the stand are, can be heard nowadays in cases of U.S. police brutality.
The big picture: The junta trial in Argentina marked the first time in history that a civilian government tried a previous military regime for its atrocities.
The trial resulted in life sentences for two of the most well-known junta leaders, Jorge Rafael Videla and Emilio Massera, and prison time for other military heads.
Trials for lower-level officials are ongoing. Last year, 58 perpetrators were convicted of crimes varying from sexual torture to carrying out so-called death flights, where presumed rebels were drugged and thrown from airplanes.
Authorities and families are also still searching for those forcibly disappeared and identifying people taken from women who gave birth while detained and illegally adopted by military families.
Of note: Moreno Ocampo, who also served as the first prosecutor of the International Criminal Court when it was established in 2002, teaches a course at USC's film school analyzing how justice is portrayed in popular culture.
4. Stories we're watching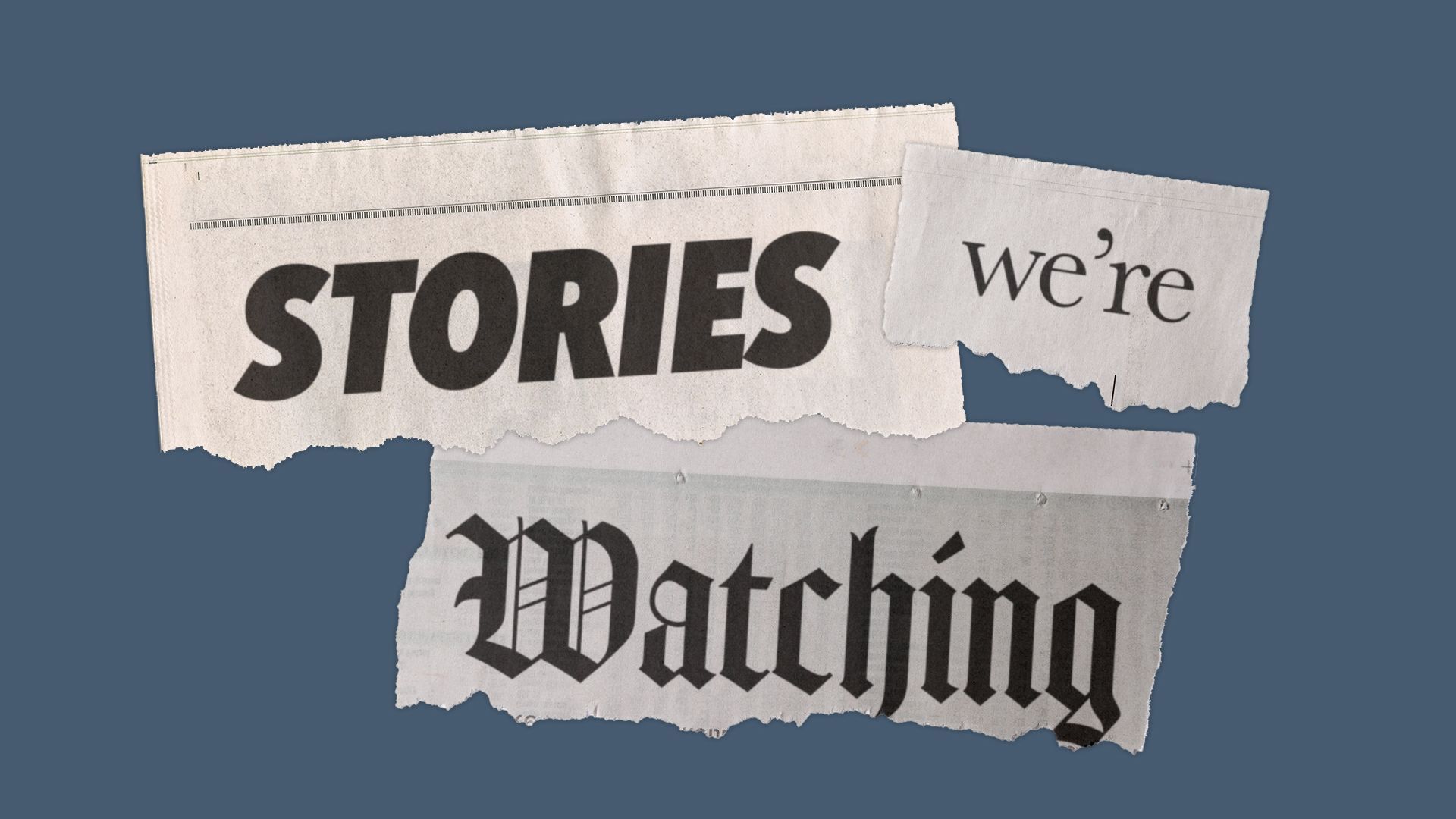 1. Peruvian President Dina Boluarte testified today in a federal investigation into whether she should be held responsible for the deaths of more than 60 people at anti-government protests.
The protesters are calling for Boluarte, who replaced ousted President Pedro Castillo, to immediately hold national elections.
Boluarte has defended the government response to protests. Her testimony was not made public.
2. Chile's new constitutional convention process started in earnest yesterday with the swearing-in of 24 Congress-designated experts who will have a first pass at a draft.
A previous attempt at changing the current constitution, which was written during a dictatorship in 1980, failed in a referendum last year.
5. Smile to go: 🏊🏼‍♀️ Olympic dreams
Daniella Ramirez, an Afro-Latina who comes from a long line of professional artistic swimmers, is hoping to compete in next year's summer Olympics, Marina writes.
Details: Ramirez, 21, is part of Team USA's roster and will compete this month at the Artistic Swimming World Cup in Canada.
Her mom and grandmother competed worldwide as artistic swimmers for Venezuela. Her father did so as a diver for the South American nation.
Ramirez says her family instilled in her the sense of wonder at the sport that requires holding one's breath for extended periods of time while carrying out steps in sync underwater.
What she's saying: "In this sport pretty much no one else looks like me," she says, noting that as an Afro-Latina she's felt like she sometimes stands out in the pool.
That has made her be more driven, she adds, whether that's in training for a possible Olympic run or in getting cast to do underwater scenes in last year's "Black Panther: Wakanda Forever."
Editor's note: Item 5 of this newsletter has been updated with the correct spelling of President Diana Boluarte's last name throughout.
Thanks for reading! Thanks to Patricia Guadalupe for the copy edits! Don't forget to send us your pachanga submissions by replying to this email.