Axios Latino
July 22, 2021
¡Muy buen jueves! Today we dive into athletic hopes, uninsured children and summary trials.
🚨 Breaking: Biden has announced sanctions against Cuban officials for protest crackdowns.
Send us any feedback (quejas, sugerencias, chismes) by replying to this email. And if you are not already subscribed, sign up here. Read the Spanish version here.
This week's newsletter — edited by Michele Salcedo — is 1,513 words, about a 6-minute read.
1 big thing: The hard, hope-filled road to Tokyo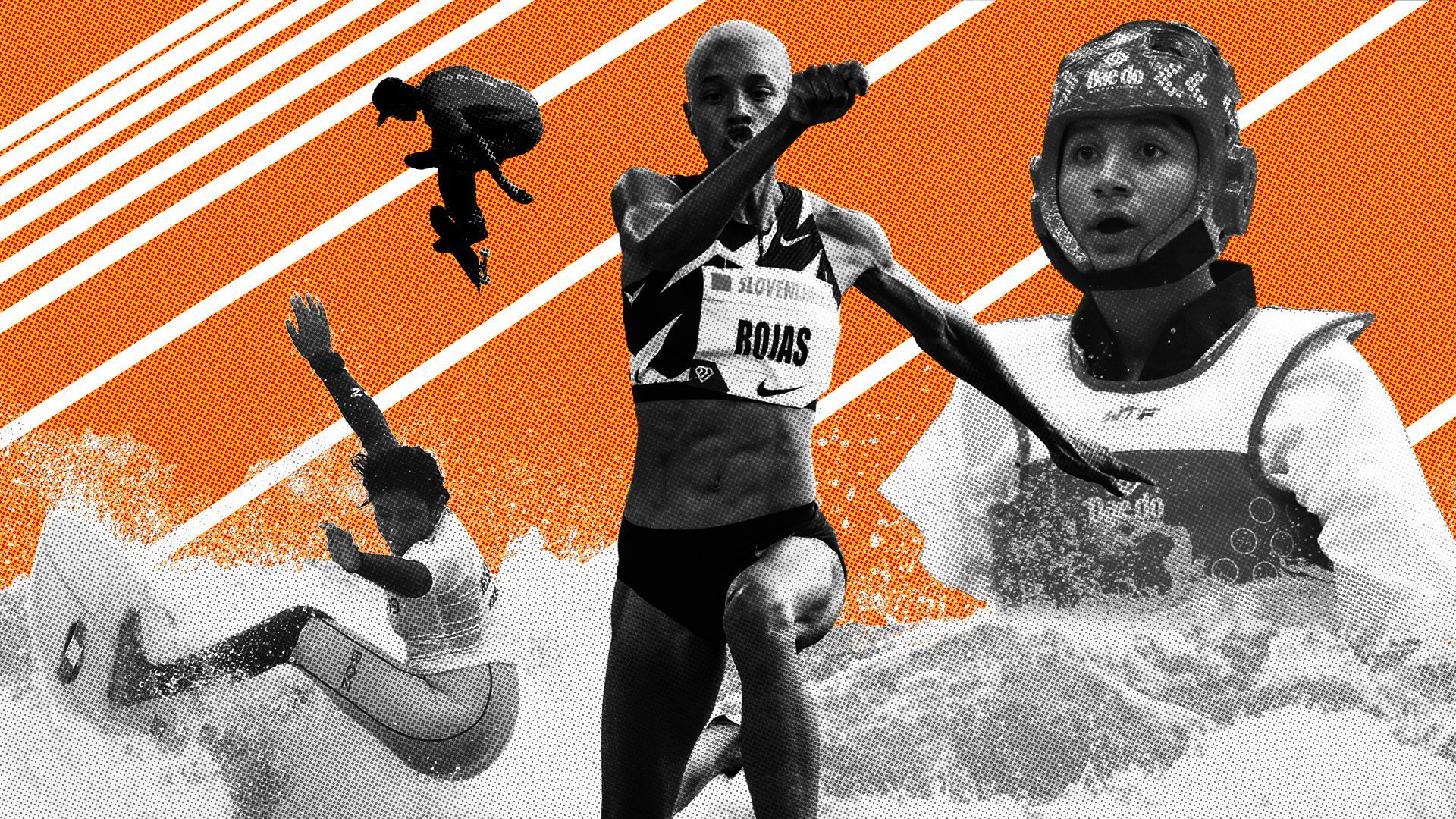 Latin American and Caribbean athletes begin their Olympic competitions tomorrow, after overcoming pre-pandemic obstacles like lack of training facilities, little money for equipment, and violence at home.
Why it matters: The pandemic hit all Olympic federations worldwide but, even before that, world-class athletes in Latin America and the Caribbean struggled with the underfunding of their sports.
Colombian gold medalists like BMX cyclist Mariana Pajón and weightlifter Óscar Figueroa had to launch the campaign #NoRecortenMisSueños (no cutbacks on our dreams) to fight the government's budget cuts to sports so they could train for the Games. Congress eventually relented.
Of note: Since coronavirus continues to run rampant in Latin America and the Caribbean, many athletes managed to train only outside their countries.
Medal-winning jumpers Yulimar Rojas of Venezuela and Caterine Ibargüen of Colombia, primed to repeat at the podium in Tokyo, had to get ready in the Iberian Peninsula.
Splashy debuts: Athletes worth watching as their sports make their first Olympic incursion include surfers Lucca Mesinas, the Pan-American surfing champion from Peru, and Costa Rican Brisa Hennessy.
Para taekwondo world champion Juan Diego García, from Mexico, is looking to win on a bigger stage.
2. A different viewpoint on Mexico's violence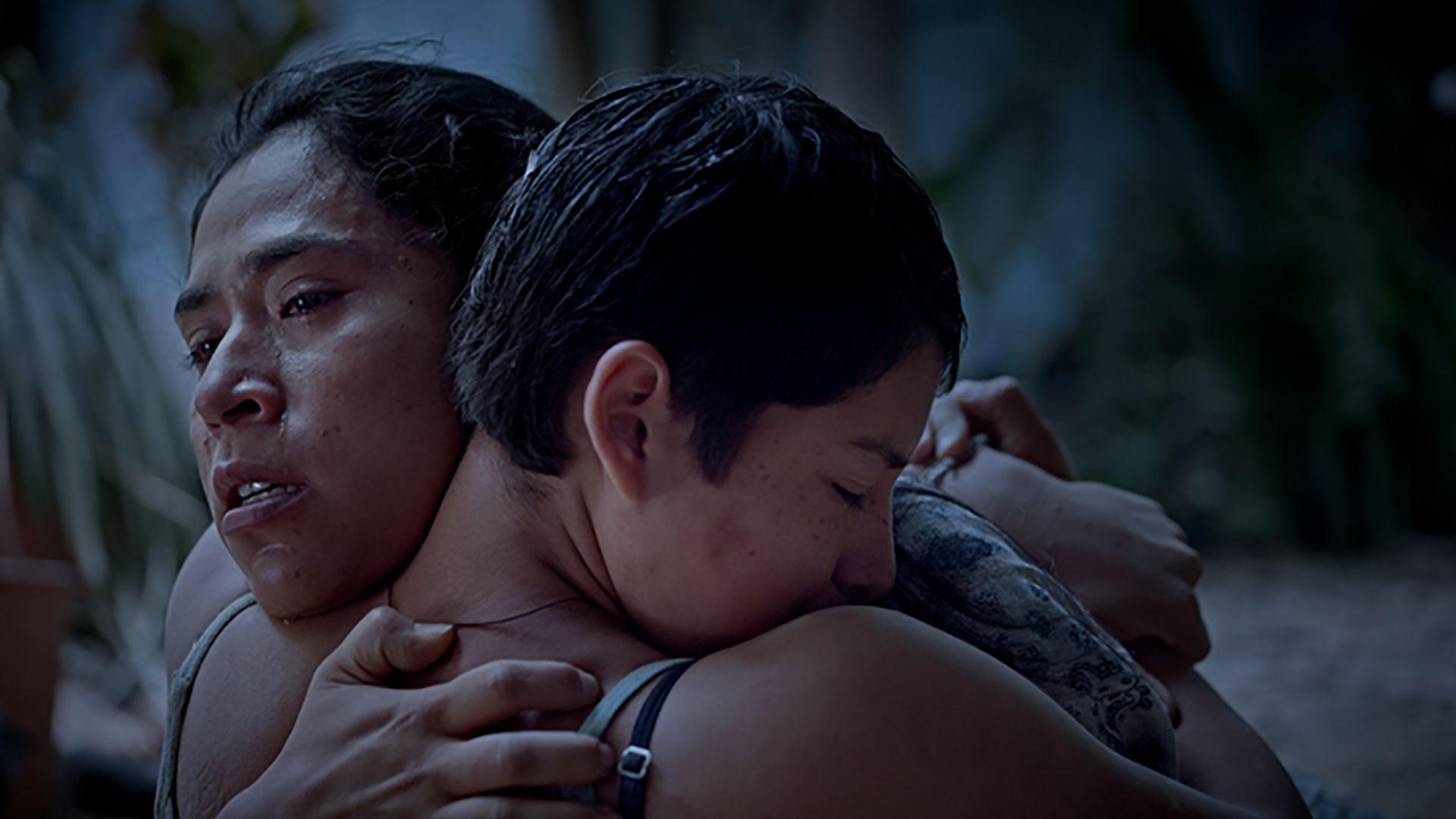 New movies and series seek to refocus the story of cartel violence on those affected — after years of shows that spotlight narcos — and do not shy from showing the government's (or even the DEA's) part in atrocities.
Details: Two recent movies just won awards at Cannes.
Prayers for the Stolen is centered on the lives of Mexican girls while cartels and soldiers hover just beyond the frame.
La Civil is based on the true story of a mother who searched for her kidnapped daughter when the authorities would not.
The upcoming film Identifying features, which won an audience award and a special jury award at Sundance, similarly follows a mother, in this case searching for her missing son. It's been lauded by critics for having "the power to expand our notions of what a border story is."
The Netflix series Somos. centers the story of a real life massacre — for years unreported — on how people who were among the 300 killed lived their last days.
What they're saying: "Telling these stories can jostle us, make us reflect again on the problem to which we've become increasingly inured," says Tatiana Huezo, director of Prayers for the Stolen. "Narcoviolence is the monster that lurks, but we cannot let us forget the women and girls who face it everyday."
Between the lines: These projects premiered while the harrowing off-screen violence continues.
In Tamaulipas state, a killing field was recently discovered near the border with Brownsville, Texas, holding thousands of pounds of unidentified remains.
There are growing reports of forced disappearances of people who were just traveling between Monterrey and Nuevo Laredo, two big cities in northern Mexico.
3. Latino children lag in health insurance
Latino children in the U.S. are twice as likely to be uninsured as non-Latino children, according to an analysis by the Georgetown University Center for Children and Families.
Why it matters: More than 1.8 million Latino children in the U.S. have not had health insurance since before the pandemic, putting them at greater risk for COVID-19. The virus has hit Latinos especially hard, resulting in higher infection rates, hospitalizations and unemployment.
Over a third of minors who've died of coronavirus were Hispanic or Latino, per CDC data.
In a study, three out of four children hospitalized last year with severe cases of COVID-19 were Black or Hispanic.
The big picture: Children's coverage has been getting worse in states like Texas that did not expand Medicaid access to low-income people through the Affordable Care Act. Almost 18% of Latino children in Texas were uninsured in 2019, the highest statewide rate.
Overall, Latinos of all ages in the U.S. are about three times as likely to be uninsured as non-Hispanic white Americans.
4. Missing from STEM occupations: Hispanic workers
Latino workers in the U.S. have the biggest representation gap in STEM jobs, our Axios Science colleague Alison Snyder reports.
What's happening: Hispanic workers make up 8% of all science, technology, engineering and mathematics jobs, according to data from the Pew Research Center, even though Latinos make up 17% of the total U.S. workforce.
Education trends "appear unlikely to substantially narrow these gaps," warns Pew.
Between the lines: Even though Latino students have similar levels of interest in STEM subjects and careers as their white non-Hispanic and Asian counterparts, they tend to have less access to calculus and advanced science courses as high school seniors.
Those classes could help prepare them for further studies or work, a 2020 report from the Hispanic Heritage Foundation says.
And those students who do have access to courses are usually less confident in their STEM abilities because of a lack of mentorship and entrenched bias.
5. Cuba tries protesters en masse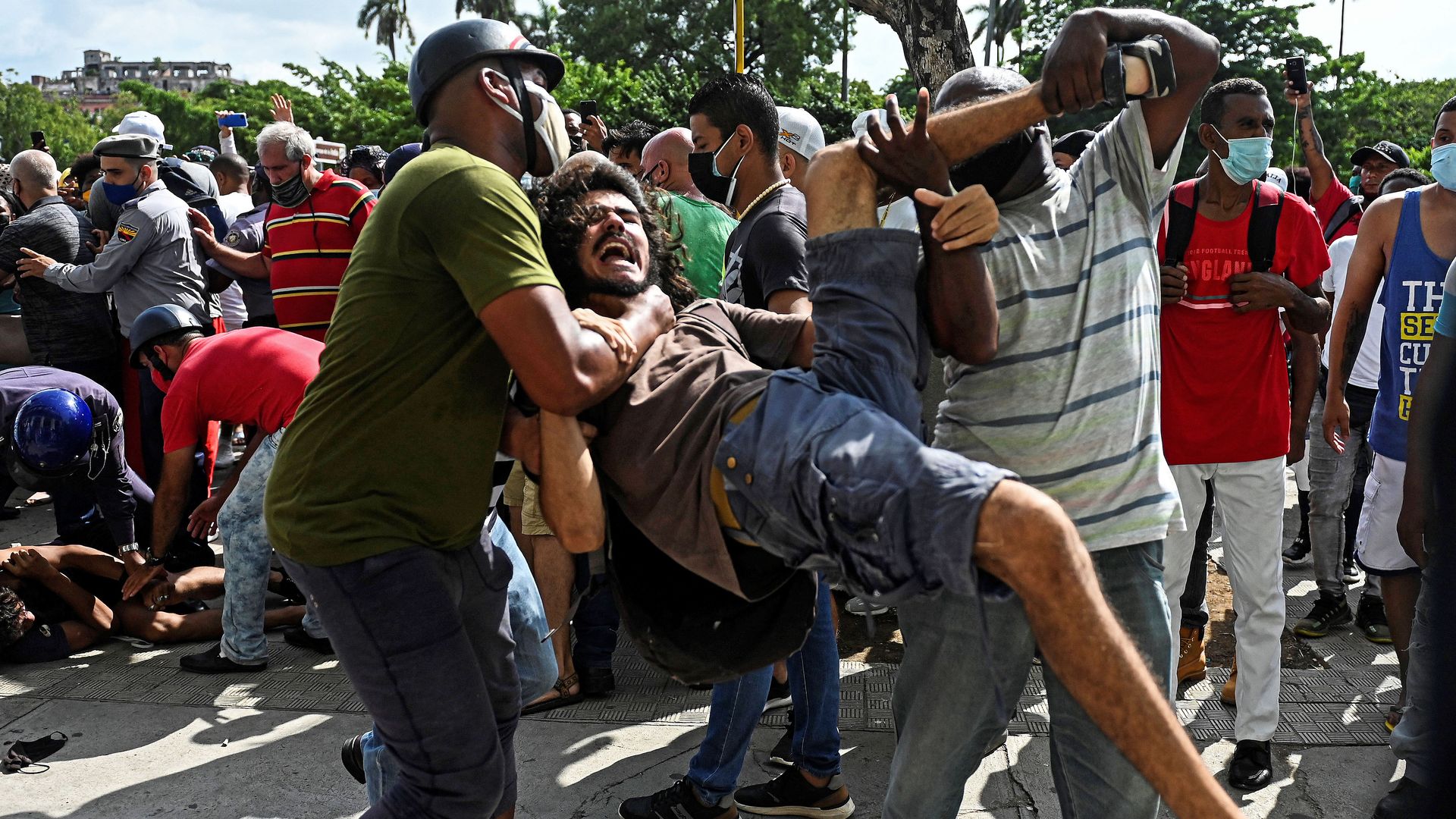 The Cuban regime is conducting summary trials in which up to 30 people are convicted at a time for participating in the recent mass protests, an international organization of jurists warns.
Details: The hearings are being carried out without lawyers present and without the accused even knowing what the charges are against them, per the group Cuban Prisoner's Defenders.
By the numbers: Over 500 people are known to be detained. At least a dozen of them are minors, and parents say they haven't been able to reach most of them.
Reports of beatings of those teenagers who were in or near the July 11 protests also have surfaced as the government eases its shutdown of the internet.
The big picture: Cuba has the highest rate of COVID-19 contagion per capita in Latin America, an infection rate nine times higher than the world average this past week, one of the reasons people in the island participated in the mass protests.
6. The challenges awaiting Peru's new president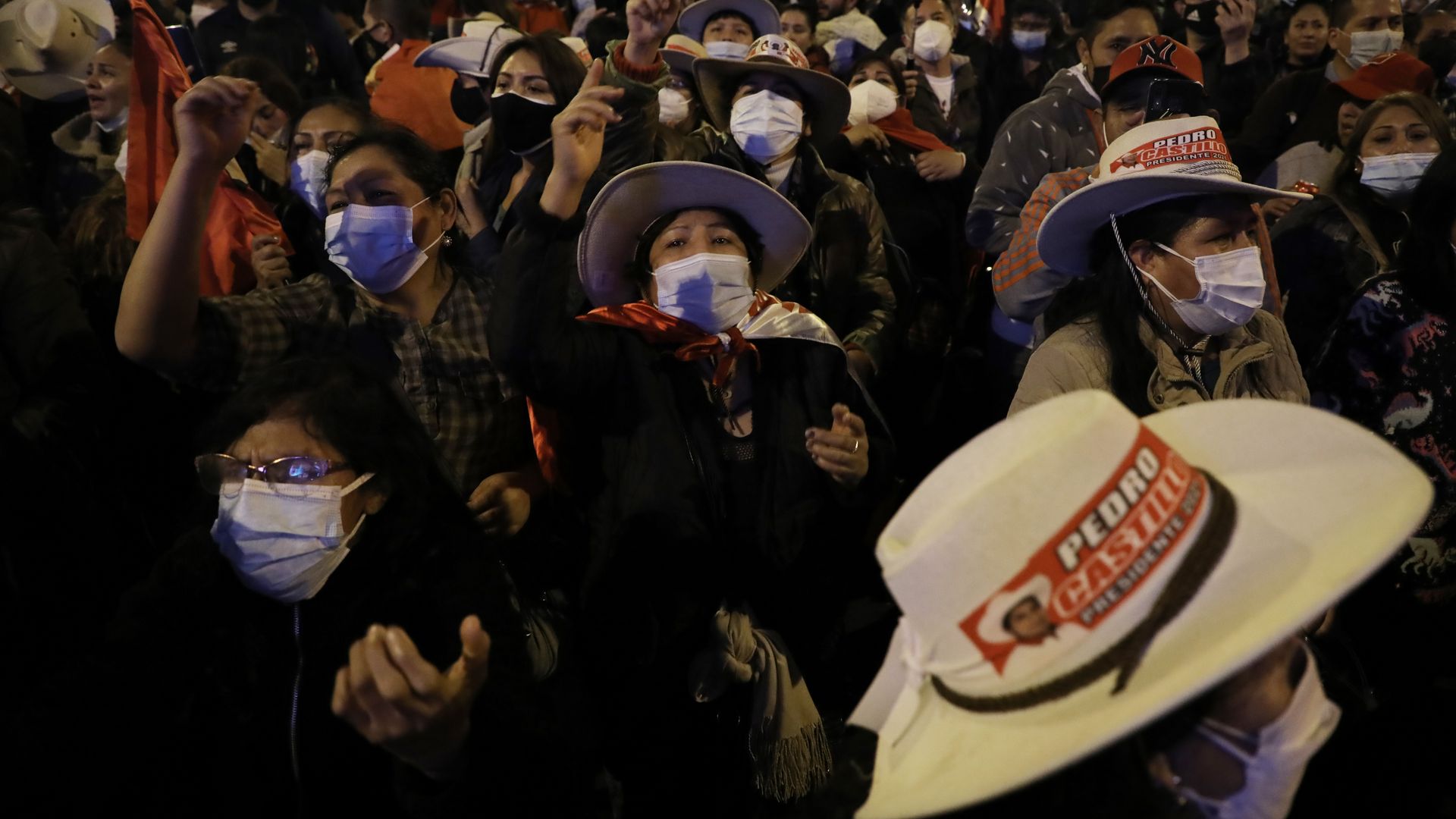 Teacher Pedro Castillo was finally confirmed as the winner of Peru's June 6 elections after a drawn-out battle with his rival Keiko Fujimori, who alleged fraud. But the greatest challenges are the ones to come.
What's happening: Peru faces concurrent crises from having the world's highest coronavirus death rate per capita, the pandemic plunging a third of the population into poverty, and long-standing distrust in political institutions.
Castillo will be the fifth president in as many years, after a series of removals by Congress, planned impeachments and forced resignations over corruption allegations and accusations of police brutality.
He faces a country divided by the electoral battle and a highly divided Congress. Perú Libre, the leftist party that nominated him, has 37 seats, while his electoral rival Fuerza Libre and allied right parties have 49.
What to watch: The former teacher's union leader says an initial focus of his presidency will be a new constitution "to put an end to sexist, classist and racist discrimination against Andean, Amazonian, Afrodescendant and vulnerable populations."
Castillo has also promised an emergency plan to set up more ICUs and accelerate vaccinations as Peru faces the highly contagious Lambda and Delta SARS-CoV-2 variants.
Looking ahead: Castillo's inauguration is scheduled for July 28, and he needs to form the cabinet before that.
That cabinet will reportedly be composed of technocrats to address concerns that Castillo, who says he is a Marxist, will derail the economy.
7. Former Central American presidents sanctioned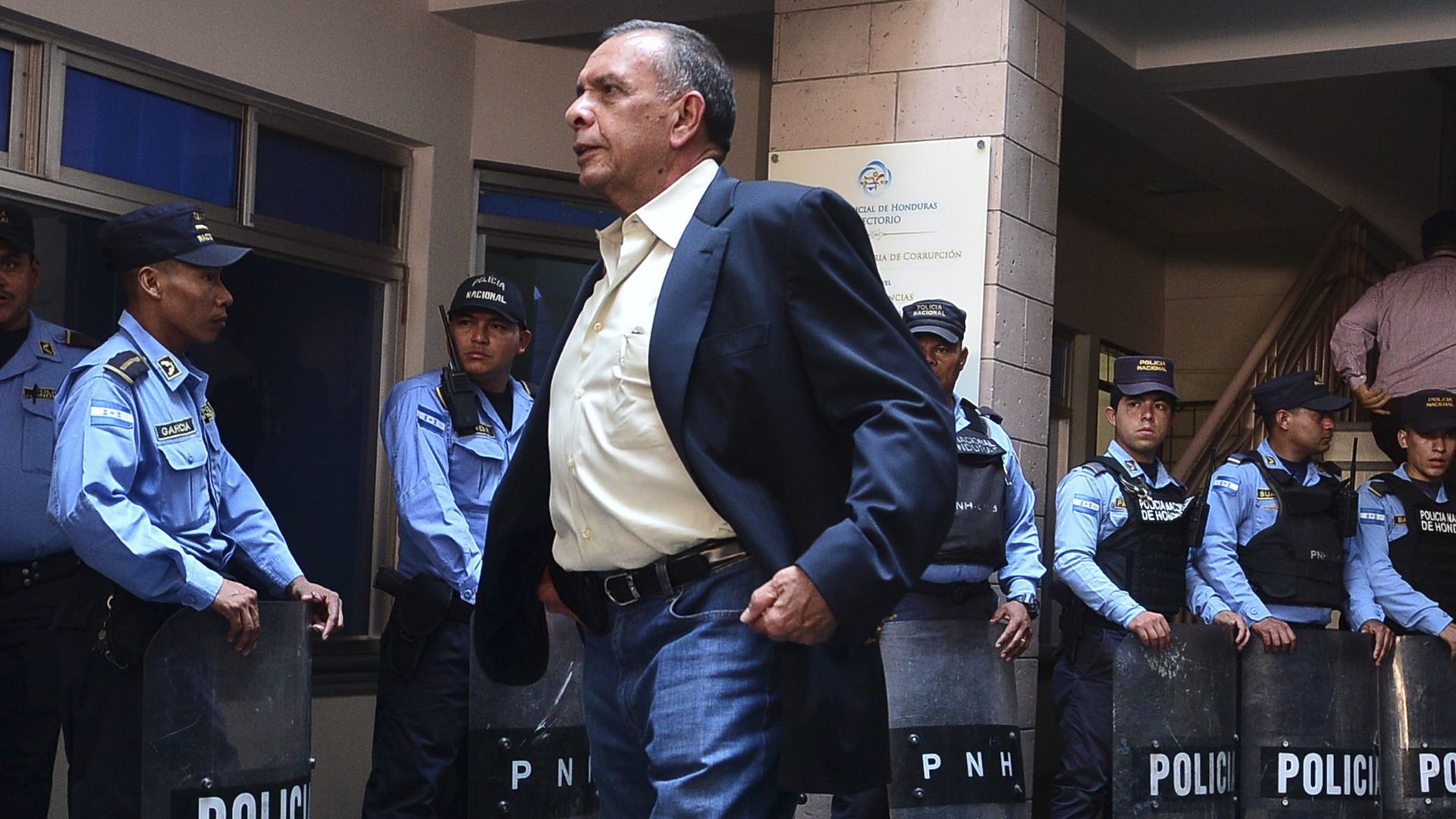 The U.S. has increased its sanctions against Porfirio Lobo, Honduran leader from 2010 and 2014, with a travel ban against him and his family over allegations that he took bribes from drug traffickers.
Why it matters: Lobo was one of 50 Central American officials included in the Engel List, which named those suspected of criminal activity, including corruption. Further sanctions against others are expected.
The current Honduran president, Juan Orlando Hernández, is allegedly collaborating with drug traffickers, which emerged when his brother went on trial and was sentenced to life in prison in the U.S.
Former Salvadoran President Tony Saca (2004-2009) testified that party leaders, legislators and even Supreme Court justices got "bonuses" taken from the public budget. He made his comments last night at a congressional hearing. Saca is serving 10 years in prison for embezzlement.
By the numbers: Corruption is a driver of immigrants to the U.S. Around 350,000 Salvadorans and Hondurans were intercepted by the Border Patrol in 2019; this fiscal year that number is already near 270,000.
8. 🏄‍♀️ 1 smile to go: Making waves after deportation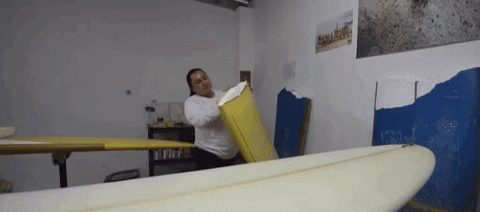 A group of Salvadoran women who were deported from the U.S. have found work that wasn't available before, training to manufacture and repair surfboards.
Details: They are part of a program the Salvadoran foreign affairs office established to give them jobs, so they feel less compelled to emigrate again.
El Salvador is becoming an international surfing destination, especially in El Tunco and El Sunzal beaches where the women work.
Hasta la próxima semana, have a safe one.