Axios Latino
May 05, 2022
¡Buen jueves! Welcome to another 🪅 Pachanga Thursday, when we highlight our readers' accomplishments. Reply to this email to be featured!
Don't forget Sunday is Mother's Day! Astrid makes her family celebrate the American and Mexican holiday (May 10) ... you probably should too. 😉.
Puede leer la versión en español aquí.
🚨Situational awareness: U.S. Sen. Bob Menendez (D-N.J.), U.S. Rep. Raul Ruiz (D-Calif.) and others wrote to the Federal Reserve today, urging it to fill the presidential vacancy at the Federal Reserve Bank of Dallas with a Latino candidate. Just 5% of the Federal Reserve's workforce identifies as Latino.
This newsletter, edited by Astrid Galván and Laurin-Whitney Gottbrath, is 1,572 words, a 6-minute read.
1 big thing: What abortion bans mean for Latinas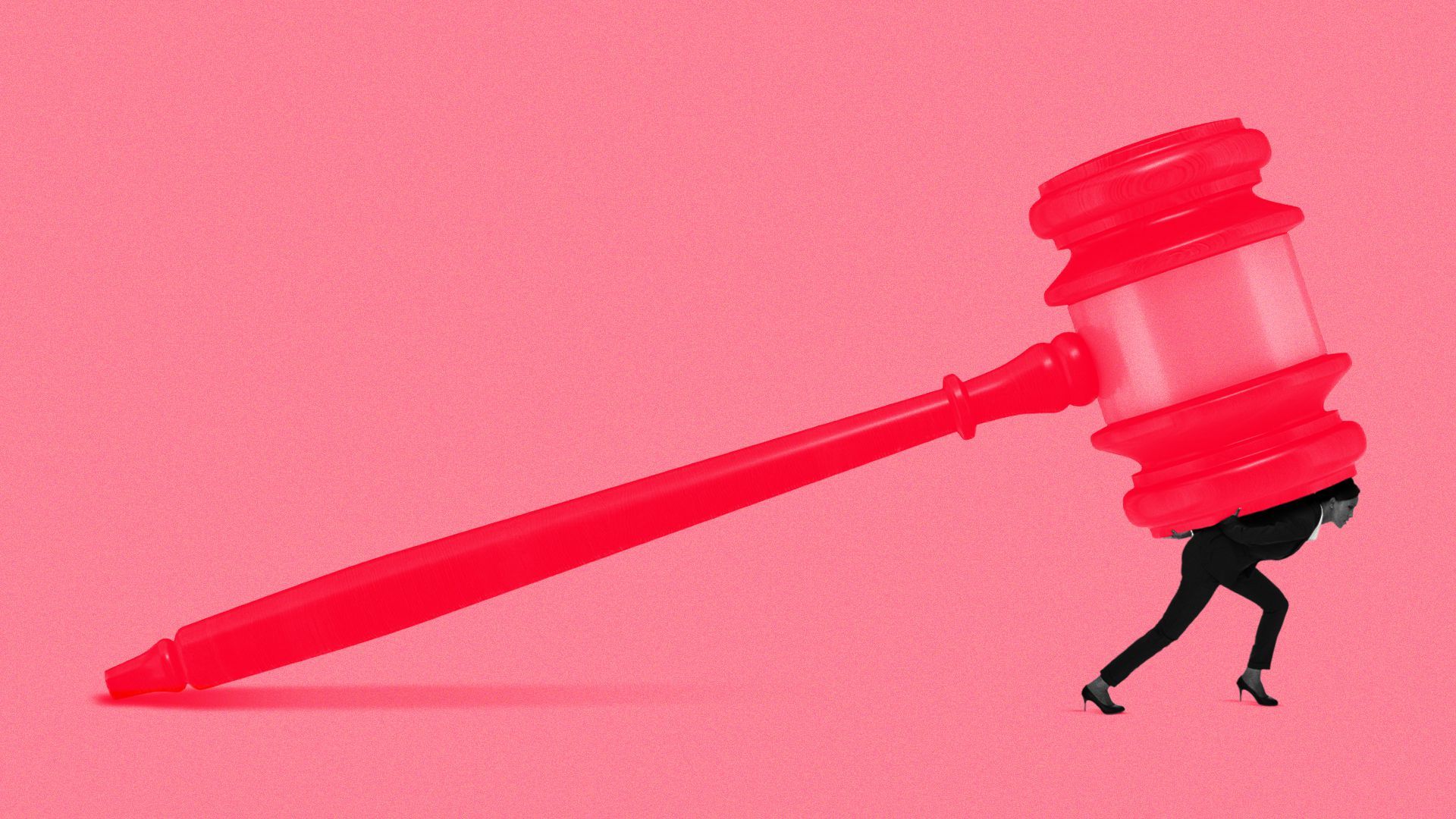 Advocates say abortion restrictions — and the likelihood of Roe v. Wade being overturned — are particularly dangerous for Latinas, who already have lower rates of access to health care, Marina and Astrid write.
Why it matters: About 25% of abortion patients in the U.S. are Latina, according to the latest available data from the Guttmacher Institute, which also found three-quarters of those seeking the procedure are from low-income households.
But Latinas have difficulty accessing abortion because of cultural and language barriers, health insurance access, finances and immigration status, according to the National Latina Institute for Reproductive Justice.
Border Patrol checkpoints in U.S. southern border states can hinder travel for Latinas without legal status to clinics in other cities or to states where abortion might be more accessible.
What they're saying: "We know in the Latina, Latinx community, many people don't have access to jobs with a just salary, they don't have access to jobs that have paid days off, that have medical insurance benefits," Rosa Valderrama of the National Latina Institute for Reproductive Justice tells Axios Latino.
"So what happens when they need to get an abortion, they need to find transportation, they need to find child care, they need to take time off work, and not everybody can afford that," she adds.
Don't forget: In Texas, a 26-year-old Latina was recently arrested over a "self-induced abortion," reported to authorities when she sought medical help due to bleeding.
Zoom out: Moves to ban abortion in the U.S. come as several Latin American countries have recently decriminalized it.
2. Dem primaries heat up over abortion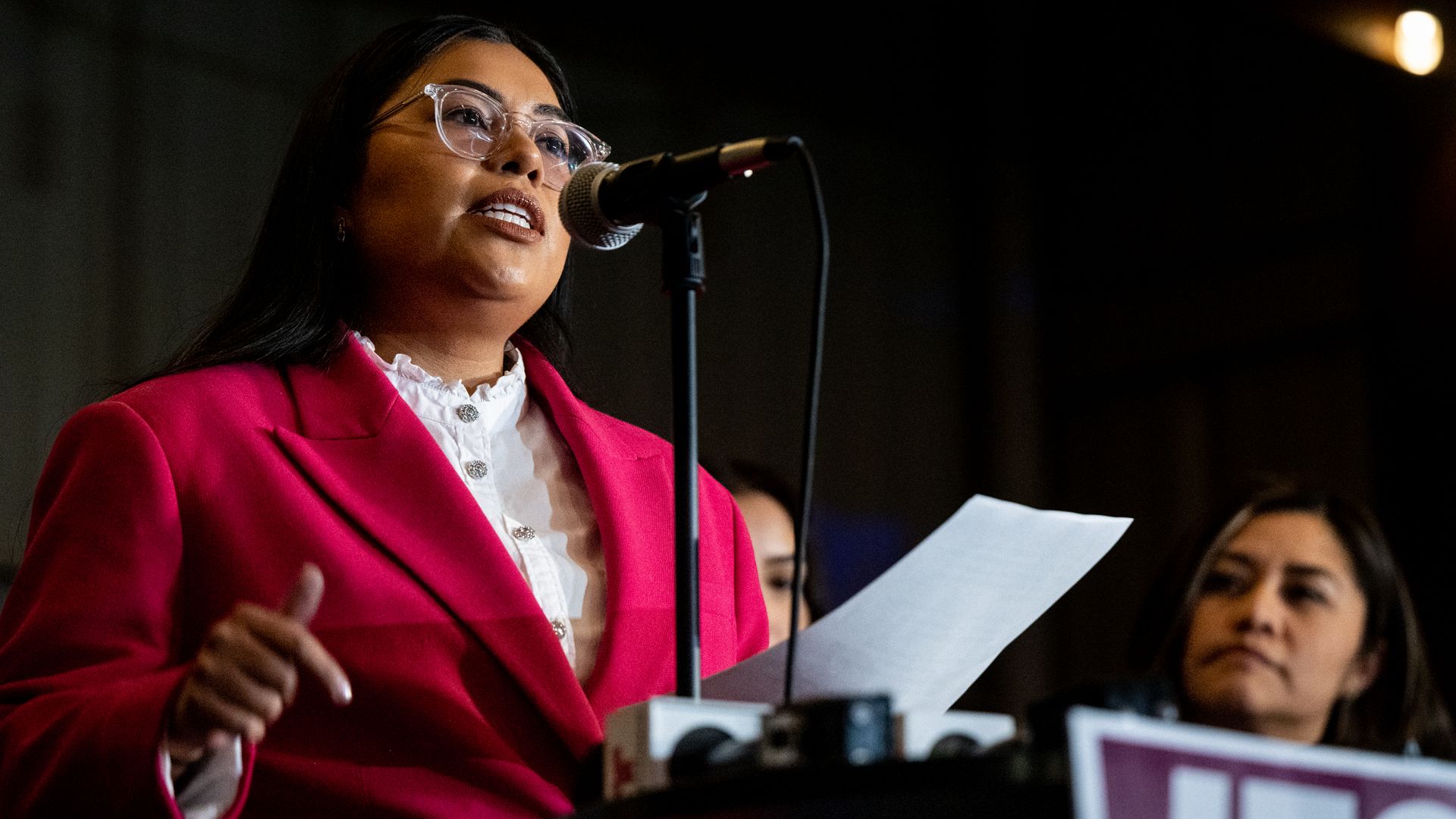 The leak previewing the end of Roe v. Wade is reshaping Democrats' primary campaigns, including the hotly contested South Texas race between two Latinos, write Astrid and Axios' Alexi McCammond and Sophia Cai.
Driving the news: Progressive candidate Jessica Cisneros, who is up against U.S. Rep. Henry Cuellar in a May 24 runoff election for the Democratic nomination for his seat, called on the party leadership to withdraw its support for Cuellar over his anti-abortion rights stance.
Cisneros said Cuellar "has stood in opposition to the Democratic Party agenda," including with his views on abortion. Cuellar says he doesn't support abortion but opposes an outright ban.
"With the House majority on the line, Cuellar could very much be the deciding vote on the future of reproductive rights in this country, and we just cannot afford that risk," Cisneros said.
Separately on Wednesday, the advocacy group Voto Latino sent an email saying Sen. Kyrsten Sinema (D-Ariz.) "has doomed our hopes of federal legislation" to save abortion rights.
The email urges its members to "rush a donation to help us make sure Sinema never holds office again." (The senator isn't up for re-election until 2024).
The big picture: Democrats hope to seize on the fallout over abortion protections to rally their base and increase their odds of keeping the House majority in this year's midterm elections.
Sen. Gary Peters (D-Mich.), who leads the Democratic Senatorial Campaign Committee, told Axios that abortion will be "a new energizing factor now that it's no longer abstract; it's very real."
The other side: Republicans, meanwhile, remain largely focused on the leak rather than the substance of the draft decision.
3. Latinos give the SATs an F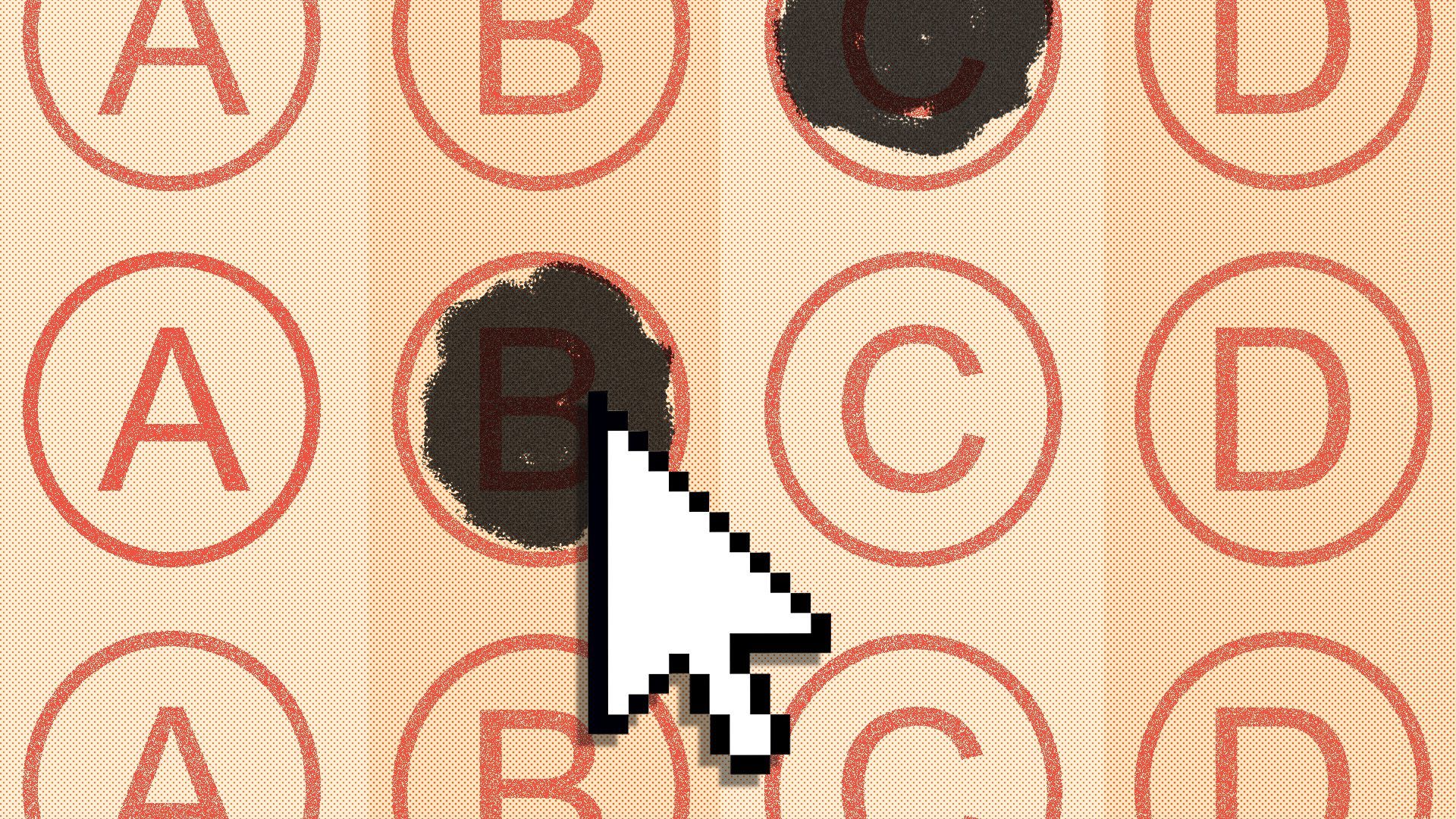 Survey data shows Latino adults think high school grades and standardized test scores should matter less in college admissions, Marina writes.
They are also likelier to say being the first in their family to go to college should be taken into consideration.
Why it matters: COVID-19 changes deepened education disparities that Latinos already faced, according to a U.S. Department of Education report.
The pandemic has driven college enrollment further down.
Latino attendance has dropped most at community colleges, which help many Hispanic students access advanced courses and have served them as affordable entry points to universities.
By the numbers: About 30% of Latino adults polled by the Pew Research Center said admissions boards should give major weight to whether applicants are first-generation students.
Only 13% of white adults said it should be a major factor.
About 47% of Latino adults think high school grades should be a minor factor, or not matter — almost the same percentage as Black adults, the data shows. In contrast, 37% of white adults and 35% of Asian Americans said the same.
About 17% of Hispanics and 21% of Black Americans surveyed also said standardized test scores should not be an admissions factor. About 15% of Asian Americans and 12% of white adults said the same.
Of note: Several universities, including Harvard and those in the University of Texas network, have already dropped the SAT or ACT requirement for college applications until at least 2023.
4. Pre-Inca method helps fight today's droughts
The future of water access in Peru might be in engineering practices from 1,400 years ago, Marina writes.
Why it matters: Andean nations like Peru have experienced prolonged droughts in the past few years. Chile announced a water rationing plan this April.
Those countries partly depend on mountain snowmelt for their freshwater supply.
But increasing temperatures due to human-caused climate change has accelerated snowmelt and the melting of mountain glaciers. This has reduced glacial water reserves overall, and caused the higher volume of water that comes down to pick up sediments, which muddies rivers.
Driving the news: The non-governmental organization Aquafondo just launched a project to build or recover 20 miles of canals known as amunas in Peru.
Amunas collect water from rivers, gullies and rain during high season and move it to areas with rocky subsoil.
Some amunas, also called mamanteos, already feed into parks and green areas in Lima, the nation's capital and world's second largest desert city, but the project could help provide more water.
How it works: Amunas divert water to rocky areas so it moves downhill more slowly.
By the time the dry season starts in April, the water has reached springs and aquifer reservoirs called ojos de agua.
The Amunas method, developed by the pre-Inca Wari peoples, is nicknamed "planting water."
What's next: Aquafondo, which is using public and private financing for its project, says it can supply over 1.8 million gallons of water, enough for to meet the yearlong water needs of 20,000 people (about 26 daily gallons, per the World Health Organization.)
Developing more amunas could increase water volume in the dry season by 7.5% each year, according to a study by the Natural Infrastructure for Water Security Project. The study didn't specify how many more miles were needed.
5. Stories we're watching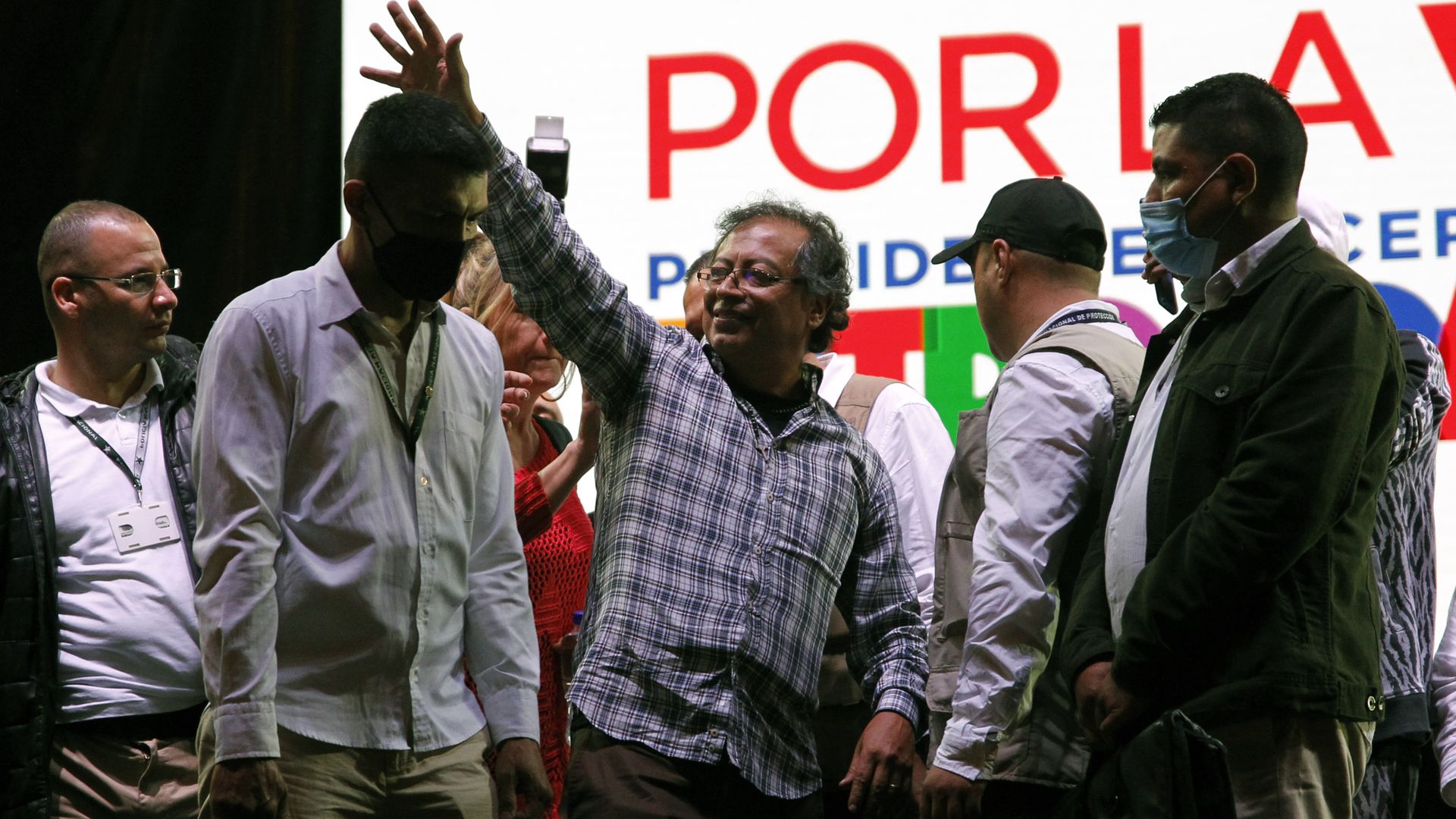 1. Colombian presidential candidate Gustavo Petro just got an additional security detail after he had to cancel campaign events this week due to credible death threats.
Petro and running mate Francia Márquez will resume their campaign stops today en route to the May 29 first round vote.
Some past Colombian presidential and local candidates have been killed in plots linked to criminal and drug trafficking groups.
2. Argentina, Bolivia, Chile and Mexico are working to create a lithium association, Mexican President Andrés Manuel López Obrador said this week.
Lithium is among the minerals deemed critical in the transition to green energies, especially for electric vehicles.
Chile and Argentina are among the world's main lithium exporters, and Bolivia has huge reserves. Mexican authorities claim that the country has major potential reserves, which it just nationalized.
6. Smile to go: 🎵I can see clearly now 🎵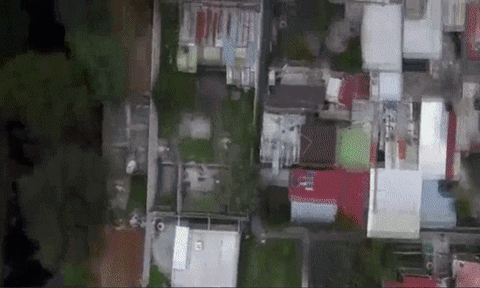 Men and women have made cleaning up pollution in Mexico City's unique wetlands their everyday job, Marina writes.
Why it matters: Xochimilco is a World Heritage site composed of channels and chinampas, "floating gardens" developed by the Aztecs to plant maize in fertile soil with easy access to water.
The area attracts thousands of visitors with trajineras, gondola-style boats.
But plastic bottles, trash and invasive water lilies now litter the channels. Bacteria is also growing in the water.
That has endangered species like the axolotl, an amphibian that can regrow organs — even the brain — and that only lives in Xochimilco.
Pollution also makes it hard for locals' boats to get to their crops.
Details: Omar Menchaca, a former employee of the Environmental Ministry who's now retired, takes his kayak into Xochimilco daily and picks up plastic bottles and bags by hand.
Menchaca's volunteer work complements that of public workers like Elizabeth Cruz, who clear invasive plant species.
🪅 Pachanga: Roberto Deleon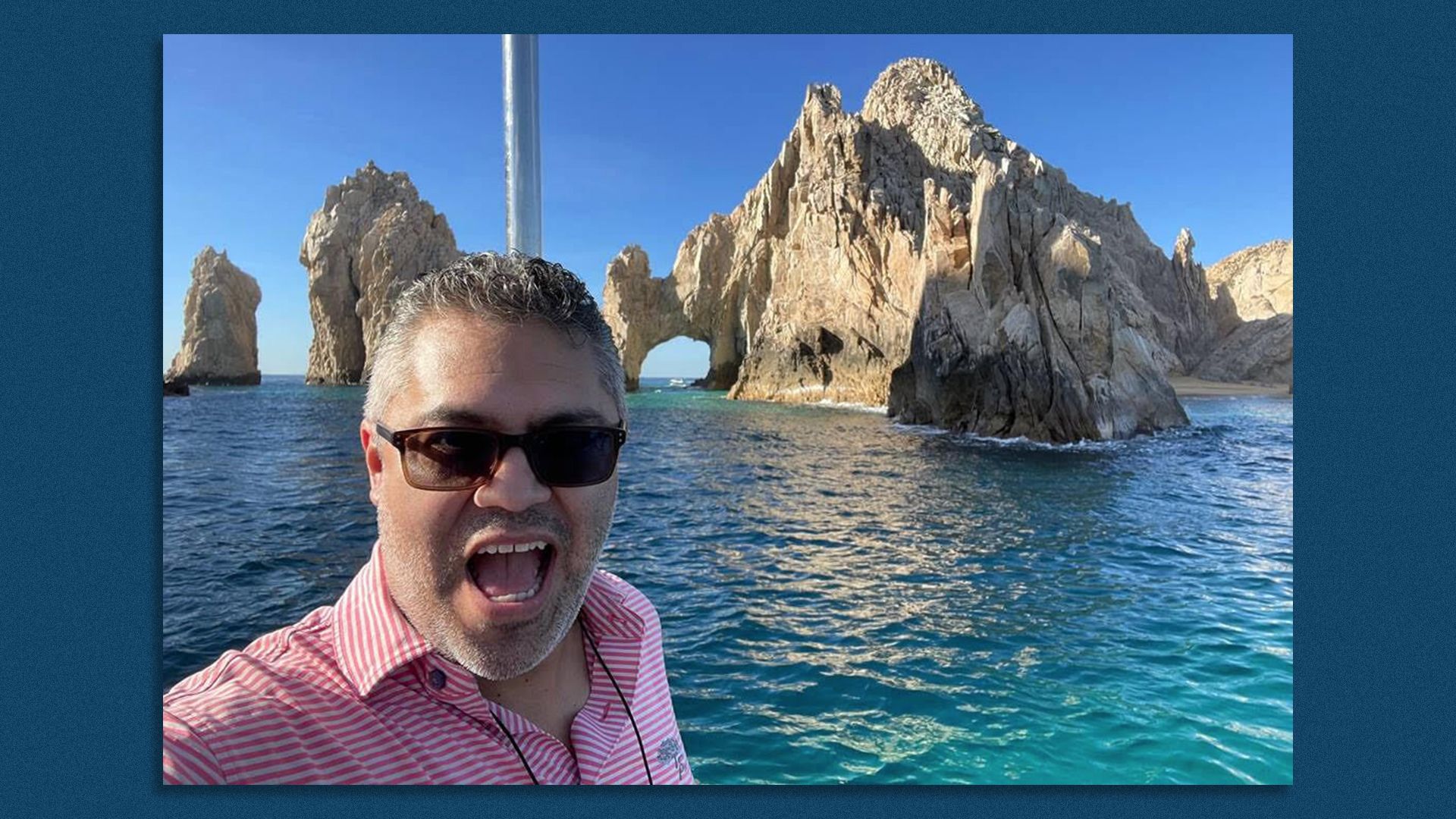 Un aplauso for Roberto Deleon, who was recently hired as director of thought leadership and communications at Stand Together, a Washington, D.C., nonprofit focused on solving problems in education, business and government.
Deleon just spent 17 years at Allstate, the national insurance company, before making the jump to the nonprofit world.
¡Felicidades!
Thanks for reading! If you enjoy this newsletter, kindly spread the word. New readers can sign up here.